Which Nationals or Dodgers players would make the best managers?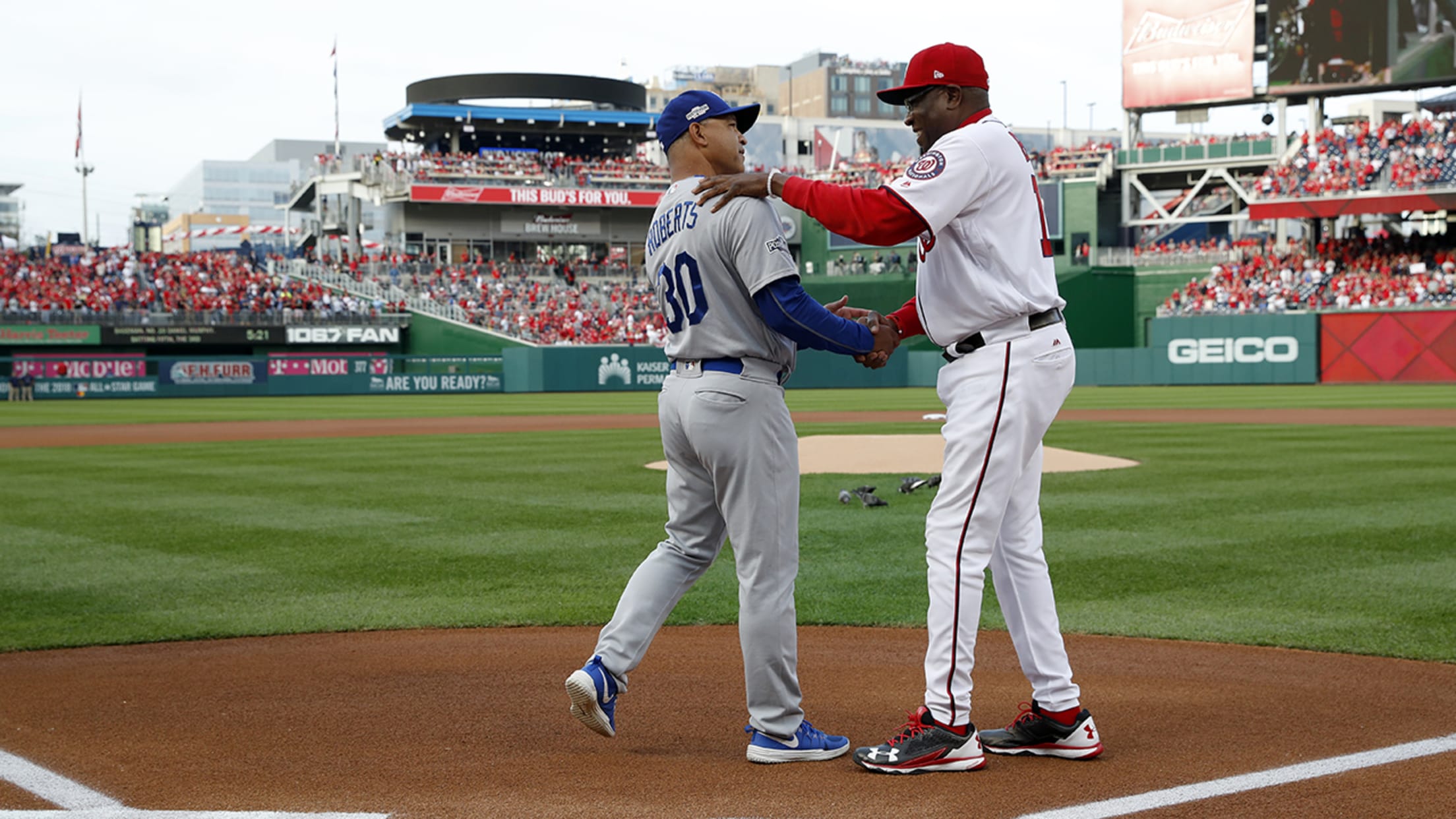 Los Angeles Dodgers manager Dave Roberts, left, and Washington Nationals manager Dusty Baker shake hands during introductions before Game 1 of baseball's National League Division Series, at Nationals Park, Friday, Oct. 7, 2016, in Washington. (AP Photo/Alex Brandon) (Alex Brandon/AP)
Thirty-five years ago, the Nationals' ancestor, the Montreal Expos, met the Dodgers in the National League Championship Series. It was a dramatic series that went a full five games (the LCS moved to a seven-game format in 1985).
But if you take a look at the rosters from that series, you'll be inundated with familiar names -- it featured seven players who went on to become Major League managers.
The 1981 Dodgers featured four future managers: Dusty Baker, Mike Scioscia, Bill Russell and Davey Lopes. Coincidentally, Baker and Lopes are both in the opposite dugout during the current NL Division Series, with Baker the Nationals manager and Lopes their first-base coach.
Meanwhile, the 1981 Expos featured three future managers of their own: Terry Francona, Jerry Manuel and Larry Parrish.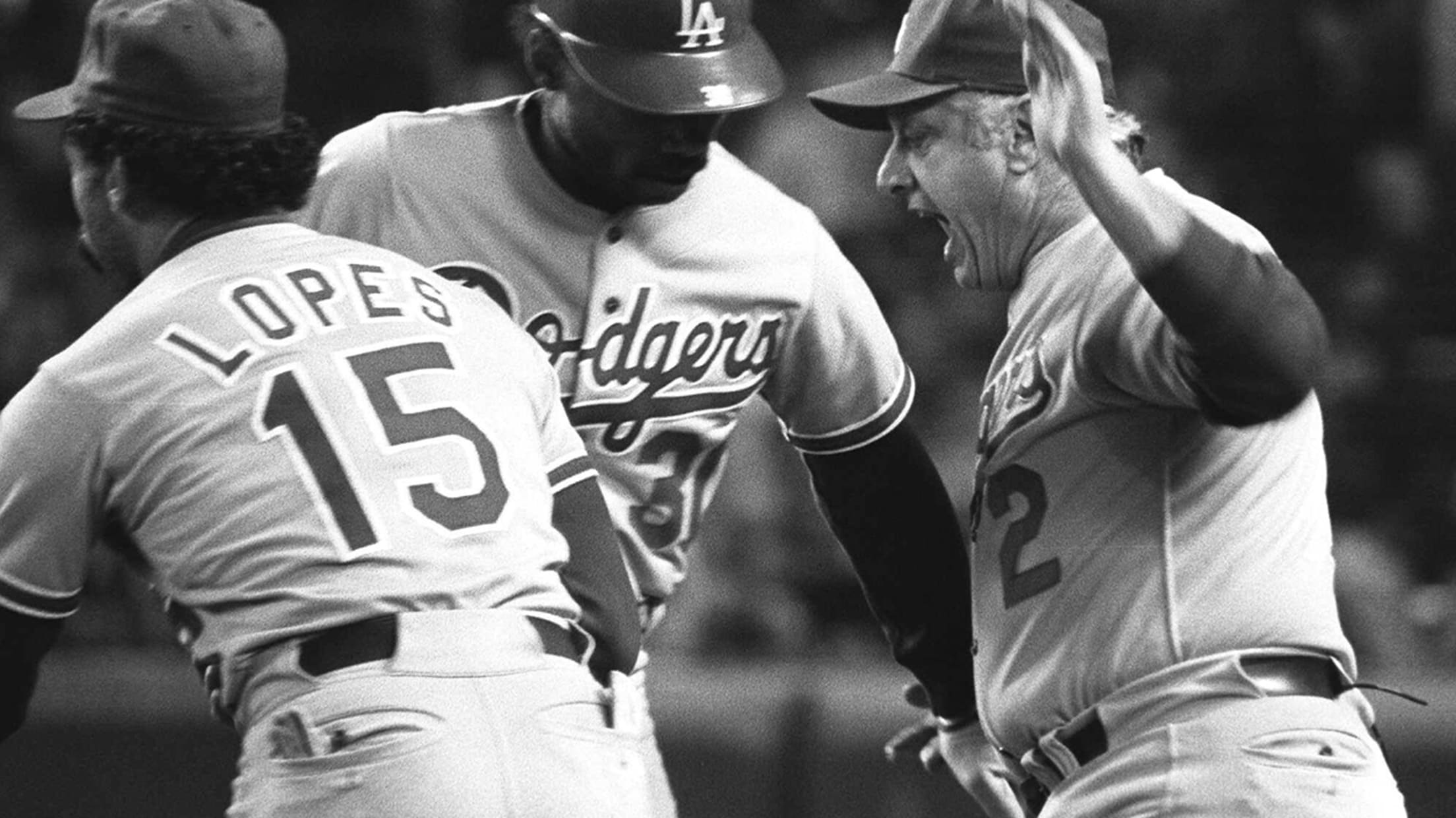 Those seven managers have combined to win 5,740 Major League games, four pennants and three World Series Championships -- numbers which Francona and Baker still hope to increase during the current postseason.
The vast majority of Major League managers were once Major League players and so, logically, there are probably some future managers currently playing in the Majors. If the last series between these two franchises produced so many managers, which current Nationals or Dodgers are most likely to follow in those footsteps?
In looking for the best candidates, two groups of players were quickly eliminated: pitchers and players who have earned superstar contracts. The vast majority of managers are former position players -- although Red Sox manager John Farrell is proof that pitchers can cross that pitcher-manager divide. It's also unusual for star-level players to take on managerial roles -- although, again, not unprecedented as Paul Molitor and Ryne Sandberg demonstrate. Perhaps Rich Hill or Jayson Werth will be the next manager with an untraditional background, but it's not the safest bet.
Without further ado, our top three future managerial candidates from each team:
Justin Turner
Turner has been a utility player, and he's been a starter. He's been an infielder, and he's been an outfielder. As a result, he possesses the ability to relate to players no matter their role on the roster. Just the other day, Dodgers manager Dave Roberts gave an impressive description of Turner's clubhouse leadership:
"I think that's something where he's a guy that's getting team dinners together and patting a guy on the butt, having a little conversation to make sure the guy doesn't get too down. You know, hanging out with the clubhouse guys and making everyone feel included."
Rob Segedin
There are copious utility players available for teams to choose from, so it's worth paying attention when a team singles out a guy. Segedin hadn't previously reached the Majors, but the Dodgers brought him in from the Yankees via a low-level trade last offseason. Additionally, Segedin is intellectually curious, which will help give him a bright future either on or off the field.
Carlos Ruiz
The most common position for future managers is catcher, by far. They have years of practice managing a pitching staff before they ever transition to a coaching role. As for Ruiz, he's been praised for his ability to work with a pitching staff throughout his entire career. Plus, being able to count on Roy Halladay to give you a glowing recommendation can't hurt.
Wilson Ramos
While we're talking about catchers, the Nationals have one of their own worth considering. His season-ending ACL injury was a setback to the team that had come to rely heavily on his consistency behind the plate. His inspirational first pitch prior to the start of Game 1 of the NLDS, however, illustrated his dedication to his team.
Clint Robinson
Another utility player who can do it all. Primarily a first baseman, Robinson has also played outfield and even pitched a scoreless inning for the Nationals when called upon in a blowout game last year. He's also so dedicated to his craft that even his own manager tries to get him to crack a smile now and again. Perhaps that hyper-focus will serve him well as a manager one day.
Michael Taylor
Baker has enough confidence in Taylor that he's gone so far as to take him under his wing. Could Taylor follow in Dusty's steps one day?
So, who do you think will one day go by the name "Skip"? Vote in the poll below, and if you think there's an even better future managerial candidate that we didn't mention, leave a comment and let us know.
Any current and future managers in the Nationals and Dodgers dugouts can be seen on MLB Network at 4:00 p.m. ET for Game 3 of the NLDS.