What was the exact moment when Mookie Betts and Christian Yelich won their MVP Awards?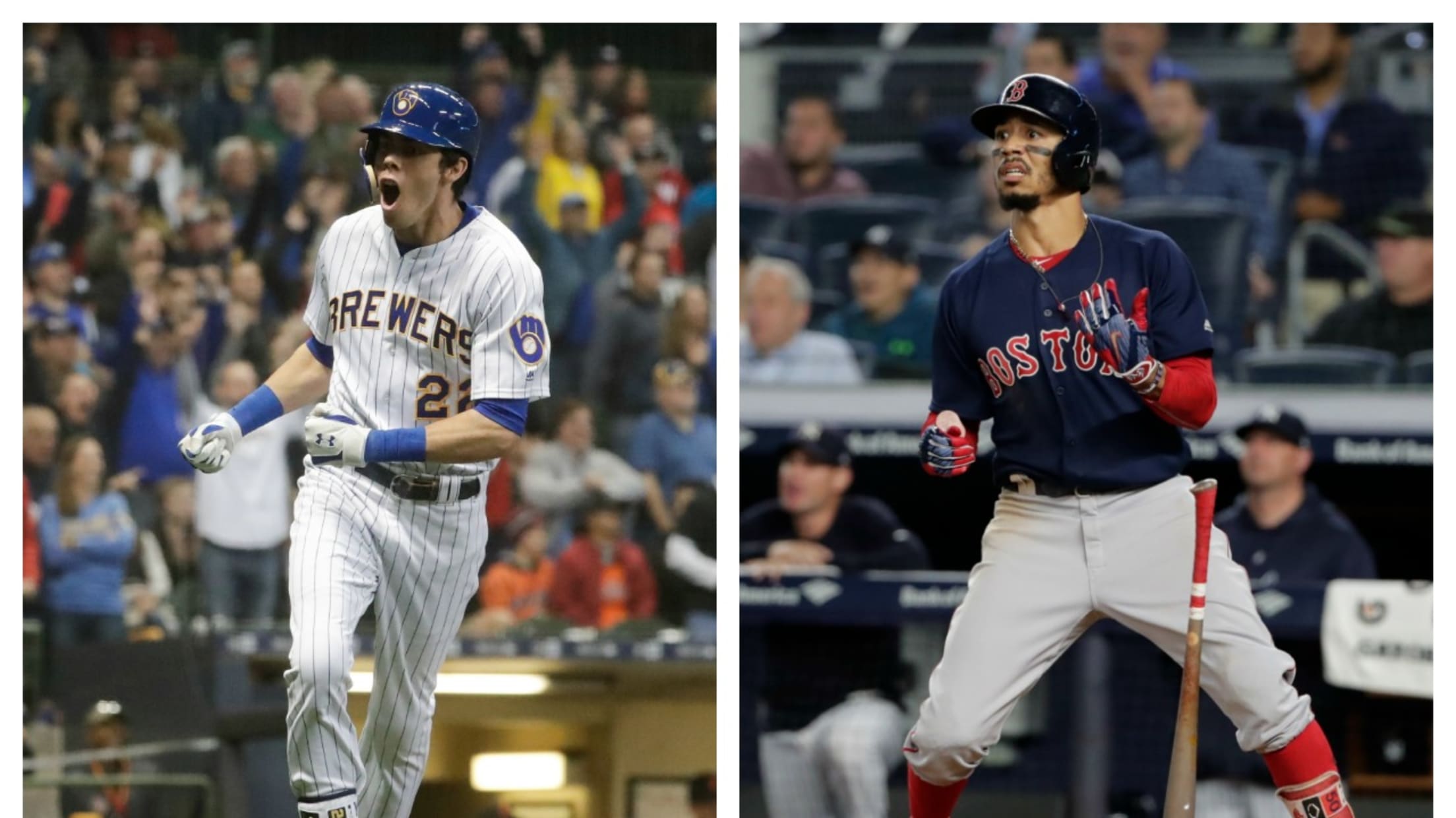 Mookie Betts and Christian Yelich didn't win their 2018 MVP Awards because of just one play. They won them because they were awesome, over and over again, for 162 games -- at the plate, in the field, on the bases, and really everywhere else, too.
Still, there's one thing we know to be true: Every MVP has an MVP Moment -- the point at which everyone seems to collectively say, "OK, yeah, this is the guy." Just what were those moments for Betts and Yelich this year? Let's investigate.
AL:
As you might expect from the man who has seemingly never not been good at something, Betts provided plenty of plays to choose from: There was the grand slam against Toronto, for example -- you know, the one where he nearly tripped and fell down rounding first base -- or his first career walk-off homer.
And yet, somehow, we entered the final month of the year unsure whether Betts was even the most valuable player on his own team. J.D. Martinez was making a serious run at the Triple Crown, after all, and the two had seemingly entered into a months-long game of H-O-R-S-E. Then, after dropping the first two games of a three-game set at Yankee Stadium, Mookie basically clinched the AL East all by himself:
Betts finished 4-for-5, including a three-run homer off Aroldis Chapman that iced things for good, and he removed all doubt as to which Red Sox truly owned 2018.
NL:
While the AL MVP race quickly whittled itself down to just a few major players, the Senior Circuit entered pennant race season about as wide open as wide open gets -- everybody from Javier Baez to Matt Carpenter to Freddie Freeman seemed like they had a real chance to take home the hardware. And then Yelich turned into the Human Torch for an entire month.
Well, technically more than a month. In 31 games from from Aug. 28 to Oct. 1, Milwaukee's main man slashed a still-unbelievable .396/.514/.865 with 13 homers. His final two weeks were even crazier: Over his final 13 games, Yelich hit .488/.621/1.116 (!) with six homers and 13 extra-base hits.
Despite those heroics, though, the Brewers entered the second-to-last day of the regular season tied with the Cubs atop the division, needing a win over the Tigers to keep pace and avoid the anxiety of the NL Wild Card Game. Although Detroit's season was already over, they were determined to play spoiler, scratching across runs in the fifth and sixth innings to tie the game at five. Things at Miller Park were tight. Then up stepped Yelich, already with one homer under his belt:
Dinger No. 2 gave Milwaukee a 6-5 lead they wouldn't relinquish, and set the Brew Crew up to eventually win the division and come within one game of the World Series -- while serving as the feather on top of Yelich's dream season.
Teams in this article:
Players in this article: