Here's everything you need to know about the Dodgers and Brewers to look smart in front of your friends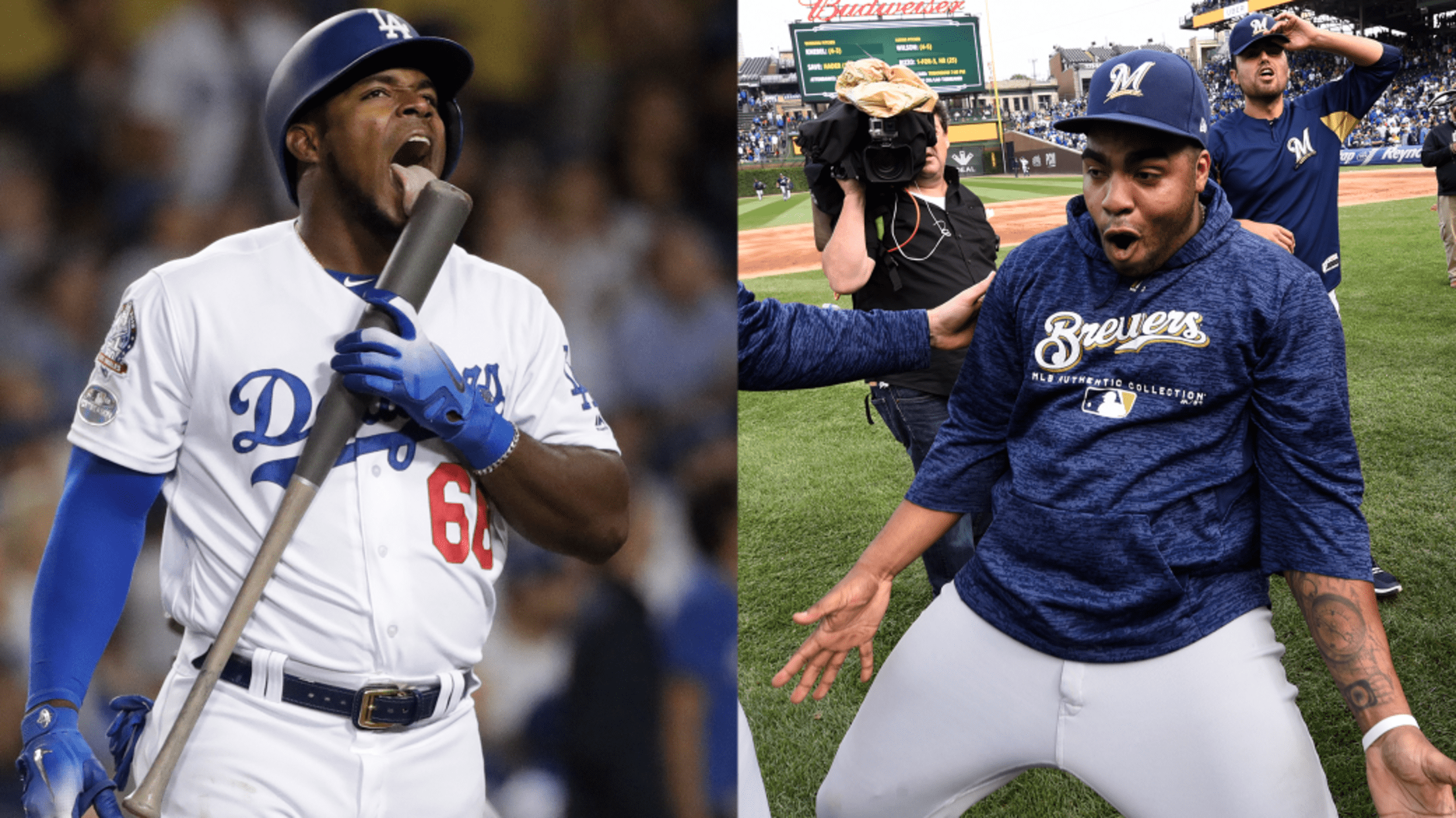 You know that moment when you're watching postseason baseball on your buddy's couch, surrounded by a bunch of folks who might not watch baseball as often as you? And then someone on the TV does something cool -- let's say it's Lorenzo Cain robbing a homer -- and one of those less baseball-inclined friends of yours pipes up "oh, that was sweet, what's that guy's deal?"
For a moment, silence. But then you remember that NLCS preview you read and remember a cool fact you learned about Cain. "Oh, yeah," you say, "pretty crazy story, he didn't play baseball or own a baseball glove until his sophomore year of high school." And then, in an instant, Cain isn't the only hero in the room because you have just become one, too.
Here are all the most interesting, weird and wonderful party facts about the Brewers and Dodgers teams about to face off in the NLCS.
Brewers
Shutdown Reliever Corey Knebel is an actual brewer
None of the Astros are astronauts, none of the Red Sox are socks and none of the Dodgers actually dodge traffic, but thankfully there is a Brewer who brews. Knebel, who hasn't allowed a run out of the Milwaukee bullpen since August, happens to be an avid home brewer of various beers.
Just like any average human who attempts to make beer in their garage, Knebel admits that he's had an exploding bottle incident or two, but has gotten pretty good at it since.
Jonathan Schoop won the Little League World Series
Traded from the Orioles in the middle of the season, Schoop has a chance to make history by becoming only the second player in baseball history to win both the Little League World Series and the MLB World Series (current A's reliever Yusmeiro Petit is currently the only one). Schoop, who got the save in the championship game, was on the 2004 Curacao team that also featured Rangers infielder Jurickson Profar.
From @LittleLeague on, @Orioles 2B Jonathan Schoop has always had a cannon. #TransformationTuesday pic.twitter.com/H1GAZlQCBk

— Play Ball (@PlayBall) November 22, 2016
Lorenzo Cain didn't play baseball until his sophomore year of high school
Unlike Schoop, Cain only started playing baseball when he didn't make the high school basketball team. Devastated about that rejection, Cain figured he should give baseball a shot, so the next year he showed up to tryouts ... in jeans.
Erik Kratz is the new David Ross
Remember the grizzled veteran backup catcher who became an October hero for the 2016 Cubs? Kratz's path to cult hero status has been even more unbelievable.
King Kratz mic'd up for the final out. 🎤 pic.twitter.com/fSbvfZ1MJU

— MLB (@MLB) October 8, 2018
Christian Yelich is in the middle of the hottest stretch in Brewers history
The NL MVP front-runner and Pete Davidson doppelganger has scored or driven in 32.5 percent of all Brewers runs since Sept. 1. His 1.313 OPS from that date to the end of the regular season was the highest single month OPS in Brewers franchise history. Yelich is about as hot as players come and he's also hitting really well right now.
"Jesus Aguilar face" is definitely a thing
And it's not just because the Brewers' beefy breakout slugger has some tremendous braces. There's a certain look Aguilar pulls out from time to time that's basically a laser beam of skepticism saying, "who are you and do you really think you can sneak a fastball by me?" Here's an example.
Jeremy Jeffress is the most hyped closer in baseball
No closer in baseball is more fiery and demonstrative on the mound than Jeffress. Whenever the dude nails down another ballgame, he turns into a tornado of celebratory emotion equipped with a fearsome fist pump that would make even Captain Falcon flinch.
Orlando Arcia is the best dabber in baseball
He just is.
Dodgers
Manny Machado's style decisions have already gone full Hollywood
The all-world shortstop has only been in L.A. for a few months, but he's certainly dressing like he's been there for years. Check out this madness.
Chris Taylor was a high school wrestling champion
OK, maybe this photo isn't totally real, but the fact is, Taylor, whose dad and grandpa both wrestled at Virginia Tech, was the high school wrestling champion for the entire city of Virginia Beach.
Yasiel Puig licks his bat after every swing
Why does Puig do this? Why does Puig do anything? He's claimed it's to forge a deep emotional connection with his bat, which makes sense if you don't think too hard about it.
Brian Dozier can complete a Rubik's cube in under three minutes
Not what you'd call a useful baseball skill, but it's still pretty sweet.
Kenta Maeda loves pranking his translator
The Dodgers reliever and his translator, Will Ireton, seem to have a pretty solid relationship.
Max Muncy is the best dinger-mashing breakout star in baseball
There's a lot to love about Muncy, a dude who didn't play a single inning in the bigs last season, and now hits in the middle of the Dodgers' order. He's one of the swaggiest dudes on a team full of very swaggy dudes.
Hyun-Jin Ryu is a mega-star in Korea
The Dodgers lefty, who was dominant in Game 1 of the ALDS against the Braves, has been in many incredible advertisements in his native Korea, including a particularly iconic one for a ramen company that also featured a Clayton Kershaw lookalike.
No one has more fun than Enrique Hernández
From flexing in the background during TV spots ...
to his incredible engagement photos ...
Kiké Hernandez & his fiancée Mariana's engagement photos are the best things you'll see all day.

(📸: Bree Marie Photography/Kiké's IG) pic.twitter.com/4YevcgO1SK

— Cut4 (@Cut4) July 12, 2018
to his relationship with his "dad" Chase Utley ...
there's no doubt that Hernández is the league's most talented Little Leaguer.