It's time to familiarize yourself with Astros superstar Alex Bregman
Astros third baseman Alex Bregman has seemingly decided the postseason is the perfect time to smash home runs all the time. He started the scoring in Game 1 of the ALDS against the Indians with a home run and added an insurance run with another blast in the Astros' 3-1 Game 2 victory on Saturday. Bregman's home runs have helped the Astros take a commanding 2-0 series lead.
But who is the Astros infielder? I'm glad you asked. We're going to get you caught up with all you need to know.
He wears No. 2 because he was picked second overall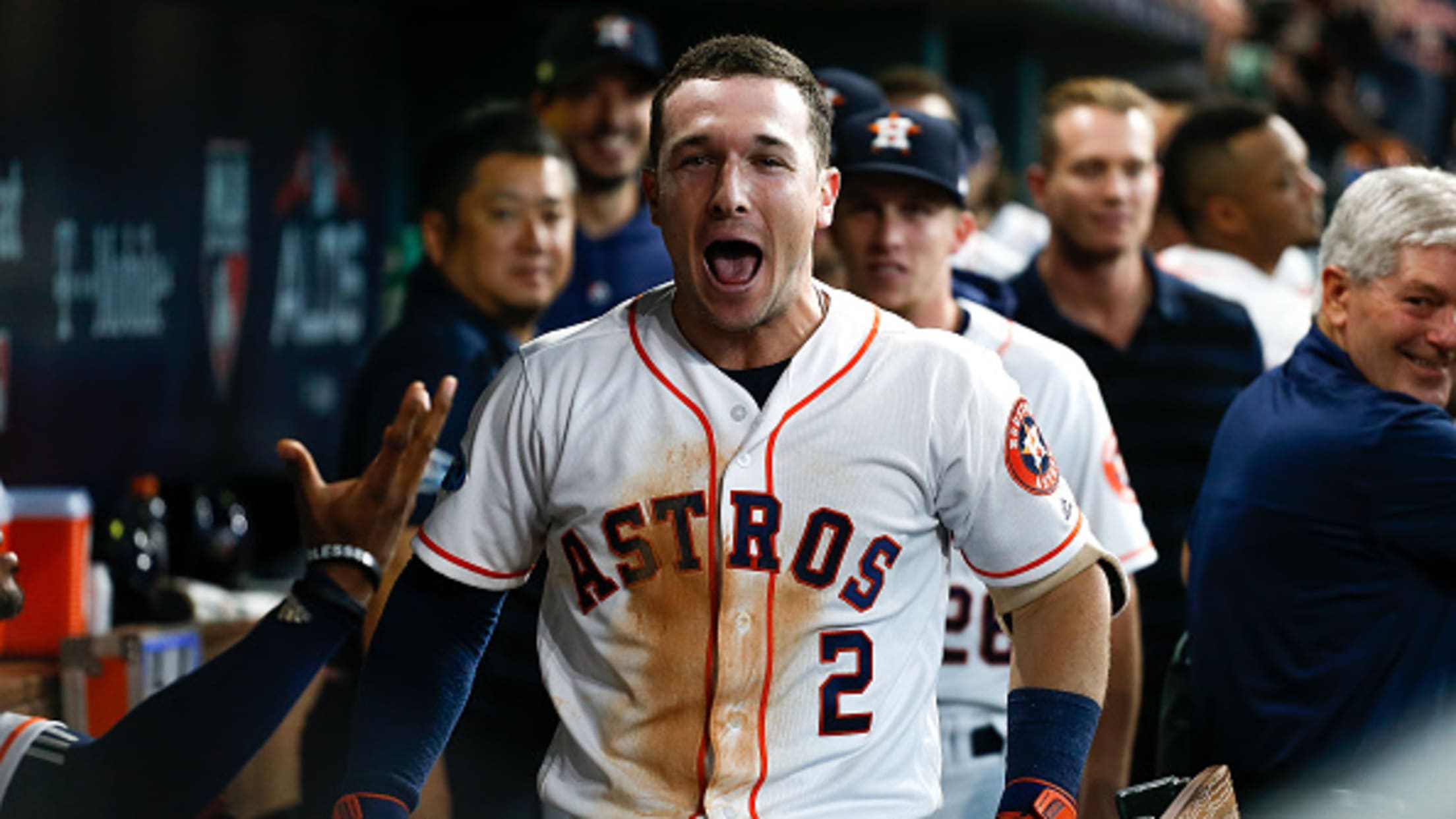 Bregman's uniform number is a reminder that the D-backs chose not to draft him first overall in the 2015 MLB Draft (they instead chose now-Braves shortstop Dansby Swanson).
This isn't the first time Bregman's jersey has served as a reminder to the teams that passed over him. He wore No. 30 as a freshman at LSU for the number of teams that passed over him in the first round out of high school.
He has already played in a World Series
It didn't matter that Bregman was just 23 years old last year, as he was the Astros' starting third baseman throughout the season. That carried through to the World Series, where Bregman played a crucial role in defeating the Dodgers in seven games. Along with two home runs and stellar defense, Bregman hit the walk-off single in the high-scoring, back-and-forth Game 5.
He has a penchant for big home runs
His home run in Game 2 on Saturday was already his sixth postseason home run. The pitchers he's gone deep against is a star-studded list, too: Corey Kluber, Clayton Kershaw, Kenley Jansen, Chris Sale (two of them) and Trevor Bauer have all surrendered dingers to the third baseman. Not bad company.
The home run off Bauer was an exclamation mark on their friendly feud
There was actually a little history between Bregman and the Indians hurler before Saturday. After a Twitter spat started between the Bauer and the Astros pitchers earlier this year, Bregman referred to Trevor as "Tyler" in a tweet. That led to this hilarious dugout moment:
He's already won an All-Star Game MVP
Named to his first All-Star Game this year, Bregman came on to replace the Indian's Jose Ramirez. With the game tied at 5 in the 10th inning, Bregman gave the American League the lead with a leadoff home run off Ross Stripling. That was enough to earn him the MVP award in the AL's 8-6 win.
He started the Astros' dugout celebration
Known for staring intensely into the dugout camera after his home runs, Bregman led the Astros to a full variety show of home run celebration maneuvers. It started with a synchronized swimming-esque full-team stare and soon transformed to include the limbo and, best of all, curling:
🥇🥇🥇 @ABREG_1 pic.twitter.com/K4qO5oJHX5

— Houston Astros (@astros) September 3, 2018
He hit two of the weirdest walk-offs this year
Bregman doesn't just hit home runs. He also won two games for the Astros without the ball leaving the infield. He gave the Astros a 1-0 victory over the Padres in April when Eric Hosmer couldn't snag his infield popup, and gave Houston the win over the A's with a two-foot dribbler that Jonathan Lucroy had trouble corralling:
Teams in this article:
Players in this article: