Which of these players is most likely to be World Series MVP?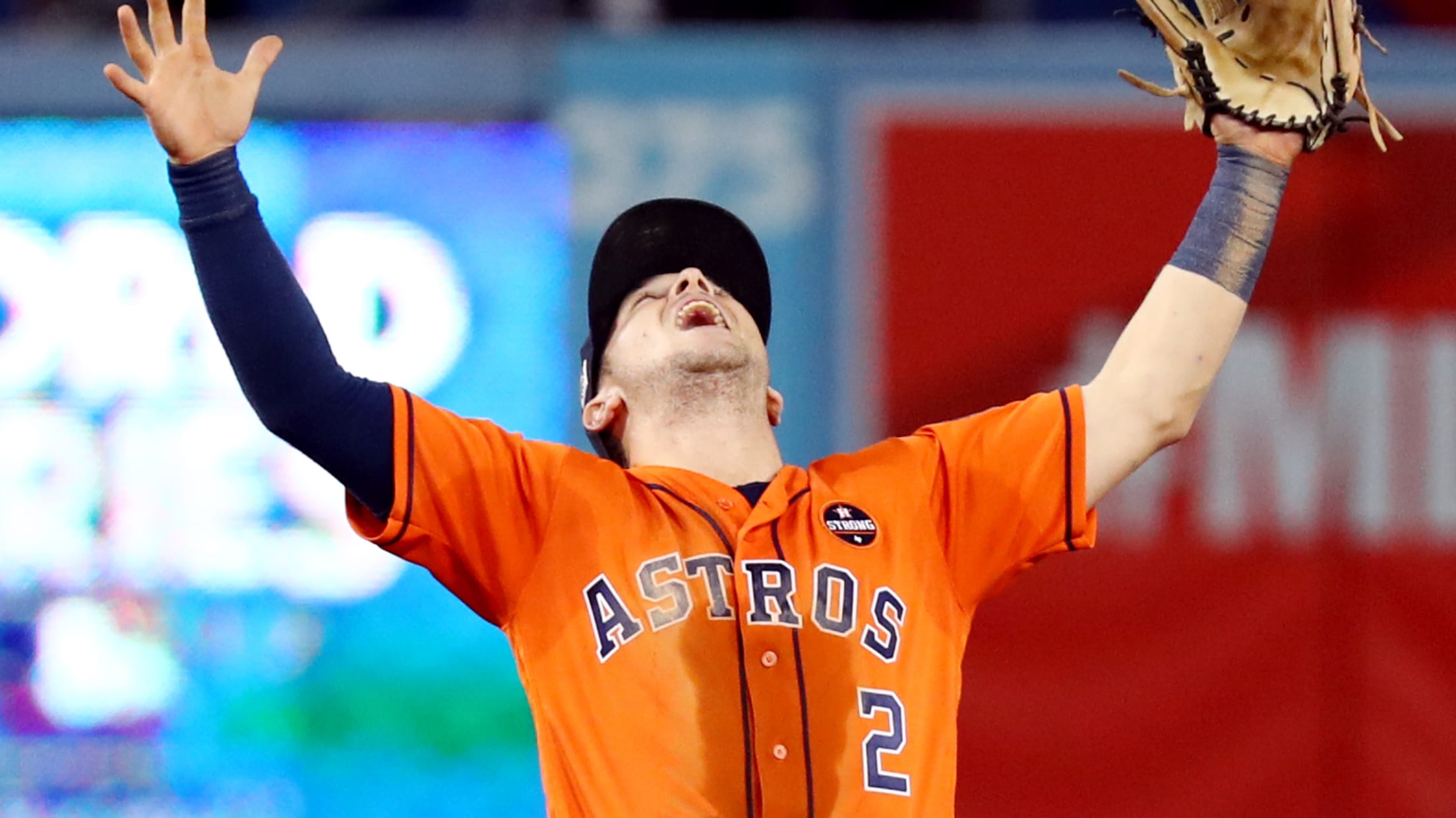 The air is getting chilly. The leaves are starting to change. Those stores that only open for Halloween are starting to open. It can all mean only one thing: It's time for postseason baseball.
Now that the field of 10 and all the matchups are set, it's finally safe to start making some predictions. Trying to guess which teams will make it to the World Series is always tough, but we're dreamers here at Cut4, so we're going to go team-by-team and think about which talented baseball men could bring home the World Series MVP.
Here are our contenders.
Astros - Alex Bregman
The only thing Bregman probably regrets about the Astros' postseason run last year is that he didn't hit well enough to win the World Series MVP. His teammate George Springer did, thanks to a .379 average and five extremely timely home runs. Sure, Bregman was there in the clutch all postseason, but his .233 AVG and .739 OPS in the World Series were certainly below his standards.
But this season, Bregman has put the Astros on his back, putting up numbers worthy of a top-5 MVP finish. Few players cherish and yearn for the big moment like Bregman, so if Houston makes it back to the Fall Classic, expect his numbers to be much heftier this time around.
Athletics - Jed Lowrie
The obvious pick on Oakland's roster might be HR king Khris Davis, but it is difficult to win the World Series MVP hitting .247.
Instead, it is more important to be collecting hit after hit and always getting on base. You can practically visualize Lowrie constantly being on base and hitting a clutch RBI double down the line in the eighth inning in late October. It's Ben Zobrist all over again.
Braves - Ronald Acuña
Born literally one day before "Titanic" came out, this 20-year-old phenom isn't just one of the best young players in baseball, he's one of the best players. Period.
Twenty-two years ago, a different baby-faced Braves youngin' took the World Series by storm as Andruw Jones hit .400 with three extra-base hits against the Yankees in the 1996 Fall Classic. Had Atlanta pulled that series out against the Yankees, there's little doubt Jones would've been the MVP.
Like Jones, Acuña oozes talent, poise and moxie. There's no doubt that when the moment comes, this awe-inspiring and dinger-smacking rookie will rise to the occasion.
Brewers - Christian Yelich
No one in baseball right now is hotter than Christian Yelich. After leading his Brewers past the Cubs in Game 163, the frontrunner for the NL MVP looks about as unstoppable as we've seen a baseball player in a long time.
No one would be surprised if Yelich went full scorched earth on the postseason and carried Milwaukee to October glory.
Cubs - Ben Zobrist
History tends to repeat itself, as the saying goes, and that's what we're banking on here. Zobrist was the World Series MVP for the Cubs the first time around, so obviously he should just be able to do it again.
A old-school player who looks like he was magically transported from the early-1900's just to play baseball, the Cubs' super-utility man enjoyed quite the renaissance year in 2018. Thanks to his incredible versatility, Zobrist is sure to be all over our TV screens if the Cubs make it back to the Fall Classic.
Dodgers - Justin Turner
After bringing home co-MVP honors in last year's NLCS, Turner is no doubt a favorite for World Series MVP this season. After missing a good chunk of the year to injury, the Gritty look-alike returned to action in August and spent the last two months blowing the National League to smithereens. The Dodgers are a motivated bunch after coming so close last year, so expect Turner to be playing as fired-up as his facial hair.
Indians - Corey Kluber
The primary condition for a pitcher to win World Series MVP is to make at least two excellent starts, as each of the most recent pitcher MVPs have (Madison Bumgarner in 2014; Cole Hamels in 2008; Josh Beckett in 2003). Kluber has already shown he's capable of this feat in the 2016 World Series with dominant starts in Games 1 and 4 starts. H ad his Game 7 outing gone more smoothly, he may already have one of these awards on his mantle. But after yet another Cy Young-level regular season campaign, Kluber seems primed again to dominate for Cleveland in October.
Who knows, maybe he'll smile?
Red Sox - J.D. Martinez
The Red Sox got exactly what they paid for when they signed Martinez this past winter. The man known as Just Dingers has actually given Boston more than just dingers -- he's also chipped in 106 singles, 37 doubles, and two triples to go along with his triumphant 43 long balls.

After an early exit in October last year with Arizona, Martinez is in a much better position to shine in the postseason in 2018 playing for the AL East champions. His teammate Mookie Betts may be the favorite for the regular season MVP, but Martinez is every bit capable of dominating a single series and winning this award.
Rockies - Trevor Story
George Springer showed us the blueprint for winning this award last year by getting in comprehensibly hot at the plate, notching extra-base hit after extra-base hit and crushing the ball nearly every time up. Few hitters on earth have that same capability of heating up quite like Story, whose first heat check came in the first week of his MLB career when he hit a ridiculous six home runs across his first four games back in 2016.

This year, Story's brought his game to even greater heights, with 36 long balls during the regular season to go along with 27 steals and stellar defense at shortstop. He can take over a series for sure.
Yankees - Didi Gregorius
Things looked a bit dicey for the shortstop's postseason aspirations when he injured his wrist sliding home for the game-winning run against the Orioles on Sept. 22. But Didi was back in the lineup for the season finale, and has the ability to steal the spotlight, even from his taller teammates. He showed up early in the postseason for the Yankees in 2017 with three big homers. A repeat performance could be in store this October -- all the way to ring No. 28.