The Yasiel Puig-Madison Bumgarner beef, explained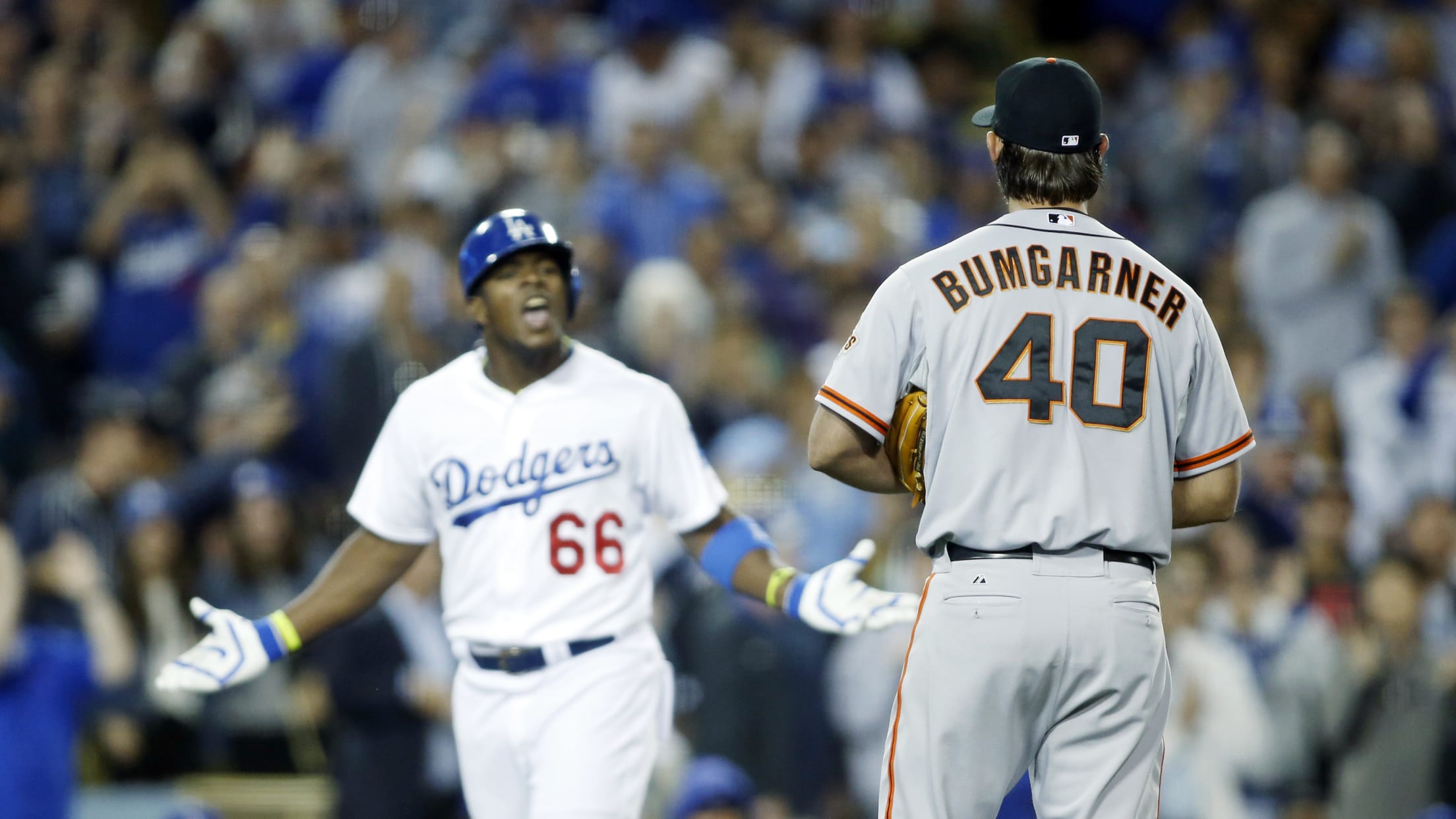 Over the weekend, on the joyous and wonderful holiday of Mother's Day, Yasiel Puig and Madison Bumgarner had a bit of an altercation. In his 54th plate appearance against the Giants lefty (his most, by far, against any pitcher), Puig hit a dinger and flipped his bat.
There's only one day a season you can flip a pink bat. pic.twitter.com/uI1Mn9AiWs

— Cut4 (@Cut4) May 12, 2019
MadBum was quite displeased with the result, and had quite the comeback ready for the postgame presser.
Bumgarner on Puig's homer on a fastball in: "He's a quick study. It only took him seven years to learn how to hit that pitch."

— Andrew Baggarly (@extrabaggs) May 12, 2019
So, what's the deal between these two players? How did all of this beef start? Here's a handy breakdown below.
It all started on an innocent night back in May 2014. Puig homered off Bumgarner and flipped his bat high into the sky. MadBum did not take too kindly to it.
Bumgarner claimed postgame that he had only made his way over to Puig to congratulate him on a well-struck ball.
That September, MadBum hit Puig with a pitch. We'll never know if it was intentional or not, but Puig was angry. He charged the mound and both looked ready to throw down.
But instead of settling it with fisticuffs, MadBum held back and hit a homer of his own two innings later -- right over Puig's head.
In September 2016, the two went at it again. Puig grounded out to MadBum and things, um, escalated. MadBum threw to first for the out, walked toward the dugout and famously told Puig, "Don't look at me!"
Here, we'll let legendary Dodgers broadcaster Vin Scully take you through the madness.
Puig said he didn't understand the issue with Bumgarner after the game.
And then, the entire Dodgers team clapped back at Bumgarner with some choice shirts the very next day. If you look at the hashtags, it was sort of an apology and sort of an effort to squash the beef. Sort of.
#PuigYourFriend #DontLookAtMe 👀 #Puignotlookingatyou 🙈 @JDL_87 @Adrian_ElTitan pic.twitter.com/2r1JULNyMK

— Yasiel Puig (@YasielPuig) September 20, 2016
Yasiel even signed one for #hisfriend Madison!
Adding a little fuel to the fire... All in good fun! https://t.co/d2ImfpyuB3 pic.twitter.com/AImnda42n2

— Marly Rivera (@MarlyRiveraESPN) September 21, 2016
And that, my curious baseball friends, is how we arrived at the game on Sunday.
Puig is now on a different team (the Reds) and the two won't face each other as much as they used to, but, as you can see, the fireworks are very much still there. The only bad thing is that, unless they face each other in the postseason --- or Bumgarner gets traded -- we have to wait until 2020 for them to go head-to-head again.
Teams in this article:
Players in this article:
Topics in this article: