Bryce Harper just put up the greatest revenge game in MLB history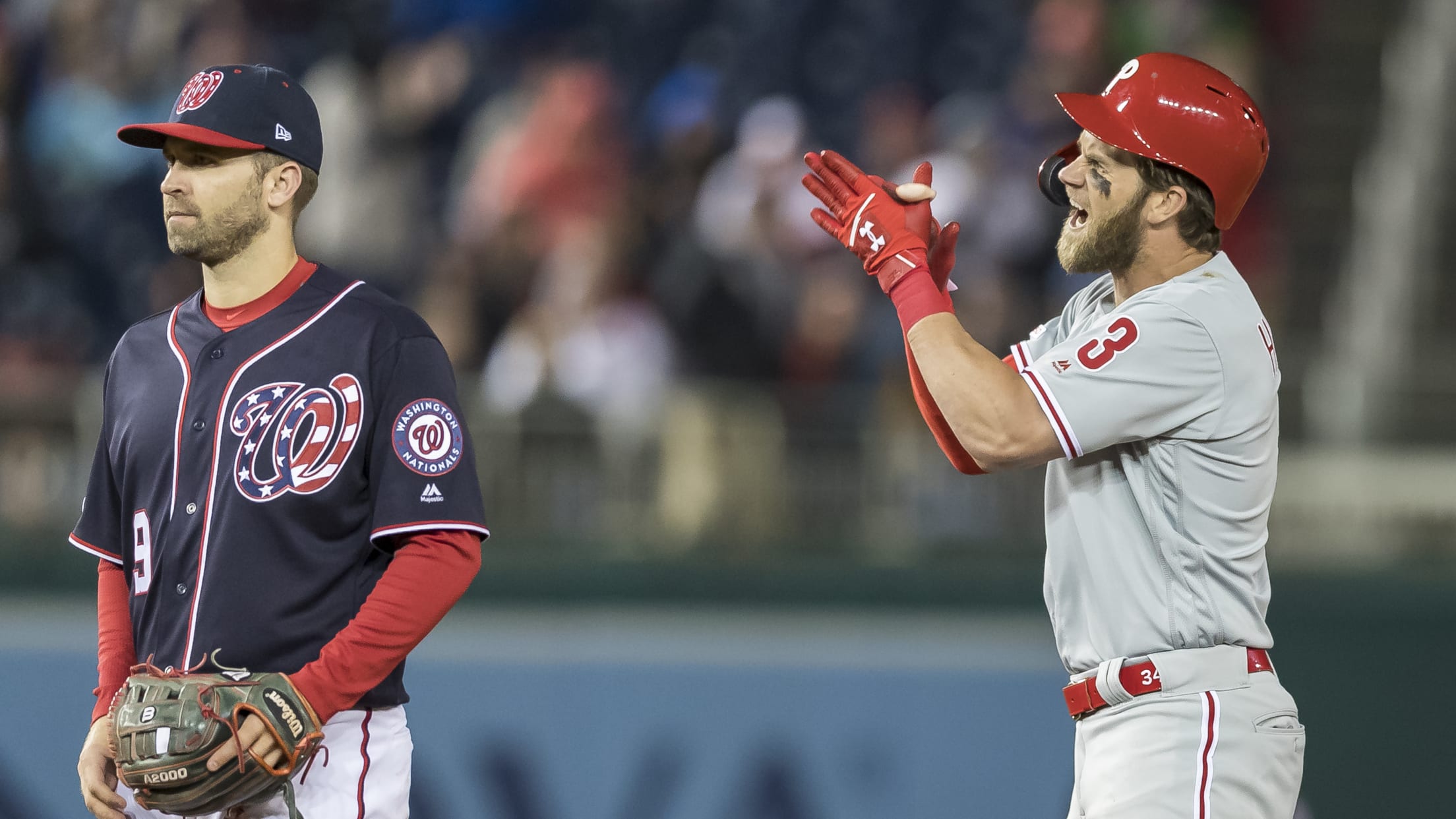 Everybody, in every sport, loves a good revenge game.
Most reunions between a star and his old team pass by pretty innocuously: The pregame theatrics subside, the game settles into its usual rhythms and everyone moves on with their lives. But sometimes, when the stars are aligned and the beef is particularly spicy, what started as a sporting event becomes a Shakespearean drama -- and we get to see what happens when one of the best players in the world becomes a neutron star of concentrated vindictiveness.
Which, naturally, brings us to Bryce Harper's return to D.C. Baseball has seen more than its share of revenge games over the years. There was Ken Griffey Jr. launching two home runs in his return to Seattle:
Or Tom Seaver, two months after the Mets traded him to the Reds, striking out 11 in a complete-game win at Shea Stadium.
Or Willie Mays convincing manager Yogi Berra to put him in the lineup just so he could hit home run No. 650 in his return to San Francisco.
But it's hard to remember anything like what we saw at Nationals Park on Tuesday night. Harper was the face of the Nats. Washington drafted him first overall as a teenage prodigy back in 2010, then watched him blossom into an MVP who helped turn the team into a perennial contender. Then, after a free-agent saga years in the making, he signed a 13-year deal with Washington's ascending division rival ... and immediately embarked on a whirlwind romance involving Phanatic cleats and elaborate choreography.
That cocktail -- a player that good, that charismatic, heading to a fellow contender just up the interstate and (awesomely) flaunting it -- is historically unique. And it produced saltiness the likes of which we've not yet seen in a Major League ballpark:
April 3, 2019
To say that D.C. came prepared would be an understatement. Shirts were made. Memes were Photoshopped (and subsequently deleted). Regional icons were appropriated:
Yo homes, smell ya later. pic.twitter.com/3Jf1aR8mJq

— Washington Nationals (@Nationals) April 3, 2019
This wasn't just baseball; this was a blood feud masquerading as baseball. All of which makes what Bryce did the single greatest act of revenge in MLB history. He didn't just propel his team to a win with a three-hit night -- he went full heel while he did it. He bowed to the Phillies fans who made the trek in the right-field seats. He bowed after hitting a double:
MOOD pic.twitter.com/gKgfMf33LZ

— Philadelphia Phillies (@Phillies) April 3, 2019
And then, for his final trick, he went yard ... and flipped his bat into the stratosphere:
Bat flipping season is the best time of year. #LetTheKidsPlay pic.twitter.com/05LQ9WVauw

— MLB (@MLB) April 3, 2019
It's one thing to silence the haters. It's quite another to do it so thoroughly, then turn around and make sure they know just how much you enjoyed it. This was LeBron coming back to torture the Cavs, only with 100 percent more trolling. This was like Brett Favre beating the Packers as a member of the Vikings if Favre had blown the viking horn after every touchdown. This wasn't just baseball's best revenge game; this was the perfect revenge game.
To be clear: All of this is as it should be. Nats fans should keep on booing, and Harper should keep on living his best life. But it's pretty clear that round one went to Philly -- and earned a special spot in the game's history.
Teams in this article:
Players in this article:
Topics in this article: