Five legendary tales from Bryce Harper's journey to the largest free-agent contract in MLB history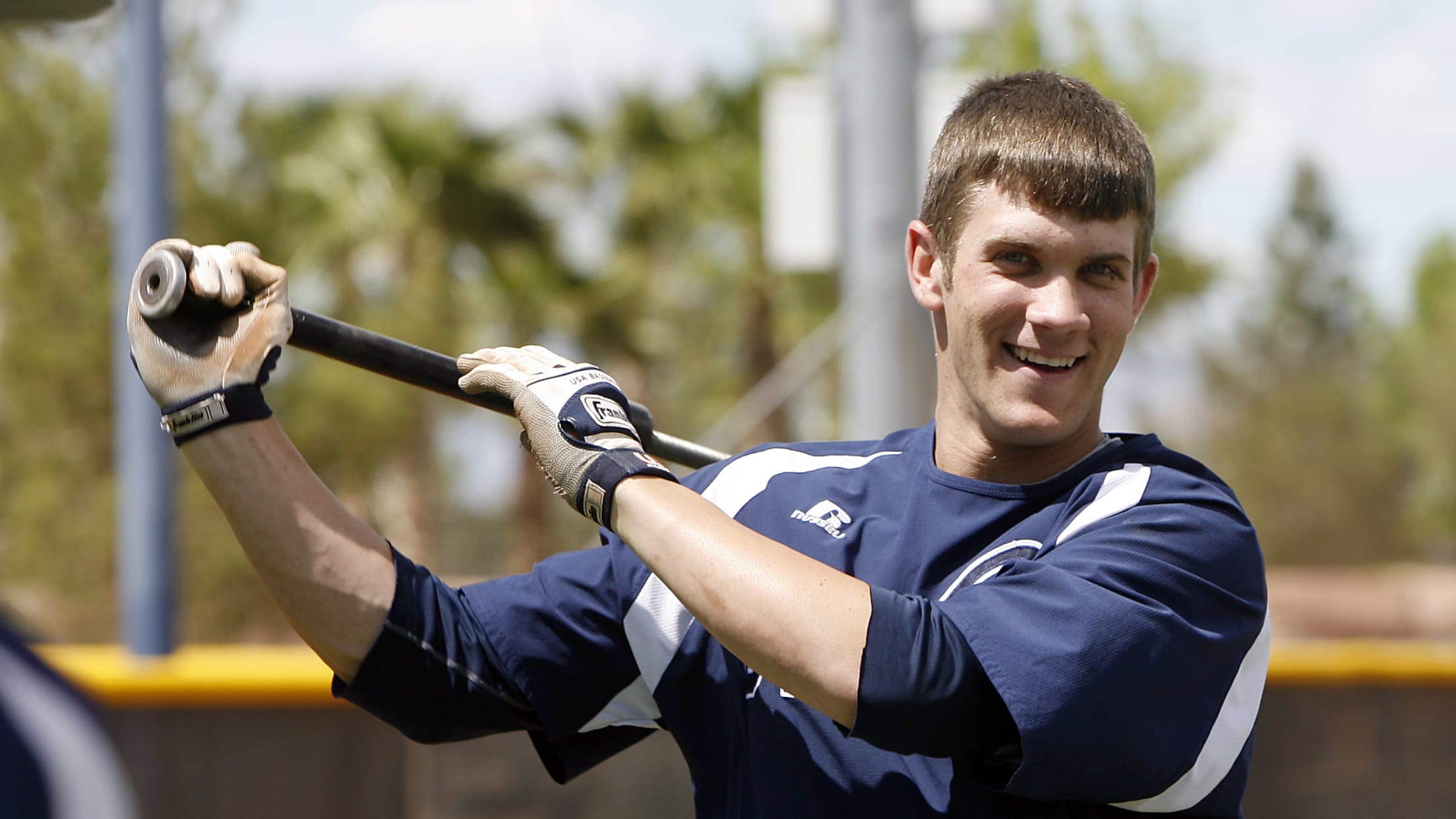 (AP)
After a long winter of dominating the Hot Stove, Bryce Harper has agreed to join the Phillies for $330 million over 13 years, the largest free agent contract in MLB history. Though still just 26 years old, Harper has been squarely in the public eye for over a decade, having first burst on the scene on the cover of Sports Illustrated as a 16-year-old in June of 2009. Then dubbed "Baseball's LeBron," Harper has certainly dealt with sky-high expectations for a long time, and some argue that he hasn't quite met those lofty standards set for him as a teenager. This is not to say he has disappointed -- his MVP season in 2015 was one of the most dominant years in modern baseball history -- but rather, Harper has still left many yearning for more.
But before he enters this next chapter of his storied career, let's take a look back at some of the mythic plot points along the way that built Harper to the larger-than-life superstar he is today.
He played alongside two other future MLB stars as a kid
Growing up in Las Vegas, Harper competed against older competition from a very young age. When he was 7, he dominated against 11-year-olds. But he also had the opportunity to compete alongside the likes of Joey Gallo, which the Rangers slugger remembers fondly:
Way back in the day when me and @Bharper3407 were 8 and 9 years old! #TBT #moundvisit pic.twitter.com/Sgauqhap9P

— Joey Gallo (@JoeyGallo24) January 16, 2014
At 13, Harper (back row, fifth from the right in the photo below) was the star of the Southern Nevada Bulldogs, the same team as fellow future MVP Kris Bryant (back row, third from the right):
It probably won't shock you to learn that the Bulldogs, the team with two future NL MVP Award winners, were one of the best travel ball teams around. In the summer before seventh grade, Harper was launching balls 400-plus feet with wood bats.
He was hitting tape-measure home runs to uncharted territories at both high school fields and big league ballparks
Iconic home runs have been synonymous with Harper long before he raised the trophy at the 2018 Home Run Derby. During an interview before he was drafted, Harper recounted -- and retraced -- a home run he hit as a freshman at Las Vegas High School that his coaches estimated traveled 570 feet, leaving the field entirely and surpassing five lanes of traffic en route to an eventual landing spot in the desert:
A year later, Harper competed at the Power Showcase at Tropicana Field as a sophomore, despite the event typically being reserved for upperclassmen. Though he didn't end up winning, he did hit the longest home run of the event -- a 502-foot blast to the very back of the dome:
He rewrote the junior college baseball record books ... as a 17-year-old ... with wood bats!
A key decision during Harper's young career was the choice to earn his GED after his sophomore year and graduate high school early, allowing him to enroll in the nearby College of Southern Nevada. This allowed him to become Draft-eligible a year earlier than a normal high school draft prospect. But even with all the hype surrounding him going into his season at CSN, Harper completely blew past all expectations and put up a historic season, despite being younger than everyone he was playing against and using wood bats for much of the season (CSN's conference used wood instead of the metal traditionally used in collegiate competition).
The line was staggering: .443/.526/.987 in 66 games. He hit a school-record 31 home runs. He stole 20 bases. He primarily played catcher and routinely used his cannon arm to throw out baserunners from his knees. His signature performance came in an elimination game in the regional finals, when he went 6-for-6 with four home runs, a double and a triple. That's 21 total bases in one game! (For context, the MLB record is 19, which Shawn Green did in his four-HR game in 2002).
As if his preposterous offensive exploits weren't enough, Harper also pitched once and was clocked in the mid-90's with his fastball:
He won the Golden Spikes Award for the nation's best amateur baseball player, an award only twice ever given to a junior college player (the other being Alex Fernandez, in 1990 at Miami-Dade Community College).
An optometrist once told Harper that he had "some of the worst eyes [he'd] ever seen"
After being selected No. 1 overall in the 2010 MLB Draft, Harper began his first full professional season on the Nationals in 2011 with the Class A Hagerstown Suns of the South Atlantic League. As one of the youngest players in the league, Harper initially struggled, posting a .667 OPS through his first 12 games. He then visited the team optometrist, who reportedly told him, "I don't know how you've ever hit before. You have some of the worst eyes I've ever seen." Yes, this is after Harper's record-smashing amateur career, during which Harper apparently could hardly see at all! Imagine the numbers he could have put up if that visit to the eye doctor had come a few years earlier.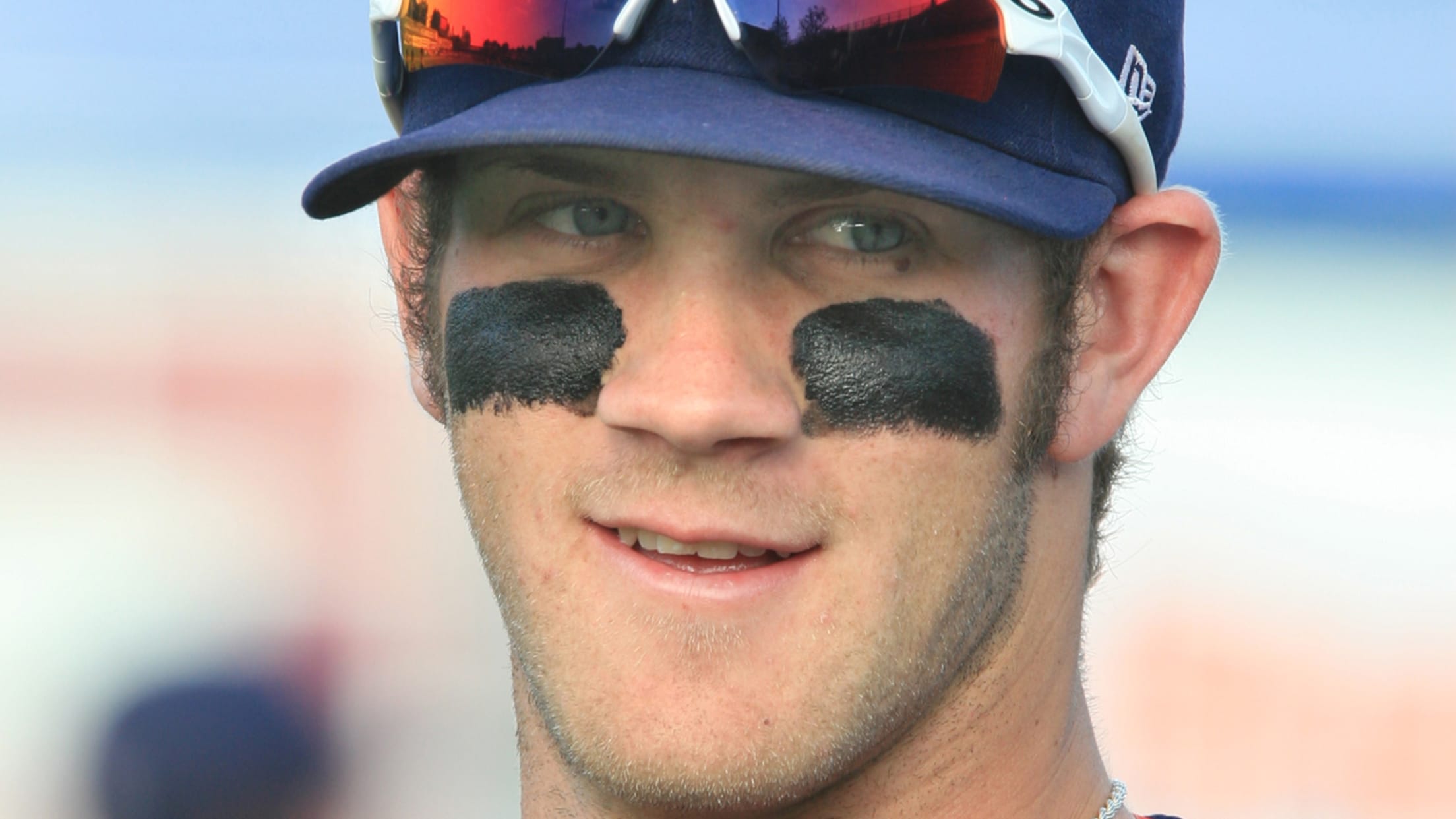 Armed with a stronger contact lens prescription, Harper quickly got his performance up to his usual standards, posting a 1.032 OPS over the next 60 games with Hagerstown before earning a promotion to Double-A. As the saying goes: See ball, hit ball.
He once blew a kiss at an opposing pitcher after hitting a home run off of him
While Harper has earned countless fans over the course of his career, he has also made a few enemies along the way. His first incident came during his first Minor League season with Hagerstown. After admiring a long home run off Greensboro pitcher Zach Neal, Harper blew a kiss in Neal's direction as he rounded third base:
This would be the first of many dust-ups between Harper and opposing players over the course of his career, as he has often rubbed pitchers the wrong way with his brazen bravado and dramatic bat flips. But for a player of his pedigree with a track record of performing unfathomable feats on baseball fields for his entire life, can you blame Harper for showing off every once in a while? This aura of supreme confidence is what has built Harper to become the most coveted free agent in the game's history.
We should not lose sight of the many special moments Harper has already created for the baseball world -- and this only covered the best of Harper before he made the big leagues. His MLB resume has hardly been anything to sneeze at, either. As he transitions into the next chapter of his illustrious career, we should feel pretty confident that there are plenty more unforgettable moments left in the tank.
Teams in this article:
Players in this article:
Topics in this article: