One reason for every team to be excited that it's 2019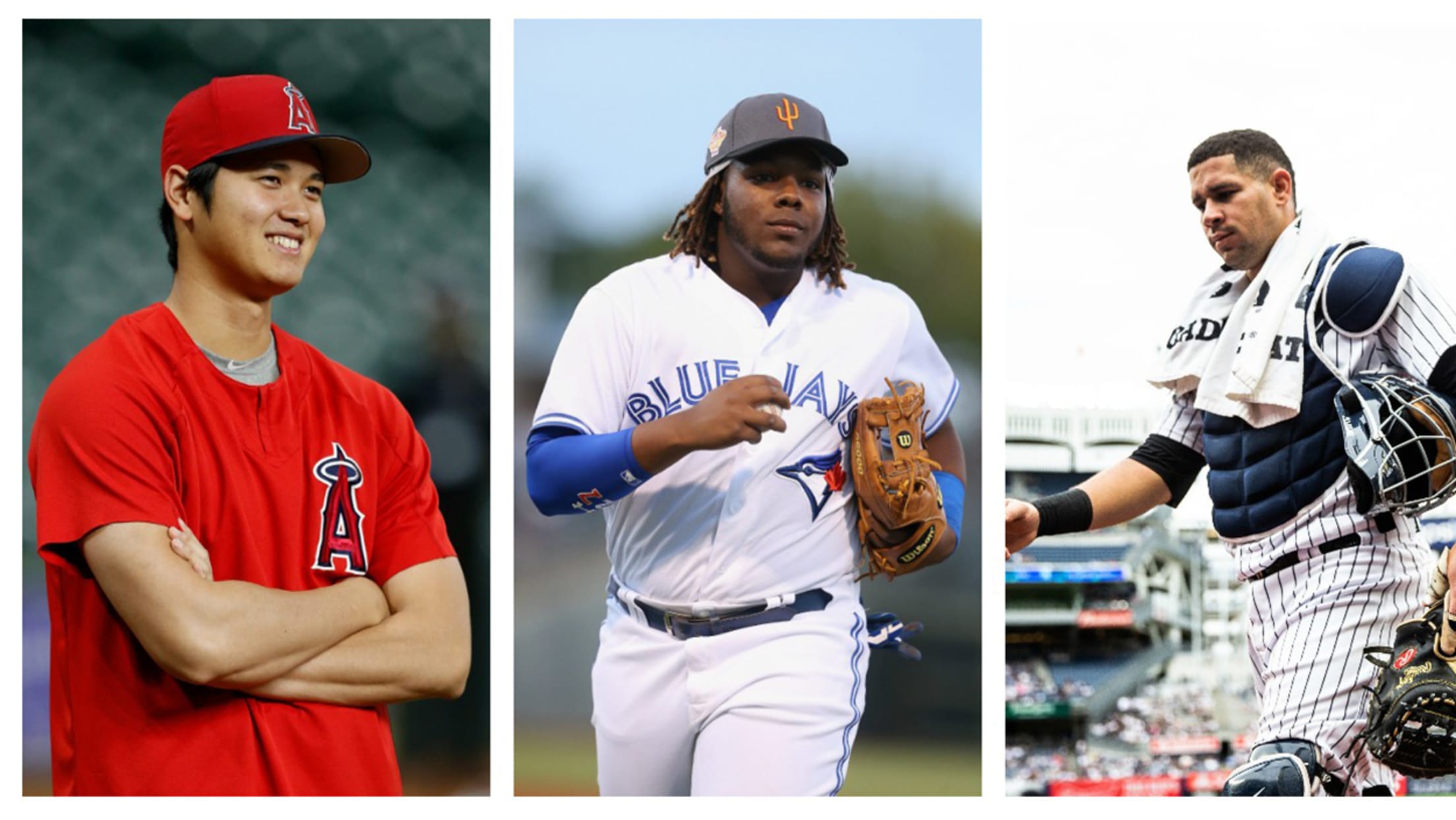 New Year's Day is all about optimism -- the sense of boundless possibility that comes with a blank slate and a fresh start. (Or at least until the New Year's resolution wears off.)
The same is true for your favorite Major League team. Sure, 2018 may not have gone your way -- unless you're a Red Sox fan, in which case don't be greedy -- but who's to say that 2019 won't be different? It's a brand new season, baby, and everyone has a reason to get excited.
Angels: Another season of Shohei Ohtani
Yes, Ohtani won't pitch at all next season, and that's a bummer. But he will get to hit, and with a year under his belt and his offense receiving undivided attention, who knows what the ceiling is -- 40 homers? Joining the 30/30 club? The possibilities are endless.
Athletics: A's Access
There are plenty of reasons to be excited on the field, what with that whole "hitting incredible amounts of dingers" thing. In their quest to come up with every wild promotion under the sun, though, Oakland is reinventing season tickets in 2019: GA access to every regular-season game, plus half-price concessions and a merchandise discount and free MLB.TV. Yes, please.
Astros: Even more talent on the way
With names like Altuve, Correa, Bregman, Cole and Verlander, you'd think that Houston was already full-up on top-shelf talent. You would be wrong: Outfielder Kyle Tucker and righty Forrest Whitley -- both in MLB Pipeline's top 10 -- are set to break in with the big club in 2019, and they can both do damage.
Blue Jays: The coming of Vladito
You may already know the legend of Vlad Guerrero Jr., but if not, here are the Cliff's Notes: He hit .336/.414/.564 in Triple-A last year as a 19-year-old, he's coming to Rogers Centre in 2019 and he can do stuff like this.
Vlad just called his shot and went deep off the tee for @MLBNetwork. Carlos Pena approves. 🤩 pic.twitter.com/SrcMlYvdjY

— New Hampshire Fisher Cats (@FisherCats) May 7, 2018
Braves: Josh Donaldson
Donaldson has been limited by injuries over the last couple of years, but he was an MVP just three years ago and he killed it down the stretch with the Indians in 2018. With Dansby Swanson, Ozzie Albies and Freddie Freeman, do the Braves have the most entertaining infield in baseball?
Brewers: Bragging rights
Coming into 2018, the Brewers had made the postseason just twice since 1982, and largely sat in the shadow of the Cubs and Cardinals in the NL Central. Now, armed with the reigning NL MVP and an iconic Game 163 win at Wrigley Field, Milwaukee is the bully on the block, and Brewers fans get a full season to act accordingly.
Cardinals: Paul Goldschmidt
Of course, heavy is the head that wears the divisional crown, and one of Milwaukee's chief rivals adding arguably the best first baseman in baseball adds a whole lot of weight. (Goldschmidt is fitting right in, by the way.)
Cubs: A healthy Yu Darvish
Darvish's 2018 seemed like it was over before it began -- he only made eight starts with his new team before going on the shelf. So here's a quick reminder: Darvish is expected to be full-go for Spring Training, and he can still do stuff like this.
D-backs: Merrill Kelly
After stalling out in the Rays' farm system, Kelly decided to try his luck in the KBO, where he transformed himself from a 88-90 mph sinkerballer to a 96-mph flamethrower. More importantly, he developed excellent posture:
SK's @Mert_723 watching his team beat Lotte while trying to balance a couple bottles on his head... pic.twitter.com/K0uvuhpgJ1

— Dan Kurtz (@MyKBO) April 22, 2018
Arizona signed him to a two-year deal, and he'll try to capture some of the same magic that Miles Mikolas did in his journey from Japan to the Cardinals.
Dodgers: Corey Seager's back
In the midst of the Dodgers' dramatic run to the World Series last year, it was easy to forget that they were doing it without arguably their best position player. Seager -- 2016 NL Rookie of the Year, two-time All-Star -- went down early last season due to Tommy John surgery, but he'll be back in 2019 and looking to retake his place as one of the brightest young stars in the game.
Giants: Chris Shaw, crusher of dingers
No Giant hit more than 16 homers last year. Enter Chris Shaw, San Francisco's No. 4 prospect, possible 2019 starting left fielder and immensely strong human being:
Indians: The All-Star Game
With Francisco Lindor, Jose Ramirez and Corey Kluber, the Indians boast as much star power as anyone in baseball -- and they'll get to show it all off when the Midsummer Classic comes to Cleveland for a sixth time in 2019.
Mariners: Edwing
Yes, losing Nelson Cruz hurt. But luckily for Seattle, Jerry Dipoto brought in another slugging righty DH -- and this one comes with a parrot.
Marlins: The new uniforms in action
The home run sculpture is gone, but Miami will get to spend all year looking at these beauties.
Mets: Hello, Edwin Díaz
There were a lot of options here -- Robinson Canó's return to New York! The long-awaited arrival of Peter Alonso! -- but in the end, stuff like this is hard to beat.
Nationals: A healthy Victor Robles
It seemed like 2018 would be the year that Robles, MLB Pipeline's No. 4 overall prospect, started wreaking havoc all over the field. But an elbow injury cut his season short, and it was another outfielder, Juan Soto, who stole the show. Now Robles is healthy, and he's ready to join a core that has a silly amount of talent, Bryce or no Bryce.
Orioles: An exciting new front office
New manager Brandon Hyde has coached and won at every level. GM Mark Elias and Assistant GM Sig Mejdal come from the Astros' development powerhouse. Baltimore might not win right away, but trust us, it's coming -- and the process begins in 2019.
Padres: A stacked farm system
It's almost comical how much talent San Diego has waiting in the wings, and while it all won't arrive in 2019, a lot of it will -- including Fernando Tatis Jr., a man whose swag is ready for The Show:
¡Qué palo! Tatis Jr. voltea el partido a favor de @EOBASEBALLCLUB 🐘

Cortesía de @AFPSiembra pic.twitter.com/5v2rcHRCMC

— LIDOM (@LIDOMRD) November 19, 2018
Phillies: A possible return to the postseason
The team hasn't tasted October since 2011, but with a fun young core -- please, please watch Aaron Nola pitch -- and a commitment to spending bundles of money this winter, that streak could very well come to an end this season. And really, MLB is just more fun when Philly is around:
Pirates: Possibly the most likable pitching staff in baseball
Chris Archerwages wars against mascots. Trevor Williams is one of the best tweeters in the game. He also has a fascinating podcast with Steven Brault, who moonlights as a pop star. Really, there's nothing that Pittsburgh's pitchers can't do -- and now they add top prospect Mitch Keller to the mix, presumably because he has some delightful hidden talent we don't know about yet.
Rangers: How many homers can Joey Gallo hit?
You may have missed it, but Gallo finished the season on a tear: He hit 18 homers in 55 games over the second half of the season, which would translate to 53 over a full 162 games. He's just entering his prime, and if he's figured it out, he could make a run at some records in 2019.
Rays: What will they think of next?
When Tampa Bay wasn't changing the way the league thought about starting pitchers, it was sticking relievers at first base. It seems like they're always zigging when everyone else is zagging, and they're bound to come up with something completely bonkers this year.
Reds: PUIG
Sure, every team has good reason to be excited that it's 2019, but only Cincinnati comes into the new year with the knowledge that it gets to watch Yasiel Puig's bat-flipping, tongue-wagging, coach-hugging variety hour on a daily basis.
Red Sox: Raising a World Series banner
15 years and four titles later, the Curse of the Bambino is a distant memory. But getting to watch your team hoist a championship banner never gets old.
Rockies: The best rotation in team history
Your Coors Field jokes were tired years ago, but they might get buried once and for all in 2019. Between Kyle Freeland, Tyler Anderson, German Márquez and Ghost Hunter Jon Gray -- all at or entering their primes -- Colorado's rotation isn't just "good for altitude" -- it's good, period.
Royals: Run like crazy
Terrance Gore is one of the fastest men in baseball. Adalberto Mondesi swiped 32 bags in just 75 games in 2018. K.C. was already primed to revisit its baserunning glory days ... and then it went out and landed Billy Hamilton . We're sorry, catchers.
Tigers: A healthy Miggy
Cabrera turns 36 in April, and after missing the last few months of 2018 with a biceps injury, it's fair to wonder how much longer he has left. He expects to be ready to go for 2019, so let's be sure to appreciate one of the greatest right-handed hitters ever while we have the chance.
Twins: Byron Buxton returns
Buxton played just 28 games for the Twins in 2018, as he never returned to the Majors following an injury in May. But he'll be ready for Spring Training, and if you'd like to know why we refuse to get off this bandwagon, well:
White Sox: Eloy Jiménez
At this point, the stories about Jimenez make him sound as much myth as man. He once hit a ball so hard it broke a light tower. Minor League teams resorted to putting four defenders in the outfield. But make no mistake: He's real, and after killing it in Triple-A last season, he's ready to start clobbering baseballs on the South Side.
Yankees: The return of the real Gary Sánchez
Much was made of Gary Sanchez's struggles last season -- he hit .188 in 2018, after all. But he also spent most of the year battling injury, and he's just a year removed from being arguably the best catcher in baseball. With a whole offseason to rest up, Yankee fans can look forward to seeing more of this guy in 2019.