Why you should clear your schedule to watch Carlos Correa and Francisco Lindor this week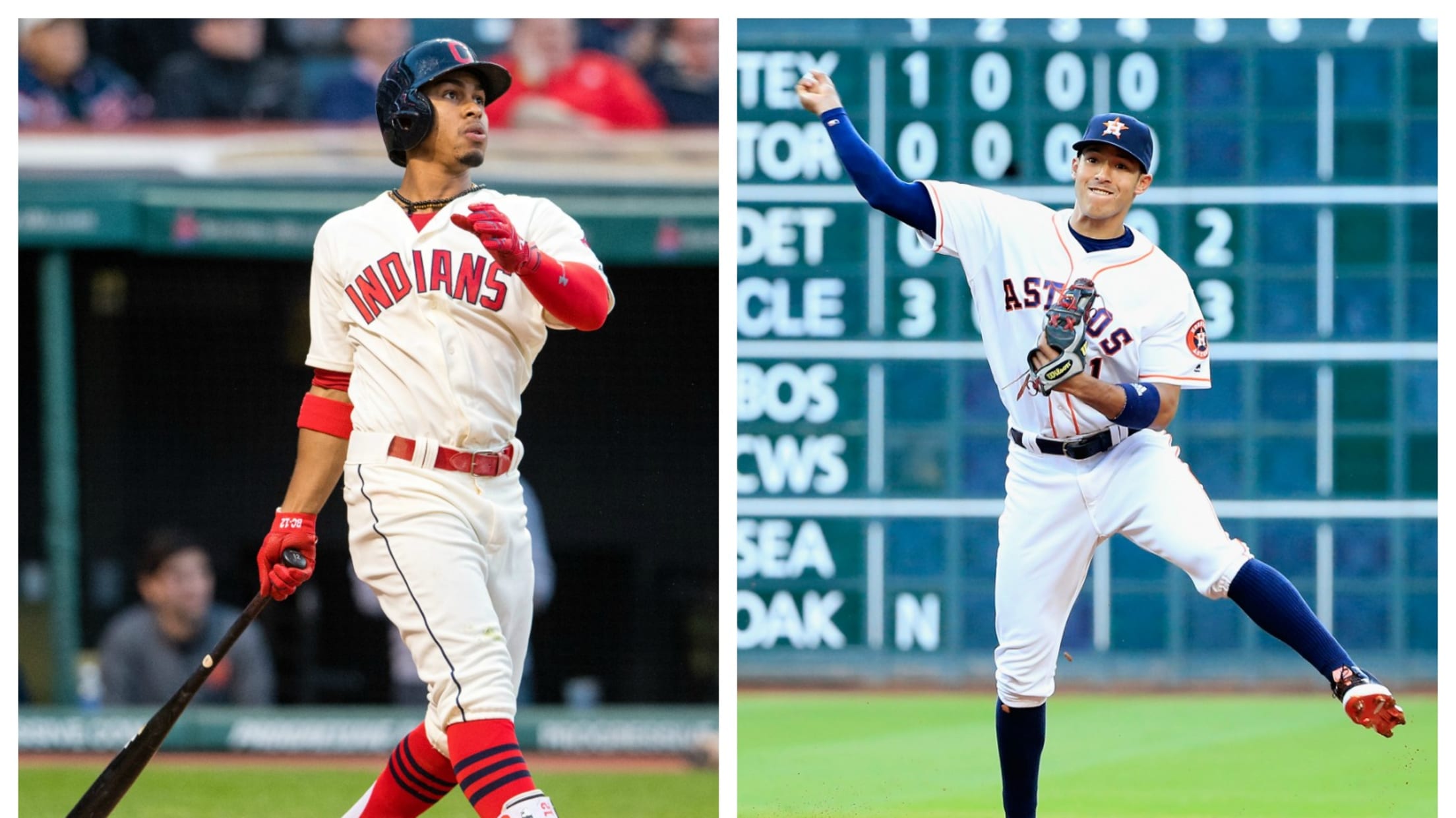 Back in the halcyon days of the mid-1990s, baseball fans were gifted with Nomar Garciaparra, Derek Jeter and Alex Rodriguez all emerging as elite two-way shortstop stars. The debates over which unique player was most valuable on the field were almost as memorable as their magazine photo shoots.
A generation later, another crop of developing all-around shortstops have taken baseball by storm both on defense and at the plate. Xander Bogaerts is rapidly improving, Corey Seager has MVP potential and Manny Machado might lead this conversation if he ever moves back to the position full-time.
But for now, any discussion of MLB's top young shortstop is a question of Carlos Correa or Francisco Lindor.
The Astros and Indians square off for a three-game set starting on Monday, meaning you'll be able to compare and contrast the two emerging superstars without ever changing the channel. Let's check in on where the rivalry stands:
Correa was known as a superior hitting prospect, raking ever since he hit full-season ball a year after Houston selected him first overall in the 2012 Draft. He's done nothing but exceed those expectations in the Majors. Lindor, who was picked 8th overall a year earlier, reached the big leagues last season based on his defense and contact ability, with some analysts expecting more power to come in time. Suffice to say, his plate prowess is well ahead of schedule.
Here are their career batting lines through Saturday, with nearly identical playing time:
Lindor: 556 PA, .315/.360/.471, 14 HR, 63 RBI, 16/19 SB
Correa: 561 PA, .280/.357/.506, 27 HR, 83 RBI, 18/23 SB
Lindor hit 12 homers in 99 MLB games last season after mashing only 15 in his 416-game Minor League career, leading some to predict an offensive regression this year. Instead, Lindor has nearly matched his 2015 line so far, and looks plenty comfortable at the plate.
The Cleveland shortstop finished a triple shy of the cycle against Justin Verlander and the Tigers on May 3, missing a multi-home run game by just a few feet despite a cracked bat.
Correa, whose bat would make him an All-Star at any position has the ability to be among the best hitters to ever step on the field as a shortstop. Correa's career OPS+ is currently at 136. How many shortstops with at least 100 games had an OPS+ that high through their first three seasons? Three. Rogers Hornsby (before the Hall of Famer became a full-time second baseman), Arky Vaughn and Alex Rodriguez.
Jeter's was 102. Nomar was at 128.
While Correa may have the slight offensive edge thanks to his sheer power potential, they are both endlessly fun to watch.
Lindor's glove is a large part of why, according to Fangraphs WAR, he was actually the better rookie last year. The Bill James Handbook ranked him as the fourth best defensive shortstop in baseball, saving 10 runs above average while playing fewer innings than everyone ahead of him on the list.
But quantifying defense is like trying to explain a good joke or telling someone about a cute dog you once saw. The numbers don't do it justice. So please enjoy:
Correa may not have Lindor's sheer range, but he can still make the sublime appear routine. Are you telling me that this running, leaping, back-breaking catch isn't phenomenal?
Thanks in part to the MLB-sponsored Puerto Rico Baseball Academy, Carlos Beltran's baseball academy, and a new summer instructional league focused on development for high school-age players, Puerto Rico has produced a new wave of talent in recent seasons. Lindor, who moved to Miami in 2012 to focus on his future, and Correa, who was drafted out of the Puerto Rico Baseball Academy, are at the forefront along with Twins top prospect Jose Berrios, Cubs infielder Javier Baez and another exciting shortstop in MLB Pipeline's eighth-best Draft prospect, Delvin Perez.
The role of baseball ambassador is one Correa has happily taken on. Living in Puerto Rico with his family in the offseason, his workouts were open to the public so that local children could see his approach to the game.
"That is what I want to focus on throughout my career, to be able to be a great player and help my organization win multiple championships," Correa wrote in The Players Tribune. "But I also want to be able to help the community. To help kids and be able to teach kids to play the right way."
Lindor, who also returned to the island during the offseason, is now looking forward to hopefully teaming up with Correa on Team Puerto Rico for the 2017 World Baseball Classic. He told MLB.com's Jon Paul Morosi:
"I love Puerto Rico. I can't wait to play in front of that crowd. It's going to be the first time I've played in Puerto Rico since I was probably 14, 15 years old. I'm looking forward to that moment. I'm looking forward to the drums. I'm looking forward to people screaming."
Of course, the most important tool in a ballplayer's kit: Their fashion skills. Correa is a man who loves his fedoras, and he has the rare sartorial acumen required to actually pull off that look:
Last night at Miss Universe Puerto Rico with my Athletic Trainer @RC_LOPEZ12 #LookingSharp #HatGame pic.twitter.com/NU7OuGHx57

— Carlos Correa (@TeamCJCorrea) November 13, 2015
Meanwhile, Lindor's best looks come on the field. That's because he rocks the striped stirrup, complete with large opening for a sanitary to shine through. It's enough to make some baseball fans fall in love.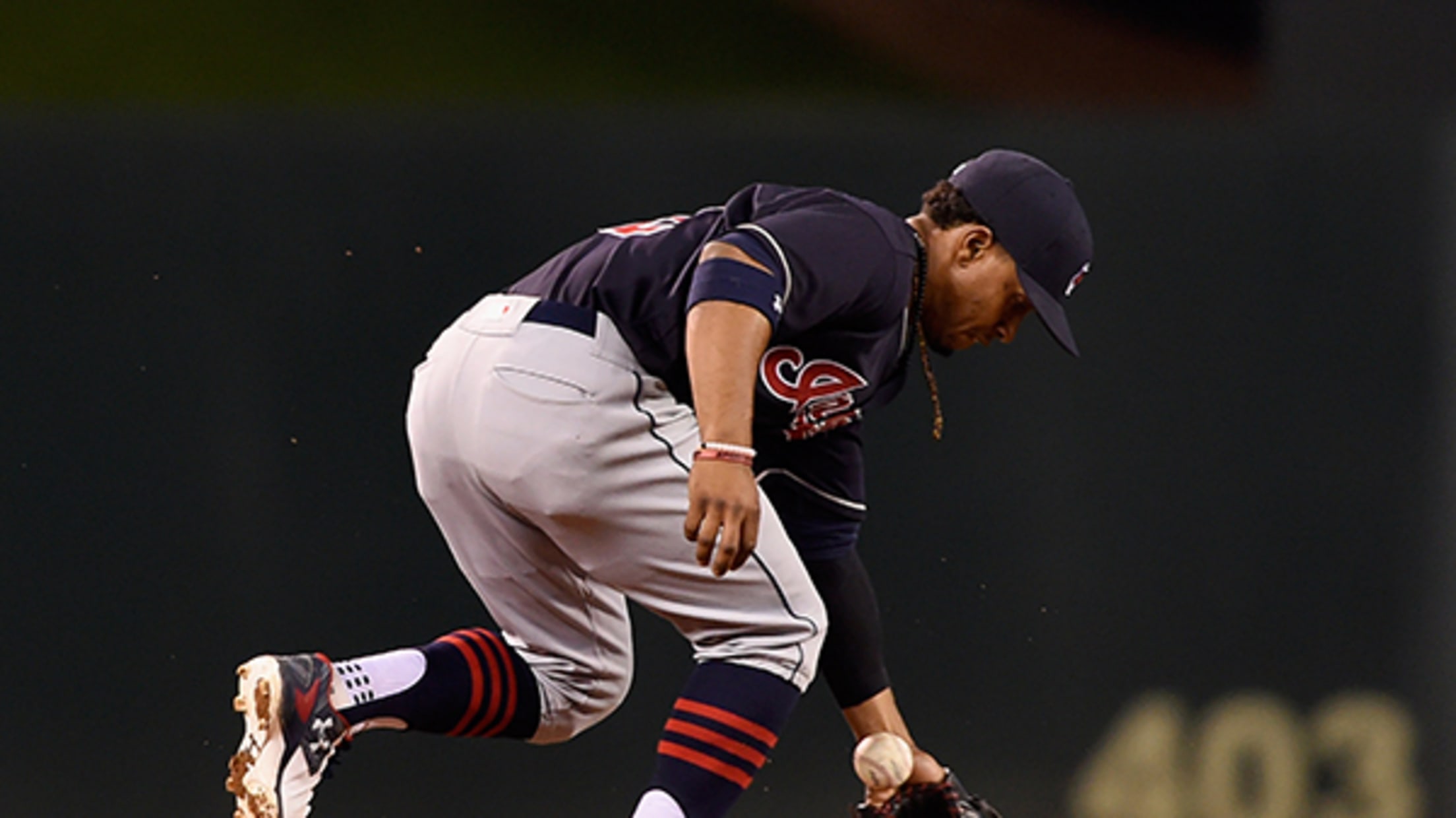 Off the field, you're likely to see both Correa and Lindor rocking the jersey of one of their new hometown's teams. Correa spent some time hanging out at Texans camp, while Lindor is often spotted wearing Cleveland Cavaliers gear and sitting courtside at their games.
Given his basketball love, it makes sense that Lindor recently switched his walk-up music to the glorified Jock Jam that is the Space Jam theme.
Correa currently steps up to the plate to the sound of Marc Anthony's "Preciosa," a Spanish-language anthem about Puerto Rico, but he should have a brand new custom jam from Anthony soon.
We're not going to tell you which of these dynamic young shortstops is better, or which should be your favorite. We won't even tell you which is most likely to save planet Earth from a race of sports-playing aliens who steal athletic abilities (though Lindor's walk-up music may give him that edge).
In the second year of a potential decade-long rivalry, the race for shortstop domination is too close to call. All we know is that you should be watching when they take the field head-to-head this week in Houston.
Teams in this article:
Players in this article: