Celebrate Yoenis Cespedes' return from the DL with his six wildest moments of 2018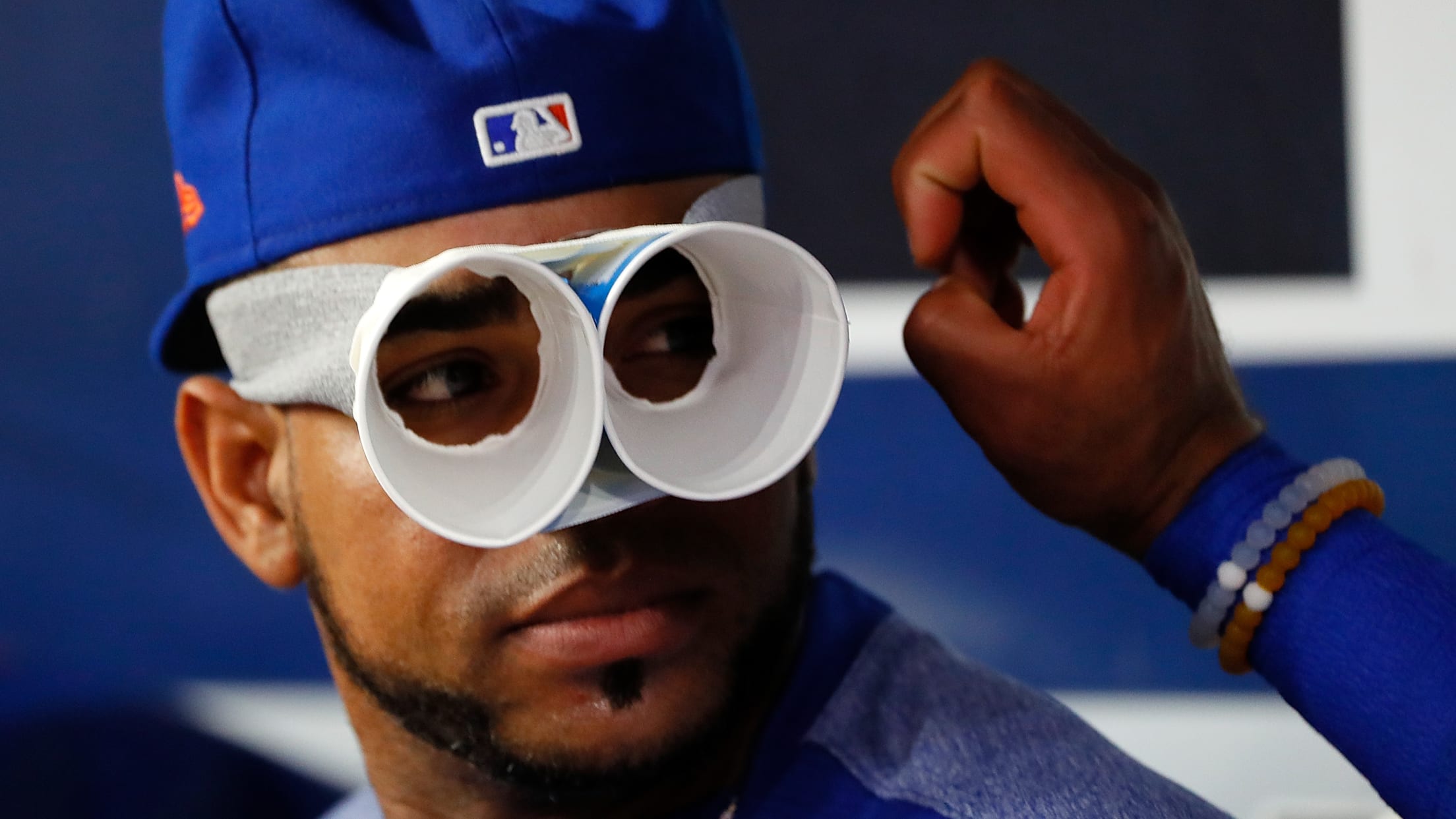 at SunTrust Park on May 29, 2018 in Atlanta, Georgia. (Kevin C. Cox)
On Friday the Mets announced that Yoenis Cespedes would be activated from the disabled list and will start at DH for the first game of the Subway Series against the Yankees in the Bronx. Having dealt with quad and hip injuries for much of the season, this will be his first action since May 13.
However, despite having only played in 37 games this season before hitting the DL, Cespedes did manage to cram in a season's worth of otherworldly highlights and bizarre oddities into his brief time on the field before hitting the DL.
Ahead of his return to the Mets lineup, here are six of his best moments from his 2018 season thus far:
Hitting an insanely high pitch for a grand slam
This dramatic blast capped off a nine-run eighth inning for the Mets against the Nationals, and it was the tenth-highest pitch hit for a home run this season. Pitches like these do not look like they should even be offered at, let alone made contact with, let alone hit for a grand slam. Yo is not particularly interested in such norms.
Rounding the bases on a foul ball, then grounding out
On April 21, Cespedes cranked one deep down the left-field line that was foul by just a few inches. Amid the confusion, it appeared the umpires initially signaled for a home run, motivating him to round the bases ... at a hilariously slow pace.
His trip around the bases clocked in at an iceberg-ian 38.61 seconds, which would have easily been one of the slowest trots in MLB history. Slow and steady wins the race, y'all.
Launching an enormous dinger past Big Mac Land at Busch Stadium
As one of only three players in history with multiple Home Run Derby titles (along with Ken Griffey Jr. and Prince Fielder), Cespedes is no stranger to launching tape-measure shots to unexplored parts of big league ballpark. This titanic blast at Busch Stadium, however, was exceptionally impressive. At 463 feet, it was (and remains) the longest home run hit by a Mets player since Statcast™ began tracking in 2015.
Turning home runs into trick shots
One of the underrated things about home runs is that when a hitter hits a tater, their very next act is to actually run a circle around the hurler who allowed it. Cespedes didn't think this process was demonstrative enough, so he literally hit a pitcher's best offering into a dang trash can.
"Good try man, but that pitch is trash."
Breaking one of his diamond chains while on the bases
Jewelry has always been a very prominent part of Cespedes' style. So much so that the Mets actually gave away replica 52 chains last season, similar to the one Yo wears all the time.
Yo! You need this. On Saturday, August 5 the first 15,000 fans will receive a @ynscspds 52 chain. https://t.co/D6KaXZ8Cwq pic.twitter.com/LluUvilZSj

— New York Mets (@Mets) July 26, 2017
But earlier this season, he had some trouble with another one of his chains as his diamond necklace snapped during a slide into second base, leaving a very expensive mess in the infield dirt:
Asdrúbal Cabrera has had a long big league career, but having to pick up literal diamonds off of a baseball diamond must have been a first for him.
Improving his vision with some DIY cup glasses
Are you not entertained?
Welcome back, Yo.
Teams in this article:
Players in this article: