This young fan's Mike Trout-Miguel Cabrera jersey switch earned him six baseballs and a bat
Sitting close to the action, everybody dreams of catching the eye of a player. You're right up against the field, after all.
This happened for one fan seated near the on-deck circle on Tuesday night before the Angels' 5-3 win over the Tigers at Comerica Park -- a fan who happened to be wearing a Mike Trout jersey. Nobody could blame him for such a decision, really, since Mike Trout is amazing.
Wrong. Somebody did judge him for his attire: Miguel Cabrera, waiting in the on-deck circle in the bottom of the third. The fan was clamoring for a baseball (or maybe just a simple head-nod from Miggy), to which Cabrera took him to task for wearing the wrong colors: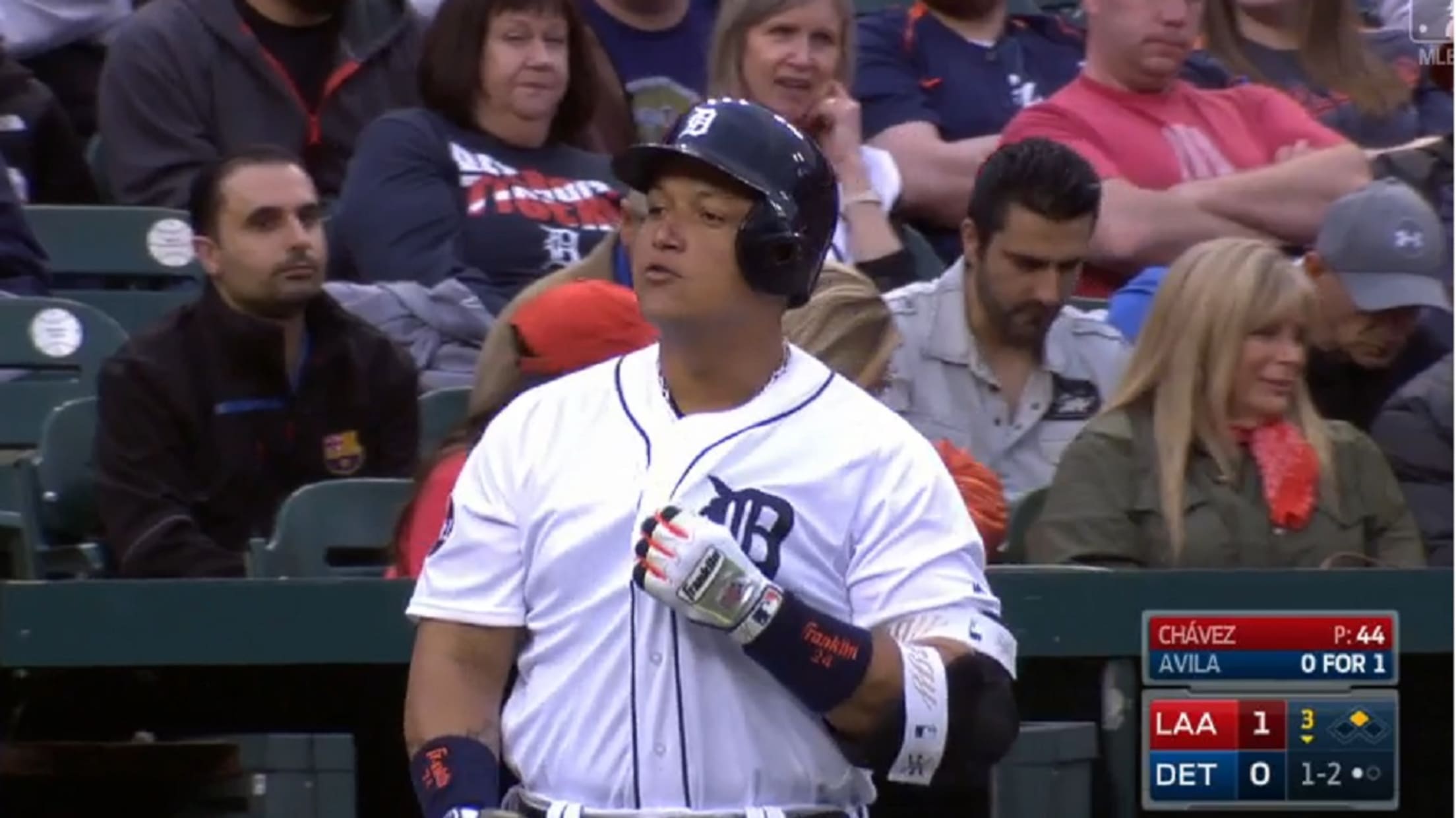 "No matter," he probably figured. "I'll just put on my handy Cabrera jersey, which just so happens to be here with me at the ballpark." Cabrera approved of the change:
Now, some folks just enjoy wearing sports jerseys in general -- but Tuesday's events have more of a story than that.
MLB.com Real-Time Correspondent Mark Pierce caught up with the fan, 8-year-old Griffin Majeski from nearby Lake Orion, Mich., attending the game with his friend, Caden Skelton (who turns nine in a few days) and their parents. Both were born and live in Michigan, play baseball and, "try to emulate their heroes" on the diamond. Naturally, those heroes include Cabrera and Trout.
They wore their Trout jerseys near the Angels' dugout earlier in the evening (a tactic that netted them six souvenir baseballs!). Here they are with some of the spoils of their clever tactics:
Because these two young men are pretty resourceful, Griffin then borrowed Caden's Cabrera jersey to get Miguel's attention in the clip seen above -- and, eventually, he was rewarded with Cabrera's bat for his efforts.
Great work, guys.
Teams in this article:
Players in this article: