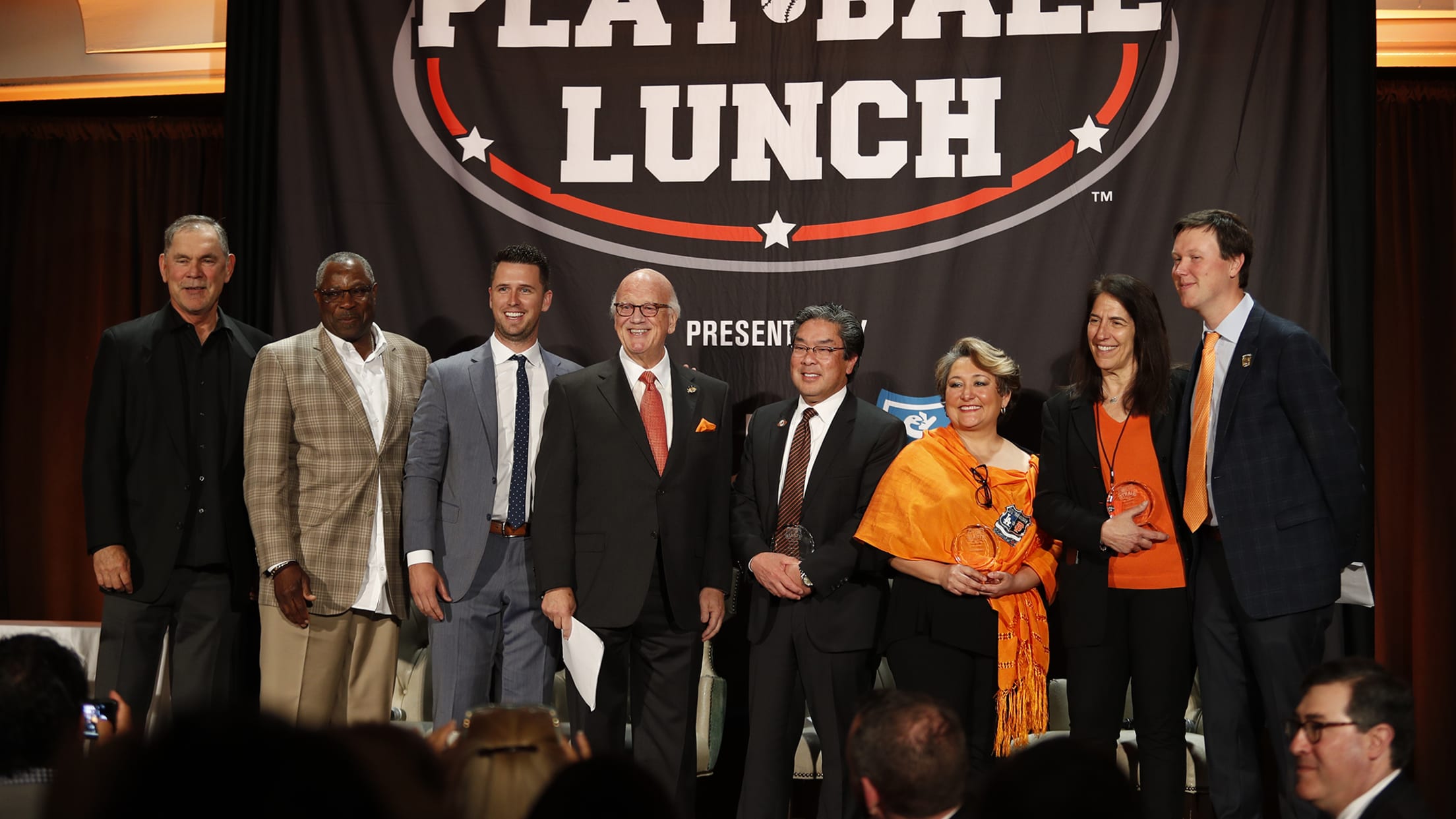 JUNIOR GIANTS HALL OF FAME
The Junior Giants Hall of Fame honors outstanding past contributions, recognizes current achievements and showcases our leagues, coaches and lead organizers who have helped to build the Junior Giants program over the years.
The individuals inducted into the Hall of Fame have given their time, energy and undying enthusiasm to make the Junior Giants program what it is today.
---
Noah Lowry
Former Giants Pitcher Noah Lowry may be a household name for many Giants fans as the southpaw pitched for the Giants from 2003-2007. However most may not know Noah's accomplishments off the field. Noah has been a tremendous advocate for the Giants Community Fund over the past six years, taking on a co-Commissioner role for our Santa Rosa Junior Giants league. Noah is an active member of the Junior Giants Committee, has served as a Co-Commissioner for the Santa Rosa league and is a committed liaison between the Giants organization and the community.
Aside from his many other commitments, Noah is always ready to lend a helping hand. Whether it's sharing with our Junior Giants Commissioners how to teach t-ballers the fundamentals of the game, or speaking to the media on our behalf or even meeting our players and volunteers at the Willie Mac Luncheon, Noah wholeheartedly backs the Giants Community Fund's mission. He truly believes in the importance of creating Giants on the field, in the classroom and in the community. We are so grateful for Noah's service over the years as his commitment to the Fund is invaluable and deserves to be celebrated through the Hall of Fame honor!
Carolyn Lutticken
Since the Sunnyvale league's inception, Carolyn has worked tirelessly alongside the Sunnyvale Police Activities League officers to make sure all the non-baseball elements of the Junior Giants program are implemented. On top of her many other commitments, Carolyn never misses a game day and sets up a table for kids to stop at so she can ask about that day's lesson, using her Giants swag as extra prizes for the kids to help reinforce the word of the week after practices and games. She strives to create a strong connection and sense of community for the families in the Sunnyvale league which keeps kids coming back on a regular basis.
Carolyn's role over the last 6 years has evolved and she now serves as the co-Commissioner of the league. In addition to this role, Carolyn also makes sure to support the volunteers, providing them with guidance, instruction and advice, which keeps many coming back year after year. She strives to make the Sunnyvale league the best it can be, and is always looking for ways to improve year round. We are lucky to have such a passionate, dedicated and heartfelt person involved with the program!
---
Dusty Baker
When the Junior Giants program began in 1994, Dusty had already been on the Giants Community Fund board for 3 years. His participation in the early years laid the groundwork for a grassroots approach to community partnerships. The Fund wanted to create a program that was simple but meaningful - a way to approach life lessons for youth through baseball. With Dusty's inspiration as a dad, a Fund Board Member and Giants Manager, the Junior Giants program became the new focus of our work.

Dusty never hesitated to help the Junior Giants kids, coaches or Commissioners whenever we needed him at any of the numerous events, meetings or on-field ceremonies. He was a fixture in the Junior Giants Handbook, at Junior Giants Day, and annual Coaches Clinic and Commissioners Meeting as well as fundraisers like the Play Ball Lunch. With Dusty's return to the Giants as a Special Advisor to the President and CEO, we're excited to work with him again and look forward to having him tell stories to a new generation of Junior Giants kids and coaches, some of whom may be surprised to know that he helped launch the program 25 years ago.
Bruce Bochy
As Bruce Bochy begins his 25th season as a Major League Manager and his last year at the helm of the Giants, it's clear that his impact goes far beyond the field. He has served as an example for fans, young and old, as he has led with wisdom, patience and integrity. For more than 12 years, Bruce has supported the Junior Giants through activities with staff, volunteers and children. He's been featured in the Junior Giants Handbook, has spoken at many Junior Giants Commissioners Meetings, recorded public service announcements and has always been willing to be photographed in a Junior Giants tee shirt! Because of his exceptional managerial skills, the Giants Community Fund was proud to create Boch's Coaches, an annual coaches drive and leadership program. Bochy serves as the spokesperson for this venture, helping to recruit new volunteers as well as thanking outstanding coaches through an appearance at an annual Q&A session at the ballpark.
Bruce and his wife Kim are committed to help the Junior Giants, having donated generously over the past decade, and Bruce has been the lead voice in the clubhouse to encourage the team to give to the Junior Giants Stretch Drive. He also attends annual events like the Play Ball Lunch, autographs items for the Fund and gives his time through auction experiences to raise additional money. Even before the start of his first Giants season, Bruce offered his help to us, saying, "My door is always open to you." And we're so grateful that it always has been.
Ana Villalobos
In 2018, Ana finished her sixth season as the Commissioner in Concord. She serves in this role on an entirely volunteer basis with a separate full-time job. Meanwhile, she has gone through some incredibly difficult life events during this time. A few years ago, her 21-year old son passed away after being hit by a driver while he was walking to work. Ana never let this tragedy slow her passion for Junior Giants, and see her loss as one that opened a new door. "I have lost one child, but Junior Giants brings me 200 more every summer." 

Despite any challenges in her personal life, she has not swayed from her support of Junior Giants. Beyond her duties to organize and administer a Junior Giants league, she has spoken at the Play Ball Lunch, Commissioners Camp, a Board Meeting, special fundraising events and more. 

Ana takes the lessons learned through Junior Giants and expands on them. Ana has secured donations of Leap Frog computers for players who go above and beyond in the reading program, crated a sugar-free environment at the fields, built a strong committee to help run the league, including Giants alum Rob Andrews and Hall of Famer Ron Exley, created a successful Junior Coach program to keep players engaged when they turn 14 and age out of the league and made it a priority to provide an inclusive program for players with special needs. More than anything that could be measured, Ana is the spirit of Junior Giants: confidence, integrity, leadership and teamwork (along with pure joy!)
---
OFFICER JUAN REYES, SAN JOSE PAL
Officer Reyes was one of the original league commissioners of the Junior Giants program -- more than 2 decades ago. Through his work with the San Jose Police Activities league, he saw a need to start a program for Special Needs players. These young people and their families wanted a program that could provide opportunity and camaraderie. Juan made it happen through the San Jose PAL league. Even though Juan passed the baton along to new commissioners in recent years, he continues to attend the games to lend his support and be a loving presence for his community.
Jessica Sparks spoke at the Play Ball Lunch on behalf of her father, Officer Reyes, who has ALS: "When my father started the Junior Giants program at San Jose PAL the goal was to fill a need for over 80 athletes in the community with special needs. In my dad's words, 'PAL is a place that provides sports to ALL children of ALL abilities. PAL is a program for everyone.'"
KENDEE VANCE, LOS MOLINOS JUNIOR GIANTS
Kendee has spent over 10 years as a coach for Junior Giants. Her passion for the game of baseball and the Junior Giants program is evident every time she steps on the field. She loves the game, but most of all she love the kids. She treats each child in the program equally as an individual and truly makes every effort to instill in them the four bases of character development. She places the kids as base coaches to build up their confidence and leadership skills; the kids then give encouragement to their teammates as they round the bases.
We all know it takes hard work and dedication to make any program successful; as a coach and a co-commissioner, Kendee works non-stop both behind the scenes and on the field to make the Junior Giants program so successful in Los Molinos.
Recognized for her dedication to the kids and program, Kendee was the recipient of the Junior Giants Willie Mac Award in 2010 and she has been a guest speaker at both the Willie Mac Luncheon and the Play Ball Luncheon. Kendee is also involved in the Love Harder Program; a non-profit charitable organization dedicated to educating and putting a stop to bullying and acts of violence.
She donates many hours on and off season and often states, "It's the best non-paying job I've ever had or ever will have!"
---
OFFICER ANGEL GONZALEZ
Officer Angel Gonzalez is a vital part of the Salinas Junior Giants program. Over the past 8 years, his leadership and dedication to the program is unparalleled. Though he has a very busy schedule as a police officer, he dedicates countless hours to assuring the success of the program and makes it his goal that any youth who want to participate, can - and they do! He oversees a league of 1,100 players and volunteers. Beyond administering the program, he made it his goal to increase participation in the reading program - and for the past few years, the league has attained 100% participation. He has a great rapport with the kids and inspires them to want to be better people. 
---
MIKE RODRIGUEZ
Mike Rodriguez has been with the Mt. Shasta Junior Giants program since its inception in 1994 as an advocate for youth and youth sports. Mike is an exceptional leader known to teach, mentor and coach other adults in his community on why it's important to be involved in this program. He gives because he believes in the cause, and asks for nothing in return. Mike bleeds orange and black and his passion for the Giants has helped make a lasting and legendary change in his community, with hundreds of children playing baseball who may have not had the opportunity otherwise. We are extremely grateful for his time, energy and enthusiasm over the past 22 years!
---
BURNS FAMILY FOUNDATION
The Burns Family Foundation forms the bedrock of the Harmon & Sue Burns Scholarship Program as the underwriting donor but also the heart behind this educational resource for Junior Giants participants. In 2009, after we sadly lost both Harmon and Sue Burns in less than three years, the Giants Community Fund renamed its scholarship in honor of these members of the Giants ownership group. That same year, the Burns Family Foundation stepped up to provide $25,000 annually, over and above their other donations to the Fund, to underwrite this program that provided ten $2,500 scholarships each year. In 2014, the foundation took the initiative to make an announcement that they wanted to do more for these kids and doubled each scholarship to $5,000, bringing the annual commitment to the $50,000 level. What a gift to these families throughout the state!
In total, the Burns Family Foundation has contributed $300,000 to various Fund programs and events since 2009 - and in addition to that, the family members have all donated personally to our efforts since 1993. Those in the foundation have given their time as foundation representatives in our home plate ceremonies for Scholars, as members of the Fund's Board and committees, as Co-Chairs of events and as supremely approachable friends for any endeavor in which the Fund needs advice. We are eternally grateful!
JIM HALE
Jim Hale was inducted into the Hall of Fame for his unwavering commitment to the Willits Junior Giants program. Sadly, he passed in the winter of 2014 after battling with cancer for 6 years, but never once did he quit on the kids or the program during this difficult battle. He picked a man to start grooming as his replacement, and taught him as many of his little tricks and techniques as he could. Jim said that other than his family, which always came first, this program and the kids that need it so much was his top priority. Jim was always thinking of others.
Jim was very patient will all the kids he worked with. When one young player was having trouble batting, Jim would bring the "T" stand out, to build his confidence and keep him interested in the game, telling him about how the great Barry Bonds would be in the tunnel during games, practicing his swings on a "T". This young player started hitting off the pitching machine this last summer, and hit the ball 30 ft. up, and 60 ft. out to right field and said "That was for Jim, do you think he saw it?" Jim is very missed, as he helped run the program for 20 years, but his spirit lives on in the community he loved so much.
---
HEATHER GRIGSBY
During her five-year tenure as commissioner, Heather ran a model Junior Giants program in Modesto. The combination of her hard work and attention to detail make the Modesto Junior Giants one of the most successful Junior Giants leagues. Heather created such a strong reputation for Junior Giants in Modesto that the league has grown from 315 players to 750 players since she became Commissioner. Heather not only has a strong ability to lead and organize, but her passion for Junior Giants is unparalleled as she places a high value on the initiatives in Character Development, Education, Health and Bullying Prevention. While Heather served her last year as Junior Giants Commissioner in 2013, she plans to stay actively involved as a coach and Giants Community Fund volunteer for years to come. We are proud to have Heather as part of our team!
---
RAY ASKEW
Since 1994, Ray has taken a leadership role in the East Palo Alto Junior Giants program by maintaining and managing the program. Ray has spent countless hours on and off the field making sure the children in his community have a safe environment to play baseball. Ray is well respected in the community and is the epitome what it means to be a grassroots leader. We are proud to honor Ray for his commitment to the children.
WALT & BARBARA VELASQUEZ
Walt & Barbara have been involved with the San Jose PAL league since the program started in 1994, giving both children and adults with special needs in their community the ability to participate in Junior Giants. The success of the Junior Giants program in San Jose is due to the commitment, love and leadership of this dynamic duo. For 20 weekends during the year, and not counting many other weekends preparing for the season, Walt and Barbara are out early in the morning preparing the field and setting up equipment for their eager players. We are so grateful for their commitment to the community for over 20 years.
---
ERIC MILLER
Eric has been a teacher and administrator at Santa Fe School for the past 25 years. Serving as the Junior Giants Commissioner since the program started at Santa Fe School 13 seasons ago, Eric is an integral component in making sure the Junior Giants Program runs year after year; going beyond the typical model of Junior Giants. After 54 years, Santa Fe School will be closing due to low enrollment. We are proud honor Eric for his love, commitment and long time service to the Junior Giants Program at Santa Fe School.
KEN MCCULLOCH
For more than seven years, Ken has brought his unparalleled enthusiasm and dedication to the Junior Giants program of Sacramento, at two different location sites; this is not just a job for Ken, it is his passion. Not only does Ken embody each aspect of the Junior Giants program, but he is always looking for new ideas to share with the Community Fund staff as well. Ken takes it upon himself to make sure each Junior Giants family has a great experience and spends countless hours to do just that.
---
WILLIE MCCOVEY
Willie McCovey is involved year-round to assist our Junior Giants kids. Each year, Willie McCovey donates his time to attend the annual Junior Giants Willie Mac Luncheon, and generously autographs a personalized bat as an inspiring keepsake for each Willie Mac awardee. Mr. McCovey also dedicates his name and time to the Junior Giants Stretch Drive and the Willie McCovey Golf Classic, which together raised $250,000 in 2010 alone.
WILLIE MAYS
Since the inception of the Giants Community Fund, Willie Mays has been involved in supporting our efforts to help underserved children and their families. Mr. Mays provides support from the Say Hey Foundation, signs items for Community Fund auctions, and has given his time to attend the Play Ball Lunch and the Giants Community Fund Golf Classic. In addition, we are proud to say that the Willie Mays Boys and Girls Club is a hub for Junior Giants participants in the Bayview/Hunters Point area.
JEFF HAMMAR
For nearly a decade, Jeff Hammar has been an instrumental part of the Atwater Junior Giants. Jeff not only teaches the Junior Giants Four Bases of Character Development to his players, but he implements them in every aspect of his own life. As co-commissioner and a coach for 2 teams, Jeff strongly believes in Junior Giants and helps with all portions of the program, such as: sign-ups, the "First Pitch" Orientation Meeting, scheduling teams and assisting coaches. Jeff serves as a role model for the Atwater players, parents and coaches and can be counted on to help the Giants Community Fund whenever needed.
---
KATHY HAUSMAN
Since 1994, Kathy has been involved with the Junior Giants and has run successful programs in both Red Bluff and Los Molinos. She has consistently gone above her call of duty, doing everything from prepping the fields for play, to providing medals for the kids at the end of the season, to pressing the Character Development lessons.
BRANDON HILL
For the past 16 years Brandon has epitomized what Junior Giants is all about -- he embraces the Four Bases of Character Development and instills them in his coaches and players. He is an invaluable asset to both his community and the Junior Giants Program.
---
LARRY HARPER
Larry, founder of the Good Tidings Foundation, is truly one of the Giants Community Fund's most resourceful community partners. For more than a decade, the Fund has worked with Larry to renovate Junior Giants fields throughout Northern and Central California. He and his family give an incredible amount of time to help the Fund build safe places for Junior Giants to play.
GENE TATE
A founding Junior Giants Commissioner since 1994, Gene managed the program in East Palo Alto and now is the Commissioner of the Las Vegas league. Gene's homegrown spirit has linked him to the hearts of kids and families in both regions and he serves as a wonderful advocate for young people.
---
BOB & LORRY GREENBERG
Commissioners of the San Bruno Junior Giants since 1995, Bob and Lorry were instrumental in strengthening the program and promoting its message. In the wake of Bob's passing in late 2006, Lorry continued in their mutual devotion to the development of young people through baseball. They serve as a tremendous example of the Junior Giants mission.
RICK ENOS
Rick was a Giants Community Fund board member for 10 years, many of which were spent as Chairman. He continues to give an incredible amount of time as Chairman Emeritus, and the Fund is grateful for the many resources he and his family provide personally, as well as through their Compadres Restaurants.
PETER MAGOWAN & THE SAN FRANCISCO GIANTS
Since 1993, the Giants ownership group has set the pace for the front office, and the team itself, through a strong emphasis placed on community outreach. This prioritization has allowed for great creativity in the formative years of the award-winning Junior Giants program.
RON EXLEY
Ron, together with the California Police Activities League, helped to lay the groundwork for the launch of the original Junior Giants leagues back in 1994. He continues to be a very active part of our Junior Giants and Violence Prevention committees.
MICHAEL PRITCHARD
Michael is a nationally known youth advocate and comedian. Among his many commitments, he serves on the Fund's Advisory Board. A willing and compelling speaker at our Junior Giants events, he inspires kids and coaches alike to continue in their dedication to creating stronger and safer communities.