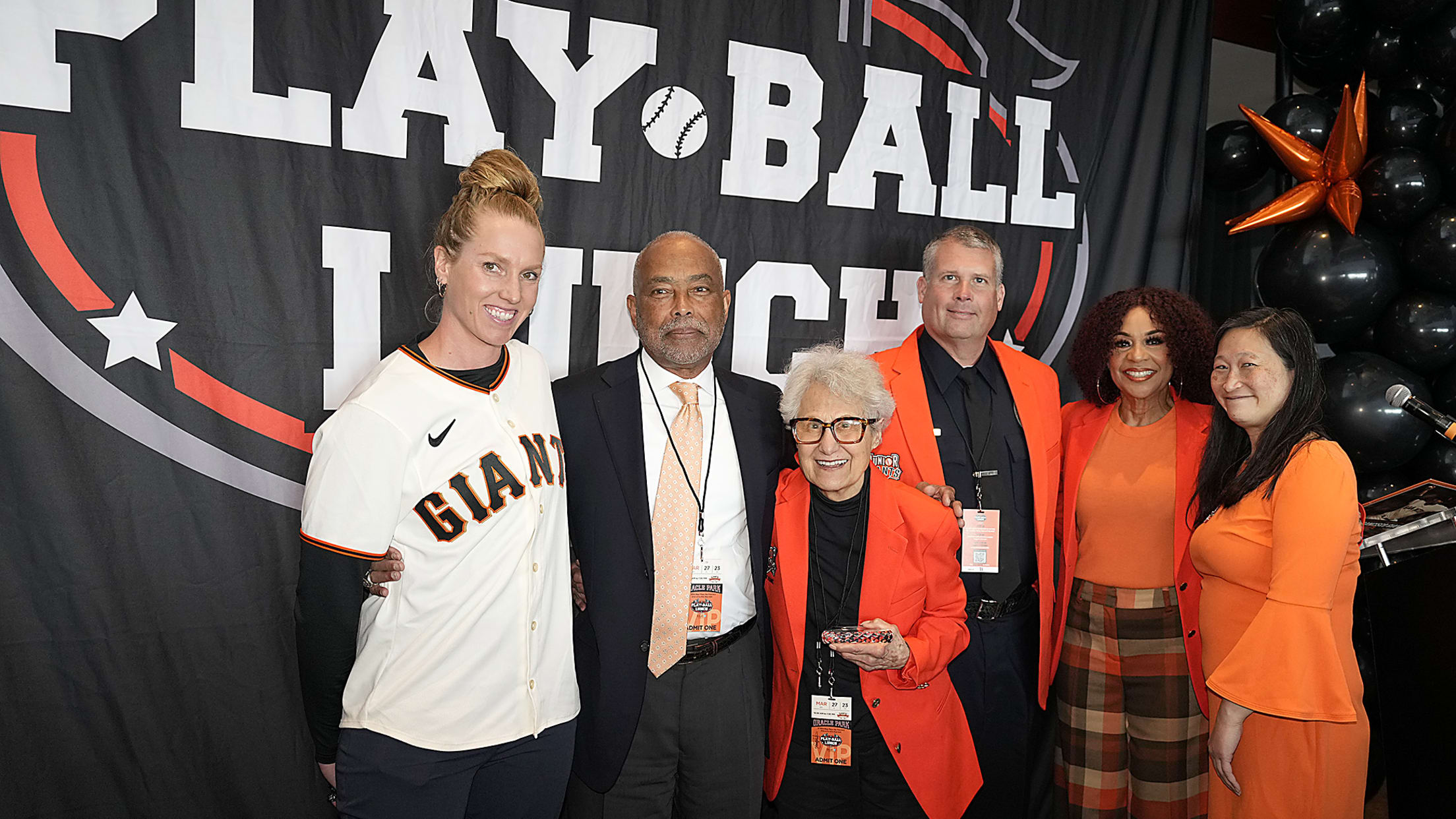 JUNIOR GIANTS HALL OF FAME
The Junior Giants Hall of Fame honors outstanding past contributions, recognizes current achievements and showcases our leagues, coaches and lead organizers who have helped to build the Junior Giants program over the years.
The individuals inducted into the Hall of Fame have given their time, energy and undying enthusiasm to make the Junior Giants program what it is today.
---
Noah Jones — Junior Giants Commissioner, Los Banos
Noah Jones has been the Commissioner of the Los Banos Junior Giants League since 2001 and has served as a police officer for more than 20 years. He has grown the league tremendously, nearly doubling the number of teams in the minors and majors age divisions. He takes care of the field in his free time and values this program because of the great opportunity it provides for boys and girls in his community. Noah is a Giants fan because of his experience with Junior Giants and we are his fan for all he does to make the Junior Giants program possible.
Isabelle Lemon — Giants Community Fund Board Member Emeritus
Isabelle Lemon served as the KNBR Promotions Manager for many years and was a Giants Community Fund Board Member for nearly three decades. She always went above and beyond the duties of her everyday job to give incredible support to the Giants organization, the Junior Giants program and countless other charitable endeavors throughout the Bay Area.
In 2006, the Fund established the Community Spirit Award in her honor to recognize individuals in the Bay Area who share the same spirit and dedication to help make a difference in the world. We are very proud to honor her through this induction in the Junior Giants Hall of Fame.
Duane Kuiper — Giants Broadcaster and Former GCF Board Member
Duane Kuiper joined the Giants Community Fund Board in December 2001 and served until December 2019.
He has been an advocate for the Junior Giants Glove Drive and has taken his voice, his passion and enthusiasm for Junior Giants to the airwaves, both on TV and radio, to make sure Giants fans understand the importance of a program like ours.
In addition to supporting Junior Giants, he hosted the annual Buster Posey Glove Giveaway, has emceed dozens of our fundraising events, served as a spokesperson for the Junior Giants car donation program and has given his time to host many annual auction experiences at the ballpark. He is a trusted ally, a legendary member of the Giants family and one smooth dude.
---
Daryl Chin
The San Bruno Junior Giants league has been able to call Daryl a faithful coach and volunteer Commissioner in for 20 years. Daryl has won the Junior Giants Willie Mac Award and has personally written letters of recommendation for multiple Harmon & Sue Burns Scholars, many of whom he is still in touch with today. In fact, one Scholar said: "He made me feel welcomed. By adding me to his team of girls, I felt more encouraged to play baseball. Coach Chin is a very joyful and dedicated teacher. He greeted us at every practice with a big smile. During the games, he made sure we were all having fun and never made a big deal about a bad play. It didn't matter to him how well we did, as long as we tried our best. I wouldn't have the confidence to try something new without his support."
Dr. Brian Greenwood, Ph.D.
Dr. Greenwood has been a friend of the Fund for over a decade. Back in 2011, when the Giants Community Fund was looking for a University partner to help us collect and analyze data to accurately evaluate our impact in our Junior Giants leagues, Dr. Greenwood stepped up. Under his guidance and supervision, we have conducted over 100,000 surveys and interviews with Junior Giants players, parents and coaches. Dr. Greenwood also helped us develop what is now our Junior Giants AmeriCorps Ambassador program, which makes this high level of evaluation and quality assurance possible.
Beyond the incredible contributions already listed, Dr. Greenwood has stepped up to support the San Luis Obispo Junior Giants league by strengthening the partnership with the City and serving as a volunteer coach. His dedication to our mission certainly makes him the perfect candidate for an orange jacket and Hall of Fame honor.
Dr. Renel Brooks-Moon
Renel has been a committed supporter of the Giants Community Fund and Junior Giants since the day she started as the Giants Public Address Announcer in 2000. She served in an official capacity as a Giants Community Fund Board Member from 2002 to 2007 and has been a dedicated member on the Honorary Board ever since. Renel has kindly emceed countless fundraisers and community gatherings – from Until There's a Cure Day to Strike Out Violence Day to the Junior Giants Willie Mac Lunch. Renel does more than emcee our events. She is the energy and the magic at our events, bringing all the fun and excitement.
Most importantly, Renel warmly and genuinely connects with the families we serve. Recently, Renel has been wholeheartedly involved with the launch of the Willie Mays scholars program. She hosted the inaugural Induction ceremony and surprised the first class of Willie Mays Scholars. She is always our number one supporter, our number one cheerleader.
---
Allan G. Byer
Allan Byer would not have wanted the limelight, but as we reflect on all the ways he supported the Giants Community Fund and the Junior Giants program, we know that even after his passing, his legacy continues to shine bright. As a member of the Giants ownership group that saved the team from moving to Florida in late 1992, Mr. Byer understood what a team meant to a community. He loved the Giants and also loved the Giants Community Fund. As a donor to the Fund from the beginning, he invested in our work even before the launch of the Junior Giants program in 1994. His involvement ramped up when he joined the Fund's Board of Directors in 1998. For more than 20 years, he volunteered as a Board Member, providing wit and wisdom and keeping both board and staff members on their toes.
Mr. Byer was a fixture at the Play Ball Lunch and a generous contributor to the annual Junior Giants Glove Drive. He was famous for his hospitality as he assisted the Fund by hosting dozens of gatherings in his suite at Oracle Park and at his nearby memorabilia exhibit spaces: the B.A.B.E (Bay Area Baseball Exhibit) and Cooperstown S.F. Hall of Fame. In recent years, Cooperstown S.F. became the pre-game reception spot for the Junior Giants Hall of Fame honorees and, later in the season, for donors to the Junior Giants Stretch Drive. Allan Byer's legacy has made a true impact on the Giants Community Fund, allowing us to expand the Junior Giants program for nearly three decades. We are grateful to the Byer family as they carry on the good work of this philanthropic Hall of Famer.
Robert & Tyanne Brewer
Robert and Ty initially volunteered with Milpitas PAL Junior Giants when their son, Daniel, was signed up to be a t-ball player. Then, there were only a few teams in Milpitas, but still a shortage volunteers. Robert answered the call to coach. Ty followed as team parent. Robert and Ty are Giants fans, baseball fans, fans of children and personify everything good about what Junior Giants has to offer. Over the past 15 years, they have increased their involvement each year, escorting a humble program of 4 teams to 20 teams, t-ball to a three tier program and welcoming softball expansion when logistics allow. Robert and Ty have risen in the league organization and have now served as co-commissioners for several years. Under their leadership, Milpitas Junior Giants has served as a model program and has been granted awards of gold, platinum and diamond ratings for retainment, player involvement and fiscal stewardship as soon as the awards were made available.
Both Robert and Ty are former Junior Giants Willie Mac Award winners. They are the heart and soul of the Milpitas league, always present and actively volunteering in multiple roles, three nights a week and all day Saturdays for years without compensation. Robert and Ty's magic is no secret- the joy on Robert's face as he hands a child their first glove; Ty's ability to remember most players' names and know their family's story. They connect to the Milpitas families with open hearts and are the pillar of the Milpitas program.
*Officer Jose De La Cruz *
Officer Jose De La Cruz embodies everything that Junior Giants represents. He leads the youth with passion and integrity and always sets a positive example for not only the players but the parents, volunteers and coaches as well, often becoming a role model that they reach out to all year long, and for years to come. Jose puts his whole heart into everything he does, but when it comes to his Rancho Cordova Junior Giants league he puts in even more. He can be found at 5 a.m. making food, raking fields, counting equipment and setting up interactive experiences before each game. When he's not doing that he is visiting the practices, helping the kids with their form, their homework or just listening to them talk about their day.
Jose has work tirelessly to create relationships with the local little league teams, Parks Department, schools, the City leaders, and local businesses to make sure that the league has the best experience possible. In 2018, he saw a need for equipment storage, so he proposed a plan to build out a trailer into the ultimate Junior Giants headquarters. He now has portable storage for all equipment, uniforms, snacks, drinks and more. On top of that, Jose went out and purchased water jugs and extra equipment so that there is never an instance where a team goes without. Jose takes so much pride in the Rancho Cordova league and the kids in it. There is no way to describe the interaction between the youth and Jose other than "awe inspiring". Officer Jose De La Cruz embodies what it means to be a Junior Giants Hall of Famer and is an MVP of his community.
---
---
---
---
---
---
---
---
---
---
---
---
---