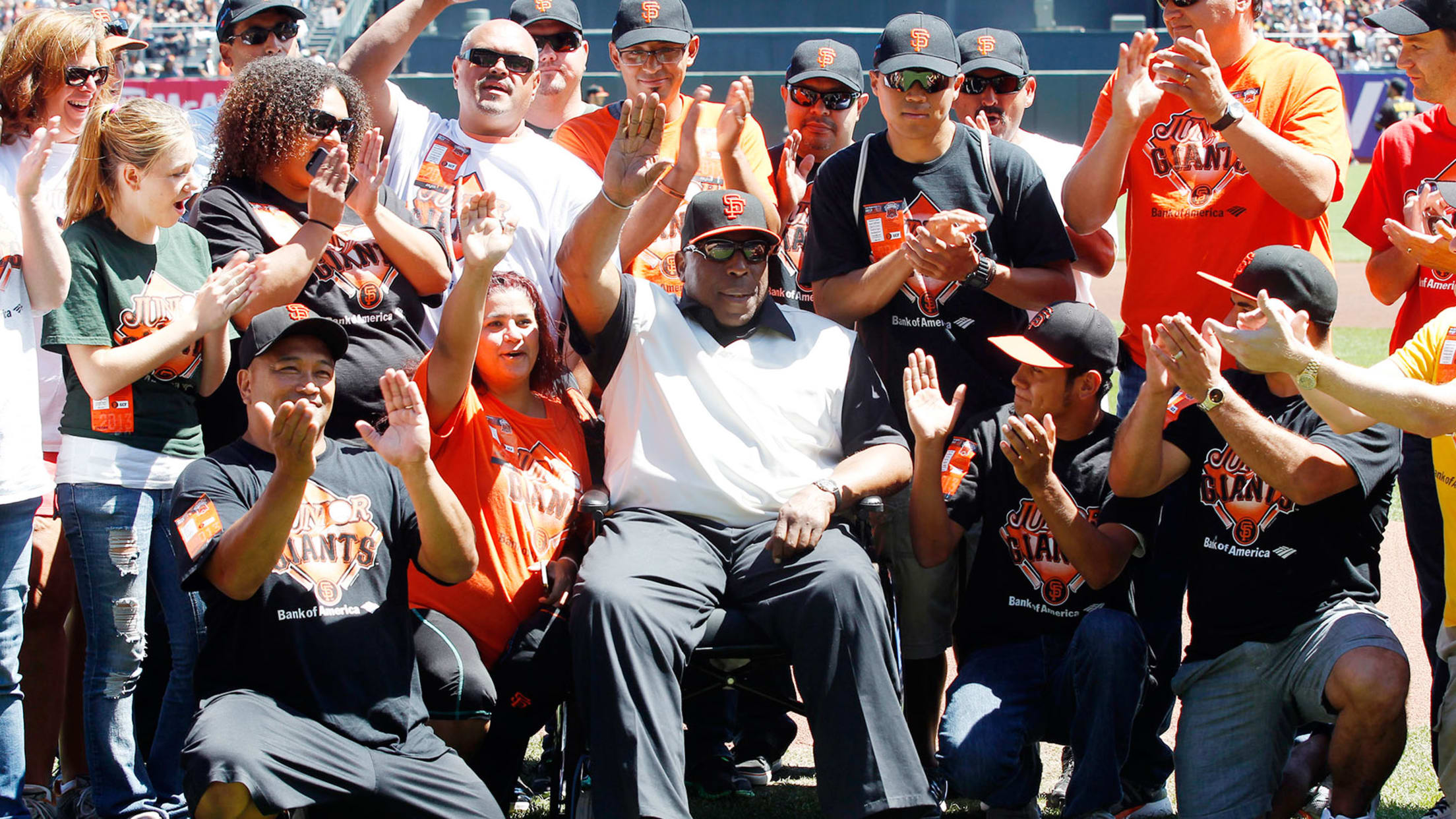 JUNIOR GIANTS WILLIE MAC AWARD
Named in honor of Giants Hall of Famer Willie McCovey, this award is the Junior Giants version of the annual award given to a Giants player by his teammates. The Junior Giants Willie Mac Award will go to one outstanding Junior Giants player and coach/team parent that best represents their league, as chosen by their league commissioner.
A Junior Giants Willie Mac recipient exemplifies Confidence, Integrity, Leadership and Teamwork both on and off the field. Junior Giants Willie Mac Award winners are recognized during a home-plate ceremony at Oracle Park on either Junior Giants Day or Coaches Recognition Day. All award winners, and a guest, are invited to a special luncheon after the season's end.
---
Name/League
Mia Voqui/Antioch
Daniel Cruz/Arvin- Bear Mountain
Noelia Patlan/Atwater
Leonardo Nunez/Carson City
Daniel Garcia/Castroville
Anthony Martone/Chico
Paris Carpenter/Citrus Heights
Jordan McCauley/Concord
Jackson Mueth/Cottonwood
Valentino Lara/Daly City
Christian Morales/Fresno Boys & Girls Club-- JJC
Gabriela Melchore/Fresno PARCS
Aaron Dutra/Gilroy
Stella Machado/Half Moon Bay
Alejandro Pacheco/Hayward
Addilee Westerberg/Healdsburg
Andrea George/Hollister
Abigail Ortega/Kelseyville
Carter Jones/Keyes
Christine Monk/Klamath Falls
Tyler Sweet/Lamont- Bear Mountain
Davion Thompson/Lathrop
Marvin Medina/Livermore
Caydence Rodriguez/Lodi
Rubi Ramirez/Lompoc
Jacob Bangle/Los Banos
Xzavyer Madrigal/Los Molinos
Angelina Grothe/Marina
Gideon Biggs/Medford
Damian Sanchez/Merced- Franklin/Beachwood
Kevin Martinez/Merced - Planada
Christian Ochoa/Merced- Winton
Rien Riley/Milpitas
Isabella Rodriquez/Modesto
Isabel Iboa/Morgan Hill
Seth Smith/Mt. Shasta
Teagin Cholomondeley/Napa
Parth Dave/Newark
Malcolm Stable-Martinez/Oakland
Luis Hernandez/Orange Cove
Conner Williams/Oroville
Natalie Ehinger/Paso Robles
Torrin Barrington/Patterson
Genesis Heredia/Pittsburg
Ayden Belles/Plumas Lake
Jonathan Rodriguez/Porterville
Connor Keehner/Rancho Cordova
Summer Jones/Rancho Tehama
Justin Brent/Red Bluff
Ashley Bridgford/Redding
Kara Cruz Monje/Redwood City
Nathaniel Lopez/Reedley
Anthony Ruiz/Reno
Kameron Hicks/Richmond PAL
Phoebe Deza/Richmond YMCA
Joshua Landi/Rohnert Park
Makhai Ward/Sacramento
Jordan Sandage/Sacramento- Southgate
Mariah Pinson/Salinas
Russell Ong/San Bruno
Martay Gross/San Francisco- Hunters Point
Alexander Calderon/San Francisco Recreation & Parks
Jazzmonie McCaslin/San Jose FMCI
Ziani Gokani/San Jose West/Burbank
Jack Haring/San Luis Obispo
Nicholas Watkins/San Mateo
Henry Herrera/San Rafael
Neveah Sanchez/Sanger
Mateo Briseno/Santa Clara
Jackson Clark/Santa Cruz- Live Oak
Mason Rohwedder/Santa Maria
Salvador Pedroza/Santa Rosa
Emilie Hernandez/South Lake Tahoe
Judah Kim/South San Francisco
Aubrielle Thompson/Stockton
Justin Sanchez/Suisun City
Addison Heidemann/Sunnyvale
Amira Saenz/Tracy
Aiden Mccool/Ukiah
Mike Bermudez/Vacaville
John Bibb/Vallejo
Jaylon Pilgrim/Waterford
Adrian Ramirez/Watsonville
Jesse Martinez/West Sacramento
Jadon Ojeda/Willits
Jairo Torres/Woodland
---
Name/League
Darnell Andrews/Antioch
Debra Stillwell/Arvin- Bear Mountain
Noel Benc/Atwater
Bailey Justesen/Carson City
Daniel Dalton/Castroville
Joyce Harper/Chico
Mark Smith/Citrus Heights
Clayton Johnson/Concord
Krystal Cornwell/Cottonwood
Kim Lee/Daly City
Elizabeth Ramirez/Fresno Boys & Girls Club-- JJC
Joe Martinez/Fresno PARCS
Merritt Billington/Gilroy
Ryan Salet/Half Moon Bay
Yessenia Orozco/Hayward
Danielle Allbritton/Healdsburg
Anthony Ortiz-Ponce/Hollister
Mike Brown/Kelseyville
Lissette Ruesga/Keyes
Melissa Monk/Klamath Falls
Alex Garza/Lamont- Bear Mountain
Brandon Hawkins/Lathrop
Spencer Hickerson/Livermore
Amanda Bribiesca/Lodi
Danielle Sawyer/Lompoc
Thaddeus Bangle/Los Banos
Alyssa Weibling/Los Molinos
Tamara Heitzenrater/Marina
Stephanie DiTullio/Medford
Berenice Valenzuela/Merced- Franklin/Beachwood
Antionio Rodriguez/Merced - Planada
Mario Nieto/Merced- Winton
Matt Brading/Milpitas
Martin Navarrete/Modesto
Alexis Serafio/Morgan Hill
Steve Bryan/Mt. Shasta
Allison Krull/Napa
Timothy Chan/Newark
Steven Milan-Estrada/Oakland
Genesis Solorio/Orange Cove
Esther (Rebecca) Murphy/Oroville
Nathan Williams/Paso Robles
Chris Uribe/Patterson
Misty Fagundes/Pittsburg
Steven Dobbs/Plumas Lake
Thomas Bear/Porterville
Laurie Trane/Rancho Cordova
Joseph Godoy/Rancho Tehama
Anthony Smith/Red Bluff
Delbert Clark/Redding
Christopher Verges/Redwood City
Lidia Arzate Banda/Reedley
Kimberlee Linton/Reno
Tom Robertson/Richmond PAL
Brian Ames/Richmond YMCA
Shaun Dolan/Rohnert Park
Sabrina Cadena/Sacramento
Leroy Sandage/Sacramento- Southgate
Gabriel Cortes/Salinas
Andy Fontela/San Bruno
Marquez Shaw/San Francisco- Hunters Point
Jose (Augie) Garcia/San Francisco Recreation & Parks
Juan Martinez/San Jose FMCI
James Branch/San Jose West/Burbank
Lisa Gutierrez/San Luis Obispo
Katie Diec/San Mateo
Janeth Ortiz/San Rafael
Katie Velez/Sanger
Selena Maldonado/Santa Clara
Vance Garrott/Santa Cruz- Live Oak
Erika Mendoza/Santa Maria
Cathie Escobar/Santa Rosa
Jim Ebright/South Lake Tahoe
Dawn Caso/South San Francisco
Joseph Castilleja/Stockton
Ashlee Unpingco/Suisun City
Norman Moretto/Sunnyvale
Darren Hunter/Tracy
Gabriel Colsen/Ukiah
Amy Fabi/Vacaville
Justine Jansuy/Vallejo
Jesse Vega/Waterford
Freddie Martinez/Watsonville
Julian Garcia/West Sacramento
Tyler Ojeda/Willits
Bridget Ellis/Woodland
---
---
---
---
---
---
---
Alex Alcantar - Yolo County
Anthony Aldaz - San Francisco PAL
Jordan Avila - Los Molinos
Amari Baker - San Luis Obispo
Summer Baxter - Clearlake
Fredrico Bega - Santa Clara
Wakilli Bennett - Sacramento - South (George Sim Community Center)
Sandridhee Bhatt - Sunnyvale
Paige Bour - Lake County
Dakota Boyd - Corning
Duane Brown - Livermore
Jason Budwiser - Sacramento - North (Del Paso Heights)
Kobe Carrero - Morgan Hill
Dylan Co - Mission YMCA
Cecilio Corral - Lompoc
Adeleny Cortes - Concord
Cody Couch - Salinas
Kevin DeBenedetti - Sacramento - YMCA
Alejandro Diaz, - Stockton
Sandy Espinoza - Live Oak
David Fernandez - North Richmond/San Pablo
Justin Fernandez - Antioch
Sean Finn - Reno
Austin Flood - Cottonwood
Mary Gaarde - Tracy
Diego Gonzalez - East Palo Alto
Dyanna Gutierrez - Suisun City
Alexa Hernandez - Modesto
Jorge Hernandez - Redwood City
Natalia Ibarra - Vacaville
Sean Irving - Marina
Laurence Jackson - Oakland
Carlos Jimenez - Orange Cove
Jorge Junior - Hayward
Ariana Kesterson - Monterey County
Casey Kilano - Pittsburg
Ben Kinnaman - San Bruno
Jake Kinsbourne - San Francisco Recreation and Park Department
Richard Kuskye - Plumas Lake
Stephanie Lamb - Feather River/Oroville
Riley Lessner - Willits
Yangsheng Liang - Daly City
Kayla Loza - Bear Mountain - Arvin
Dino Malatesta - Medford
Kasandra Malimali - Bayview
Madison Matthews - Mt. Shasta
Makayla McElhaney - Vallejo
Angel Mendez - Sanger
Alfredo Munoz - Eureka
Aiden Nguyen - Richmond
Talan Nguyen - Patterson
Shawn Omoto - Newark
Adria Page - Red Bluff
Joshua Perez - San Jose Franklin McKinley Children's Initiative
Yenei Perez - Bear Mountain - Lamont
Kaylena Phagnasay - Fresno Parks and Recreation
Daniela Ponce - San Jose West/Burbank
Cylas Riley - Lodi
Ainsley Rosenthal - South San Francisco
Jaden Rumor Rain - Santa Cruz/Watsonville
Cesar Sanchez - Atwater
Shaina Schramer - Ukiah
Caleb Shick - Paso Robles
Brandon Suggs - Porterville
Carlos Talamantes - West Sacramento
Roger Torres - Reedley
Lladro Valle - Milpitas
Gage Vargas - Merced - Winton
Layla Wallace - Chico
Sebastian Wells - Rancho Cordova
Kwentyn Wiggins - Marin City
Ashley Williams - Los Banos
Asantay Wilson - Hunters Point
Caden Winther - Jackson
Dean Young - Redding
Veronica Zavala - Rancho Tehama
---
Name/League
Gary Ahumada - Antioch
Efrain "Chico" Avila - Los Molinos
George Azevedo - Merced - Winton
Jake Babick - Hunters Point
Joyce Becker - Chico
Willie Berlanga, Senior - San Francisco PAL
Ray Bermudez - Vallejo
Dustin Bonivert - Mt. Shasta
Jeff Bour - Lake County
Mike Byrum - Rancho Cordova
Frank Cardenas Sr. - Atwater
Jorge Cervantes - Sanger
Dvaun Charles - Santa Clara
Rick Clemons - Suisun City
Robert Cordova - Yolo County
Roger Cornwell - Sacramento - YMCA
Brian Curtis - Newark
Josue Davalos - Patterson
Spencer Dayton - Lodi
Benjamin De Alba - Sacramento - South (George Sim Community Center)
Garland Duhe - Marin City
Therese Field - Corning
Fred Finn - Reno
Christine Flood - Cottonwood
Randall Flores - South San Francisco
Patti Garcia - West Sacramento
Mark Gauldin - Richmond
Eddie Gonzales - Fresno Parks and Recreation
Paul Gonzalez - Orange Cove
Alex Gonzalez - Santa Cruz/Watsonville
Luceal Green - North Richmond/San Pablo
Erick Gutierrez - Paso Robles
James Hansen - Vacaville
Rosa Hernandez - Reedley
Marlon Hernandez - San Jose West/Burbank
Dennis Hill - Red Bluff
Tyler House - Plumas Lake
Milo Ibarra - Monterey County
Joseph Jackson - Rancho Tehama
Harold Jefferson - Oakland
Jeff Jewell - Eureka
Kristen Johnson - Medford
James Jones - Salinas
Devohn Lee - Hayward
Isidro Llanos - Concord
Denise Lopez - Jackson
Denise Loza - Bear Mountain - Arvin
Isidro Loza - Bear Mountain - Lamont
Lilia Martinez - Porterville
Jose Martinez - Stockton
Chris Matos - Redding
Weston Meyer - San Luis Obispo
Chris Ochoa - Sunnyvale
Peter Peal - San Jose Franklin McKinley Children's Initiative
Luis Perez - Morgan Hill
Nicole Pogrund - Ukiah
Brandon Reeves - Pittsburg
Martin Rodriguez - Willits
Dawn Rogers - Live Oak
Jill Romeo - Lompoc
Kathy Ruiz-Alarcon - East Palo Alto
Francis Sanchez - Daly City
Brian Schilling - Tracy
Clifford Servetti - Bayview
Brian Silva - Redwood City
Alisa Smith - Marina
Joe Suarez - Modesto
Kent Teixeria - Feather River/Oroville
Madison Umidon - Livermore
Curly Underwood - Mission YMCA
Paula Villescaz - Sacramento - North (Del Paso Heights)
Vern Westberg - Clearlake
Melissa Williams - Los Banos
Paul Willoughby - Milpitas
Dean Wilson - San Francisco Recreation and Park Department
Gordon Wong - San Bruno
---
---
---
---
---
Jonathan Ahlert - Cottonwood
Leo Anderson - Vallejo
Janie Banda - Modesto
Jovon Bernal - South San Francisco
Jesse Boyd - Ukiah
Alexander Brand - Hamilton City
Tyler Cervania - Redding
Spencer Copperfield - Willits
Jerry Coulter - Red Bluff
Lacey Damon - Feather River
Cameron DeBortoli - Mt. Shasta
Ronald Elliott - Tracy
Jonathan Enriquez - Huron
Thomas Fong - SF Recreation and Park
Reece Giannini - Hagginwood
Andrew Hungerford - Paso Robles
Elijah Hunter - Tracy
Blake Jackson - Porterville
Nathan Lapp - Live Oak/Santa Cruz SAL
Timozeray Lawson - Sacramento - George Sim
Dylan Layfield - Atwater
AJ Levias - Antioch
Alyssa Levien - Suisun City
Maliq Markham - Corning
Leo McGrath - Newark
Andy Moreno - Morgan Hill
Caden Naran - San Louis Obispo
Jeremy Nelson - Monterey County PAL
Joseph Nelson - Seaside
Sammy Rantisi - San Bruno
Santiago Reynoso - San Francisco Recreation and Parks
Shea Rodriguez - San Jose UAA
Heather Rodriguez - Los Molinos
Lesley Ruano - Redwood City
Antonia Ruth - Medford
Marcus Salgado - Gilroy
Timothy Scott - San Francisco PAL
Christian Silvano - Daly City
Andres Sobalvarro - Bayview Hunters Point YMCA
Kennedy Stanton - West Sacramento
David Toth - Rancho Tehama
Jonathan Trujillo - Hayward
Noah Watson - Sacramento YMCA
---
---
---
---
---
---
---
---
---
---
---