Dombrowski reflects on Papi, looks to future
Red Sox executive sits down for Q&A with MLB.com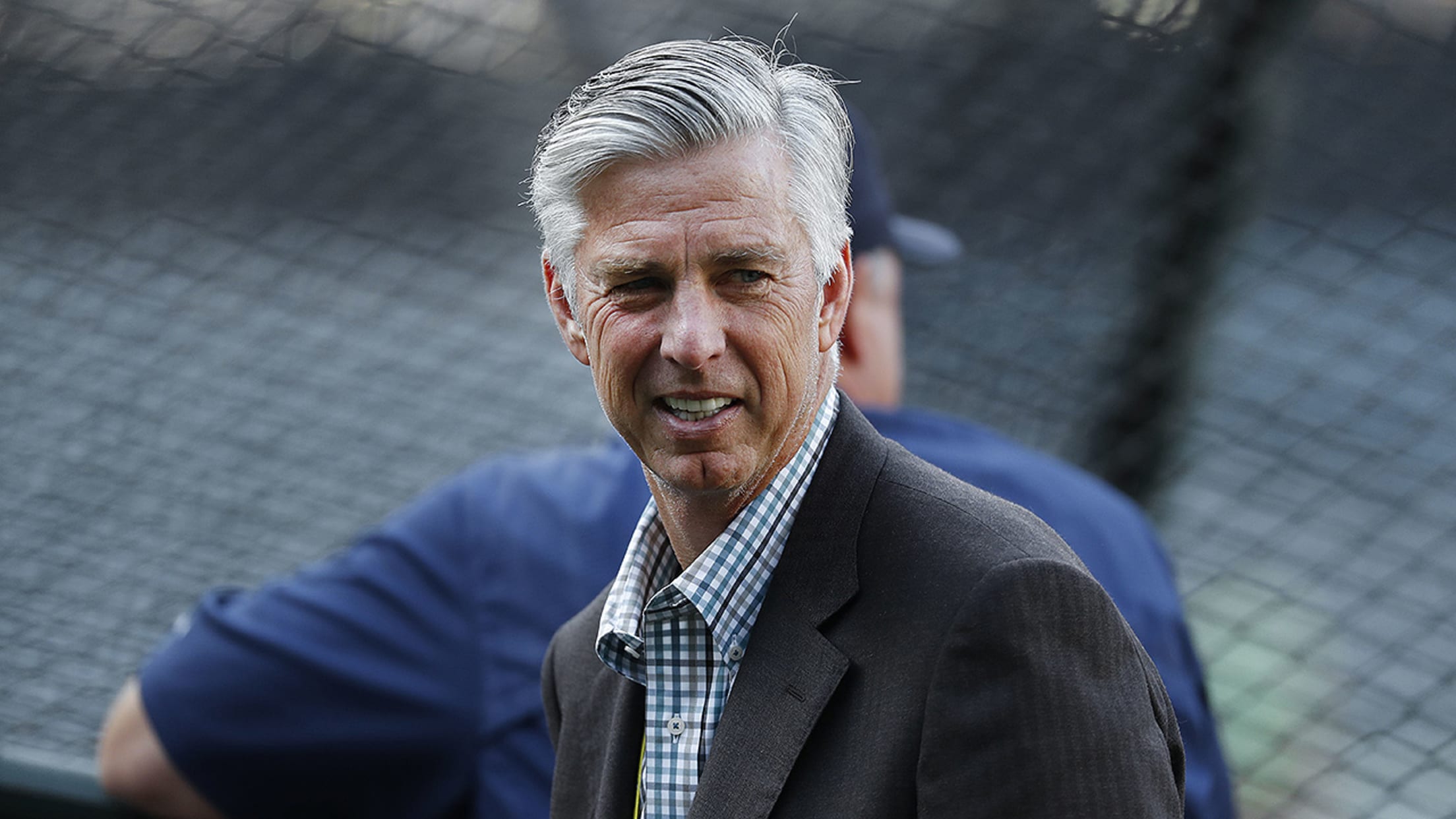 "You don't ever replace a guy like that, because he's an icon," Dave Dombrowski said of David Ortiz. (Paul Sancya/AP)
It has been 14 months since the Red Sox stunned the industry when they effectively replaced Ben Cherington with Dave Dombrowski, the longtime executive with a penchant for bold moves and big winning percentages. The switch signaled that the Red Sox were about to make some serious waves on the
It has been 14 months since the Red Sox stunned the industry when they effectively replaced Ben Cherington with Dave Dombrowski, the longtime executive with a penchant for bold moves and big winning percentages. The switch signaled that the Red Sox were about to make some serious waves on the transaction front, and Dombrowski came as advertised, signing David Price and trading for Craig Kimbrel last offseason to put the Red Sox in prime position to make the most of David Ortiz's final season.
Alas, this American League Division Series against the Indians, which continues Monday (6 p.m. ET, TBS) at Fenway Park, has not been nearly as kind to the Red Sox as the regular season that preceded it. And so, in an 0-2 hole that only seven other teams have recovered from in 53 tries, Dombrowski's club is trying to extend not only their season, but the Ortiz era.
:: ALDS: Red Sox vs. Indians coverage ::
It is a fascinating juncture for the Red Sox, because, while Ortiz's pending departure is going to leave a huge hole in the middle of the order, the development of AL MVP Award candidate Mookie Betts, shortstop Xander Bogaerts and outfielders Jackie Bradley Jr. and Andrew Benintendi gives Boston a strong young nucleus around which to build. And on the verge of completing his first full season as the club's president of baseball operations, Dombrowski will be the one directing the post-Ortiz era.
MLB.com caught up with Dombrowski in the midst of the ALDS to get his thoughts on Ortiz and a team in transition.
MLB.com: You've been here a little over a year now. When does a team really start to feel like "yours." When do you feel you've really put your imprint on an organization?
Dombrowski: That's a hard question to answer for me. Because I think, when you've been somewhere for so long, you've sort of got an imprint there. Coming here, it's like a gradual process. So some of the stuff feels that you've got that imprint and there's other parts of it that are still in a transition state. But I think as you go through a whole year and then head into the wintertime again -- last year, it was so new. Even though being there for seven weeks [previously] helped, it was still a rush. I didn't have the full pulse of things. So I think when I go into the wintertime, I've got a better pulse, because I've got my own opinion on things. It just takes a while to get that total feel.
MLB.com: This is an interesting time, because we're talking about Ortiz's pending retirement, but, at the same time, so many young guys have taken that next, huge step for you guys.
Dombrowski: We have a tremendous foundation, no question. Not only here but still some guys in the Minor League system that are really good. A lot of guys have taken a step forward.
What will end up happening, which will be an interesting thing, is they will become the center of the attention without David. Although you still have Dustin [Pedroia] and Hanley [Ramirez] here -- and Hanley's had a tremendous year -- and you'll have Price and Kimbrel, it'll be a whole different scenario because [the younger guys] will be the guys who will be counted on to do it. So that'll be a transition for them. I think they'll handle it and do well with it, and I think it's a situation where the foundation is so good in so many ways. The core is here for years to come.
MLB.com: Indians manager and former Red Sox manager Terry Francona was saying Boston is a really tough place for a young player, because you're not in a situation where they can "sink or swim." The spotlight is so intense and the expectations to perform are there from Day 1. You've been in a variety of markets. How do you put Boston into words?
Dombrowski: Terry has a longer first-hand experience than I do, because he was here for a long time, but I think the observation from the outside is that there are a few unique markets -- Boston, New York, maybe Philadelphia -- where it was always the most difficult to break in young players because of the immediate expectations. And so I think you're aware of that. I think it takes a certain type of young player to be able to handle the scrutiny. Same thing with certain veteran players, too. But it's just more expectations right off the bat. I heard Brad Ziegler talk about it on the MLB Network the other day. There's a veteran guy coming in here, and he said you pitch great one day, you're on top of the world. You have a bad outing the next, and it's, "The guy can't pitch." That's pretty much how it is. That's where it's incumbent on you and your staff and manager to stay even-keeled.
Now, one thing that happened here, even though there's a World [Series] championship in '13, '14 was a losing year and '15, by the time I got here, we weren't going to win anything. So the ability to experience the Major Leagues was given to those young players last year, where they might not have had that same opportunity if they broke in this year.
MLB.com: This almost sounds like a job interview question, but what do you want this organization to represent? I don't know how this situation compares for you mentally to your time in Detroit, in terms of the kind of players you seek, but what do you envision this team to be, long term?
Dombrowski: You can answer that in different ways. Ideally you want to be in position to attempt to excel in every different direction. So you attempt to excel and be aggressive at the Major League level. That's an advantage we have. You can acquire talent at the big league level and maintain that payroll. But at the same time, you can be aggressive in the Draft, you can be aggressive in the Far East. You don't leave any stone unturned in any area. That's what we're trying to do. We're trying to do it in analytics, statistics, sports science, conditioning. You try to be the best in every area. I know everybody says that, but we're also in the position where we have the ability and the resources to maybe do more than other organizations do. That's a big difference for me. In Detroit, we might have had the same philosophy, but we just didn't have the same resources available to us, because you're in a different market.
Now, when I say that, you're also in a spot where, if you're drafting 26th or 27th, you might have the ideal type of player you want to bring into your organization, but they might not be available when you're drafting there. So that's where you have to adjust always philosophically.
MLB.com: You made the Kimbrel trade last winter and the Drew Pomeranz trade this summer. When you enter an organization on the fly -- and maybe it's easier by the time of the Pomeranz trade -- but what is that process of determining who you're comfortable parting with?
Dombrowski: Sure, I think that takes a while. You rely on other people. Still, I hadn't seen [Manuel] Margot play, hadn't seen [Javier] Guerra play, other than some videos. Where, with [Anderson] Espinosa [sent to San Diego in the Pomeranz trade], I hadn't seen him a lot, but I had seen him perform and liked him a great deal. But I've gone through a Draft now, so I know [2016 first-round pick] Jason Groome and I know [2016 second-round pick] C.J. Chatham. The guys who are our picks, you have a better pulse on them. So you build on that on a year to year basis.
We're not going to be an organization that thrives on signing free-agent players. We've got a great core of young players, and we also have good young players in the Minors, and I want to make sure to bring those players in on a gradual basis. Because I think it's important. You can see young talent wins at the big league level at this point. If you can bring them in while maintaining your veteran base, that's important.
MLB.com: Yeah, you took over a team that had a good foundation but also had some very clear and pressing needs that it was going to have to address to get back to this postseason stage. You addressed those in very big and bold ways. But it sounds like, from what you're saying, you're trying to get to a point where it's less pressing…
Dombrowski: And you can fill those internally. Right. Health is always a major factor, but for us, ideally, if you look at our starting rotation, when we made the Pomeranz deal, between Price, [Rick] Porcello, [Steven] Wright, [Eduardo] Rodriguez, Pomeranz -- and of course [Clay] Buchholz has more recently stepped in -- every one of those guys we have for at least two more years. So you have the foundation and you develop some young people who can step in so you don't have to trade for another Pomeranz. The bullpen, we've got Kimbrel set up and some other good arms out there. We're going to lose some bullpen guys, but that's not quite as big an area [to fill]. And then, really, from a positional player perspective, we're the same way. We're pretty solidified. Of course we lose Big Papi and we'll have to decide what we end up doing, but the reality is the foundation is here for a long time.
MLB.com: Seeing Ortiz from the other side and now being on the same side, have you learned anything about him that you didn't know before?
Dombrowski: You always have the utmost respect across the diamond, watching him play. His talent spoke for itself. You could always see his determination, ability to get the big hit and leadership capabilities. But you always get to know somebody so much better when you're there day in and day out with him. I guess it shouldn't surprise me, but the effort he puts into the preparation, not only physically but mentally and preparing to know who's out on the mound. He's got a pulse of how everybody's pitched to him. He's got that memory catalog. I would also never have known how long it takes him to prepare, day in and day out. He really goes through a lot. That you never see. So once you see it, you realize ... it kind of reminds me of one player I saw do that on a first-hand basis, at a different stage of his career performance wise, was Andre Dawson. With his knees, Andre had to go through so much, day in and day out. That's how Big Papi is with his feet and Achilles.
MLB.com: It's always hard to see a signature star walk away.
Dombrowski: No question. He's the type of guy -- and I've been asked that since Spring Training, "How do you replace Big Papi?" I say, "We'll worry about that question at the end of the year." The reality is you never really replace him. Guys like him never get replaced. You do the best you can to fill the void by the offensive production, the middle of the order and the leadership. But the reality is you don't ever replace a guy like that, because he's an icon. I think the way he is regarded within the franchise and within the Boston community and in baseball itself, those players are far and few between.