JBJ, pending FA, 'thankful' for Sox tenure
Red Sox OF on decision: 'I don't know what the future holds'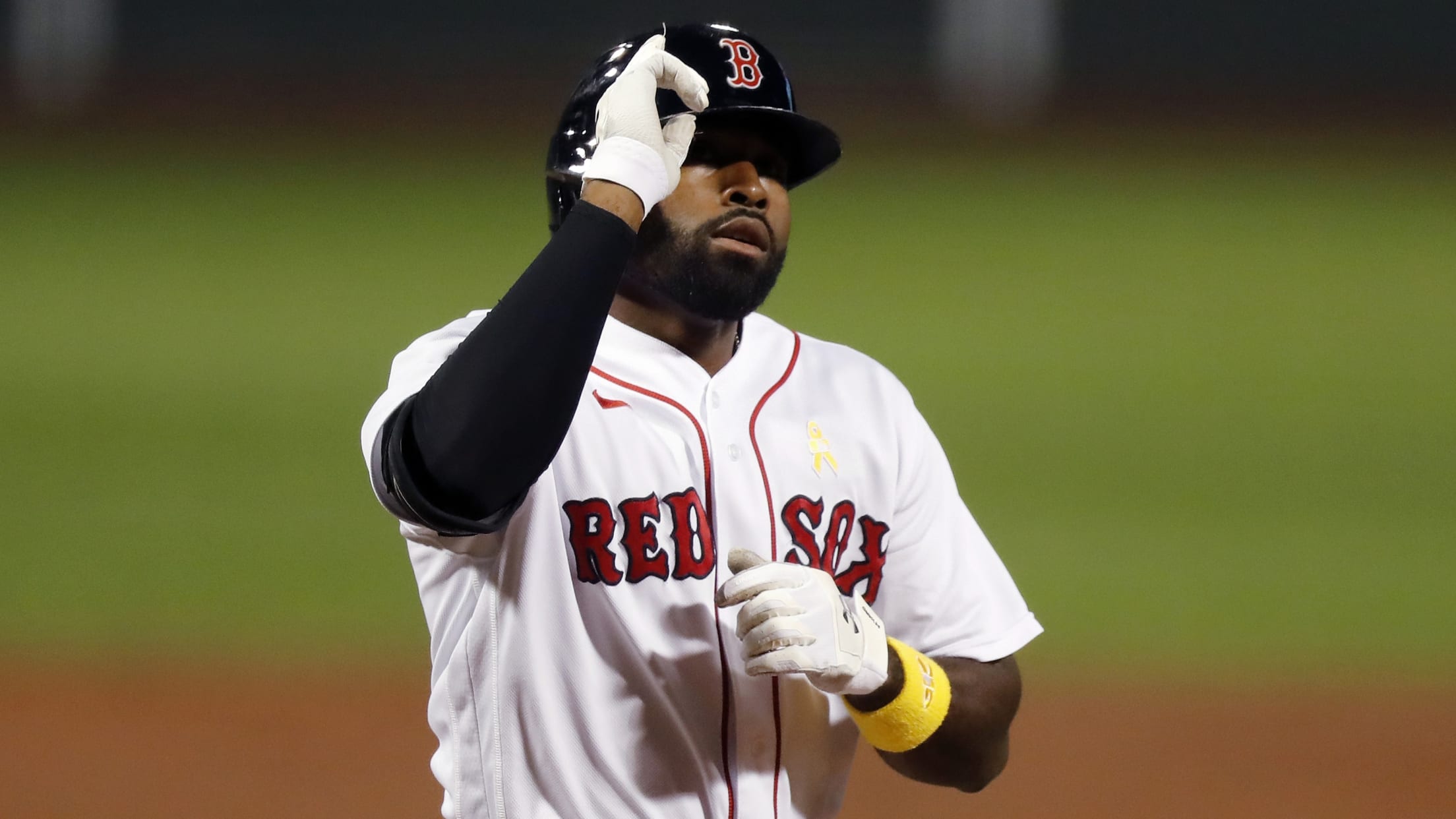 In the nine years since the Red Sox made him a first-round pick in the 2011 Draft, Jackie Bradley Jr. got married, had a daughter and now has a son on the way. He won the MVP Award in the 2018 American League Championship Series and jumped for joy when
In the nine years since the Red Sox made him a first-round pick in the 2011 Draft, Jackie Bradley Jr. got married, had a daughter and now has a son on the way.
He won the MVP Award in the 2018 American League Championship Series and jumped for joy when his team won the World Series championship a couple of weeks later at Dodger Stadium.
He won a Gold Glove Award and probably deserved to win a few more. He made the All-Star team once.
There was a magical 29-game hitting streak in 2016 -- not to mention some crushing slumps in just about all of his seasons. And there were jaw-dropping catches in which he scaled walls and made laser-beam throws to cut down those few brave souls who dared to run on him.
This wild ride in Boston could end for Bradley with Sunday's season finale against the Braves. For the first time in his career, Bradley is eligible for free agency.
• Bradley hits long homer vs. Braves
But before getting to that, he has been able to spend some time this week reflecting and appreciating the journey he's been on.
"Yeah, you think about it for sure. Being around a lot people for so long in the organization, I think you think about all the relationships and stuff that you've developed over time," said Bradley. "The people you have met. The people who have inspired you. The people you have come in contact through the game and with travel. The amount of people you get to see and hopefully make a difference in people's lives. So, yeah, you definitely think about it and you reflect."
There's always a chance Bradley re-signs with the Red Sox. But the 30-year-old sounded on Saturday like he was bracing for the fact that this Boston chapter could be coming to an end. How does he think about his Red Sox years?
"They've been everything that I think a ballplayer can go through. The ups, the downs, the great times, the difficult times, and it's one of those things like I said where you sit back and reflect," Bradley said. "You become thankful. You become thankful for every trial and tribulation you went through, the struggles, and just knowing you did the best to stay true to yourself."
No matter how much his performance fluctuated -- and it did -- Bradley represented himself the way the Red Sox would want all their players to.
"I tried to make sure no matter how bad I felt or how angry I was at myself for not performing the way I wanted to, that I tried to treat everyone with respect, whether it was to the reporters or to the fans," Bradley said. "I just wanted to be better for not only them, but for myself as well. I put a lot of belief in myself, and that's second to none. I'm always going to believe in myself more than anybody believes in me."
The emotions and memories started to flood for Bradley prior to the final game of the season at Fenway Park on Thursday.
"And I had some great times, too. Great moments. And that's things that I will never forget. And yeah, I got to the field a lot earlier, and I just spent some time thinking about all the things that we've accomplished as a team, as an organization, and it was cool," said Bradley. "I felt at peace, I felt at ease. I got a lot of messages from a lot of fans, family. It's always great. I read every single one of them. I saw every single message. Thank for you all the love. And I greatly appreciate all of you."
Bradley declined to characterize the chances of him returning to the Red Sox, but he didn't rule it out.
"I don't know how to define it, to be honest," Bradley said. "It's one of those things where it's a two-way street. You have to play out the situation, and I don't know what the future holds. I'm sure a lot of people don't know what the future holds, but that's this great thing that you kind of go through the process and you find out what's going to be the best fit."
Bradley acknowledged this decision has many more elements than when he first signed with the Red Sox after a stellar college career at the University of South Carolina.
"This isn't just about me. It's about my wife, my daughter, my future son. This is a big decision, and it's going to have an impact on not just my life, but their lives as well," said Bradley. "I don't take that for granted, I don't take it lightly, and ultimately, I'm going to do what I feel is best for my family, and we'll see how that plays out."
This offseason will mark the first time in a very long time when Bradley is unaffiliated with any team.
"It's the baseball lifespan," Bradley said. "If you play the game long enough, you feel like there's going to come that time where there's decision-making, whether it's not only the player, but the organization as well. And that's OK. That's definitely OK.
"It's good to be able to just sit back and reflect on the tings, but I think it will all work out the way it's supposed to, and hopefully, it's going to be stress-free."