Notes: Hicks progressing, Judge hits 3rd HR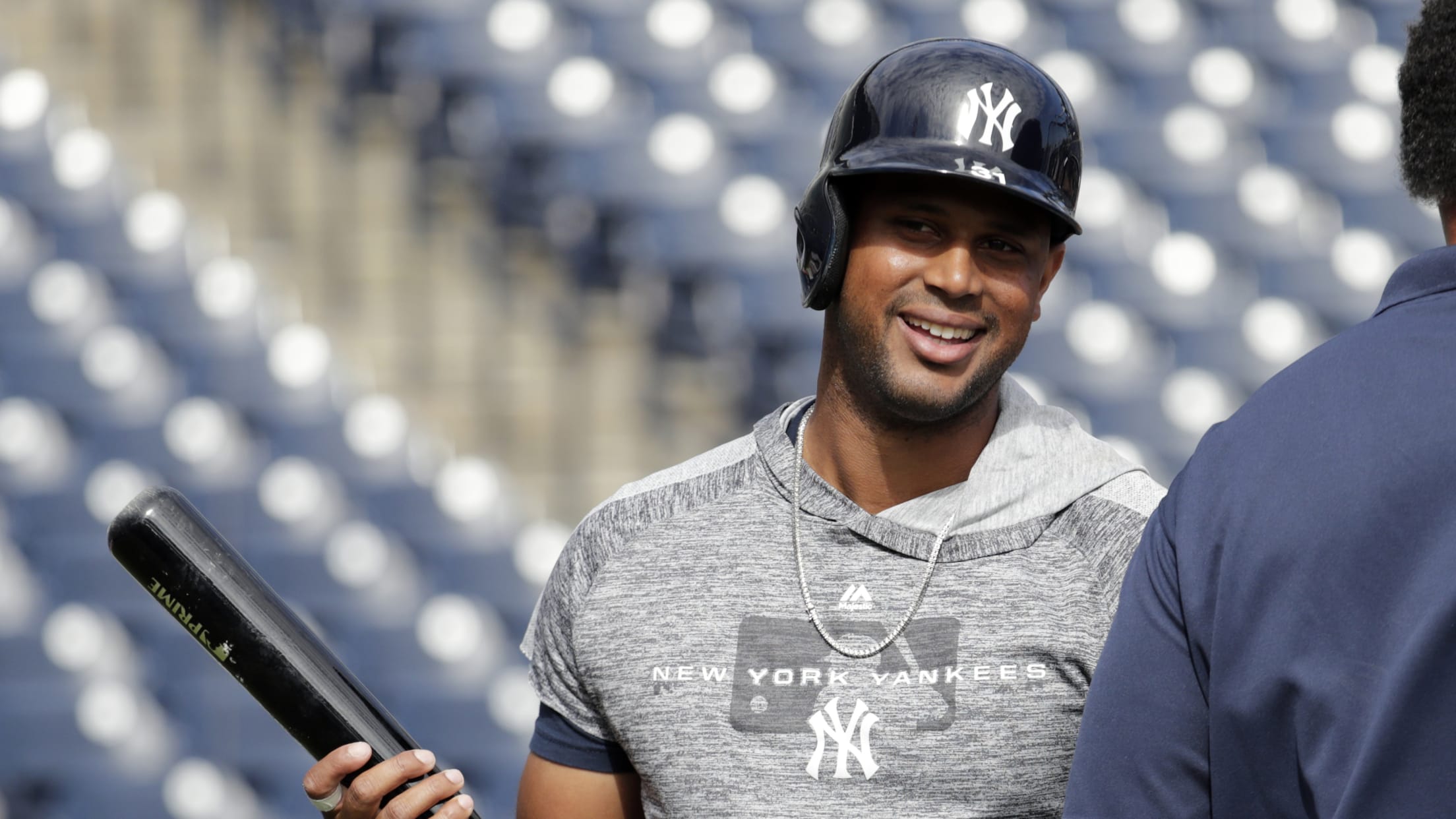 TAMPA, Fla. -- Aaron Hicks' sore lower back limited him to riding a stationary bicycle on Tuesday at George M. Steinbrenner Field, and the switch-hitting center fielder expects to be working behind the scenes for at least a few more days before returning to the Yankees' lineup. Hicks has not
TAMPA, Fla. -- Aaron Hicks' sore lower back limited him to riding a stationary bicycle on Tuesday at George M. Steinbrenner Field, and the switch-hitting center fielder expects to be working behind the scenes for at least a few more days before returning to the Yankees' lineup.
Hicks has not played since New York's game against the Orioles on Friday evening, after which he complained of stiffness. Though Hicks was listed in the hitting groups prior to Tuesday's 5-1 Grapefruit League victory over the Braves, he said he did not pick up a bat.
"Day by day, it gets better. I feel like I'm having progress," Hicks said. "I've dealt with back pain before, but it wasn't like this. I feel good about the way I'm progressing. Obviously it's slower than I want it to be, but I feel like I'm headed in the right direction."
Hicks is 2-for-9 (.222) with one run scored, two doubles, one RBI and one walk in four games this spring.
"It's not something I'm too concerned about," manager Aaron Boone said. "Just making sure we get it all out of there at this point of Spring Training. It's more being cautious and smart with it."
Hicks agreed to a seven-year, $70 million contract extension on Feb. 25, coming off a season in which he set career highs in homers (27), extra-base hits (48) and RBIs (79), compiling a .248/.366/.467 slash line in 137 games.
"I want to make sure I'm completely fine," Hicks said. "It's still Spring Training, so I want to take care of this now and be able to have a great season looking back after this."
All Rise
Aaron Judge enjoyed the benefit of a normal winter training program, and the star slugger looks like he is ready for the season to begin. Judge homered and doubled in three at-bats on Tuesday, and he is 6-for-13 (.462) with three doubles, three homers and six RBIs in five games.
Boone said Judge worked on his two-strike approach this offseason, aiming to put the ball in play more frequently after striking out 208 times in 2017 and 152 times last year. Boone said that though Judge's three-run fifth-inning blast to center field off Chad Sobotka came with a 1-0 count, Judge appeared to be in his two-strike mode.
"He knows himself really well," Boone said. "I think he was really able to focus on some of those little things that great players focus on to get a little bit better. He always has good at-bats and he has from the get-go now this spring. It's really encouraging to see him get some results on some little tweaks that he's made to try and get to be that much better of a player than he already is."
Gray matter
As he searches for a new beginning in Cincinnati, Sonny Gray does not seem to have closed the book on his New York chapter. The right-hander told The Athletic that he believes the Yankees' coaching staff pushed him to throw too many sliders, a pitch that he lacked confidence in.
"They love sliders," Gray said. "Sliders are a great pitch. The numbers say slider is a good pitch, but you might not realize how many [crappy] counts you're getting in while throwing all those sliders. They wanted me to be [Masahiro] Tanaka and I'm way different from him. I can't command my slider that well. I want to throw my slider in the dirt with two strikes, and that's about it. I don't have that type of slider, like Tanaka's slider."
A celebrated addition in advance of the 2017 non-waiver Trade Deadline, Gray was 15-16 with a 4.51 ERA over 41 games (34 starts) with New York. The Yankees packaged Gray with left-hander Reiver Sanmartin in a three-way trade on Jan. 21, netting outfielder Josh Stowers from the Mariners and a competitive-balance Draft pick from the Reds.
"We tried as best we could to get him to be successful," Boone said. "I think we all shared in the frustration at times. I know he was frustrated; we were. We just tried to get him to be the best he could be, and as successful as he could be. I don't know if I'd characterize it as we pushed him to throw a slider. He throws a slider."
Bombers bits
• J.A. Happ permitted one run on four hits over three innings of relief on Tuesday, walking none and striking out three in a 44-pitch outing. The left-hander called it "a good step" but said he feels "still a little bit out of sync."
• Dellin Betances made his spring debut, pitching a clean eighth inning. Betances was slightly behind the Yankees' other relievers after attending to the birth of his son, Dellin J.
Up next
The Yankees host the Cardinals on Wednesday, with a 1:05 p.m. ET contest scheduled at George M. Steinbrenner Field. Right-hander Jonathan Loaisiga draws the starting nod, opposing right-hander John Gant. The game will be broadcast on YES and MLB.TV.