Yanks' 100th win clinches 1st East title since '12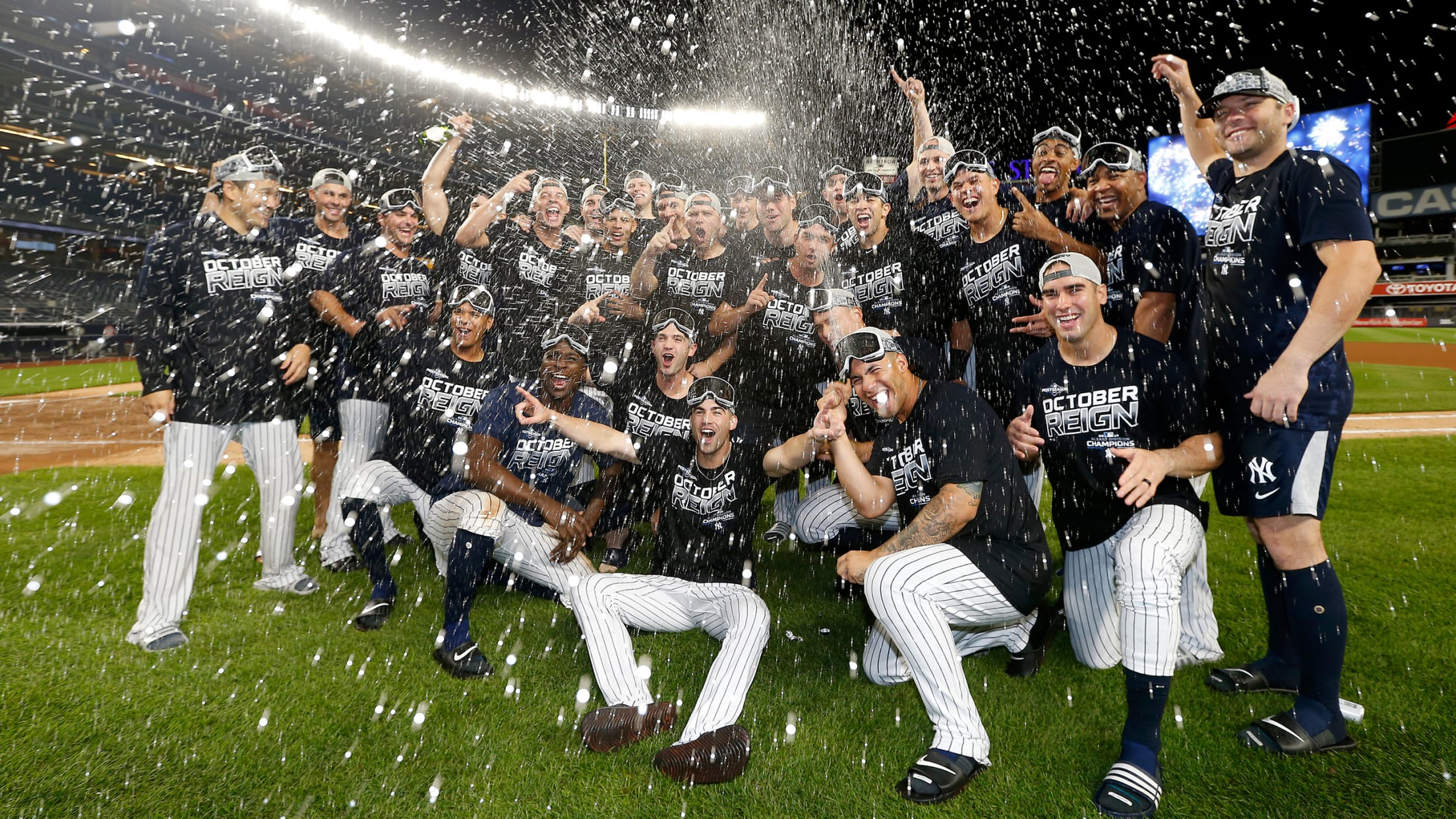 NEW YORK -- When the Yankees gathered seven months ago, Aaron Boone padded to the center of their clubhouse carpet and outlined his expectations for the season ahead. Their first objective would be to secure the American League East title, the manager instructed, and then to focus on bringing home
11 defining moments of 2019 for Yankees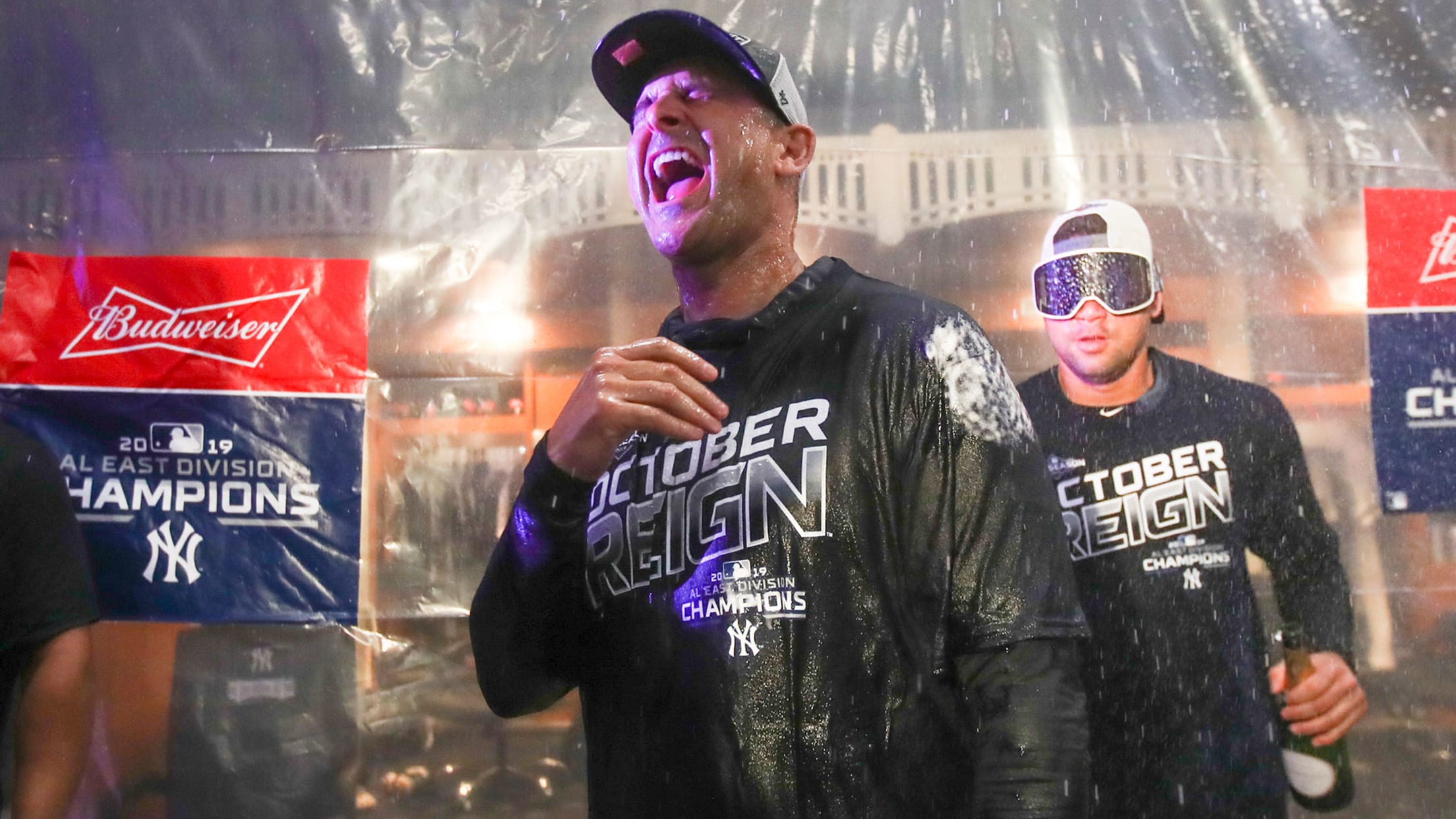 NEW YORK -- If you ask manager Aaron Boone who deserves the most credit for the Yankees securing their first American League East title since 2012, the manager does not hesitate, pointing a finger toward his clubhouse door. Subscribing to a "next man up" mindset, his players overcame an unprecedented
What's next for AL East champion Yankees?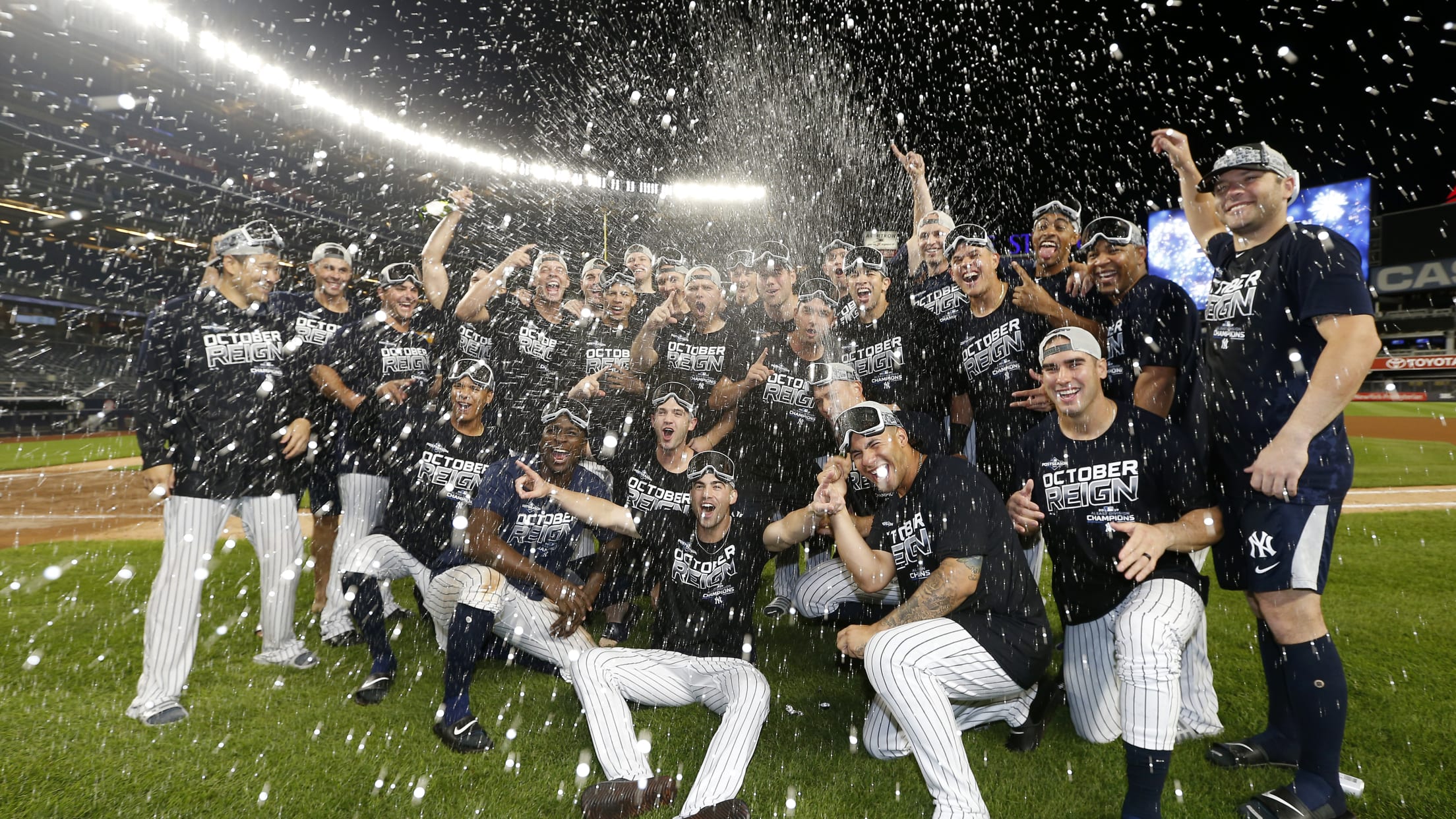 NEW YORK -- Aaron Judge howled as his teammates popped corks and doused him during the Yankees' American League East clinch celebration on Thursday night, the goggles strapped to the back of the slugger's head only partially blocking the icy and blinding spray. The Yankees have achieved their first goal,
Judge resting but fine after diving attempt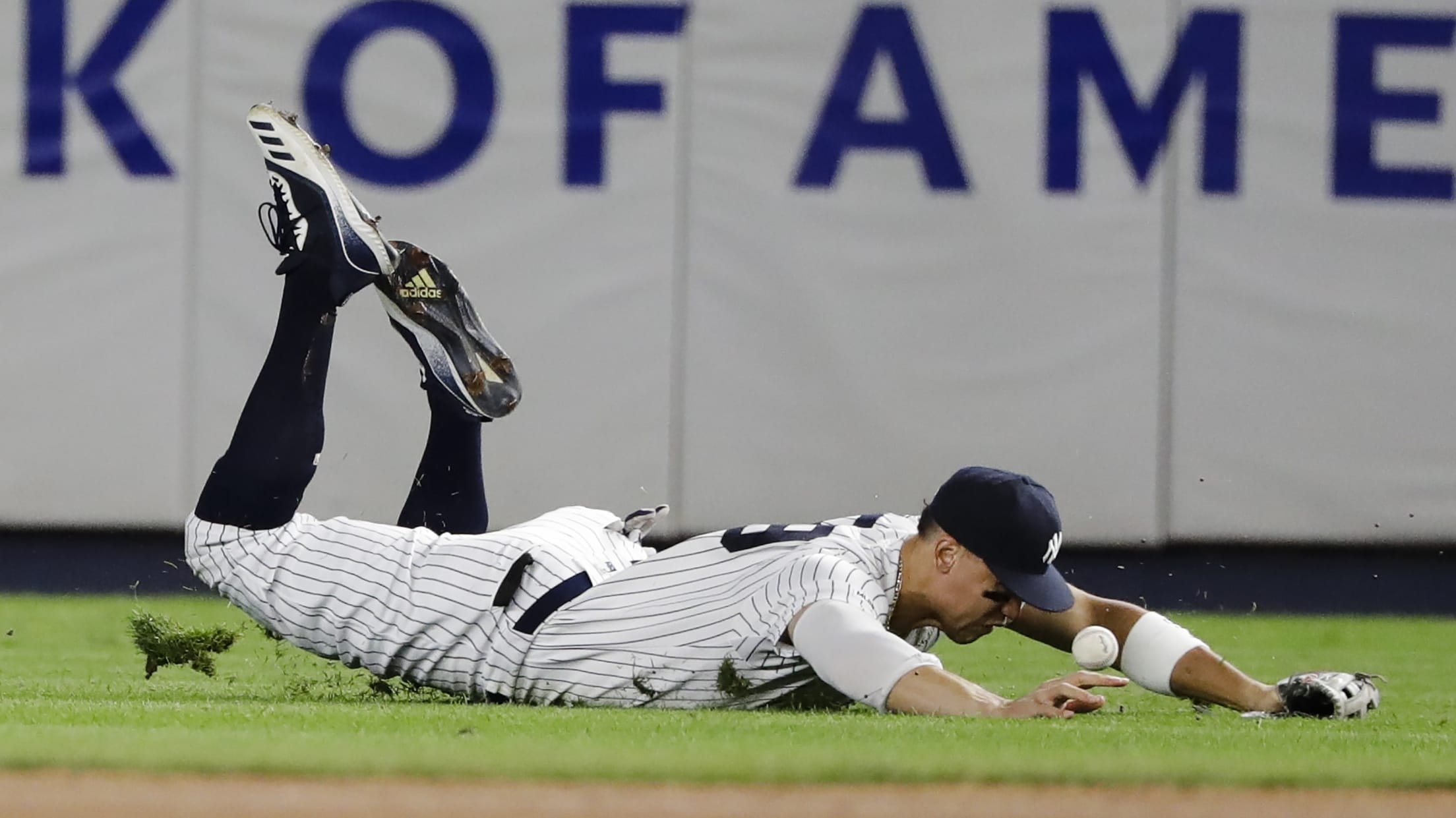 NEW YORK -- When the Yankees announced their lineup for Thursday's series finale vs. the Angels, there could have been cause for concern that Aaron Judge was not in it. In the fifth inning of Wednesday's 3-2 loss, the right fielder attempted a diving catch on Albert Pujols' single and
Betances won't need surgery for Achilles tear
NEW YORK -- After seeking a second opinion from Dr. Martin O'Malley at the Hospital for Special Surgery, Yankees right-handed reliever Dellin Betances is not expected to need surgery to repair the partial tear in his left Achilles tendon. "He'll be in a walking boot for another four weeks and
Yanks' Germán placed on administrative leave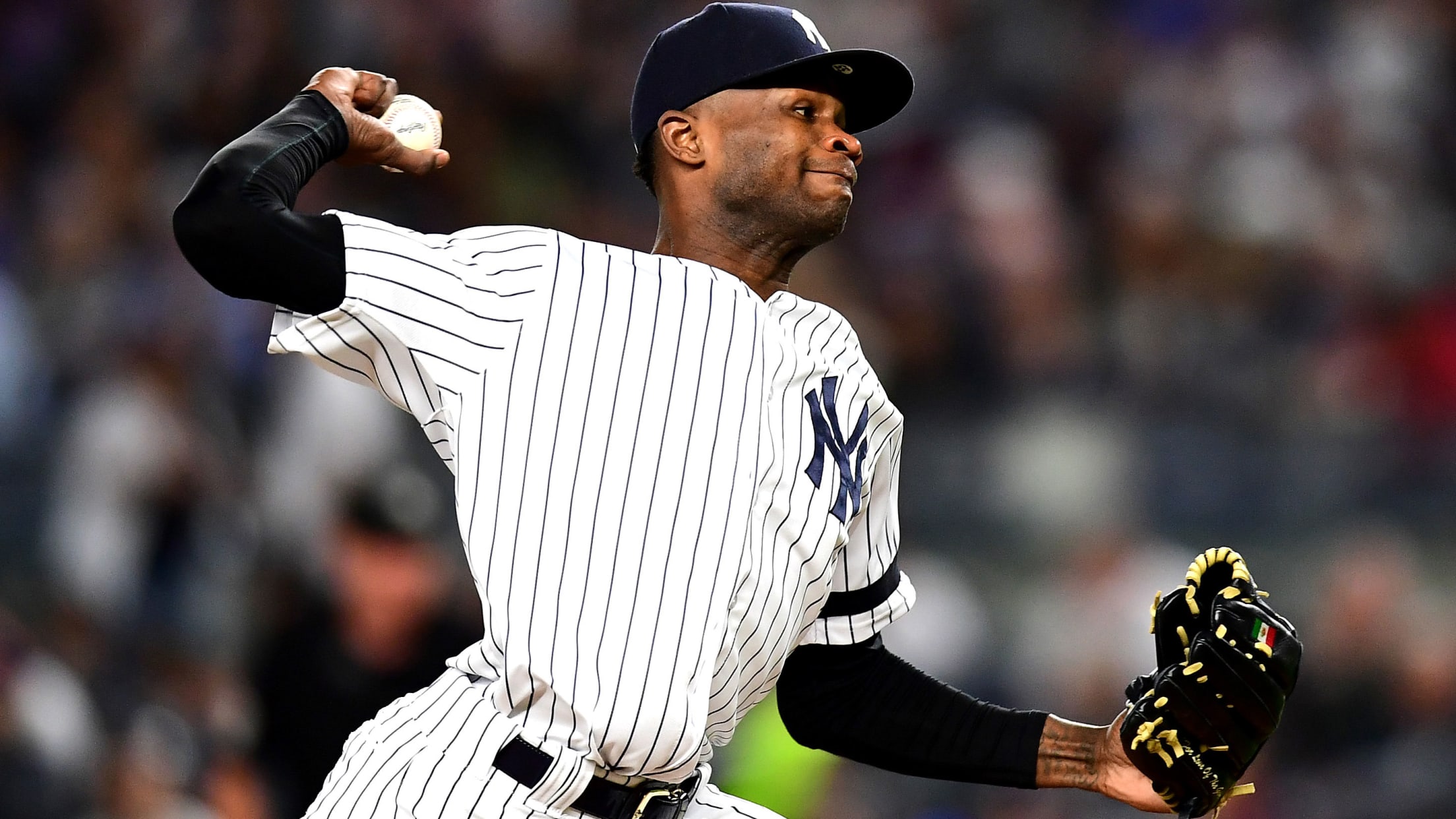 NEW YORK -- Yankees right-hander Domingo Germán has been placed on administrative leave under the Joint MLB-MLBPA Domestic Violence Policy, the Office of the Commissioner of Baseball announced Thursday. Major League Baseball's Department of Investigations is looking into the matter, and MLB said it will have no further comment until
Pipeline names Yankees Prospects of the Year
Outfielder Smith, right-hander Yajure honored as 2019 standouts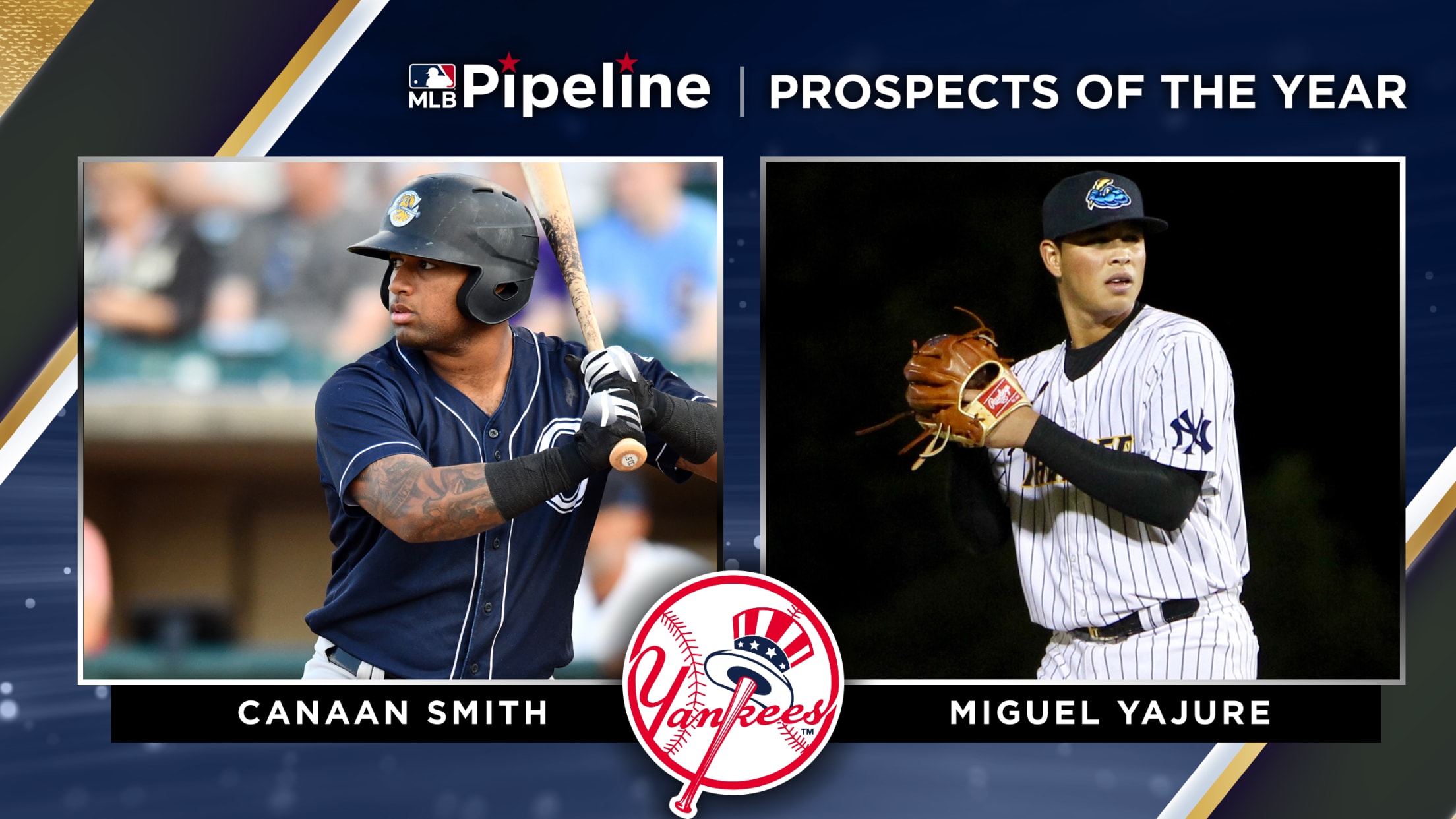 As a group, the Double-A Trenton Thunder earned the right to pop the corks as Eastern League champions. But the best individual performances in the Yankees' organization took place at the lower levels, where outfielder Canaan Smith and right-hander Miguel Yajure enjoyed standout seasons. In recognition of their stellar campaigns,
Good news and bad news for 5 playoff teams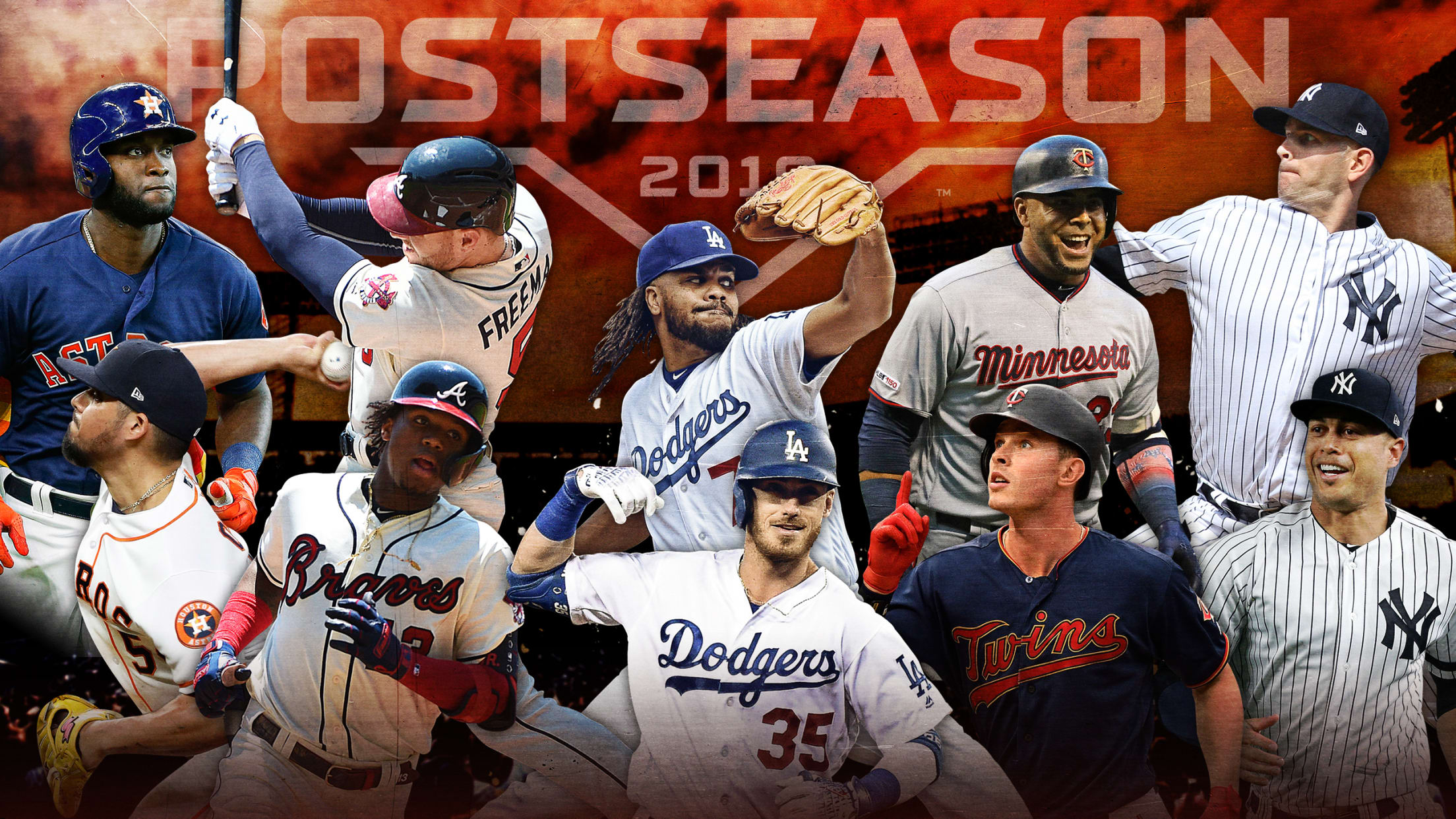 Amid the scramble for the remaining postseason berths, the Astros, Braves, Dodgers, Twins and Yankees have the luxury of looking ahead. That is, lining up the rotation, resting the regulars and healing those pesky bumps and bruises. (Not all of them have officially clinched, but FanGraphs currently has each of
Yankees must wait another day to clinch East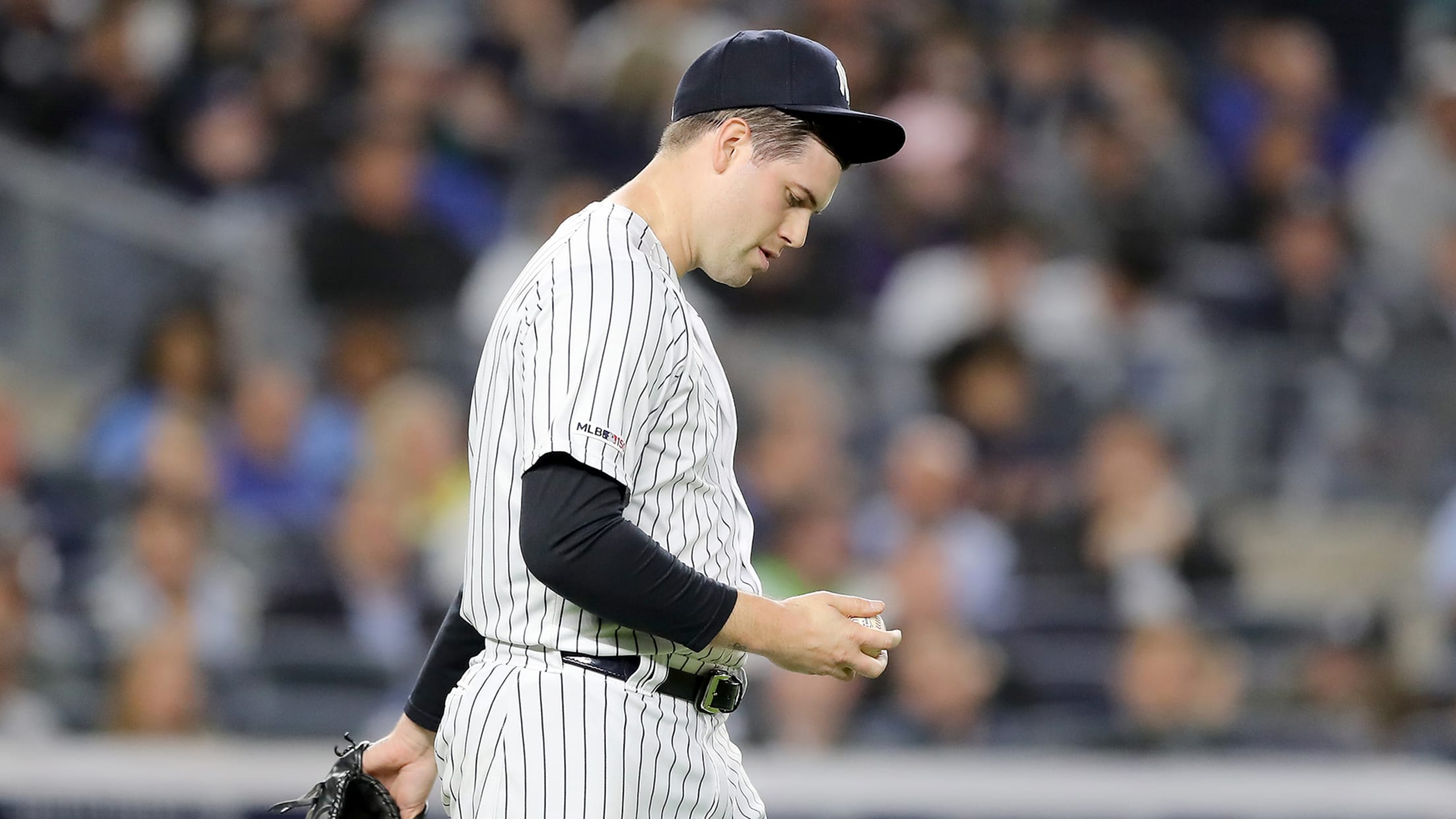 NEW YORK -- The ideal script for the Yankees to clinch the American League East title would have included a vintage CC Sabathia performance, Giancarlo Stanton delivering a big hit in his return from the injured list and a splendid bullpen effort. Like so many developments in this "next man
Next Bronx start unclear, CC gets hugs, ovation
'I'm ready to do whatever they ask,' lefty says, anticipating postseason role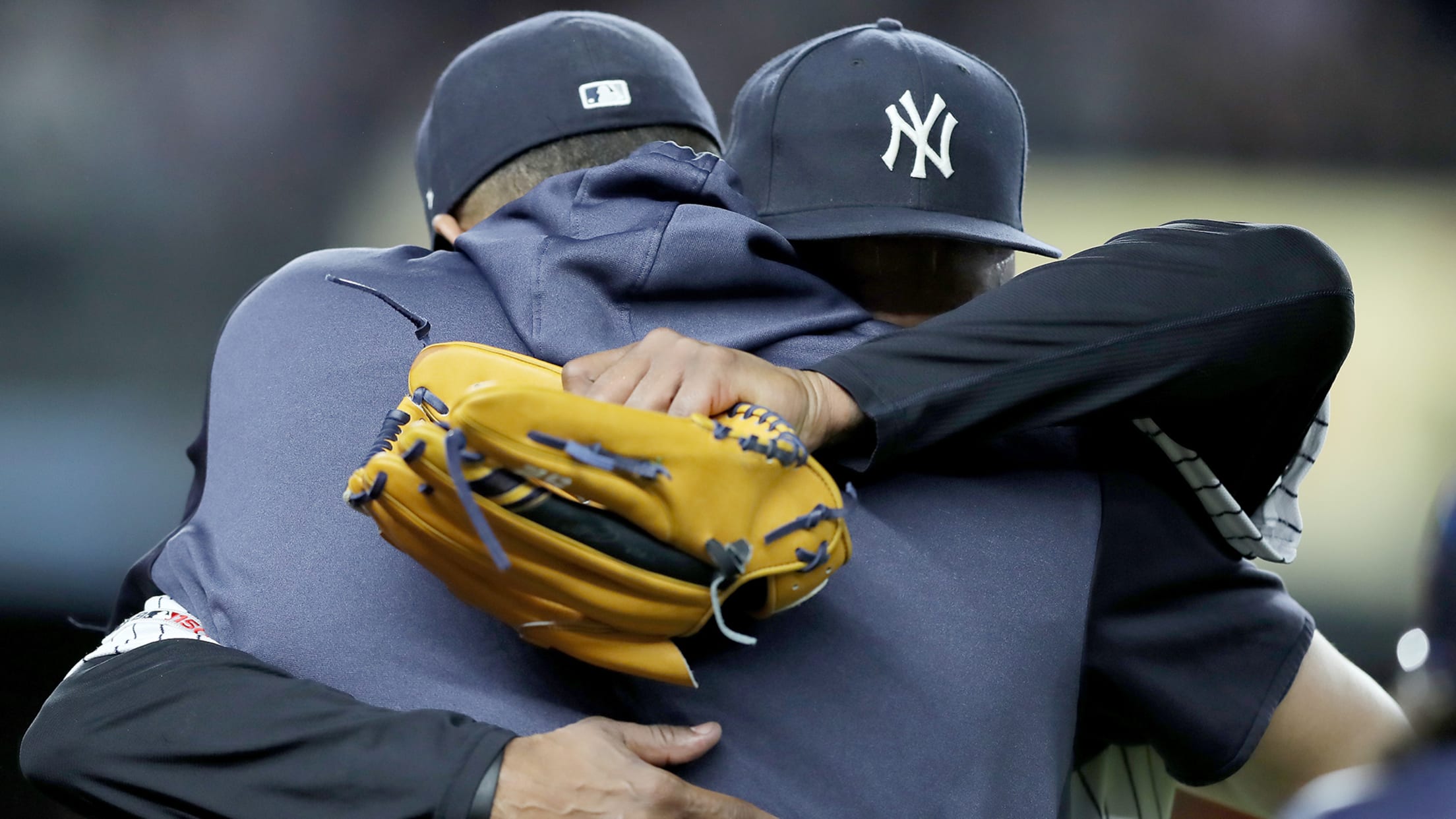 NEW YORK -- CC Sabathia wants to leave it all out on the field in the last weeks of his storied career, and as he tipped his cap at the conclusion of what may have been his final Major League start, the veteran left-hander attempted to savor each step of
Back in lineup, Stanton laces double in first AB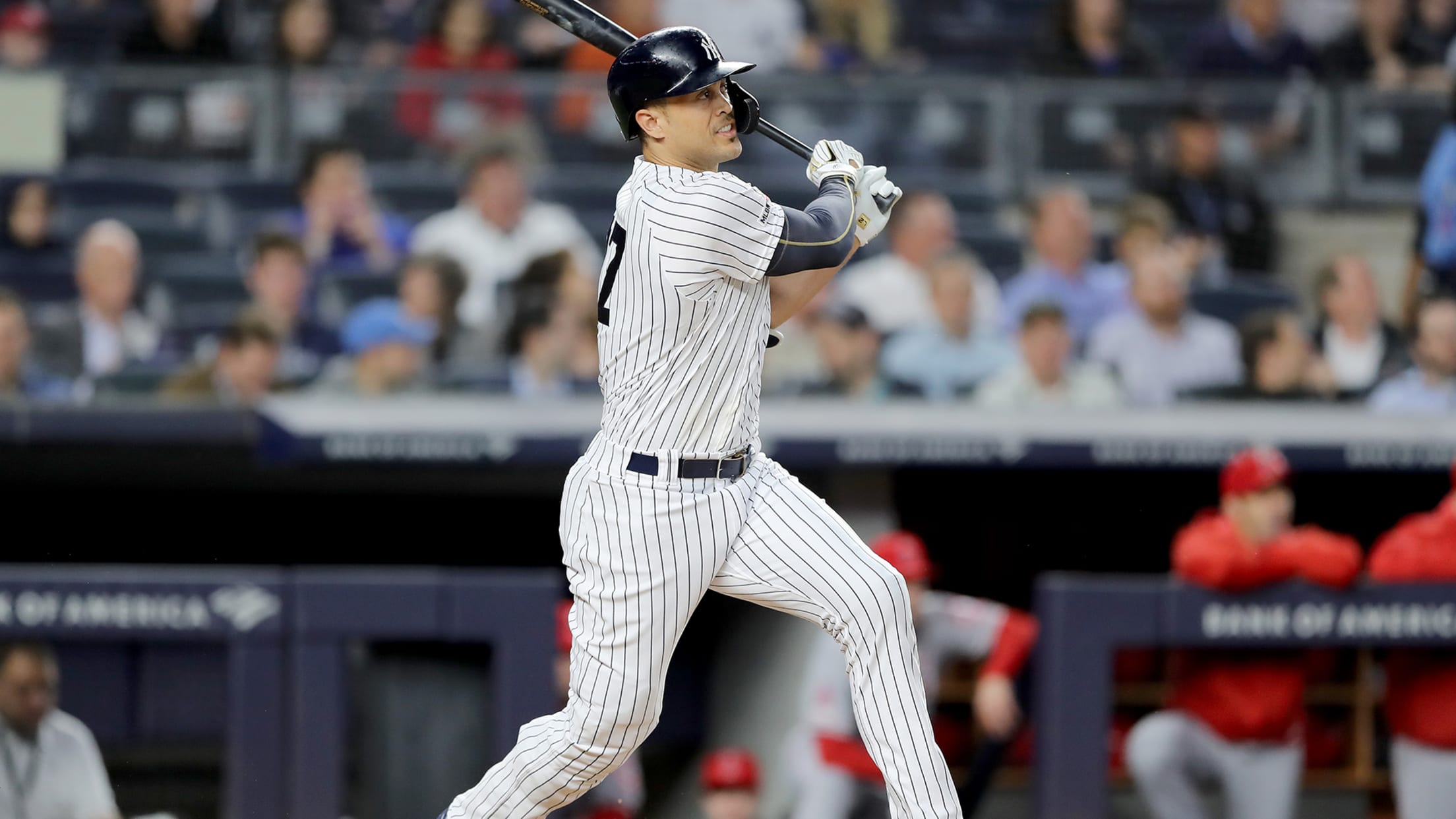 NEW YORK -- Giancarlo Stanton intends to use the remainder of the regular season as a tune-up for the playoffs, and the Yankees slugger believes that he has enough time to get his swing ready for the most important games of the year. Stanton returned to the Yankees' lineup in
Frazier on sneaker obsession: 'It's a problem'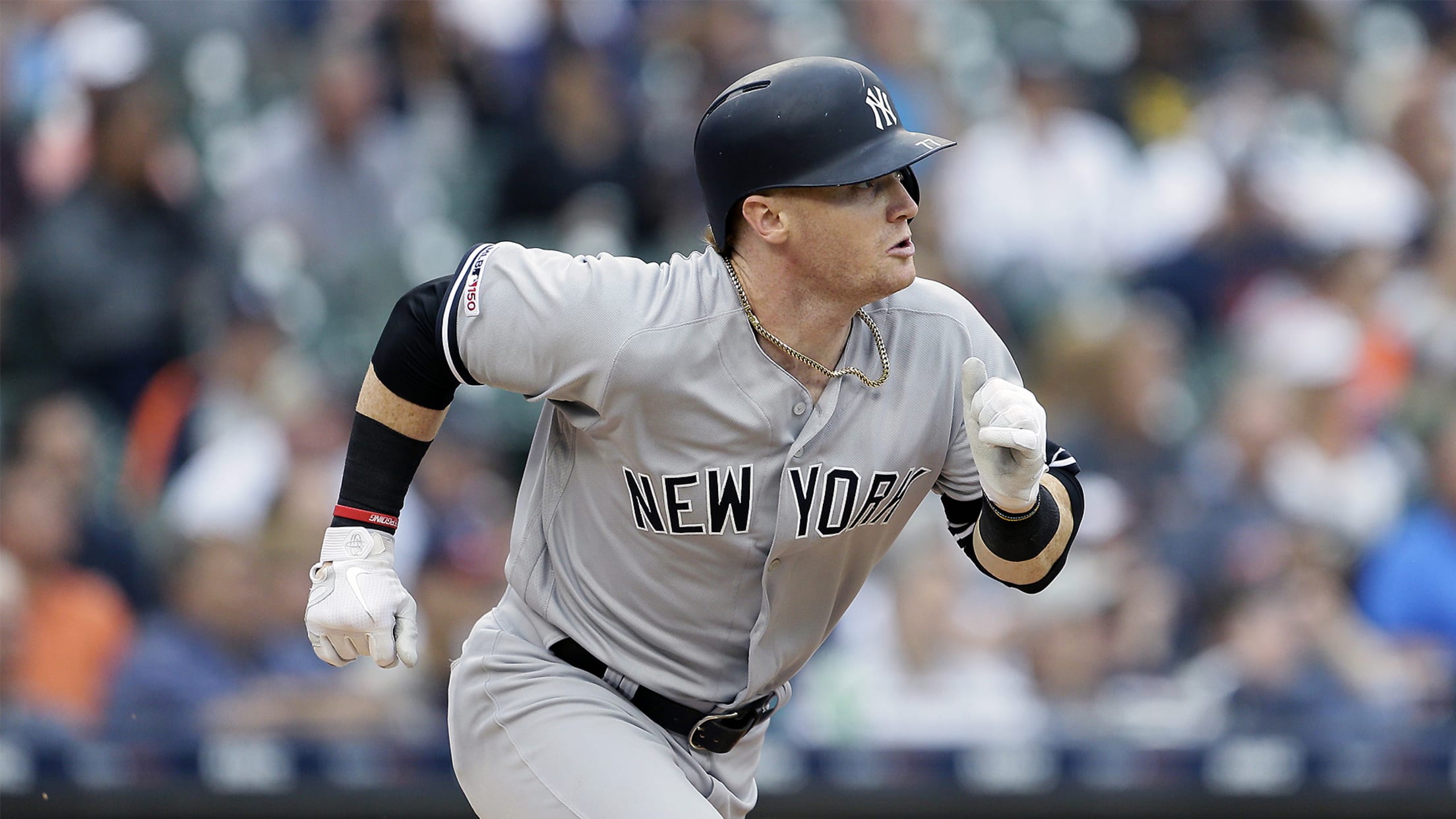 From his personalized sense of style to his interest in history and two furry friends, get to know Yankees outfielder Clint Frazier. If somebody were to go into your house, what would they be surprised to find? I have two orange cats that are always running around in my house.
Final 11 days will make or break these clubs
Indians, Cardinals among clubs with challenging home stretch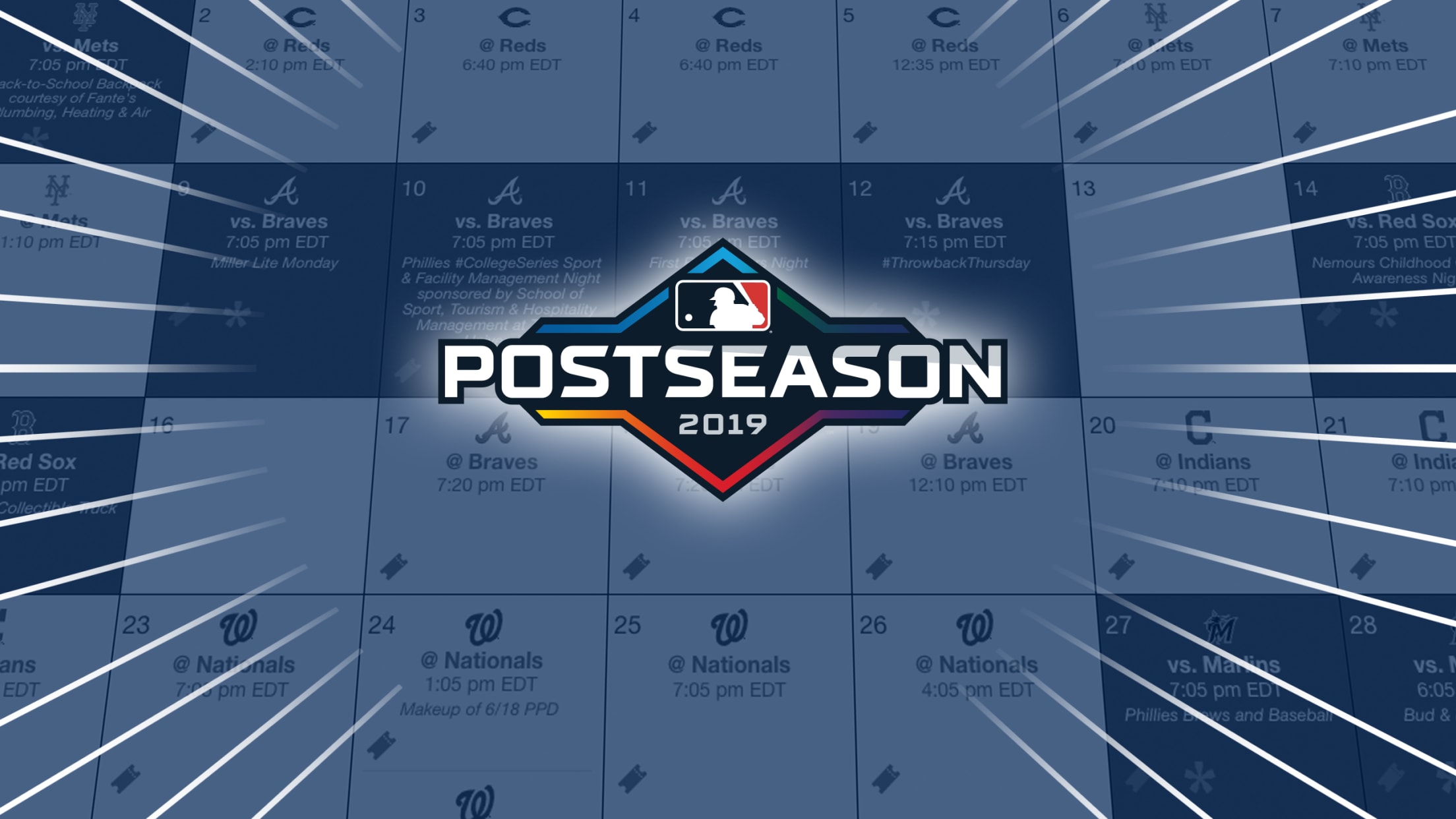 The postseason chase has reached its most critical stage. With a little more than a week remaining in the regular season, the time has come for contenders to finish strong and punch their tickets to October baseball. For some, the road looks a bit more difficult. That's because of the
Here is when all the injured Yanks are due back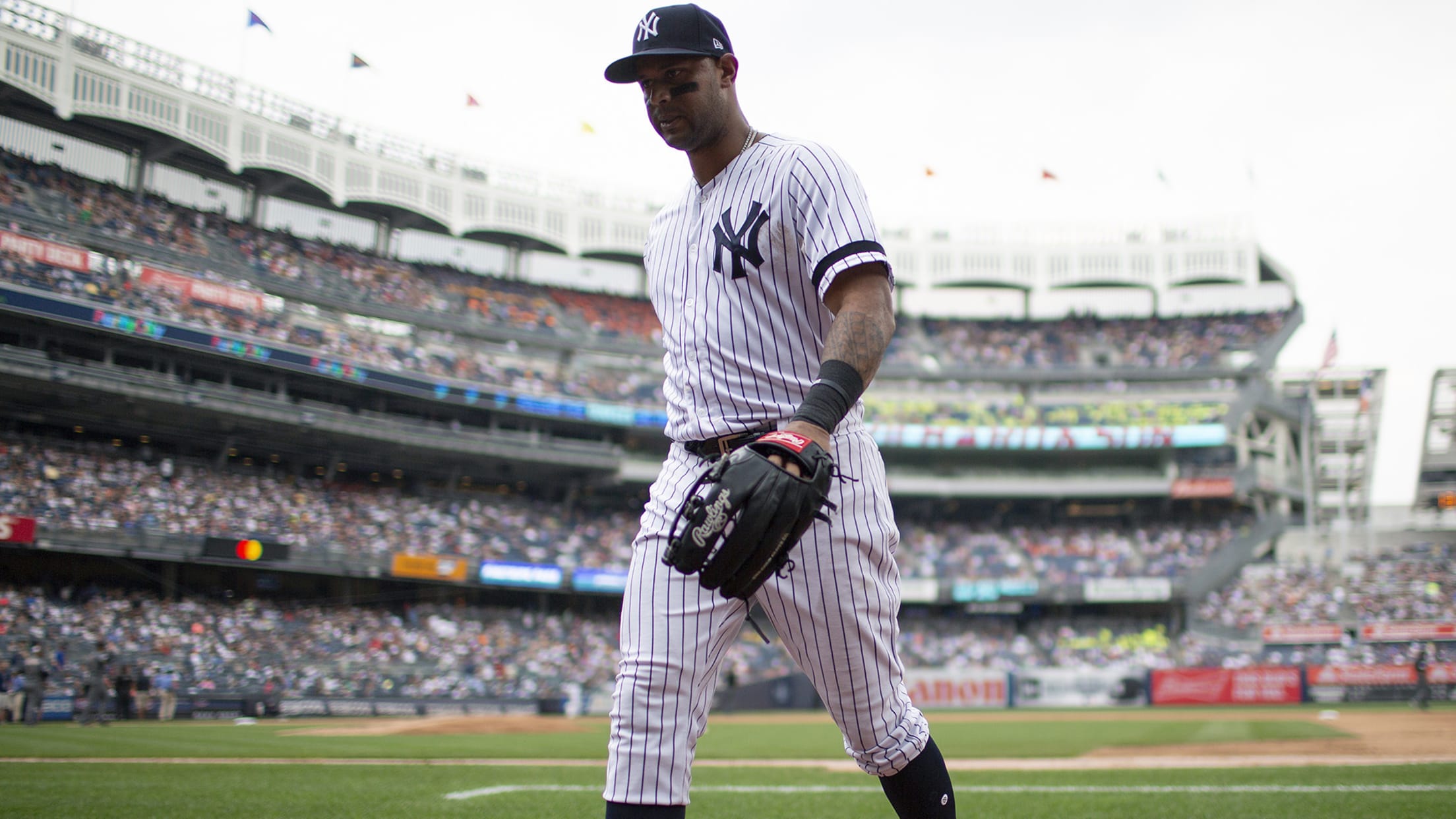 When the Yankees' 2019 season is complete, a major theme will include how the team handled an unprecedented string of injuries that began in the spring and continued throughout the regular season, providing opportunities to numerous players who had not necessarily been envisioned as regulars. In all, the Yankees have
Yankees Arizona Fall League updates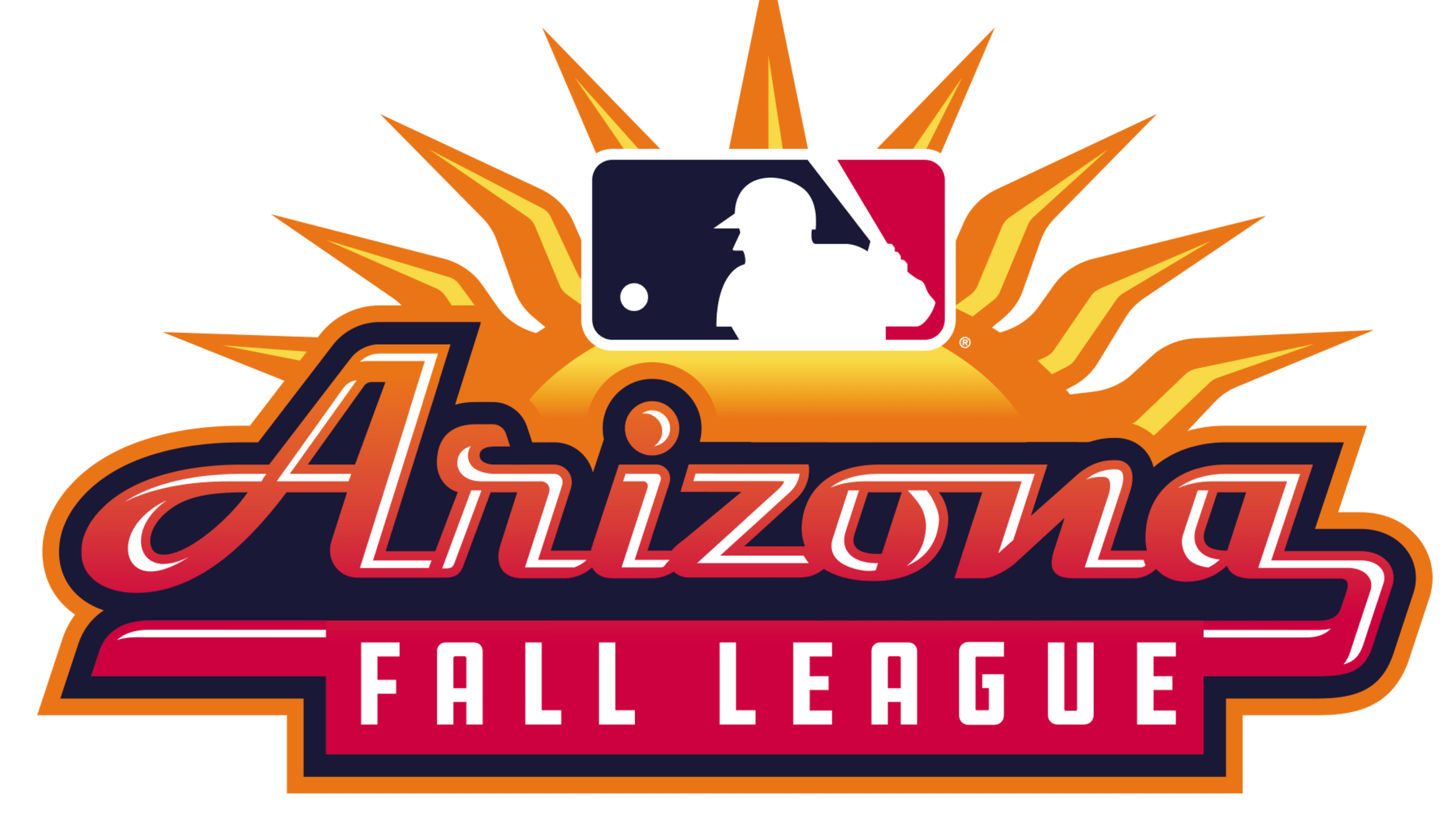 Six Yankees prospects are playing for the Surprise Saguaros in the 2019 Arizona Fall League: Right-hander Daniel Bies, right-hander Aaron McGarrity, right-hander Glenn Otto, catcher Donny Sands, outfielder Josh Stowers and first baseman Brandon Wagner. Here's a day-by-day look at how New York's AFL contingent is faring.
Top prospects underway in Arizona Fall League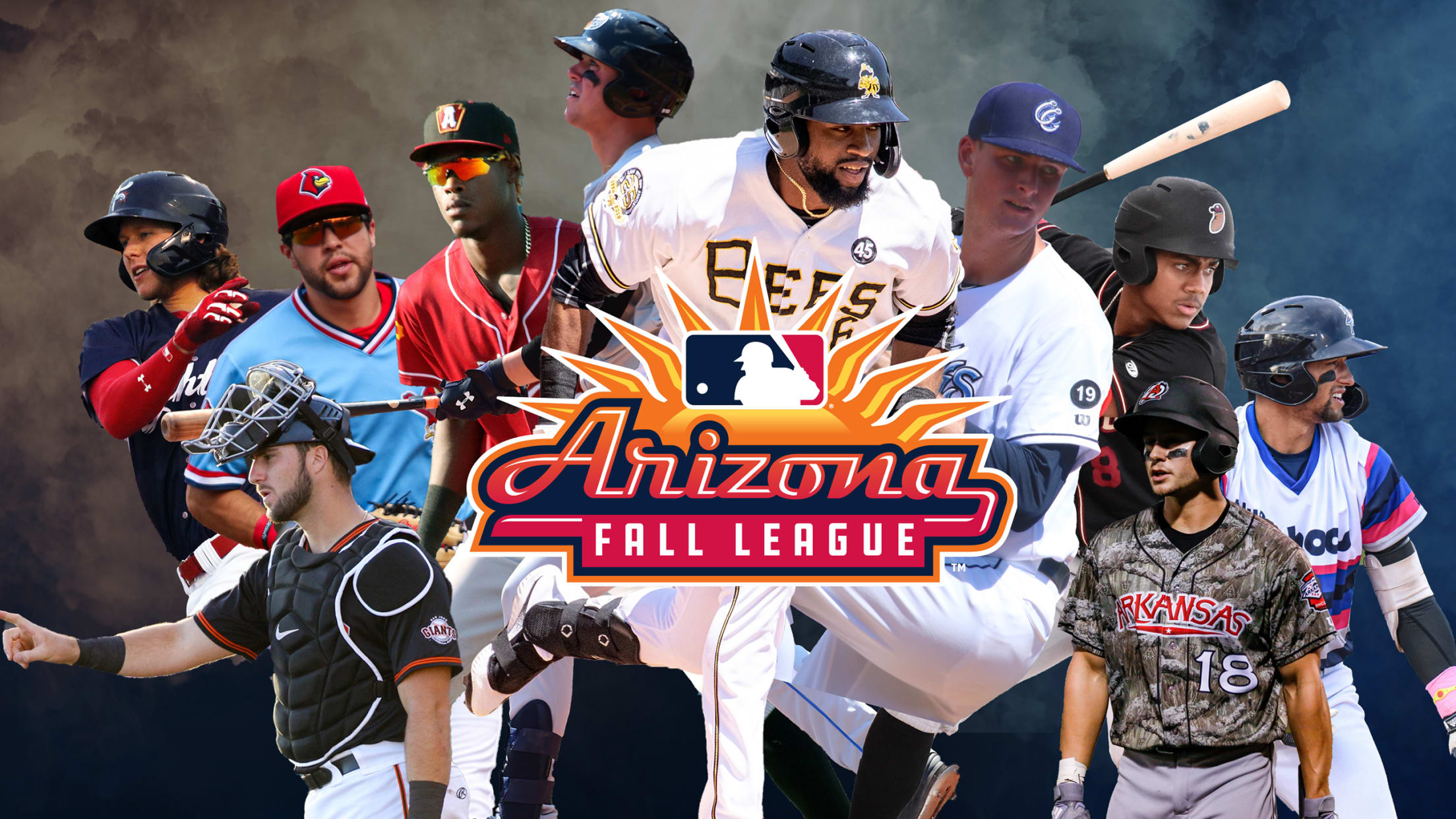 For nearly three decades, the Arizona Fall League has had a very simple mission: Help finish the development process by getting Minor League prospects ready for the big leagues. That process began again on Wednesday night as the 28th season of the AFL got underway with games in Glendale, Mesa
Yanks foes, beware: Sevy's back & hurling heat
In first start of 2019, righty hits 98 mph and goes 4 scoreless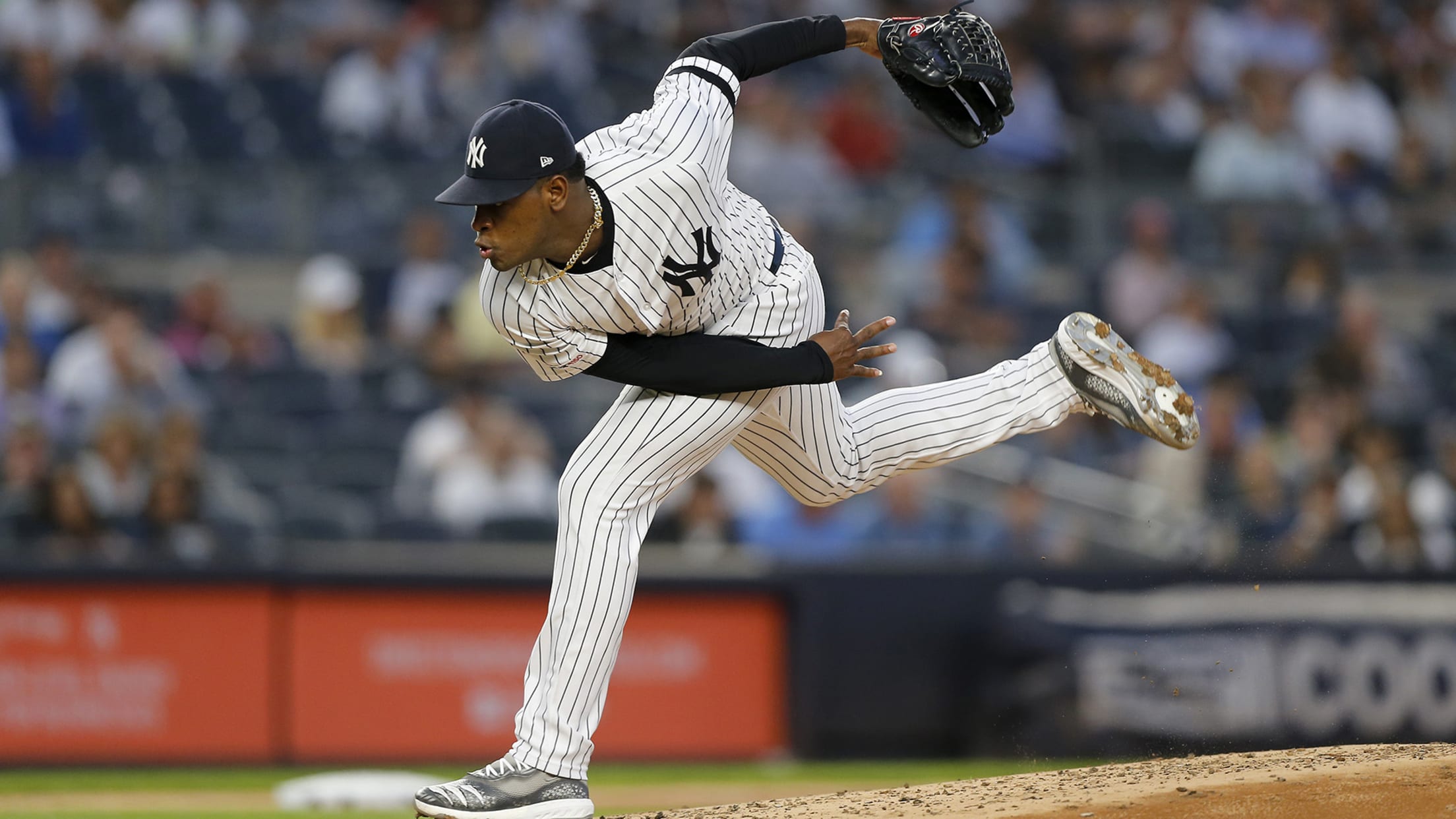 NEW YORK -- All eyes were focused on the mound at Yankee Stadium on Tuesday evening, marking the first time in 344 days that Luis Severino pumped heat from that pitching rubber in a game situation. With three innings in the books, Aaron Boone clapped his hands, voicing his intent
Yanks, stars toast CC's off-field impact at gala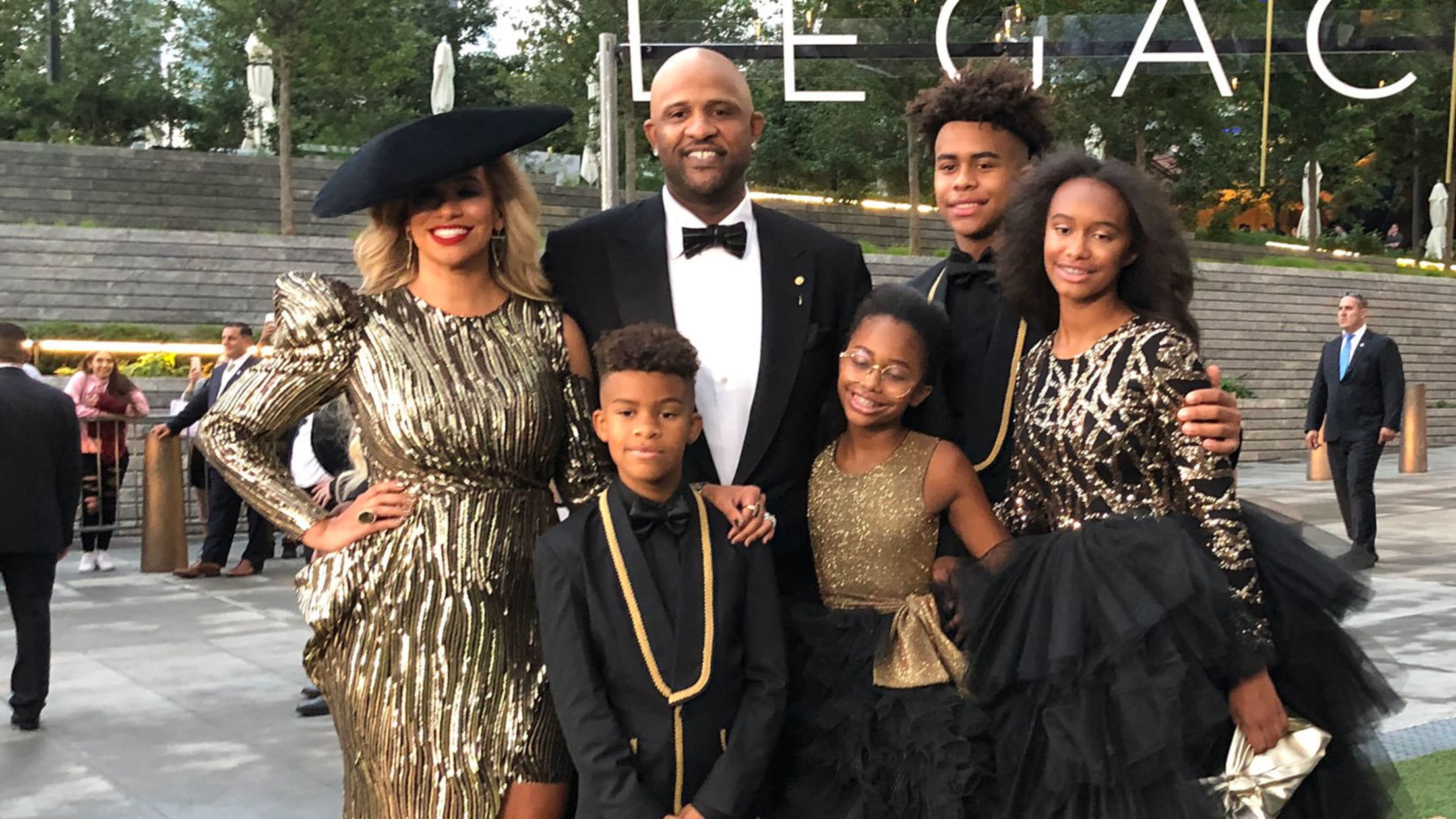 NEW YORK – It has been meaningful for CC Sabathia to reach several milestones during this final big league season, surpassing 250 victories and 3,000 strikeouts, but he has always dreamed of a legacy that could not be measured in statistics. Asked about the impact he hopes to leave on
How potential Yankees playoff roster may look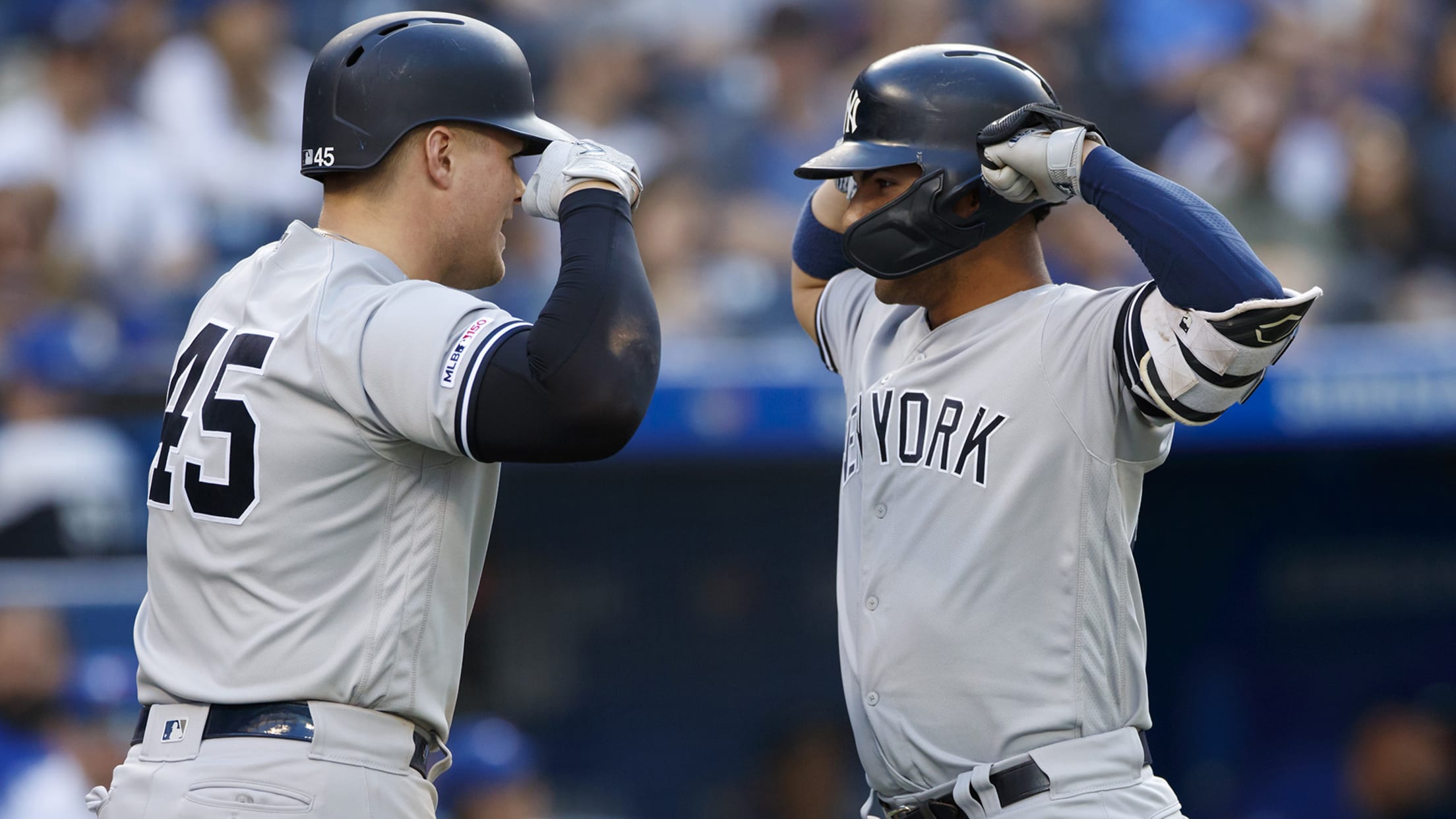 The Yankees' magic number for securing the American League East is in the single digits, and planning is in motion for the first of what they hope will be numerous celebrations this autumn. Yet within the walls of Aaron Boone's office, the manager says that their postseason strategy discussions have
Mo awarded with Presidential Medal of Freedom
Hall of Famer becomes 13th baseball player to receive honor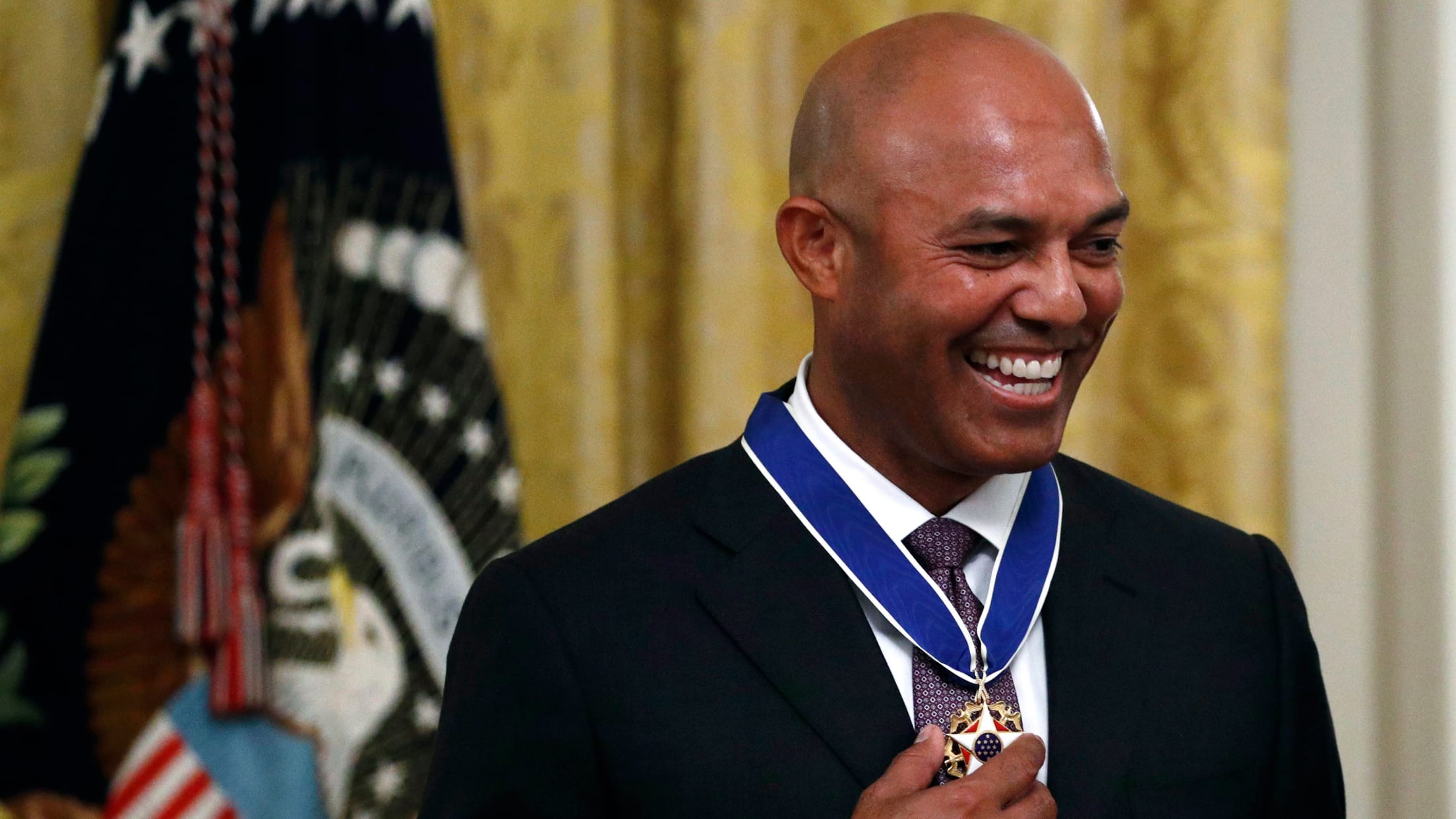 Hall of Famer Mariano Rivera joined another exclusive club Monday when he was presented with the Presidential Medal of Freedom by President Donald Trump in a ceremony at the White House. Rivera was inducted into the National Baseball Hall of Fame in July after becoming the first unanimous selection by
Double-A Trenton wins Eastern League title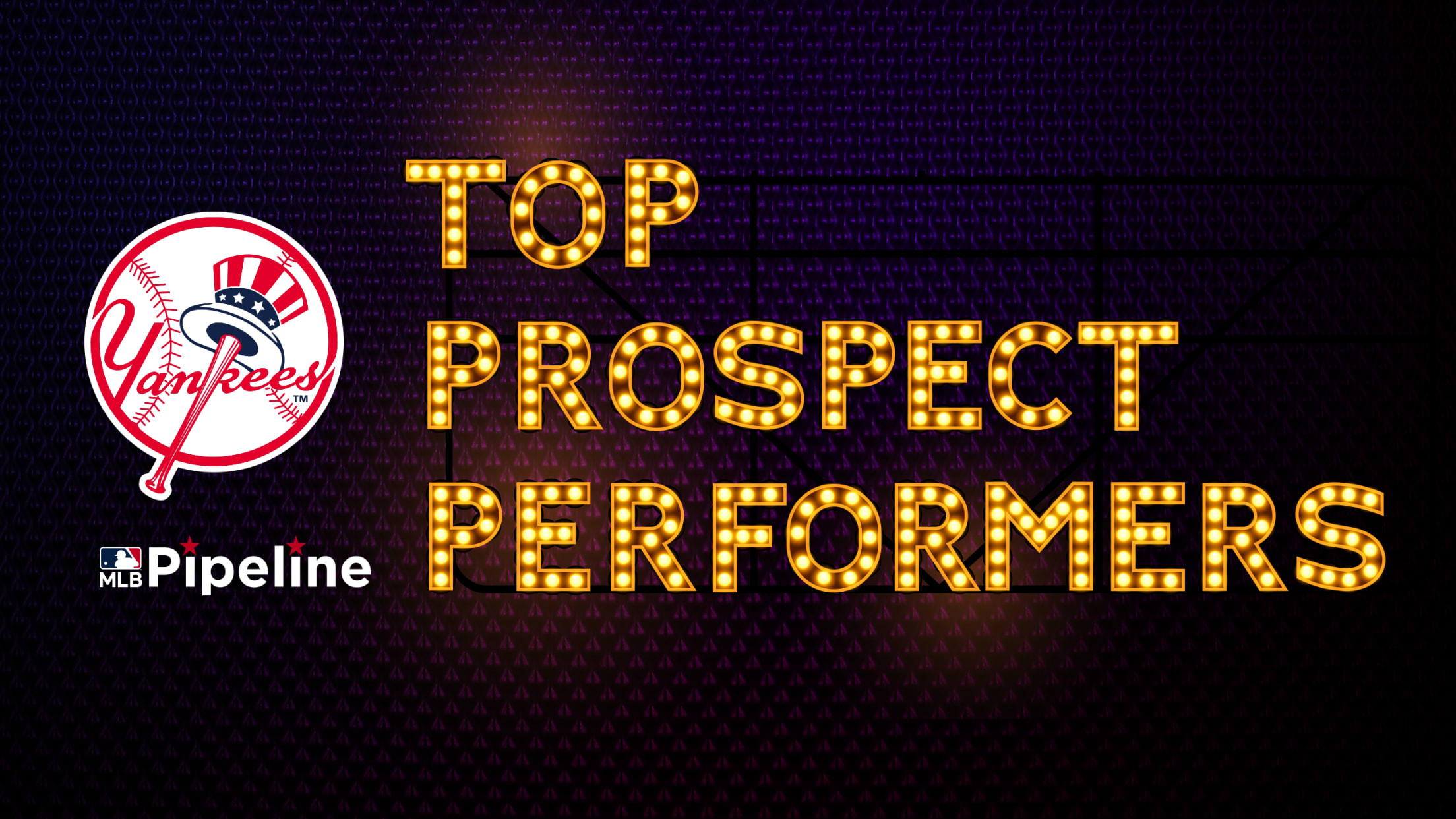 Here's a look at the top performances of the past week by Yankees prospects in the Minor Leagues:
Power Rankings as races sizzle down stretch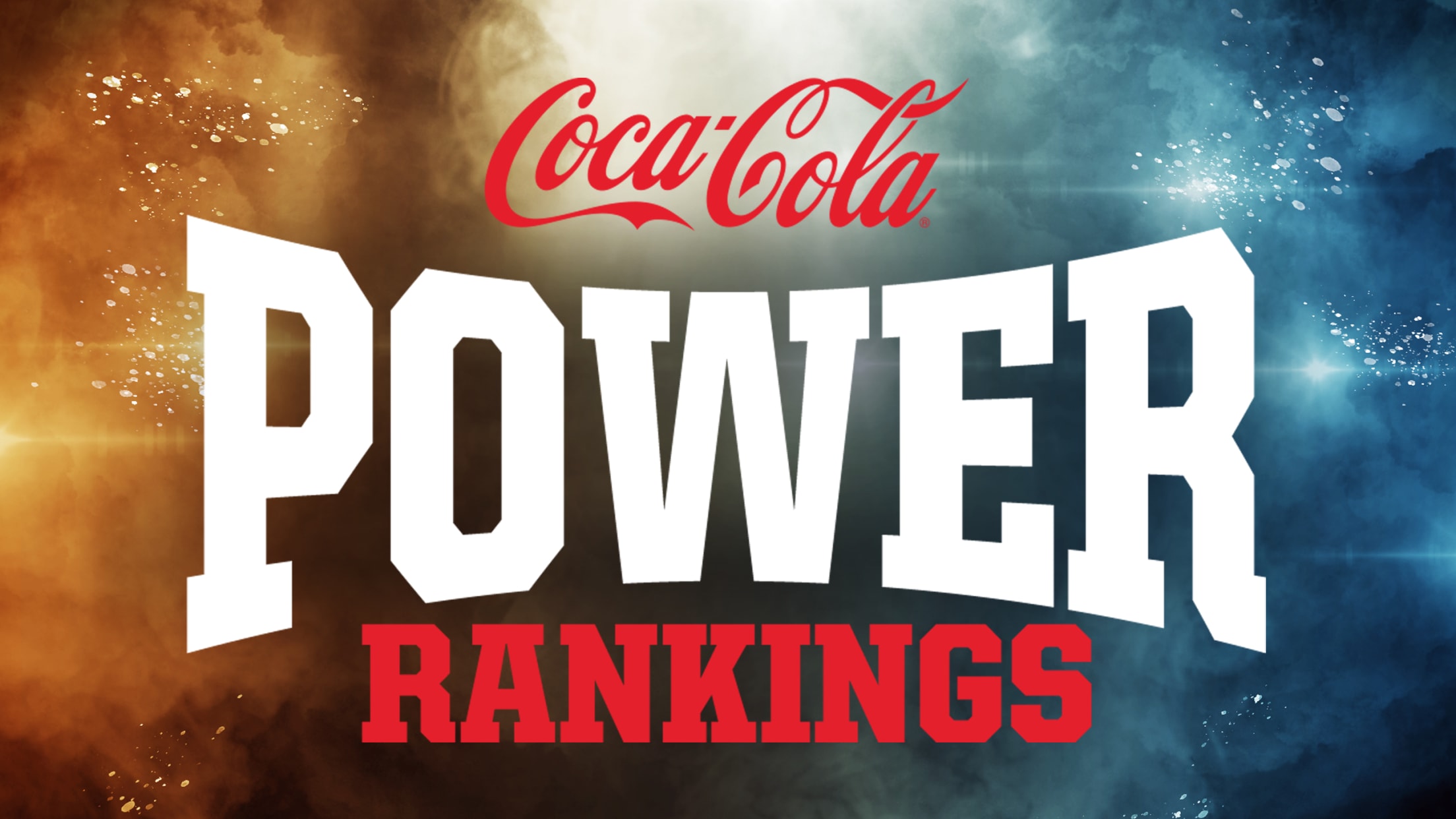 The A's have their eyes firmly planted on hosting the American League Wild Card Game. And after a dominating, sweaty series with the Rangers in Arlington over the weekend, it's hard to imagine what would have to happen for them to fall short of that goal. The A's not only