LIVE: Here's how to watch Judge chase No. 61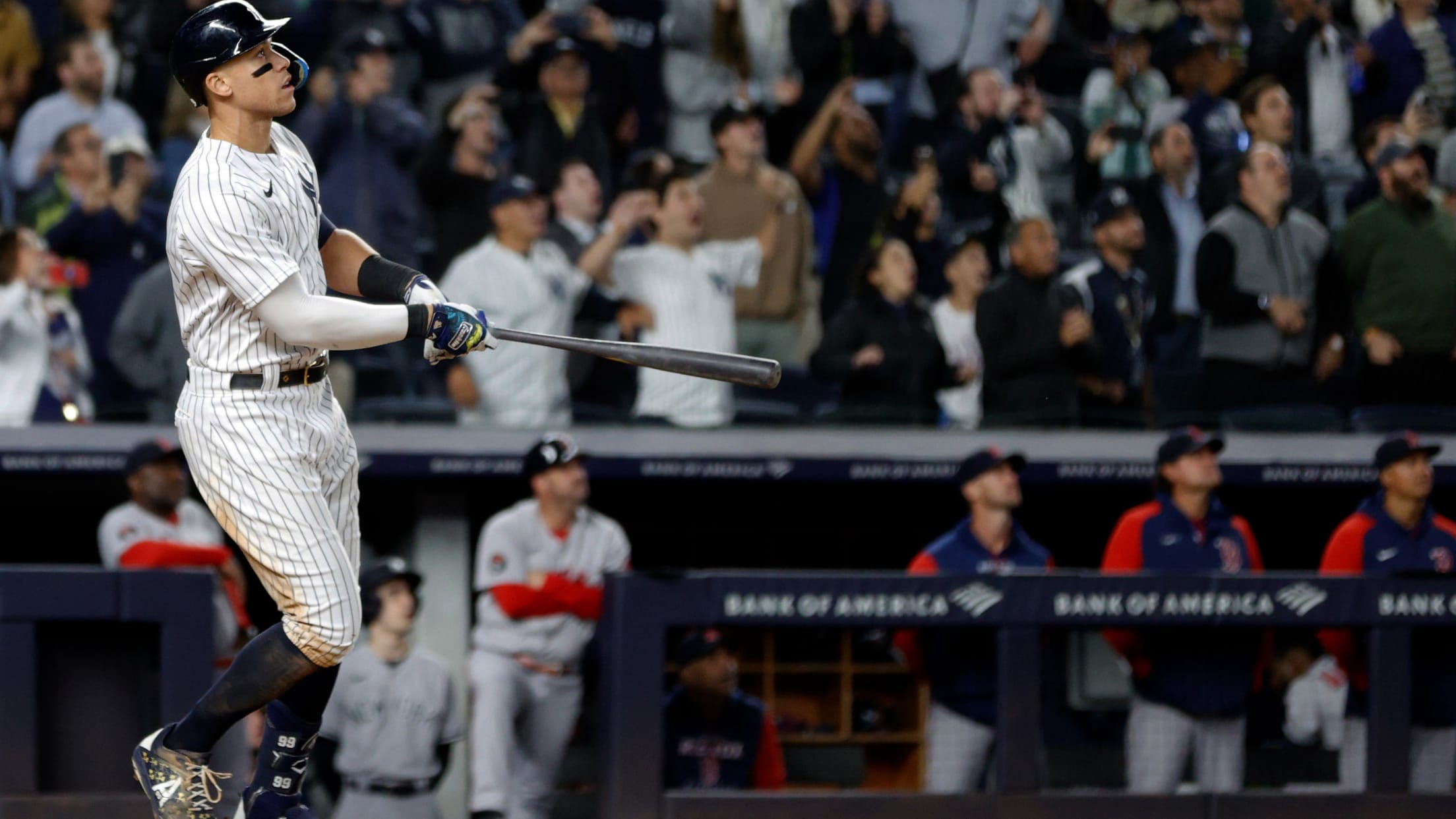 The baseball world remains intently focused on the Yankees' Aaron Judge as he pursues history. Judge is not only one homer away from tying Roger Maris' American League record of 61 homers from 1961, he's also contending for the Triple Crown -- the league lead in batting average, homers and
With all eyes on Judge, Trevino's dramatic hit beats Sox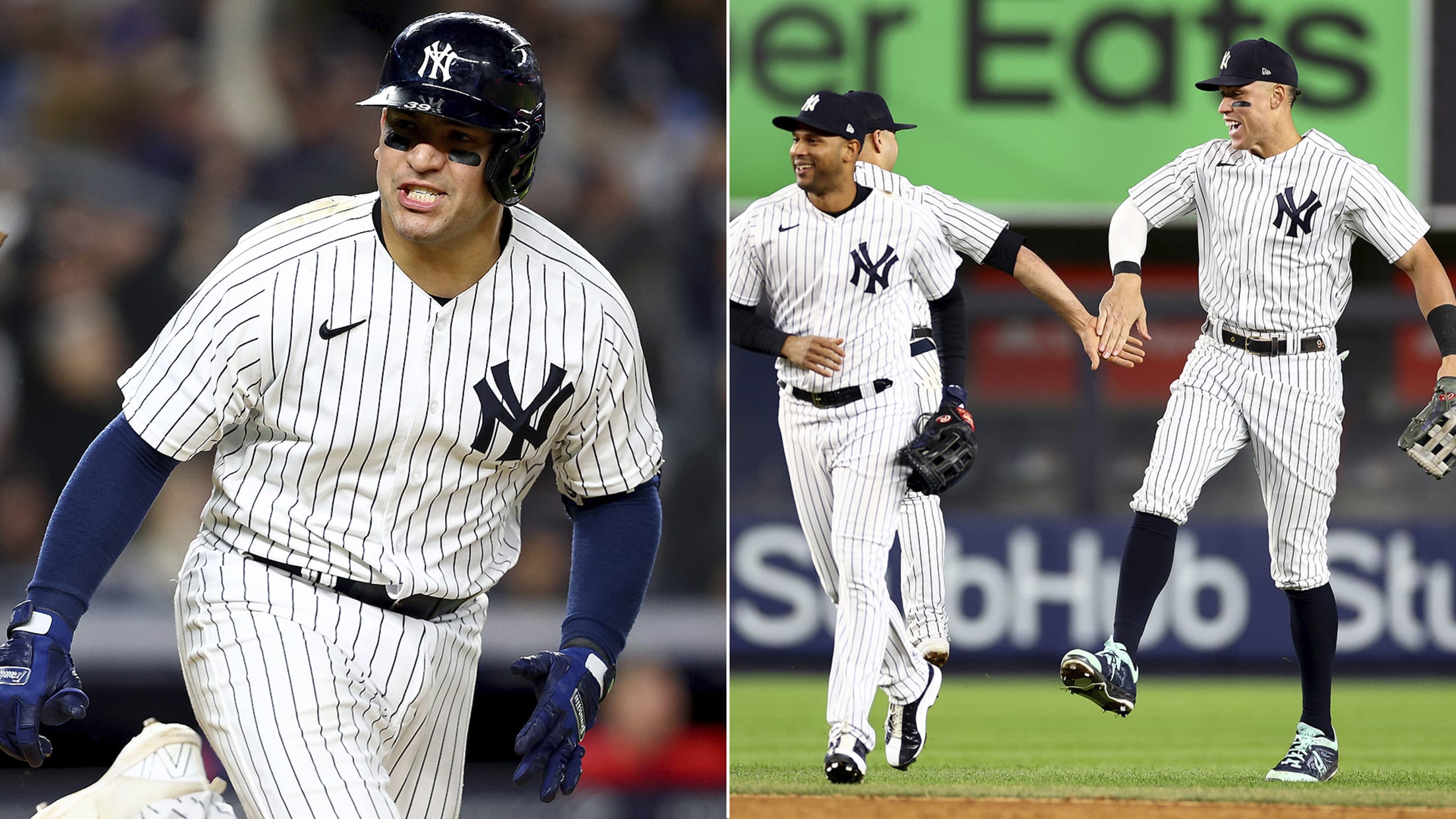 NEW YORK -- The anticipation for Aaron Judge's American League record-tying 61st home run stretched through a third day, but there were fireworks of a different sort on Friday at Yankee Stadium, where Gerrit Cole was ejected and Jose Trevino delivered a tiebreaking hit late in the Yankees' 5-4 victory
Cole tossed after near K of Verdugo results in HR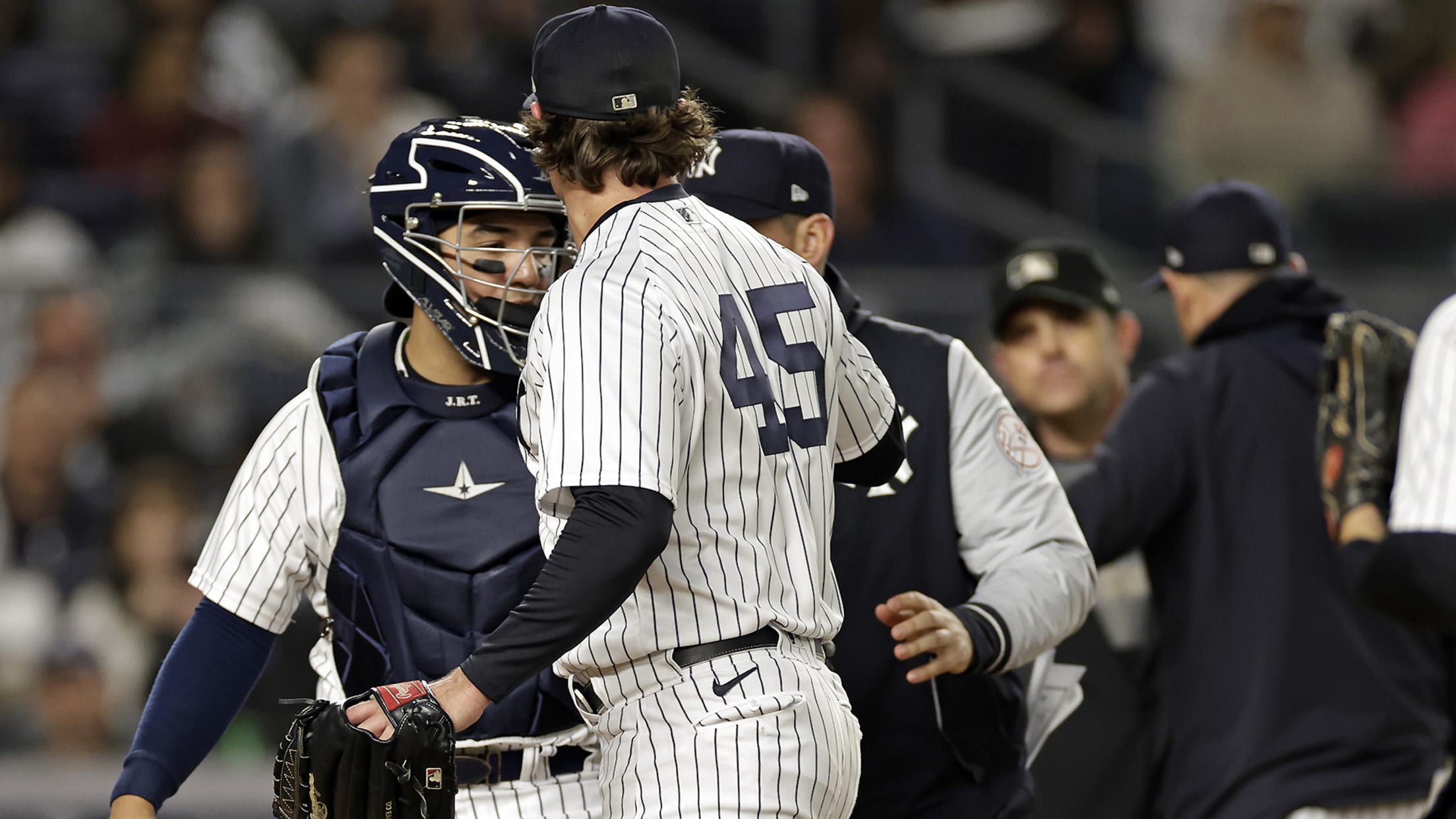 NEW YORK -- Gerrit Cole was already done for the night as he walked off the Yankee Stadium mound in the sixth inning of Friday's 5-4 win over the Red Sox with 103 pitches under his belt. But instead of celebrating a strikeout of J.D. Martinez, he spent the walk
Judge keeps Triple Crown lead despite slow night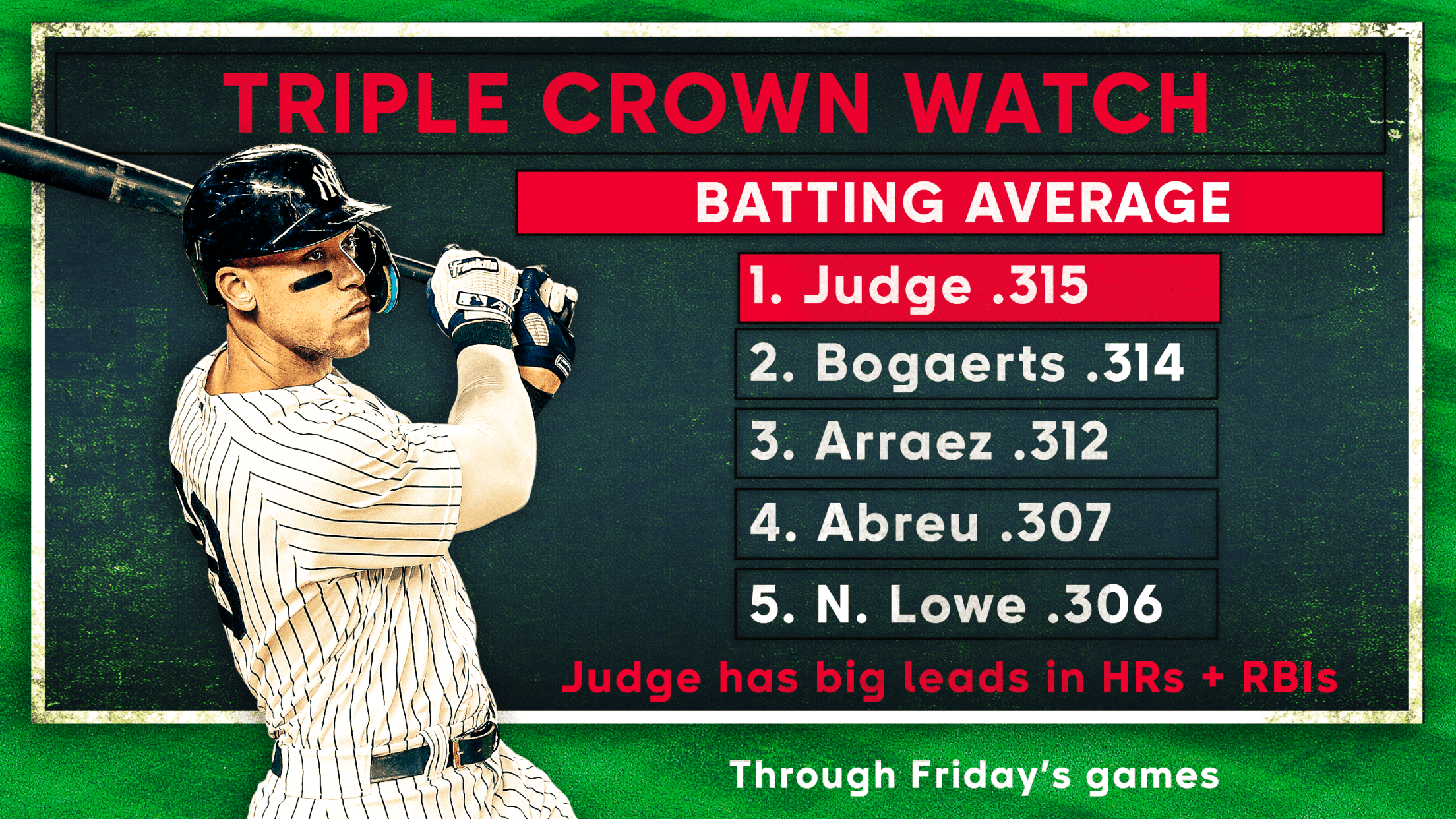 Since the All-Star break, any talk of a potential Triple Crown winner in MLB this season has mainly centered around Cardinals first baseman and National League MVP favorite Paul Goldschmidt. But as we reach the final weeks of the regular season, it's Yankees slugger Aaron Judge who is in a
Aaron Judge home run pace tracker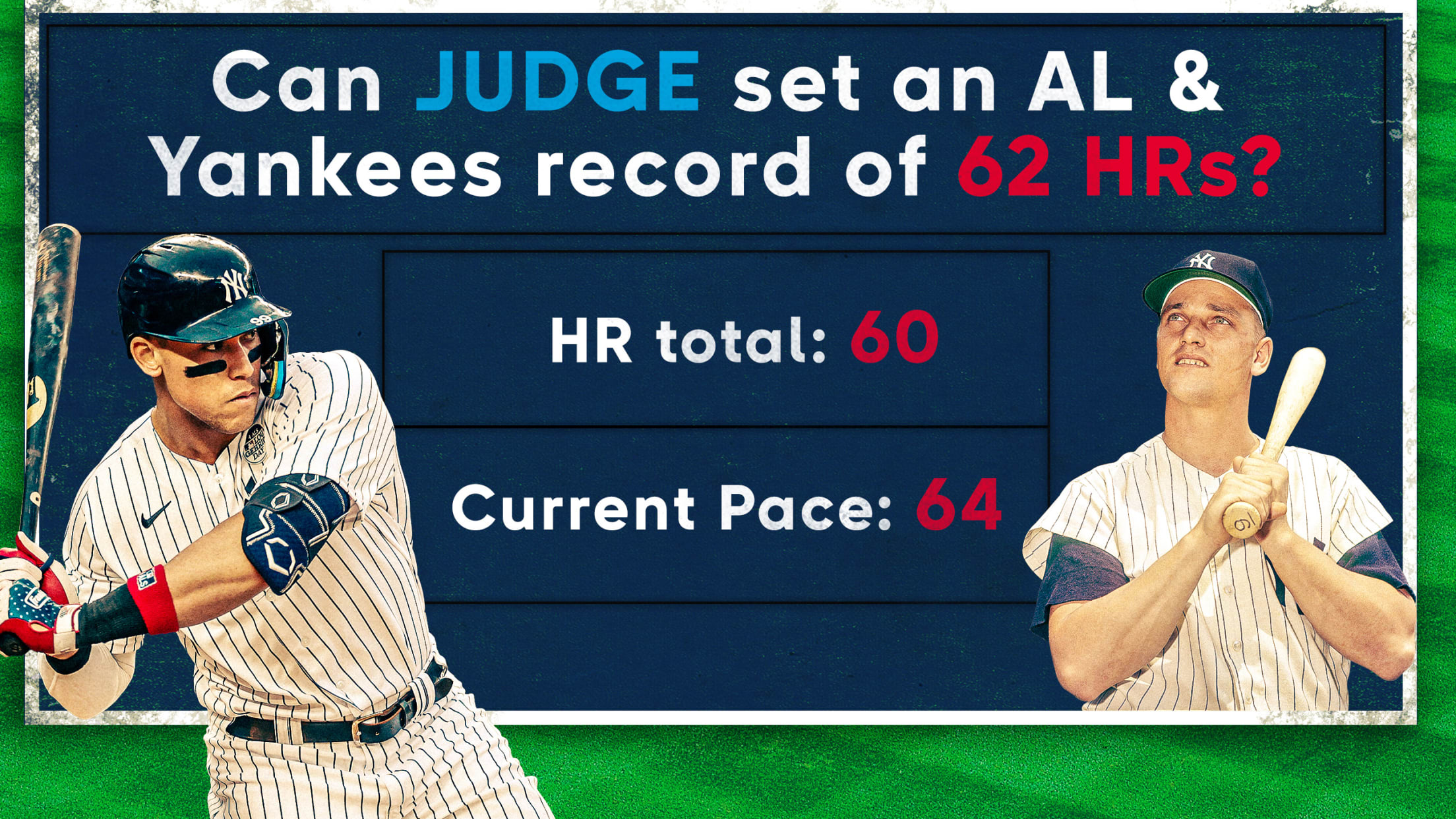 Aaron Judge has hit 60 home runs this season. What could be on the docket for the rest of the season? Here's a look at his homer pace and potential context. PACE: 64 home runs
What's ahead? Yankees postseason FAQ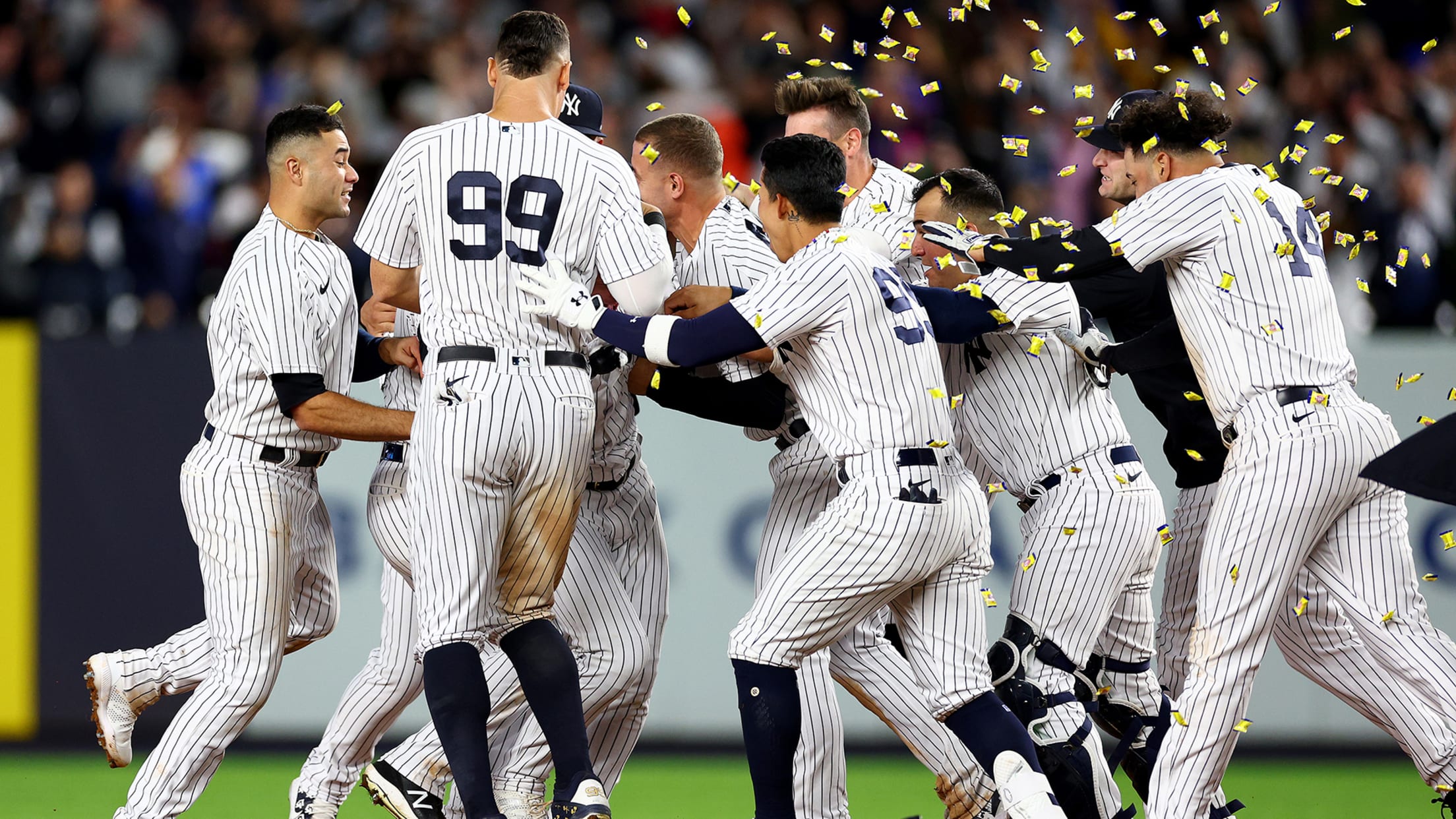 Now that the Yankees have clinched a spot in the 2022 postseason, it's time to begin looking ahead to their potential matchups and roster construction as they pursue a 28th World Series championship, and the franchise's first since 2009. "We've got a lot more business to do here," manager Aaron
Where to sit to catch a historic Judge homer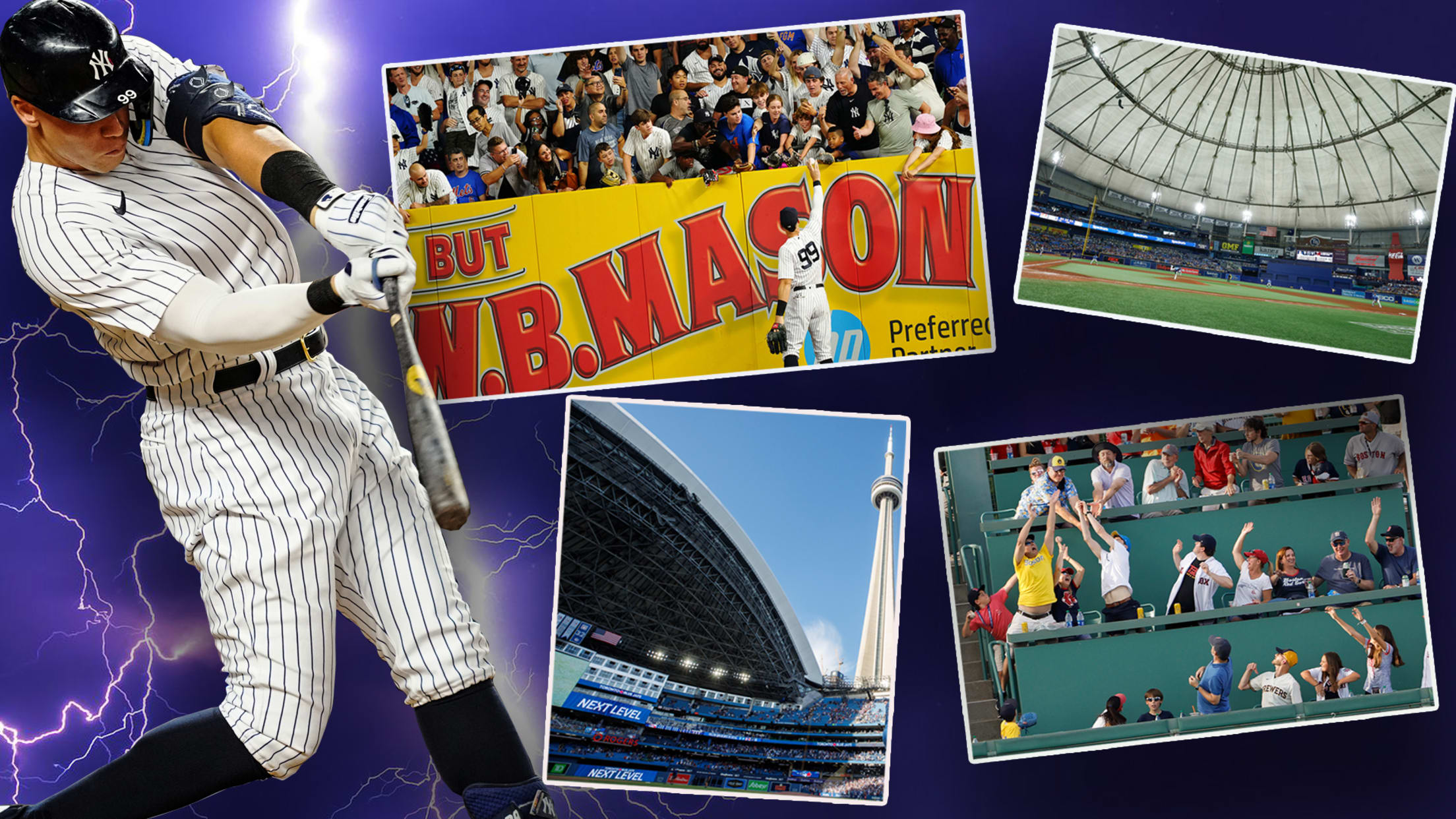 Aaron Judge is putting together one of the most impressive power seasons in Major League history. While he may not be getting to Barry Bonds' Major League record of 73 home runs, the more realistic target is still in sight, which is getting to the American League record of 61
Injuries & Moves: LeMahieu resumes on-field activities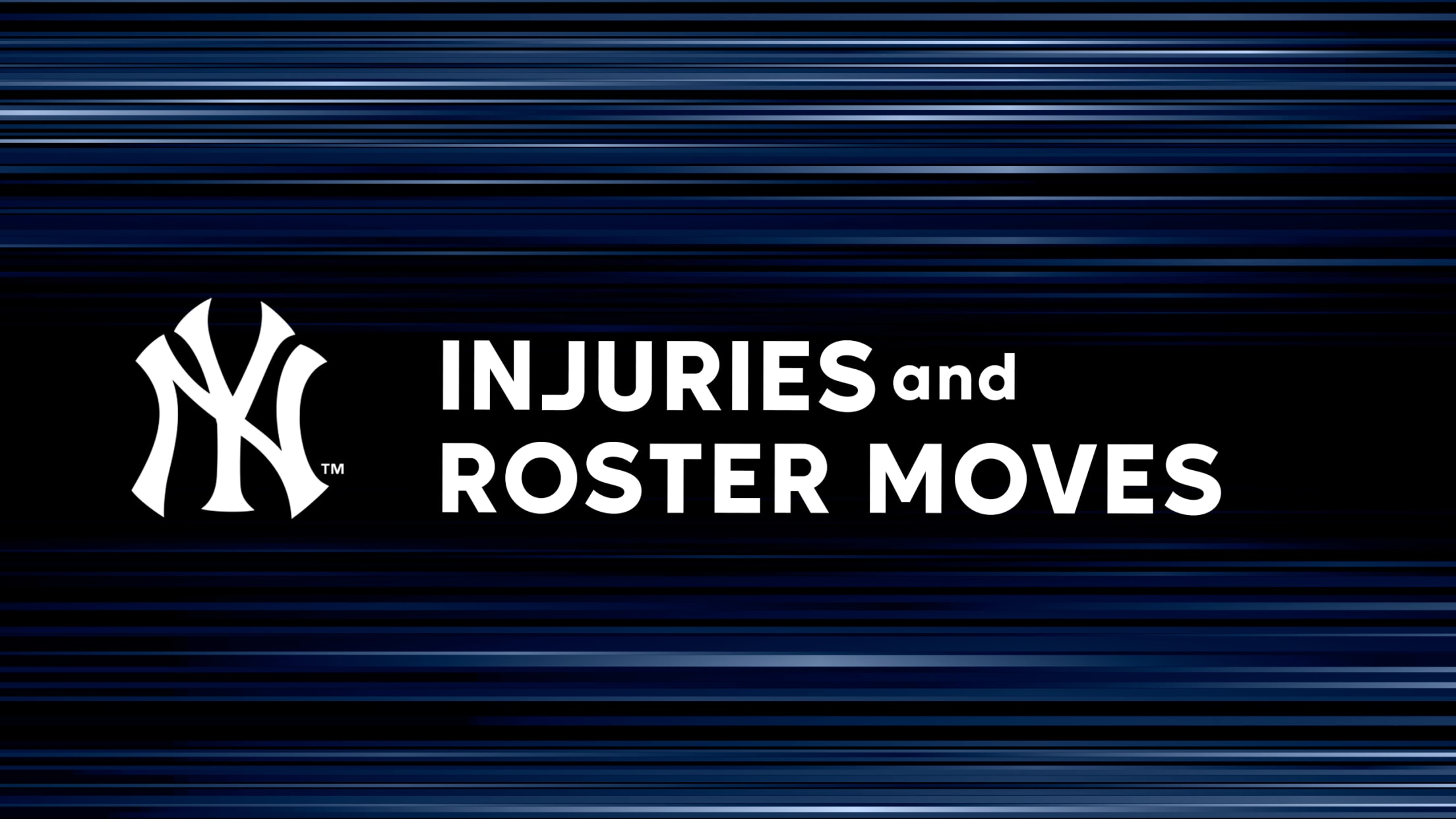 Keep track of the Yankees' recent transactions and injury updates throughout the season.
Clemente's legacy inspires Trevino on diamond, in community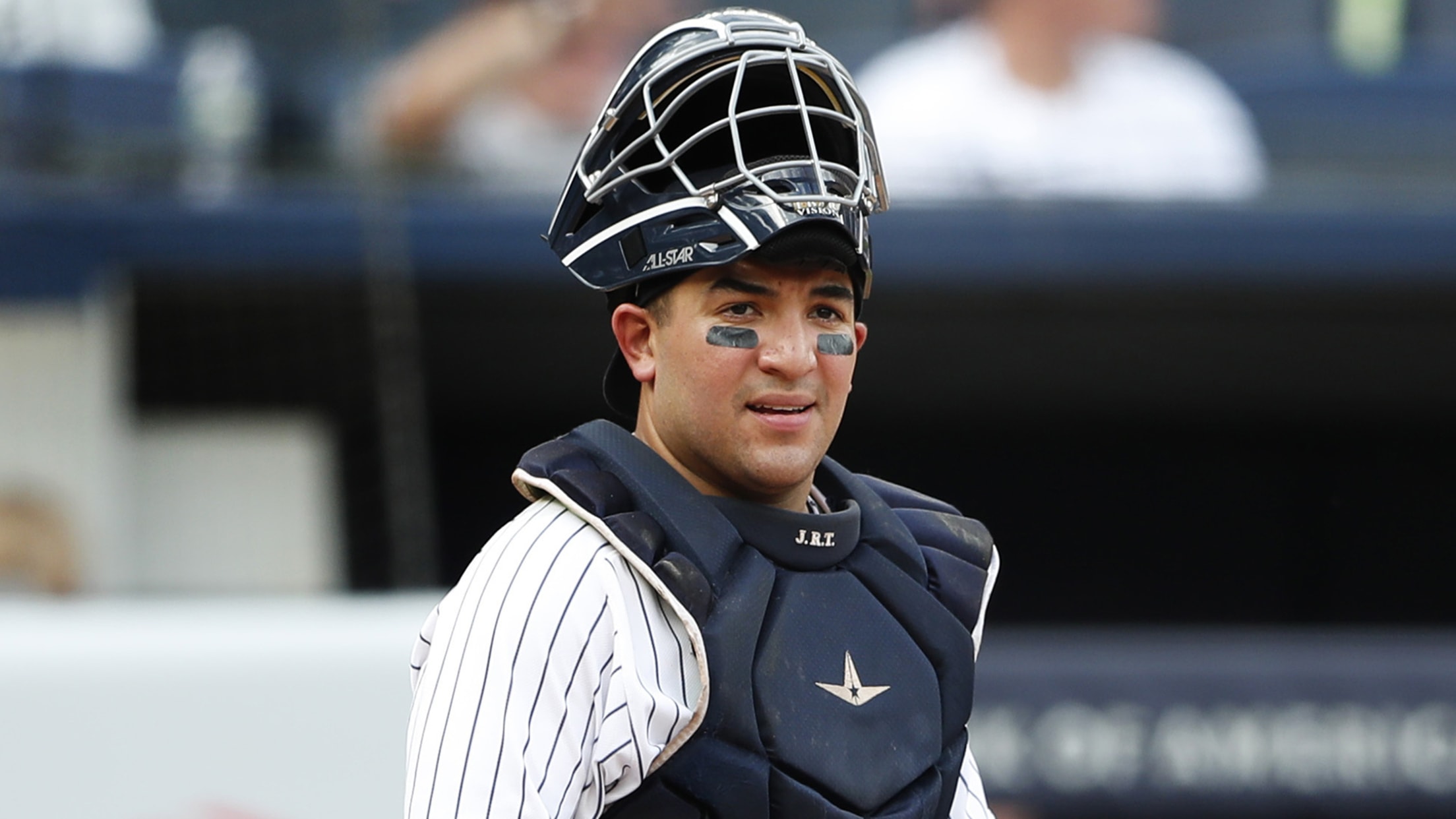 NEW YORK -- Jose Trevino's first choice for a high school uniform number was No. 2, paying homage to Derek Jeter's impact on the dynasty-era Yankees. As he prepared for his junior season, the future big league catcher heard a different name, one that sent him rushing to the library:
Judge SO CLOSE to 61st as Yanks punch ticket
Donaldson's walk-off RBI single in 10th sends New York to postseason again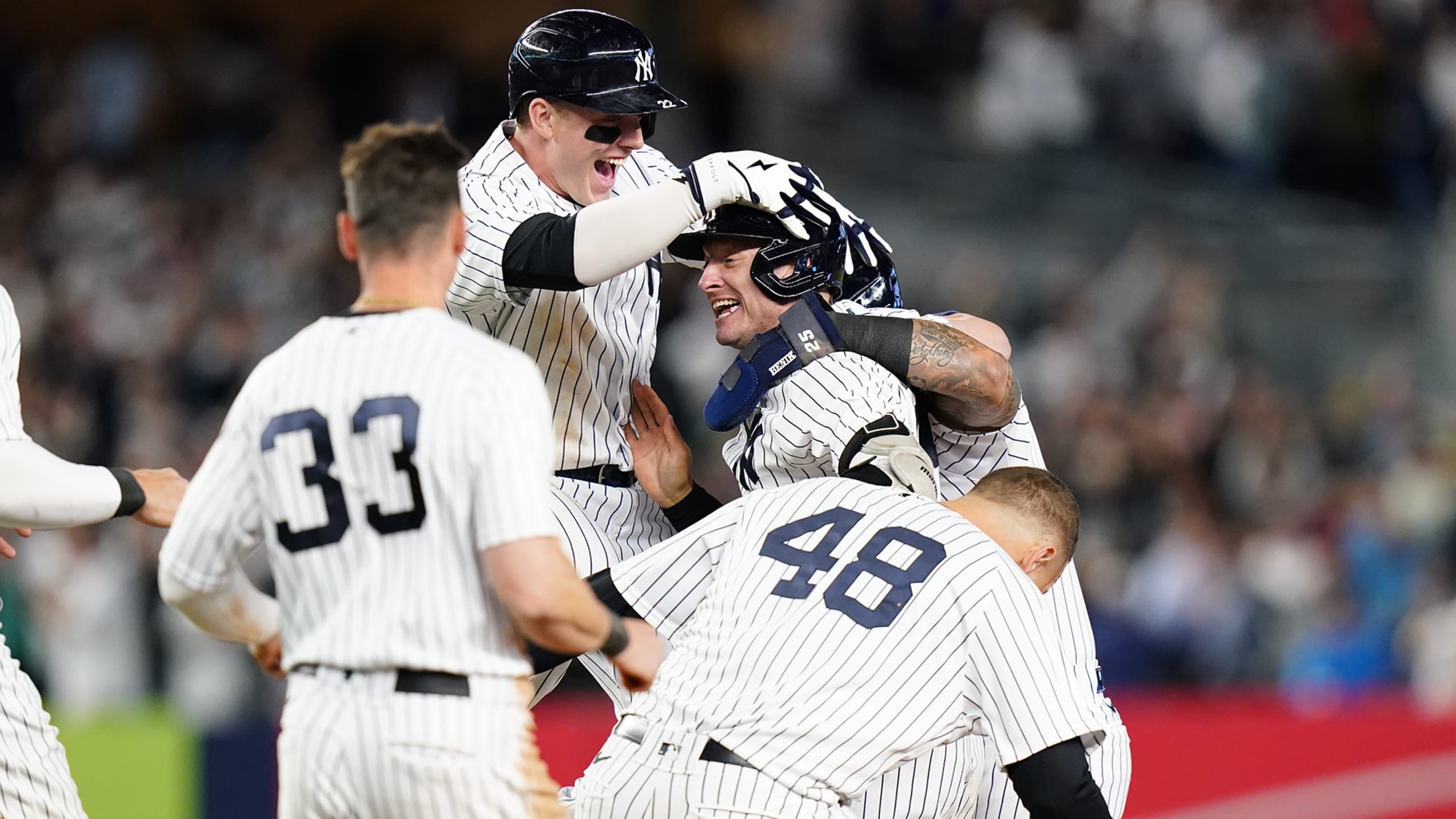 NEW YORK -- Four feet separated Aaron Judge from deliciously making history on Thursday night at Yankee Stadium, the slugger's ninth-inning drive exploding off his bat and soaring toward the legends' Monument Park lair. Perhaps, on a warmer evening, the ball would have landed close to Roger Maris' retired No.
Bader a Roger Maris fan thanks to movie '61*'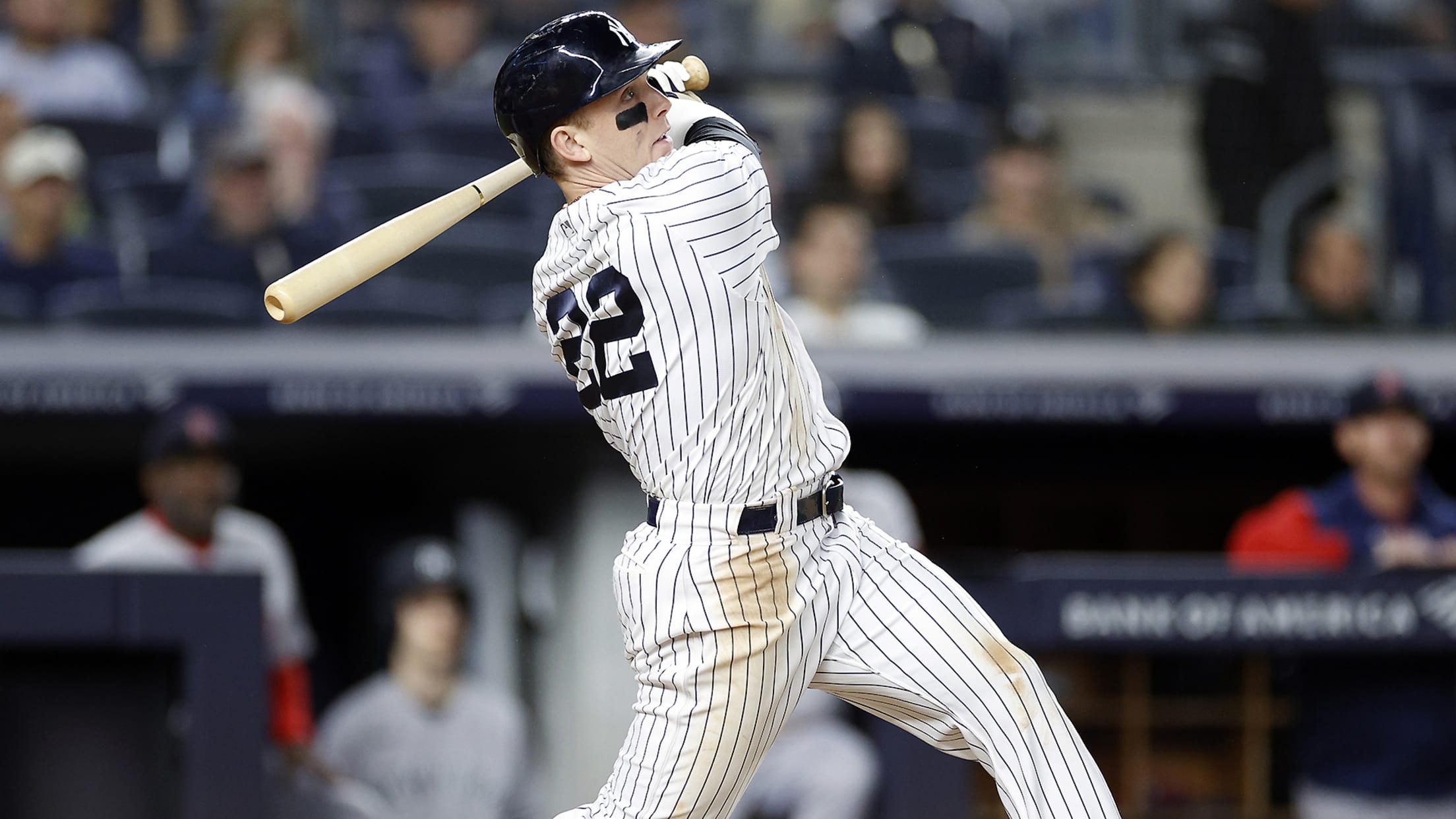 NEW YORK -- Yankees center fielder Harrison Bader never met Yanks legend Roger Maris, who passed away in December 1985, 8 1/2 years before Bader was born. However, Bader calls Maris one of his favorite players while growing up in Bronxville, N.Y. Bader, 28, learned a lot about Maris through
Domínguez helps Somerset reach EL final
Keeping tabs on the Yankees' No. 2 prospect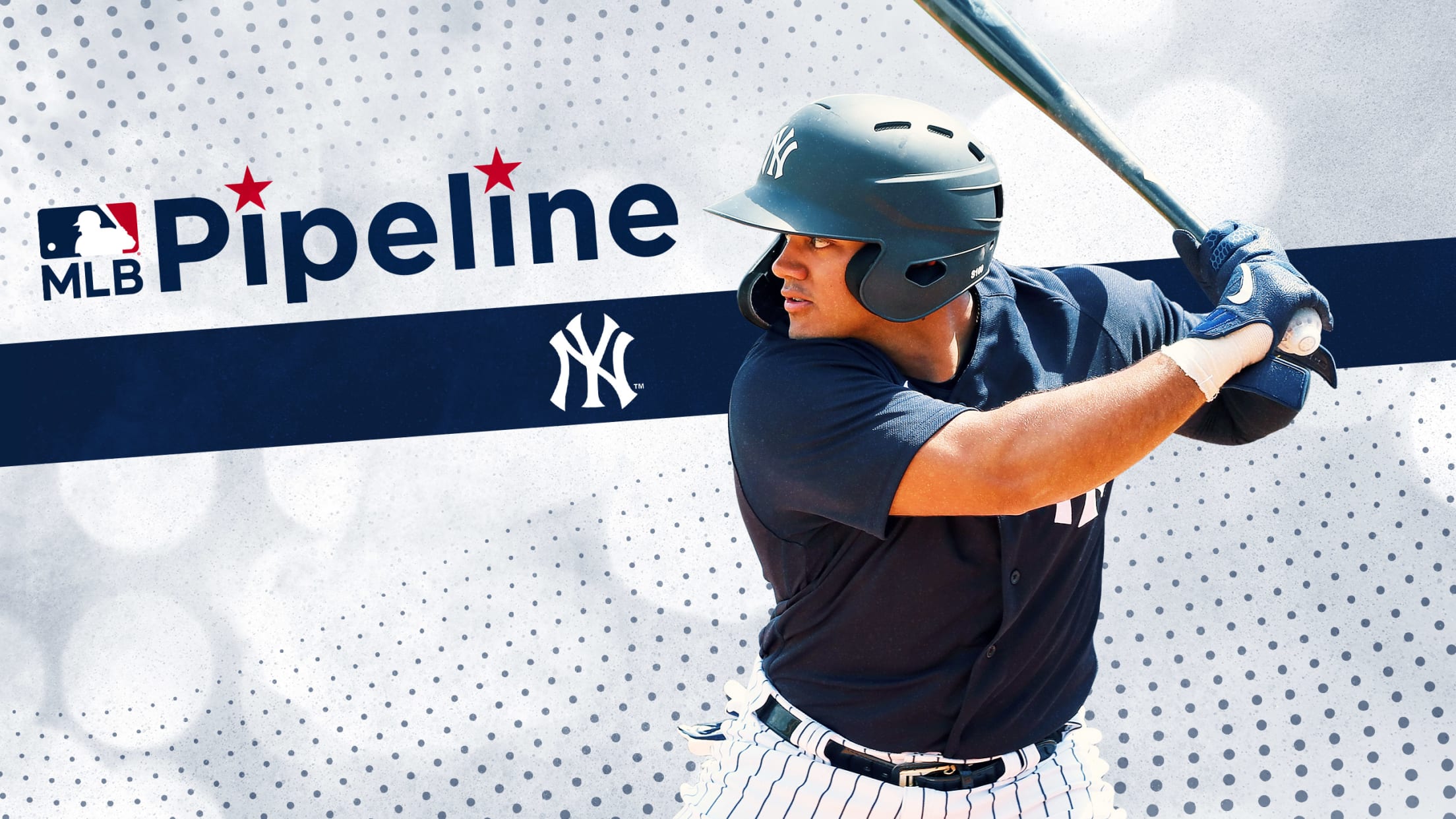 One of the most hyped international prospects ever, Jasson Domínguez signed for $5.1 million out of the Dominican Republic in 2019 after drawing comparisons to the likes of Bo Jackson, Mickey Mantle and Mike Trout. Known as "The Martian" because of his out-of-this-world tools, he held his own at Single-A
If Judge needs advice on HR plateau, a big help isn't far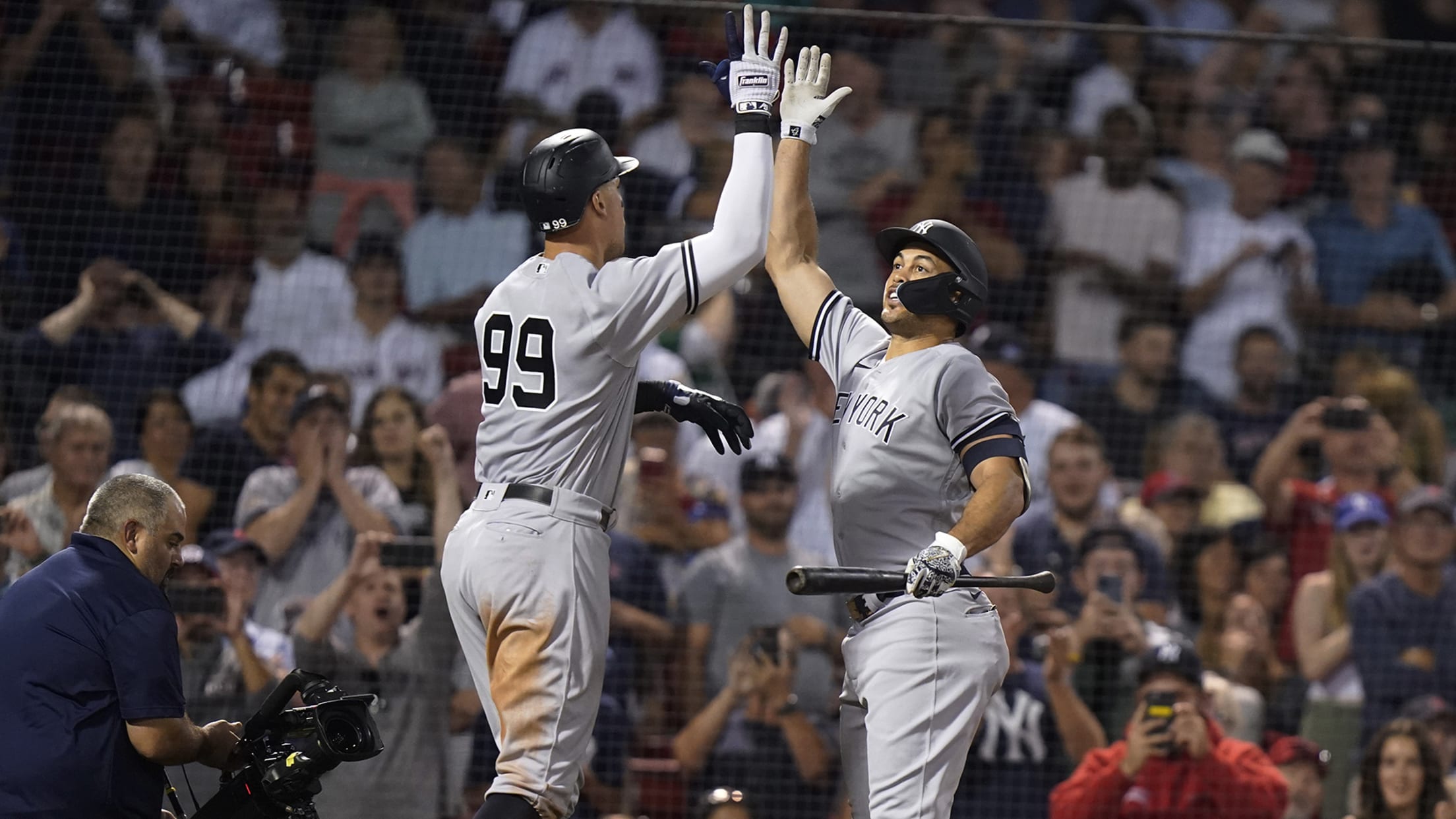 This story was excerpted from Bryan Hoch's Yankees Beat newsletter. To read the full newsletter, click here. And subscribe to get it regularly in your inbox.
Britton returns, eyes winning title with Yanks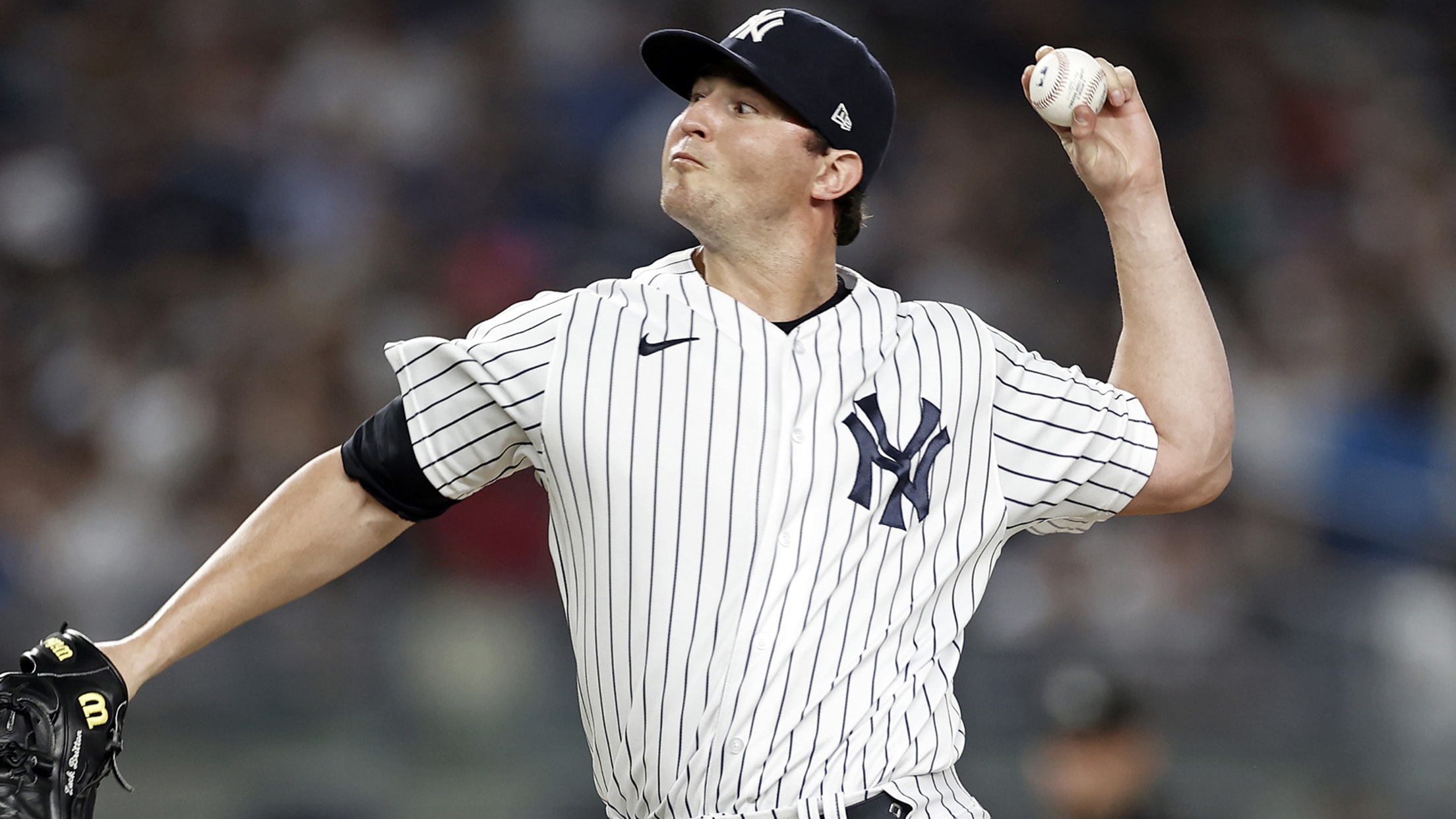 NEW YORK -- In Zack Britton's view, a significant portion of his career story has already been written over a decade-plus in the big leagues. The left-hander has earned accolades, led the Majors in categories and put his swirling signature across a substantial contract. There was only one reason Britton
Yankees Magazine: Maturation Process
Still just 25 years old, Gleyber Torres is growing into a new Yankees role
Gleyber Torres stood in a corner of the visiting clubhouse at Busch Stadium in St. Louis, pondering the six years since his baseball life changed. The room should have been exceptionally familiar to the infielder; as a Cubs prospect, signed out of Venezuela as a 16-year-old, he was supposed to
Red Sox-Yanks to air in United Kingdom on Saturday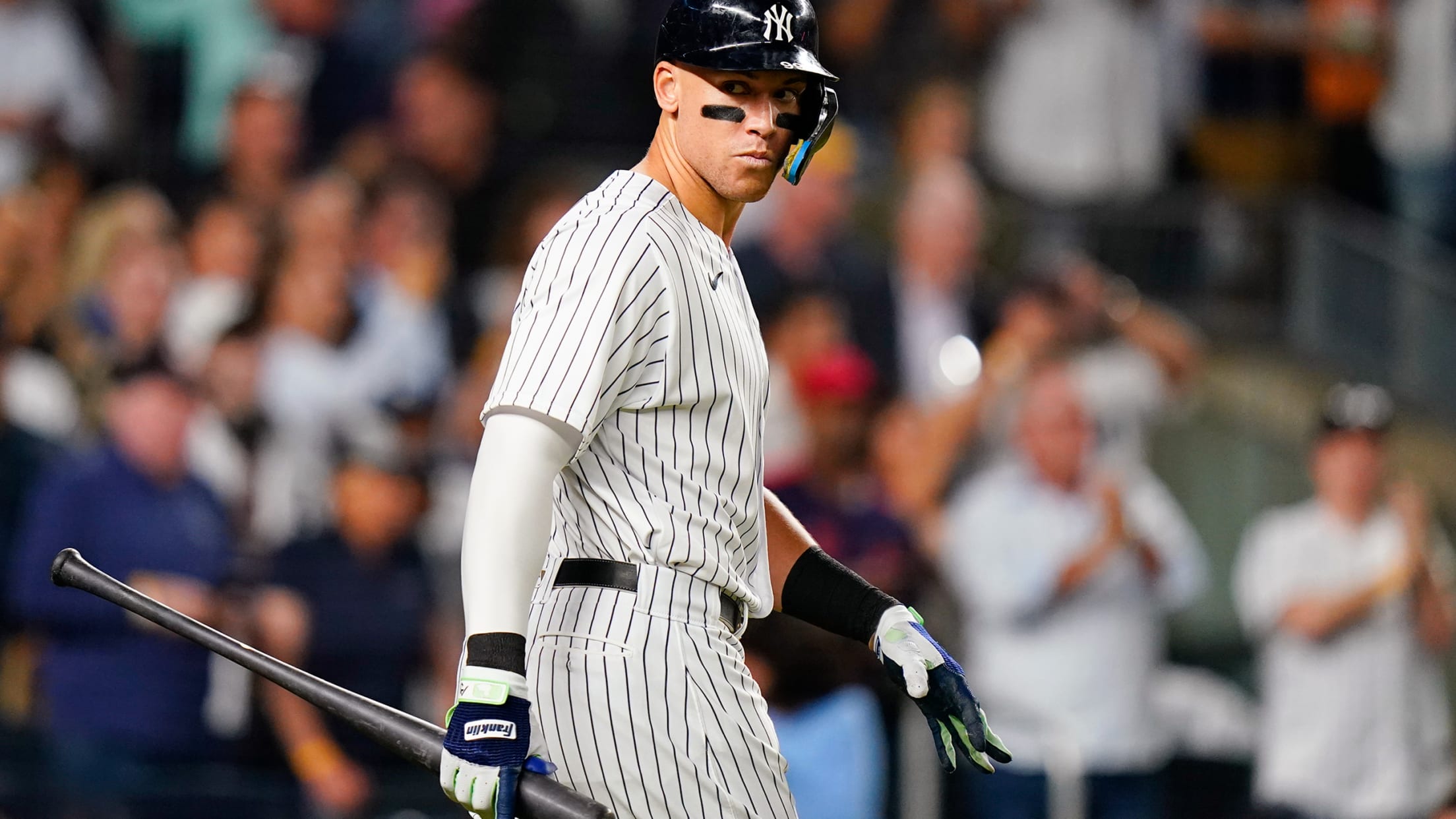 Aaron Judge is superhuman. That's the sense Felix White got when he saw the Yankees' star in action over the course of two games at Fenway Park last month. "You could just feel that he was above and beyond the human plane," said White, a British musician, author and broadcaster.
Severino's return could be huge boon for Yanks
Right-hander makes strong five-inning start in first MLB action since July 13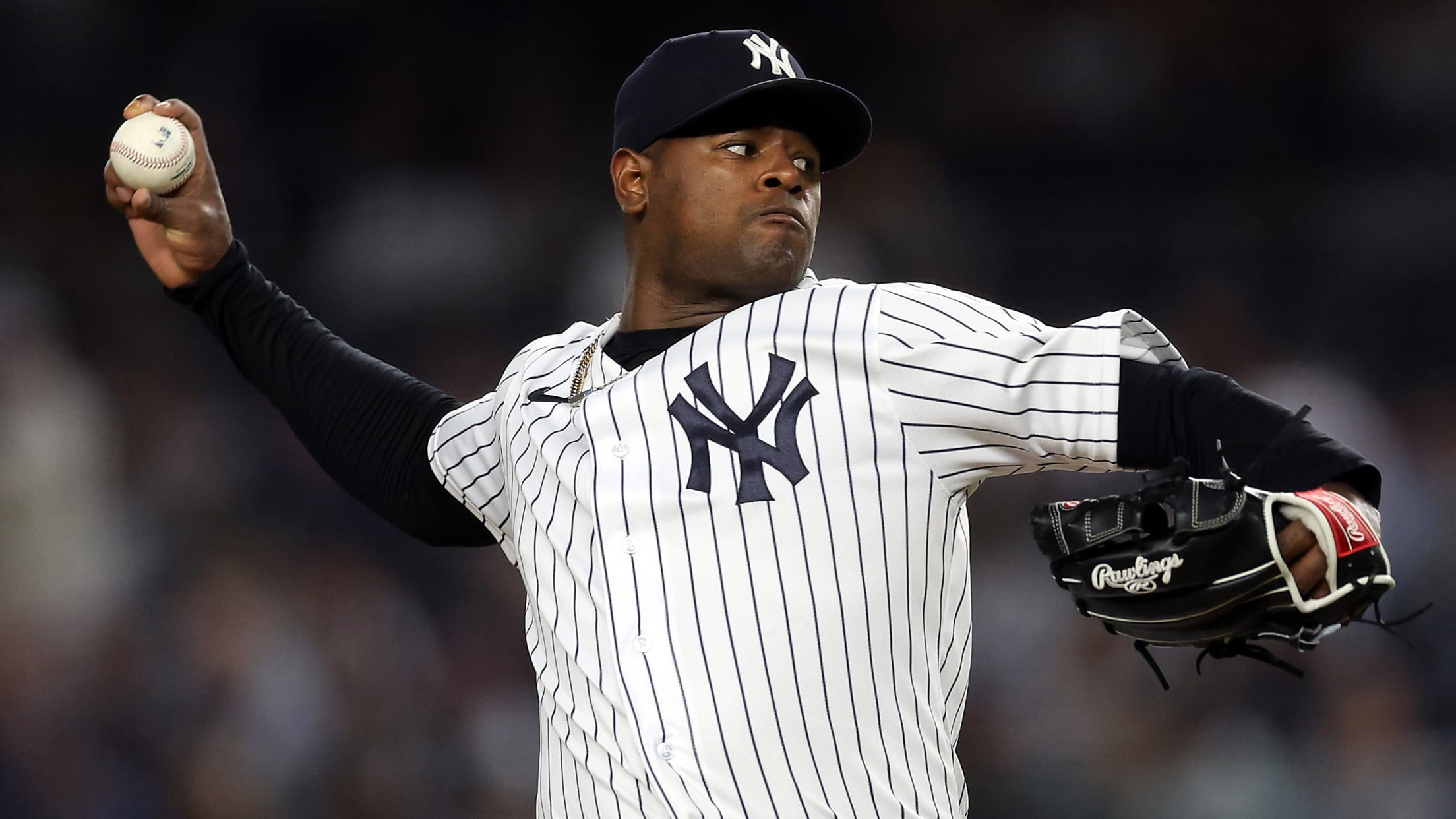 NEW YORK -- All eyes were fixed upon Aaron Judge as the slugger stood at Roger Maris' doorstep Wednesday evening, each at-bat an opportunity to etch fresh history. When a ball off his bat found grass instead of seats, the crowd groaned, disappointed even by a pair of doubles. If
Torres homers twice vs. Bucs ... in the same inning
Yankees unload in eight-run 8th, keyed by one of the team's hottest hitters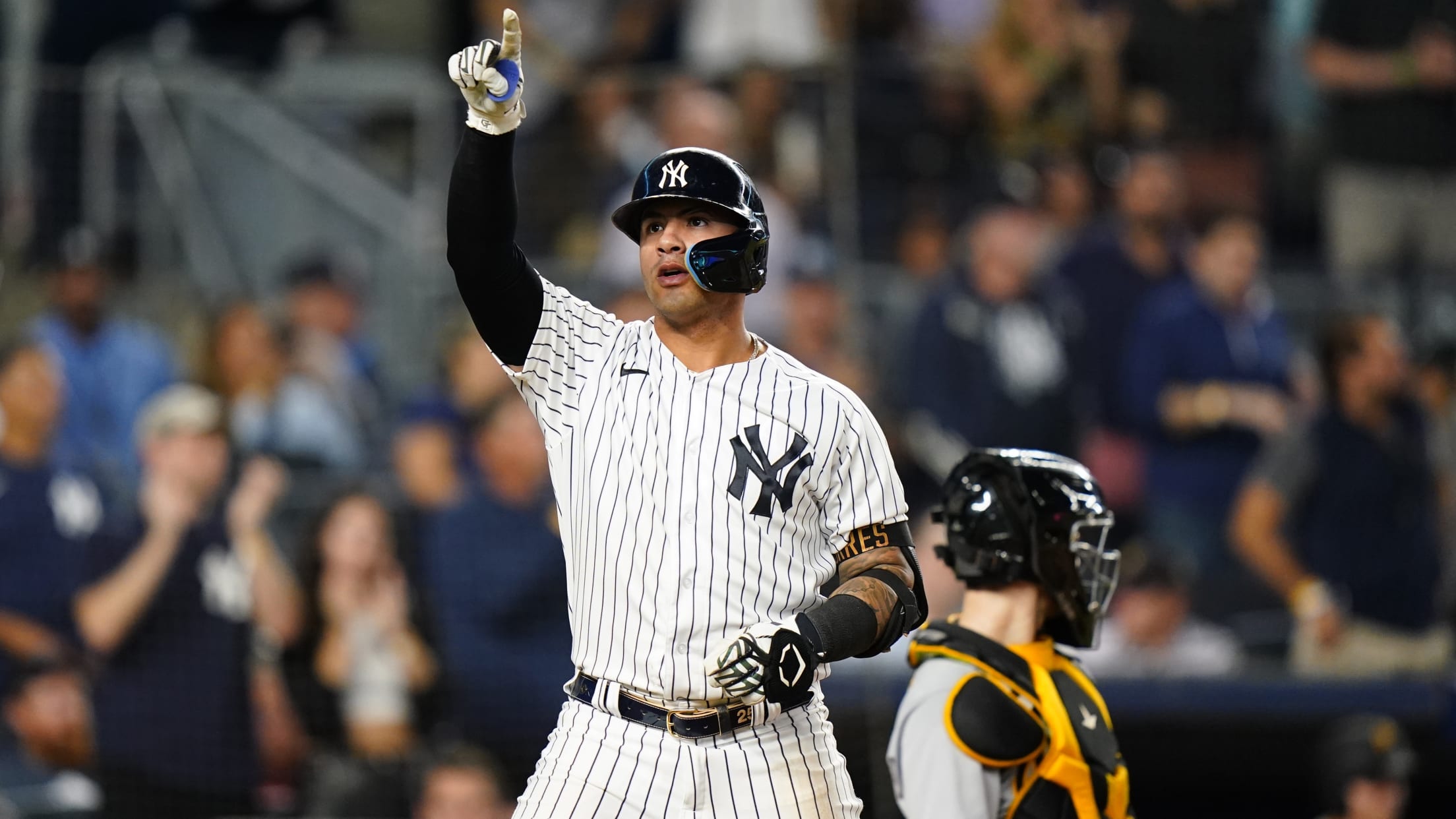 NEW YORK -- Forty-six thousand, one-hundred and seventy-five people took their seats at Yankee Stadium on Wednesday night with the chance to witness history at the forefront of their minds. The sellout crowd was there hoping to see one man, Aaron Judge, hit his 61st home run of the season,
The latest on Anthony Volpe
Keeping tabs on the Yankees' No. 1 prospect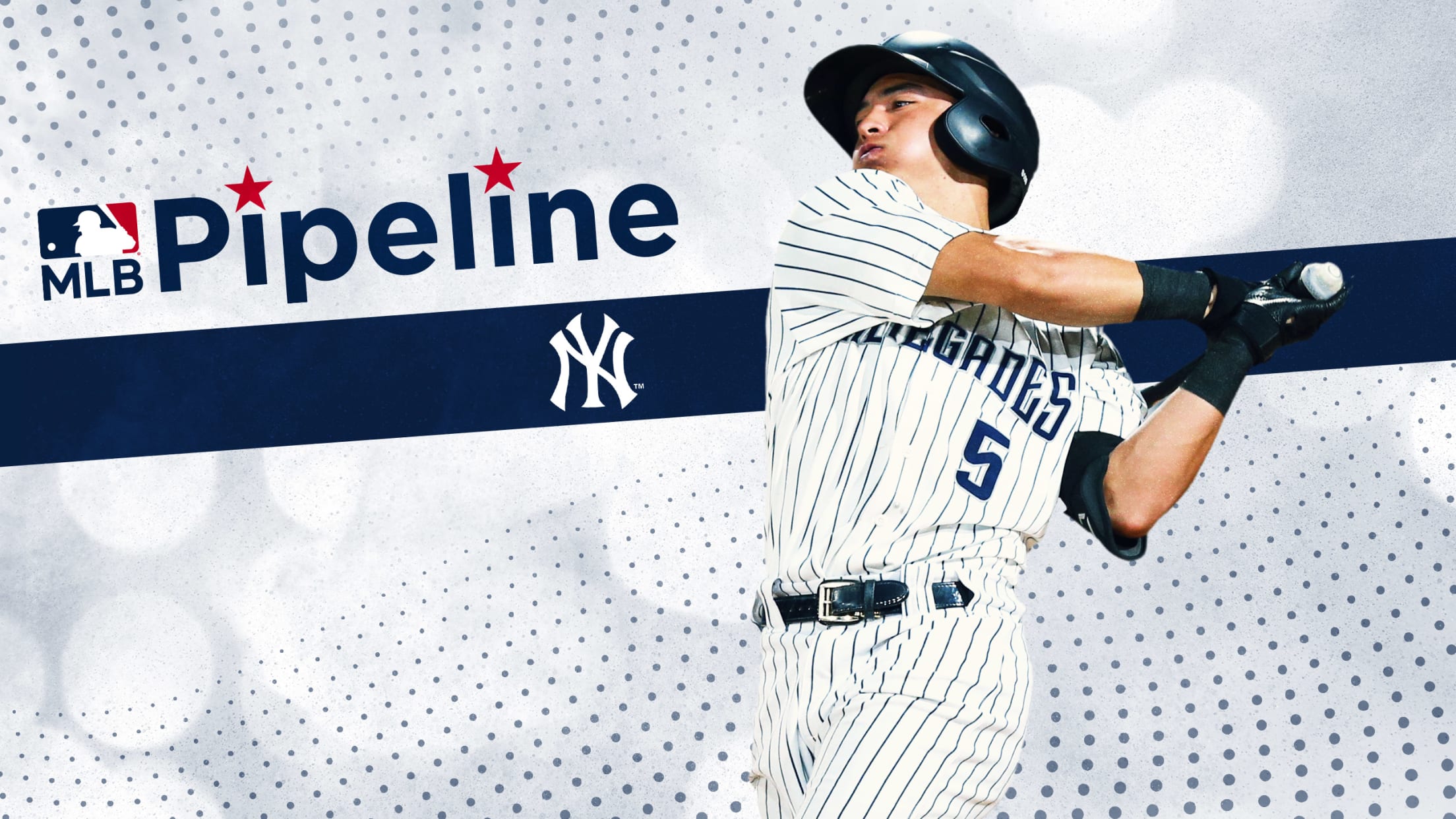 The 30th overall pick in the 2019 MLB Draft, Anthony Volpe was slow out of the gate due to a case of mononucleosis. But he blew away all expectations in his first full pro season in 2021. MLB Pipeline named him the Hitting Prospect of the Year after he batted
Yanks' historic slams 1 inning (and 21 hours) apart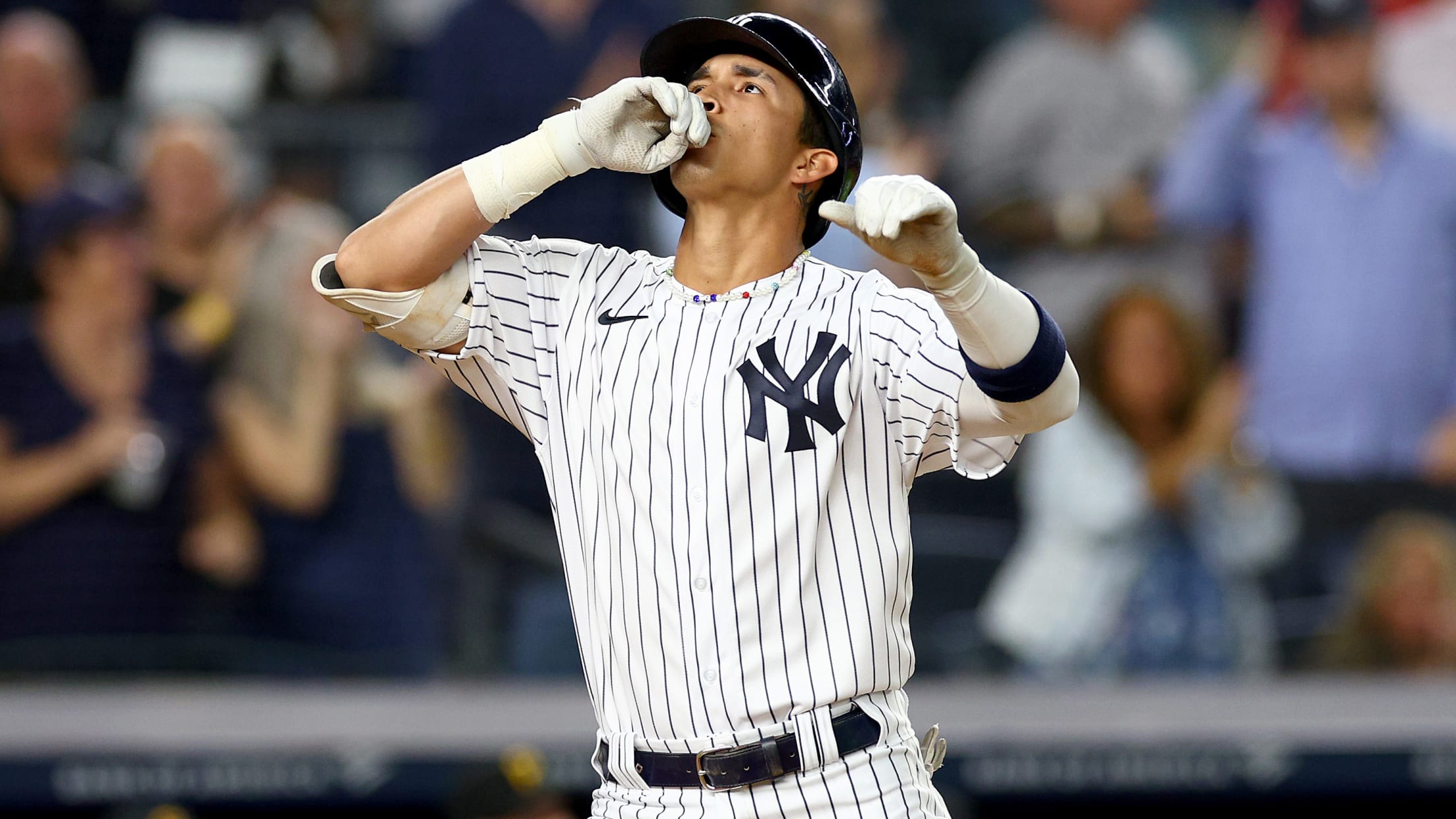 The name Aaron Judge and the word "history" have been used in the same sentence quite a bit lately, and for good reason -- Judge became the sixth player in AL/NL history to hit 60 home runs in one season with a solo shot in the ninth inning of Tuesday's
The top AFL prospects for each club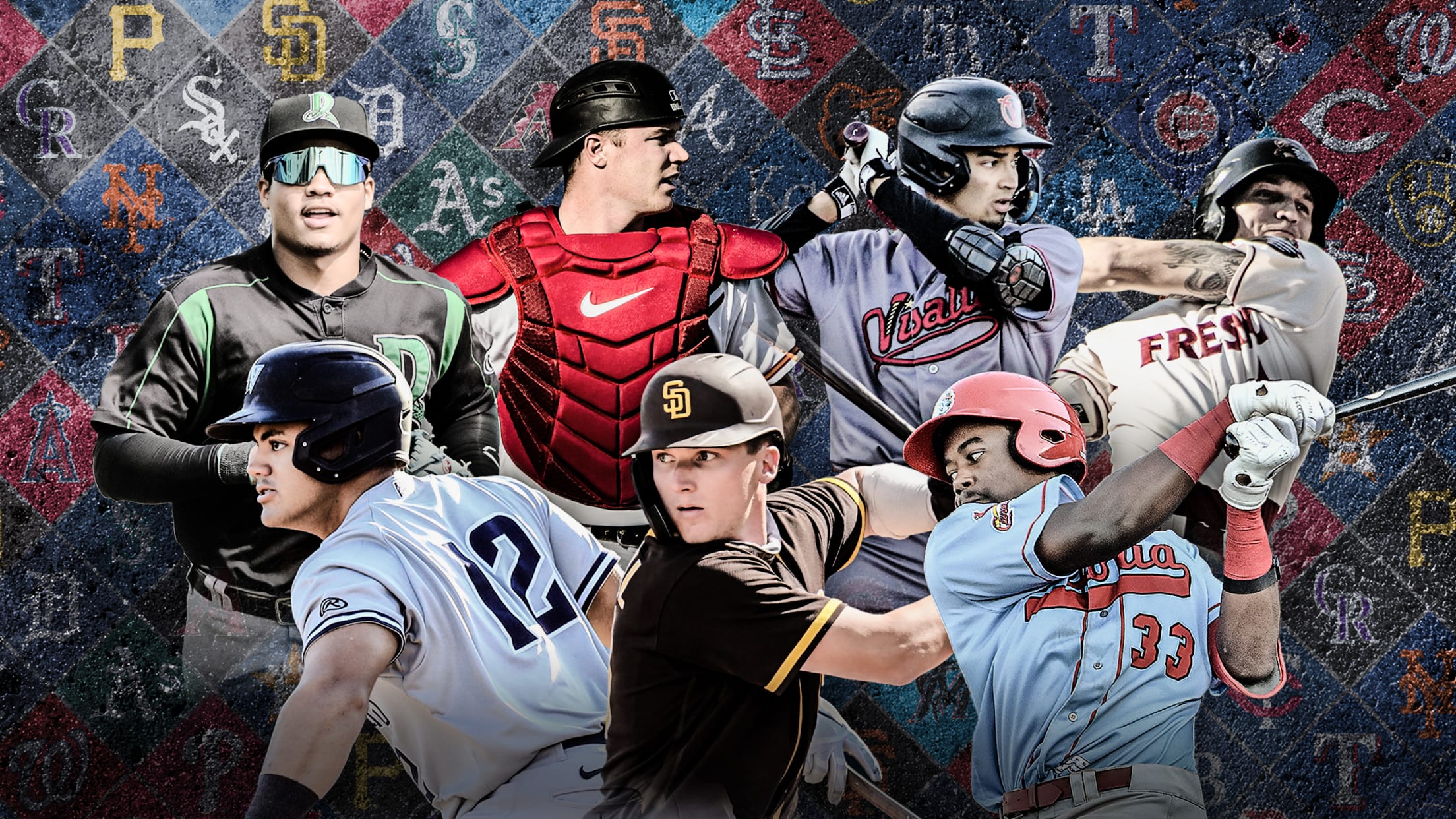 It's impossible to look at the list of Arizona Fall League alumni without some sense of awe. Before he chased the American League home run record, Aaron Judge went deep four times for Scottsdale in 2014. Multi-time MVPs Mike Trout (2011), Bryce Harper (2010, 2011) and Albert Pujols (2000) all