Aroldis says report of his opting out is false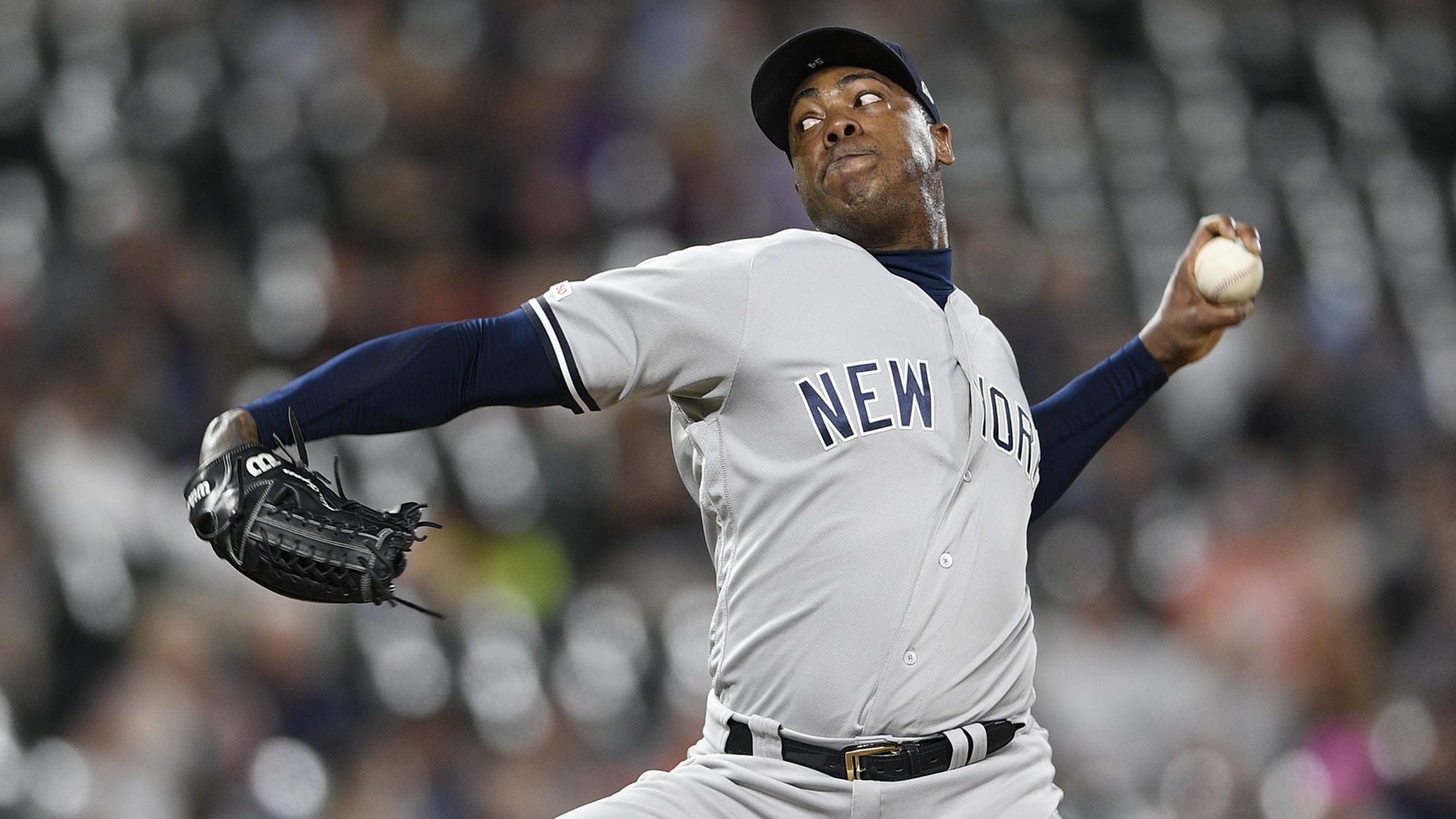 NEW YORK -- Aroldis Chapman smirked as a group of reporters approached his Yankee Stadium locker Wednesday afternoon, having been briefed about the latest whispers concerning the looming opt-out clause in his contract. As he did at the All-Star Game, the closer said that no decisions about his future have
Rays-Yanks game Wed. postponed; DH Thurs.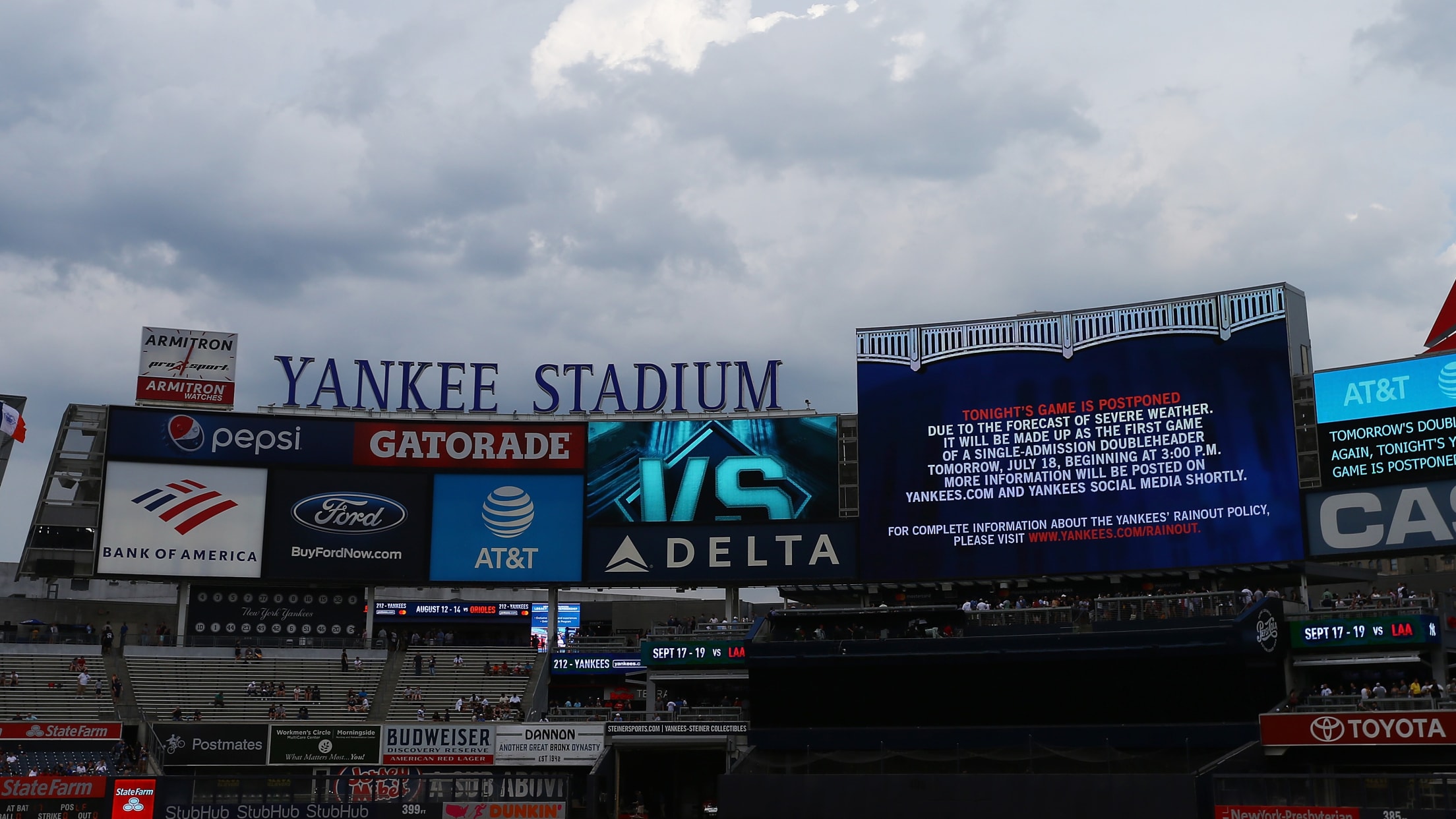 NEW YORK -- The Rays and Yankees game on Wednesday was postponed due to the forecast of severe weather around the Yankee Stadium area. It will be made up as the first game of a single-admission doubleheader on Thursday, beginning at 3 p.m. ET. The regularly scheduled second game will
Speedy Gore acquired by Yanks, sent to Minors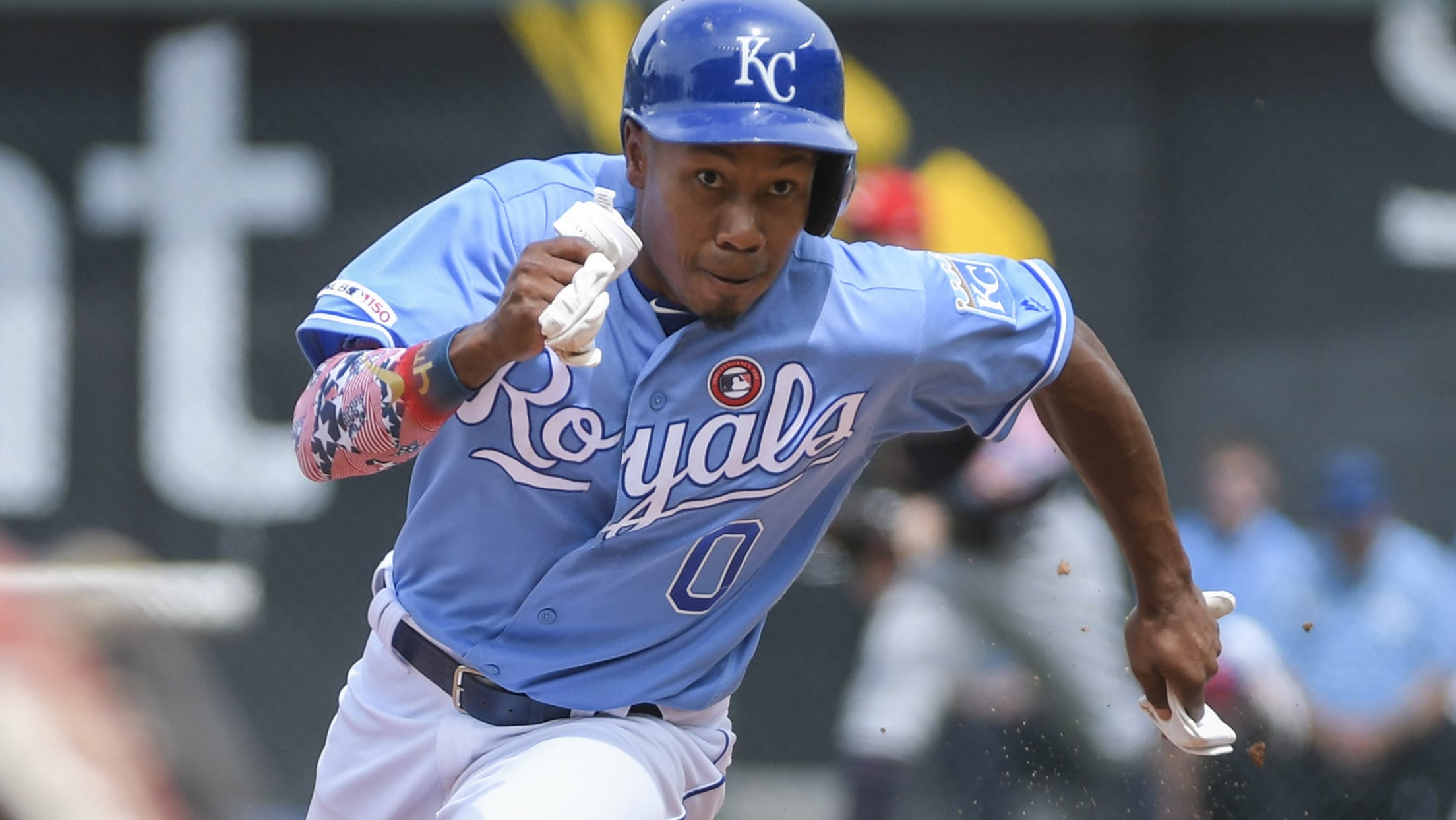 NEW YORK -- Terrance Gore has already shown the ability to impact the postseason with his legs, and as the Yankees eye a deep October run, they moved on Wednesday to stash the speedster's wheels within the organization. New York acquired Gore from the Royals in exchange for cash considerations.
Mariano for Felix Fermin? Deal almost happened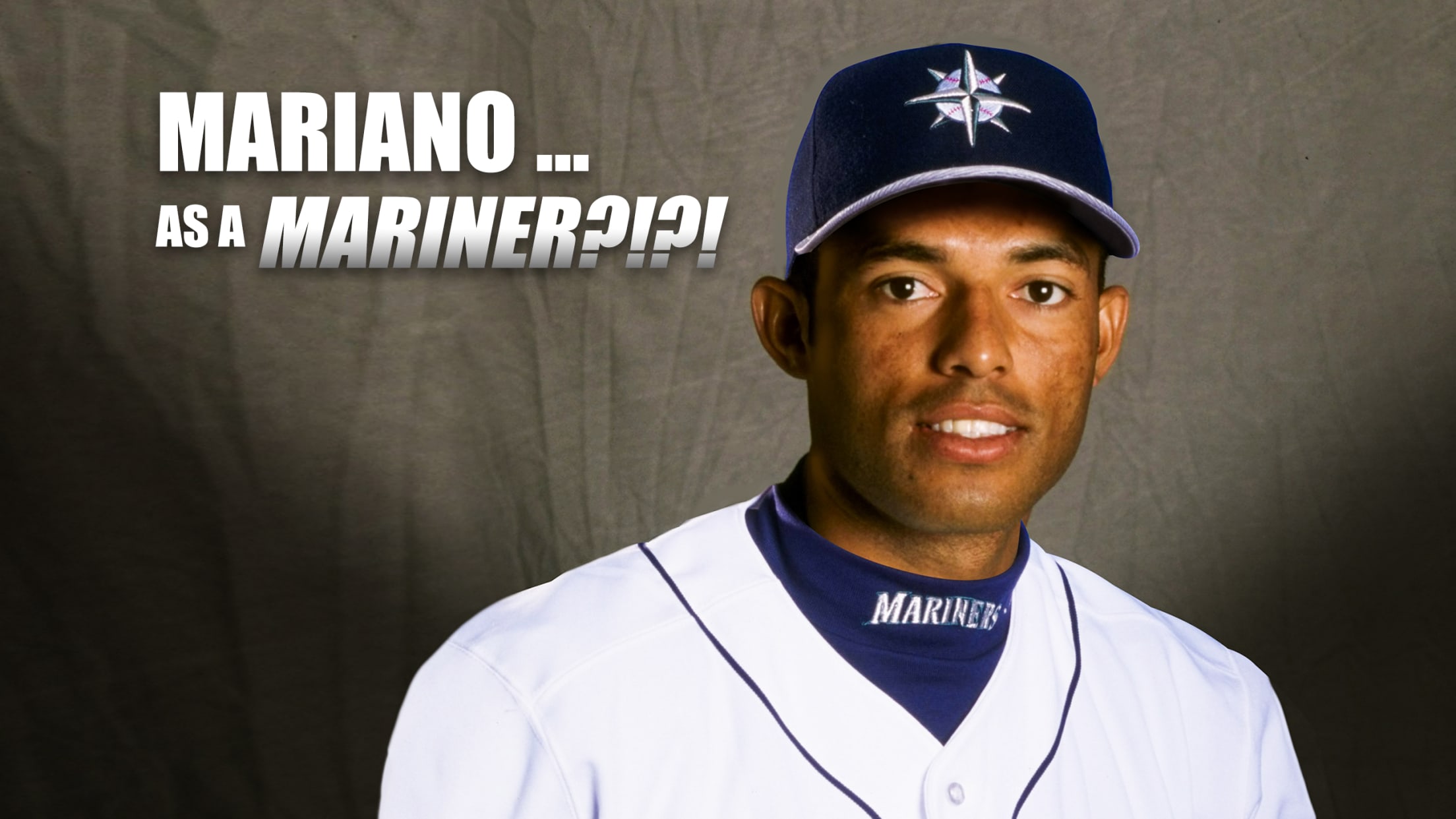 Now pitching for the Seattle Mariners, No. 42, Mariano Rivera. It's difficult to imagine, but that unfathomable scenario was close to becoming a reality. MLB.com's Full Account takes a deep dive into Mariano Rivera's life, including that time the Yankees nearly traded him to Seattle -- a move that would
Mariano sure knows what a 'gate' is now
JFK Delta terminal honors legendary closer, renames Gate 42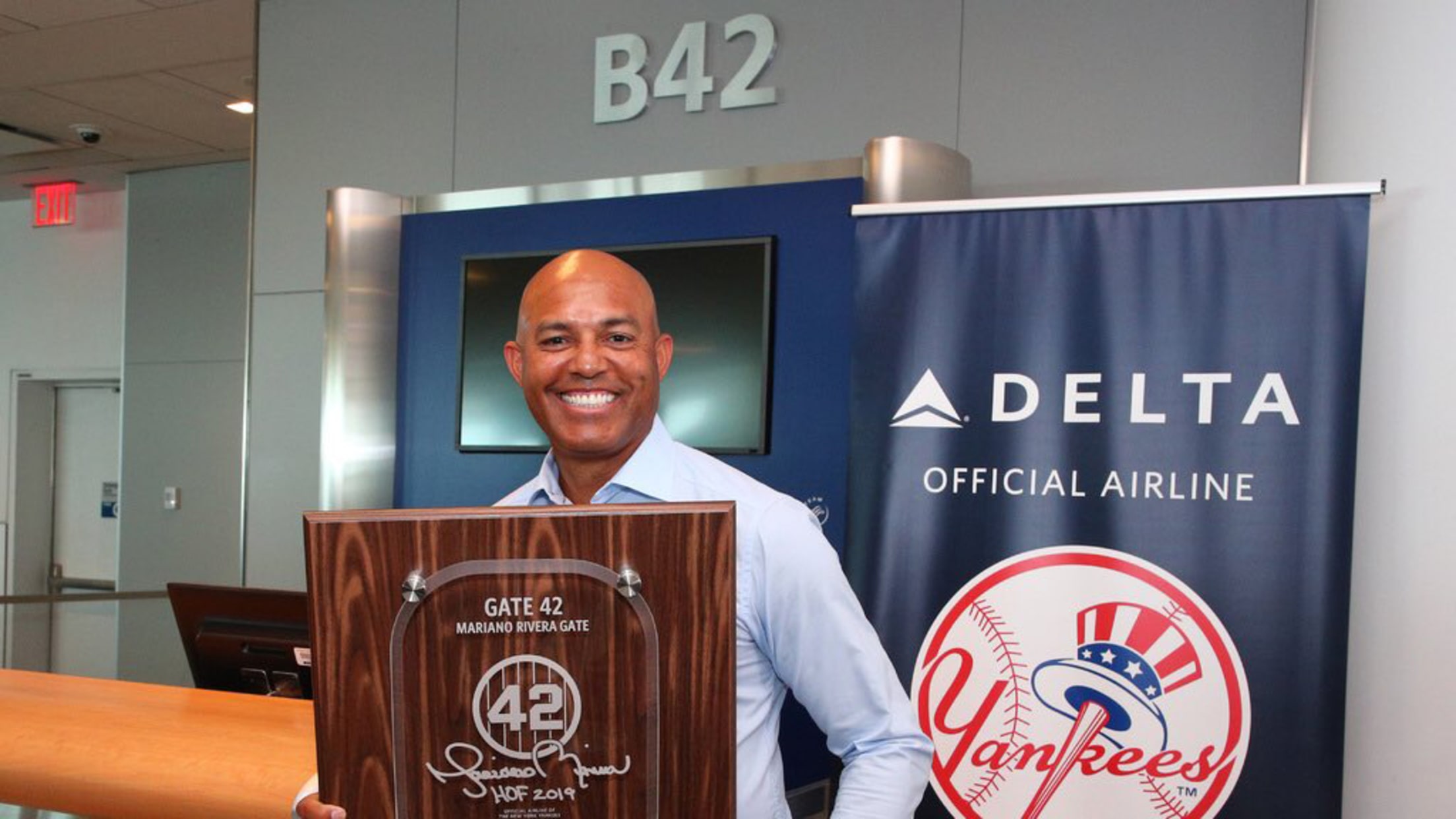 After signing with the Yankees in 1990, Mariano Rivera took the first plane ride of his life, flying from his native Panama to Miami. He didn't even know what an airport gate was. Now, the legendary closer has one dedicated to him at one of the largest terminals in the
Didi's slam makes Judge's '2nd' HR stand up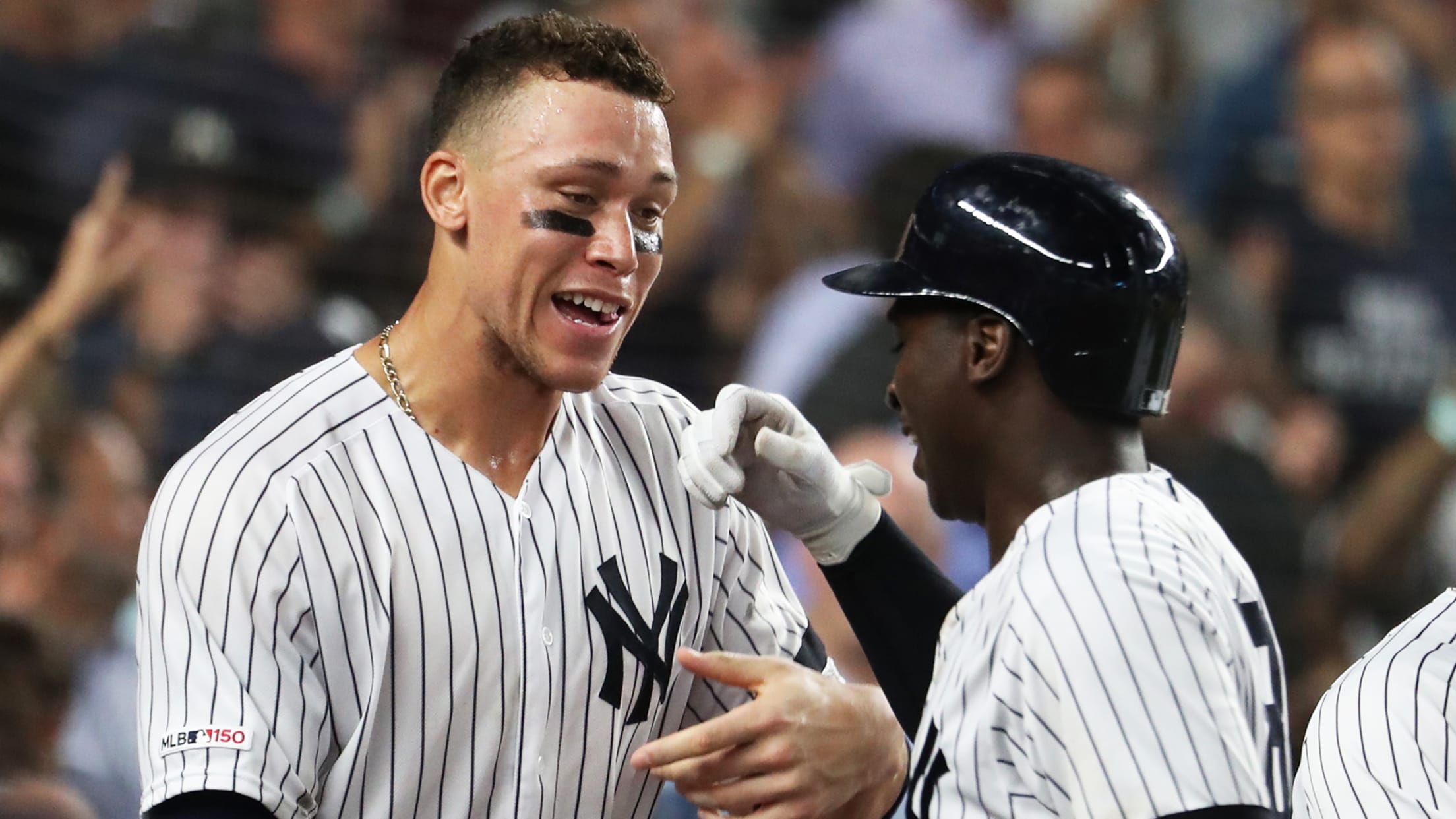 NEW YORK -- Aaron Judge tracked the flight of his eighth-inning drive as it spun toward the 314-foot marker in right field, expecting that it would tail to the right of the foul pole. Indeed, the masses on hand at Yankee Stadium groaned when the ball arced a few seats
CC-Avisail tiff clears benches, bullpens in Bronx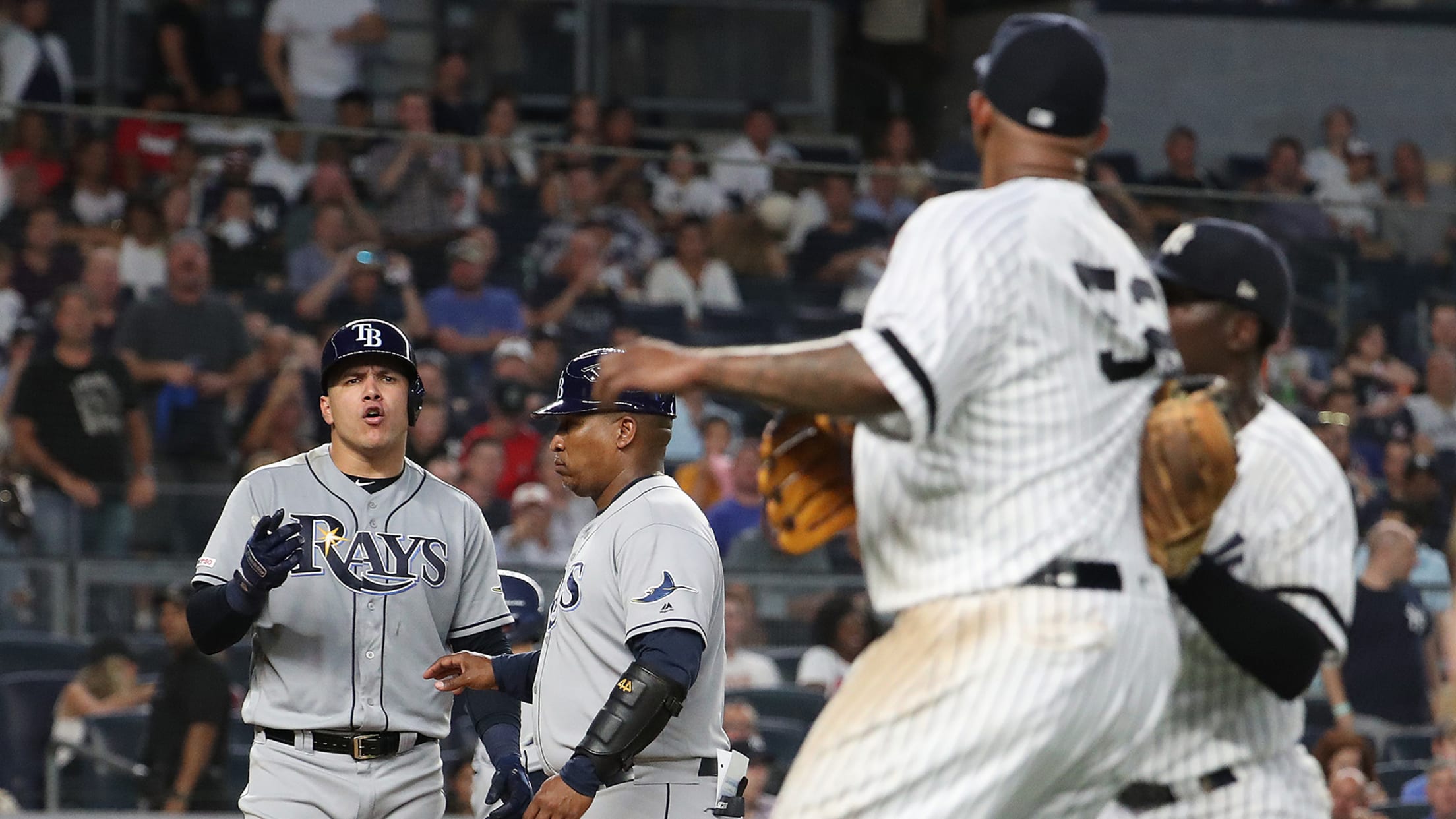 NEW YORK -- Didi Gregorius jogged across the infield and spotted CC Sabathia near the first-base line, jawing toward the Rays' Avisaíl García. The Yankees' shortstop attempted to save his heated teammate from an ejection, then realized he was going to have to flex some muscle to do so. "It
Severino, Betances resume rehab, talk options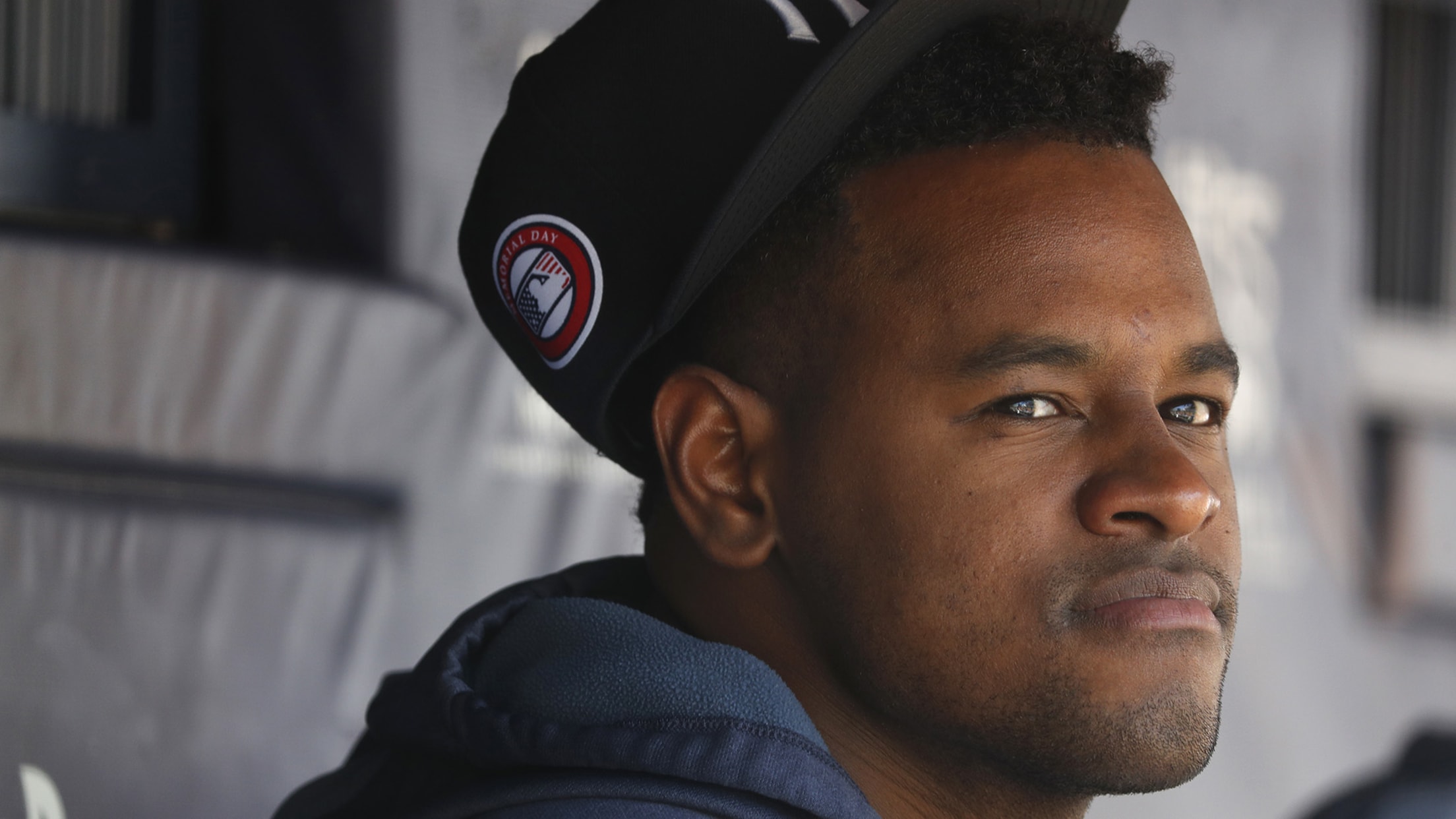 NEW YORK -- Luis Severino and Dellin Betances have watched from the sidelines as their Yankees teammates compiled the best record in the American League, and as the right-handers work toward re-joining the active roster, both believe they can contribute to the postseason push. Severino and Betances each made 25
Tuesday's top prospect performers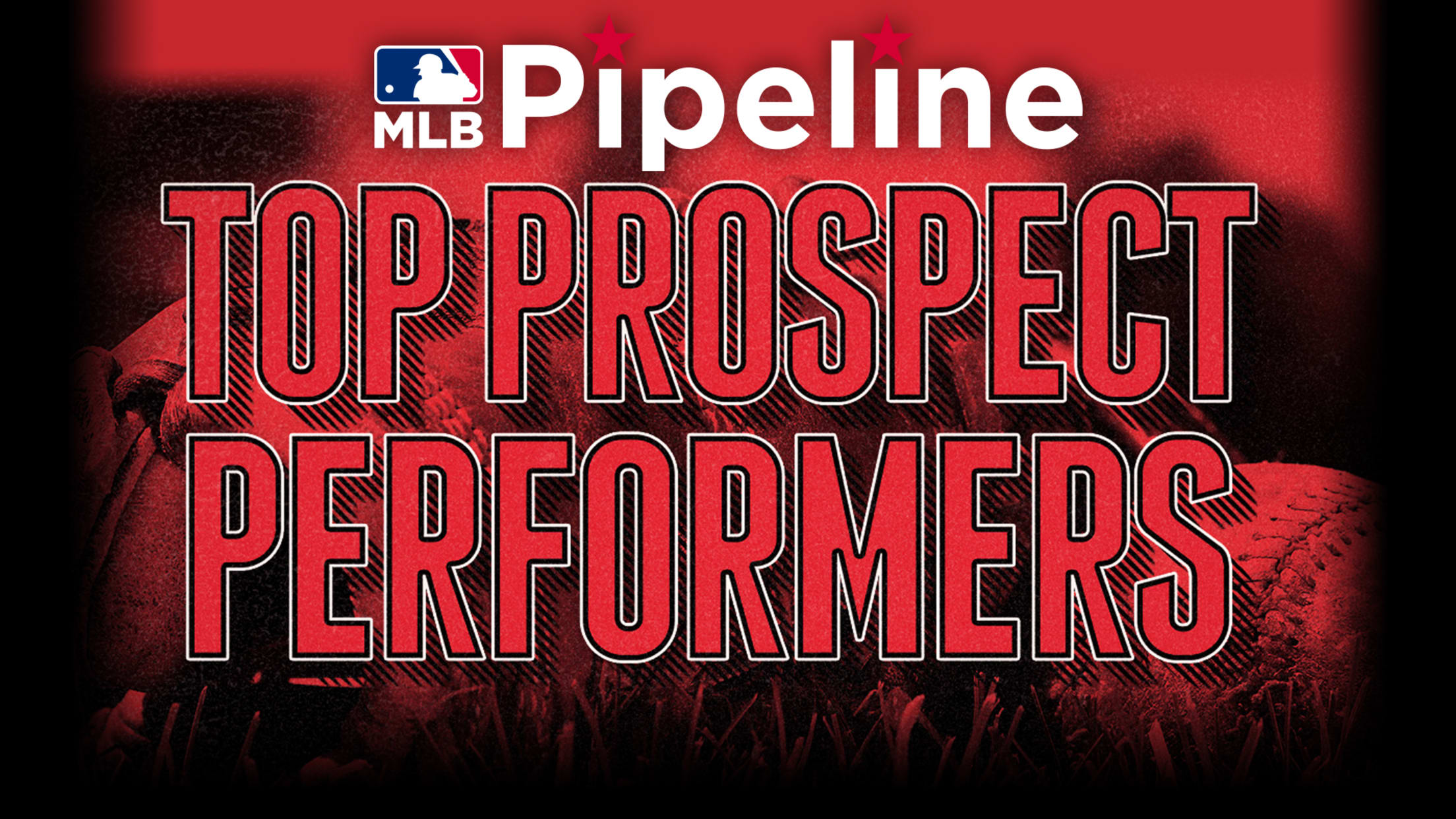 Here's a look at Tuesday's top Minor League performers from each team's Top 30 Prospects list: AMERICAN LEAGUE EAST Blue Jays: Ryan Noda, OF/1B (No. 20) -- 1-for-2, HR, 2 RBI, BB (Class A Adv Dunedin) Noda connected on his ninth homer of the year Tuesday, hitting a two-run shot
LeMahieu earns 'Hustle' award for all-out style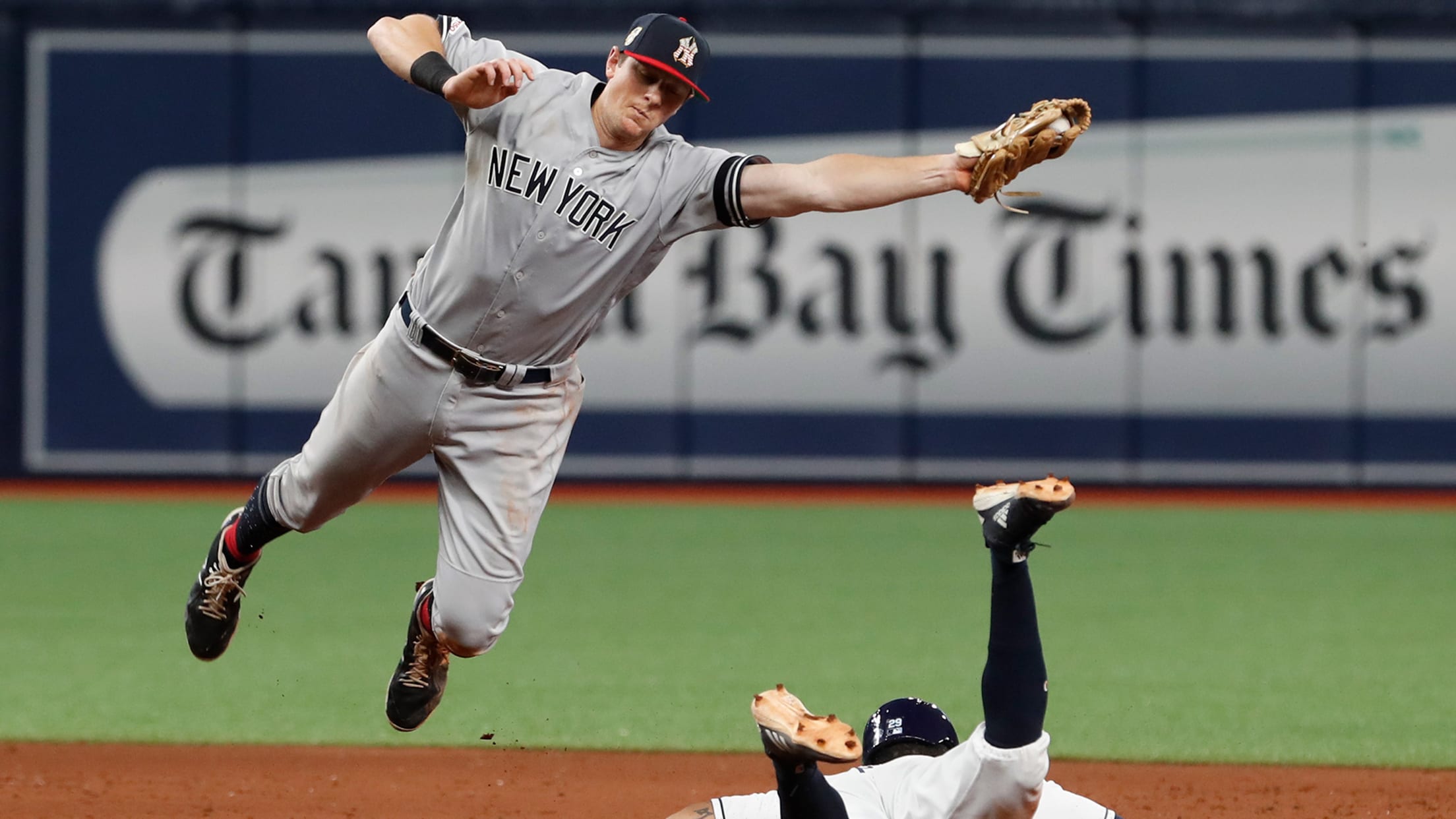 NEW YORK -- DJ LeMahieu's blue-collar approach has earned the first-year Yankees infielder numerous plaudits, and perhaps none of those accolades is more warranted than his selection as the team's 2019 recipient of the Heart and Hustle Award. Bestowed by the Major League Baseball Players Alumni Association, the Heart and
Listen to Mariano's story, in his own words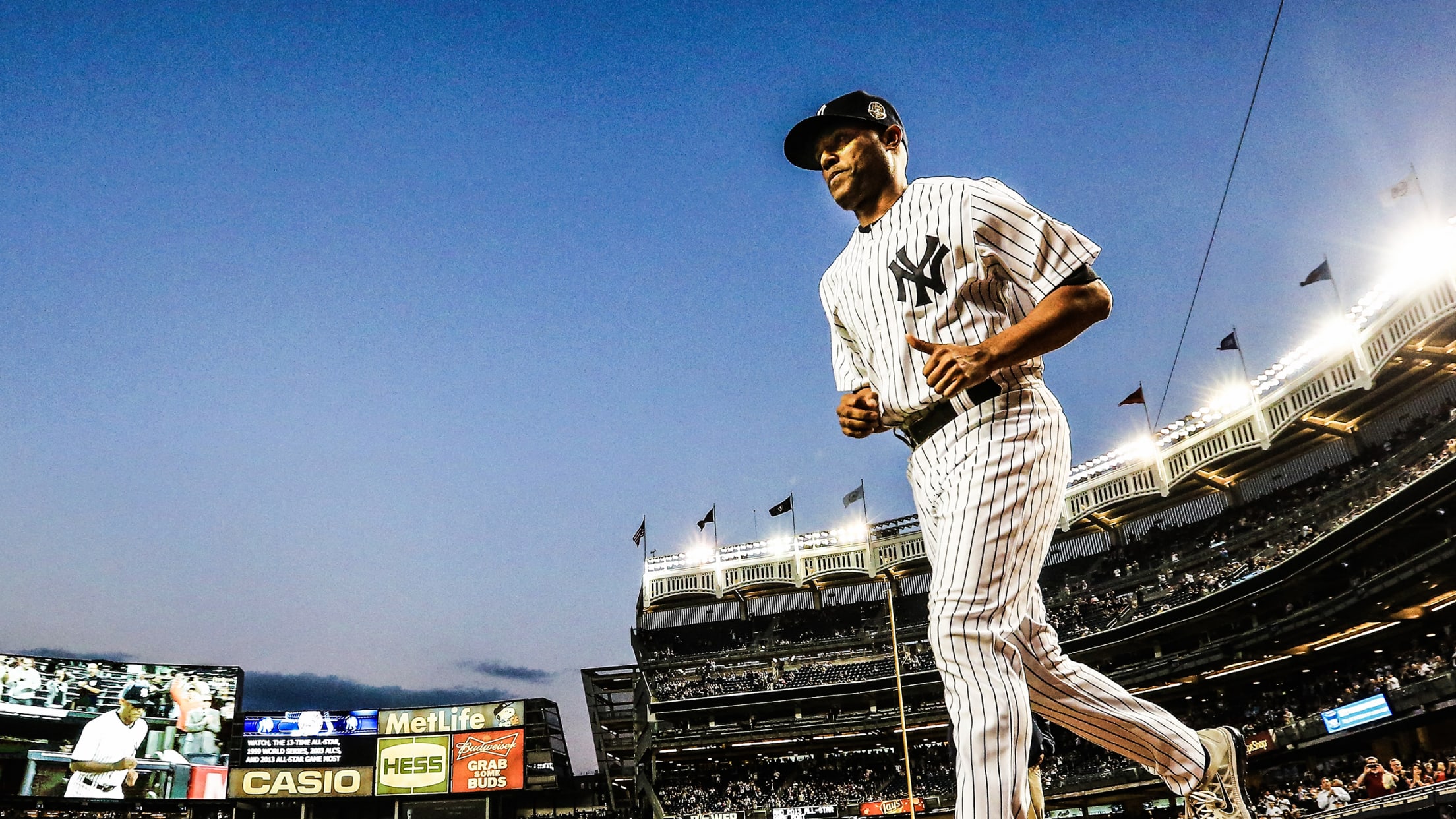 From Panama to pinstripes to the podium this weekend, it has been quite a journey. Mariano Rivera will be inducted into the Baseball Hall of Fame on Sunday, the first player voted in unanimously by the Baseball Writers' Association of America. But Rivera's path to Cooperstown began way back in
One too many Aroldis sliders erases Edwin HRs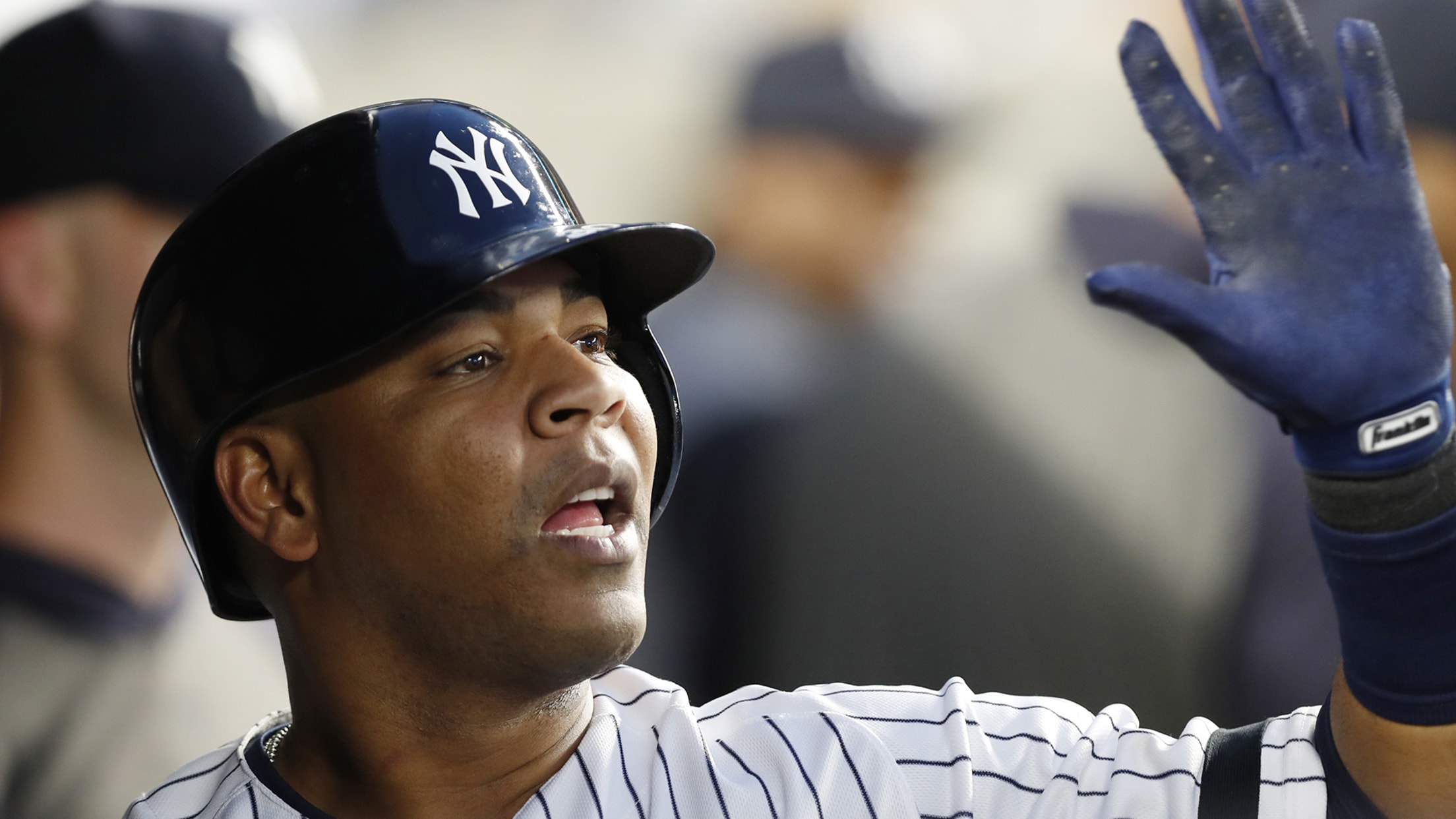 NEW YORK -- The air-raid sirens and digitized flames that accompany each of Aroldis Chapman's Yankee Stadium entrances continue to celebrate the closer's hard-throwing reputation, but unlike in years past, hitters are learning to remain on guard for a hearty diet of sliders. Chapman snapped several good ones to get
Unheralded to indispensable: Gio's journey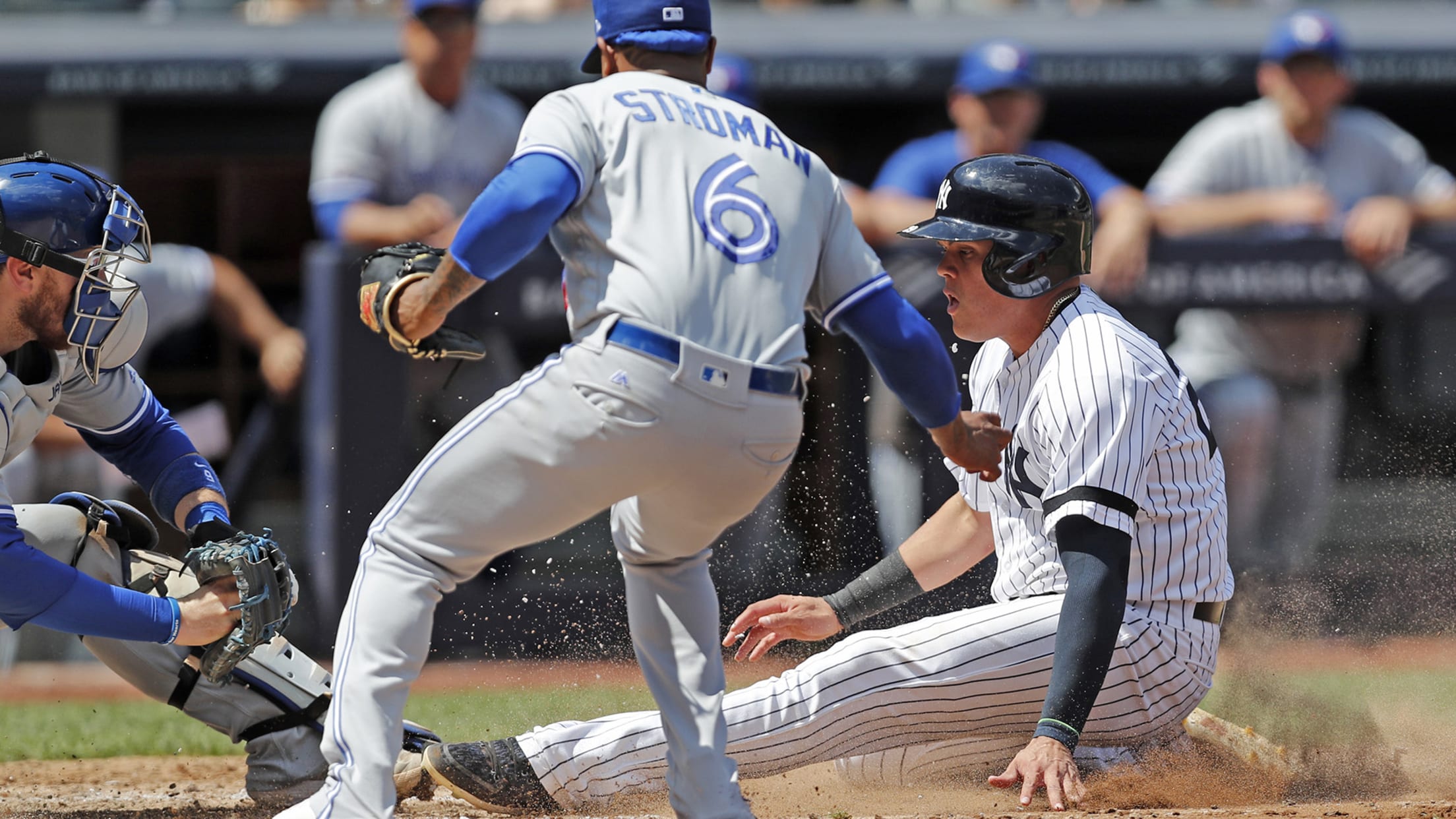 NEW YORK -- Gio Urshela's emergence has provided some of the Yankees' most delightful surprises, and the quick-thinking infielder continued his dream season with a pivotal hook slide on Sunday afternoon that provided the go-ahead run in yet another series victory. Dashing toward home plate on a fifth-inning wild pitch,
Yankees avoid shutout but fall short of victory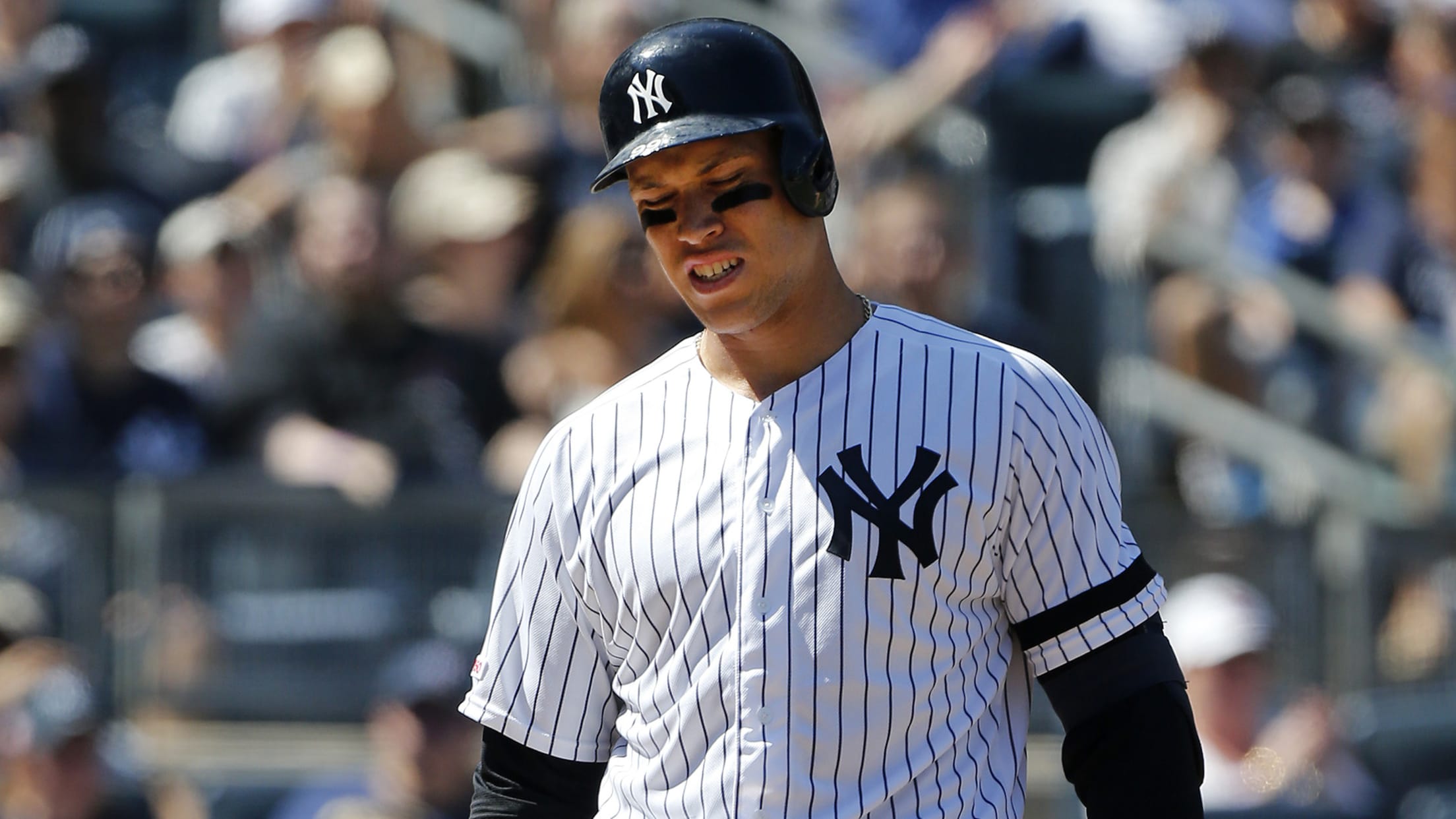 NEW YORK -- 171. That's how many consecutive games the Yankees had managed to score at least one run. That's how many times -- since June 30 of last season -- that they hadn't been shut out. For much of Saturday's game against the Blue Jays at Yankee Stadium, it
Cashman working the phones at all hours
Yankees GM: 'We're going to target starting pitching'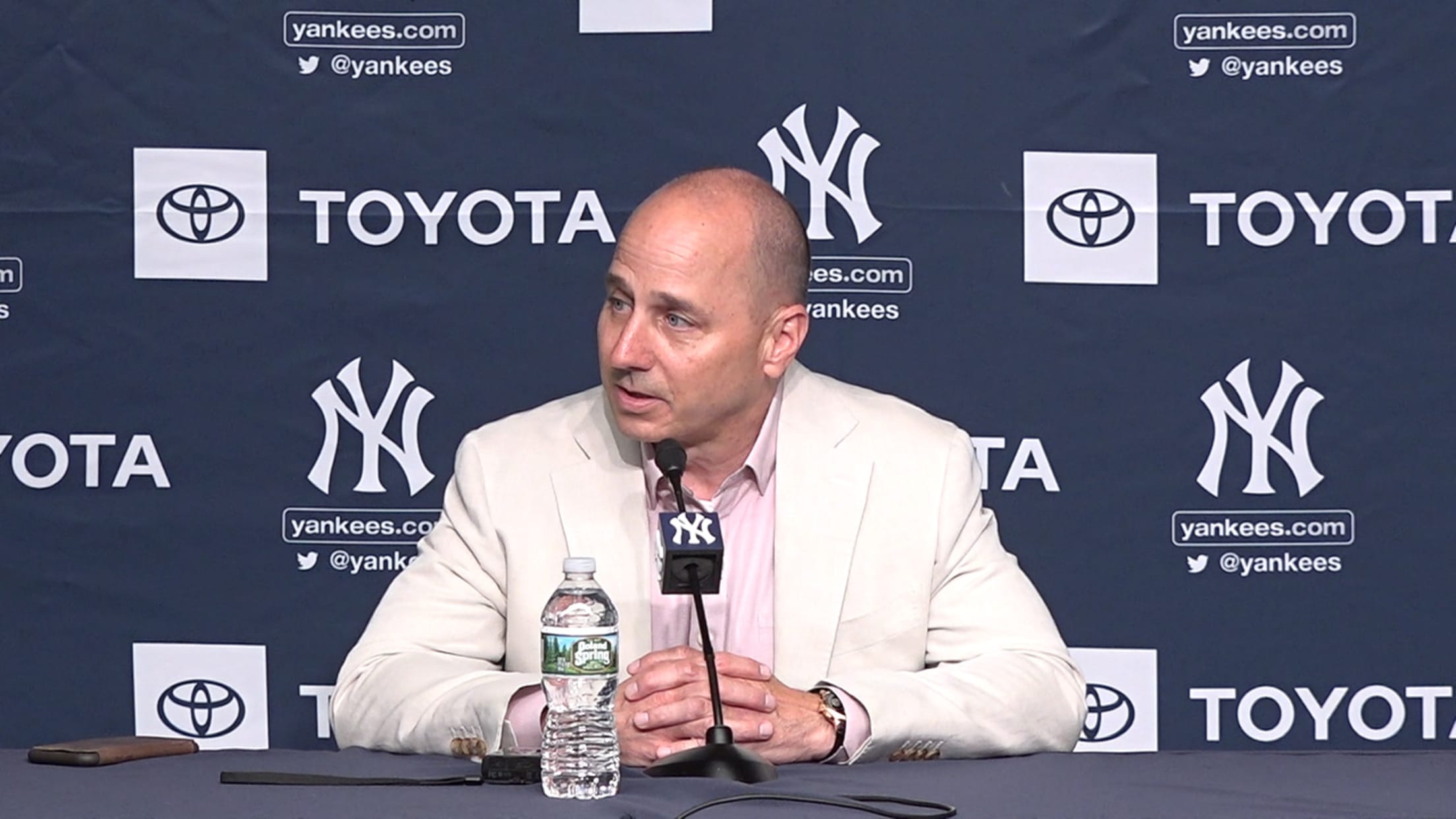 NEW YORK -- Brian Cashman tossed and turned in his London hotel room last week, the Yankees' increasing hunger for starting pitching keeping him from a restful evening. The general manager grabbed his cellphone and began pinging the cellphones of opposing executives. "It was 1:30 in the morning and I
Voit returns from injured list for matinee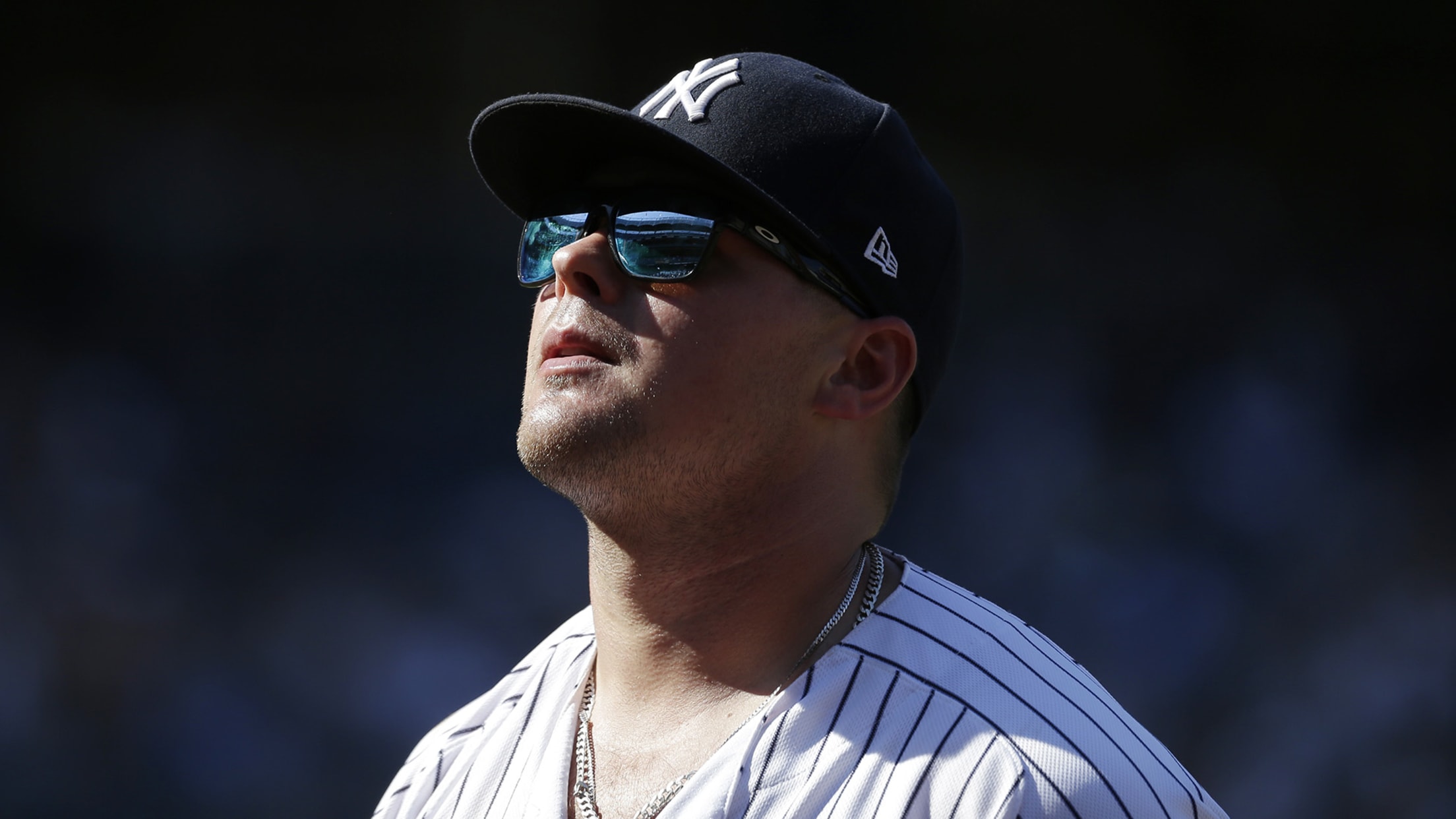 NEW YORK -- Luke Voit bent at home plate in the ninth inning on Saturday, unbuckling his shin guard and attempting his best sales job to convince home plate umpire Andy Fletcher to call a fourth ball that would keep the Yankees' late rally humming against Blue Jays closer Daniel
German dominant, efficient as Yanks blank Jays
Versatile righty allows just 3 hits over 6 innings on 78 pitches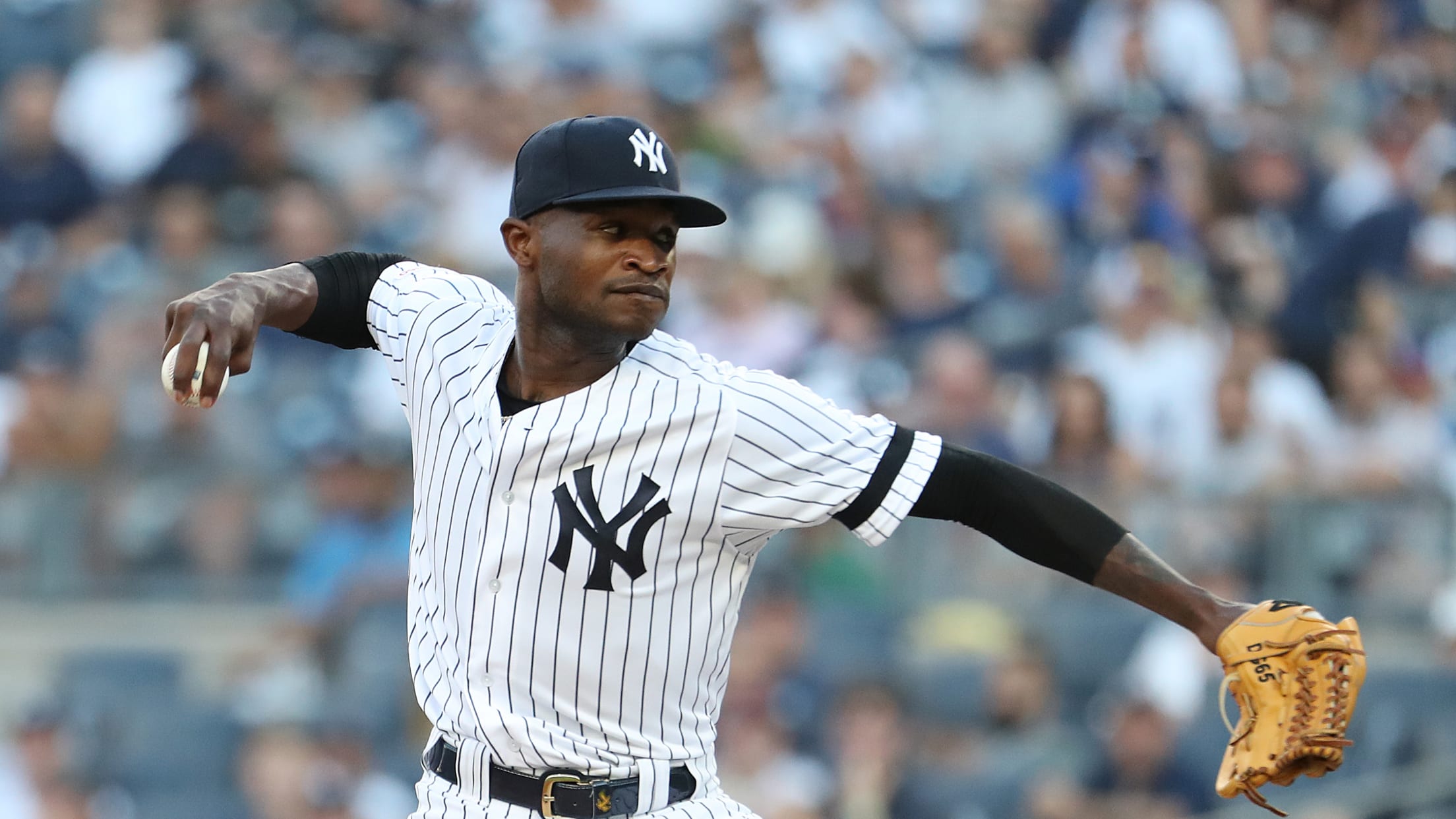 NEW YORK -- The Yankees returned from the All-Star break understanding that their impressive first half has them in position to enjoy a special season, but with nothing secured yet. As the decision-makers upstairs continue to search for upgrades, Domingo Germán's electric right arm is easing the urgency to tweak
Encarnacion delivers first big Bronx moment
Slugger belts bases-clearing double off wall against former club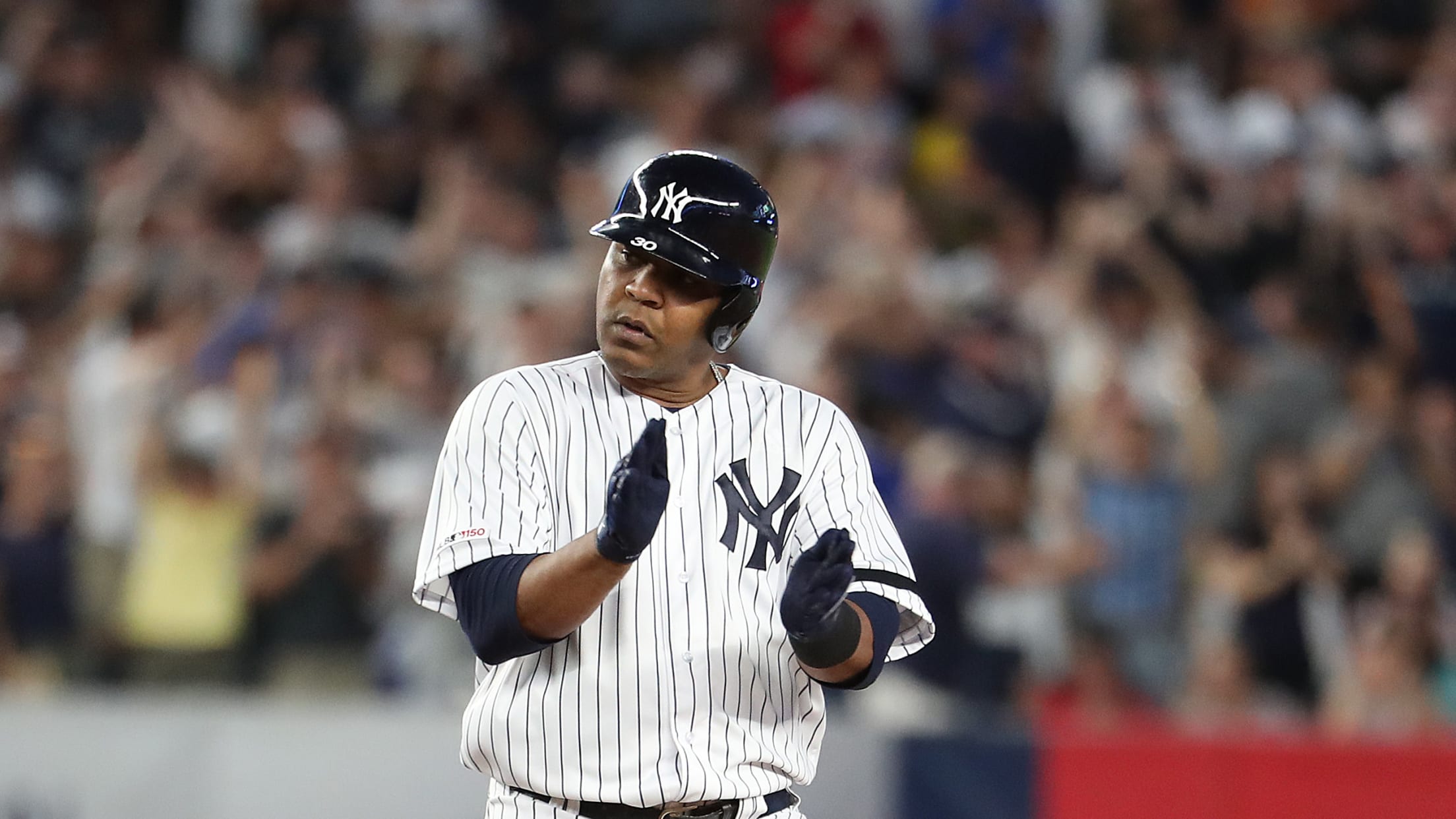 NEW YORK -- When the Yankees traded for Edwin Encarnacion on June 16, they knew what to expect. This was a guy they were all too familiar with. It was in the American League East, after all, where Encarnacion made his name as one of the game's most feared power
Yankees Magazine: Excelsior
The injury that delayed the start of Sir Didi's season could not deter his never-ending quest to be the best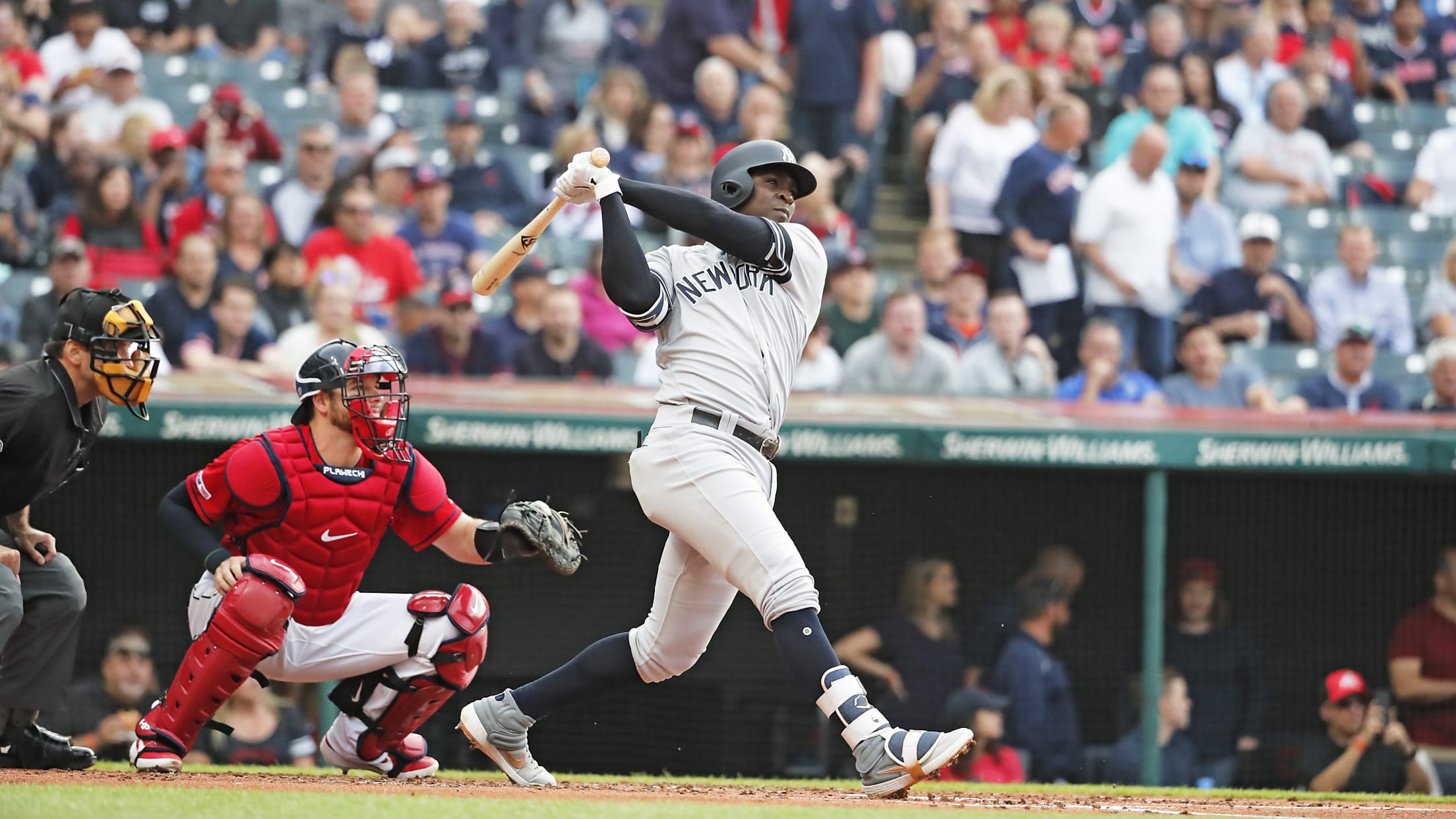 Aaron Boone just walked away, the winner by default. The Yankees' manager controls the lineup card, and as such, he gets the last word. Or, in the case of this Cleveland evening, the last silent power move. It's fun but perhaps clichéd to discuss all that Didi Gregorius can do.
Sterling back in booth after 5,060-game streak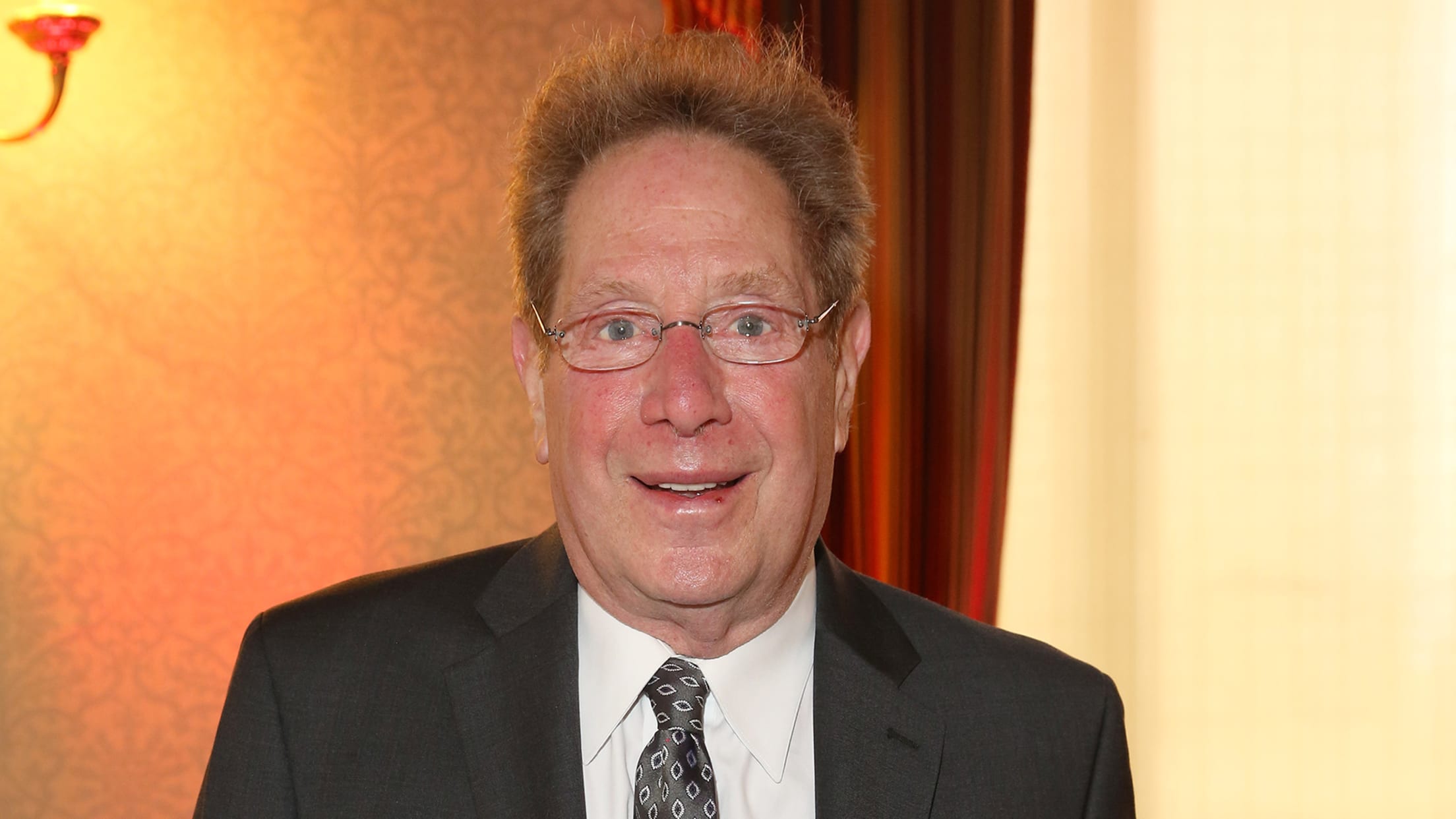 NEW YORK -- Including the postseason, Derek Jeter played in 2,905 games over the two-decade span of a career that promises to place the former Yankees captain in Cooperstown next summer. John Sterling was behind the microphone for every inning, every at-bat, every pitch. During Jeter's final week as an
Can Yankees' great start lead to World Series?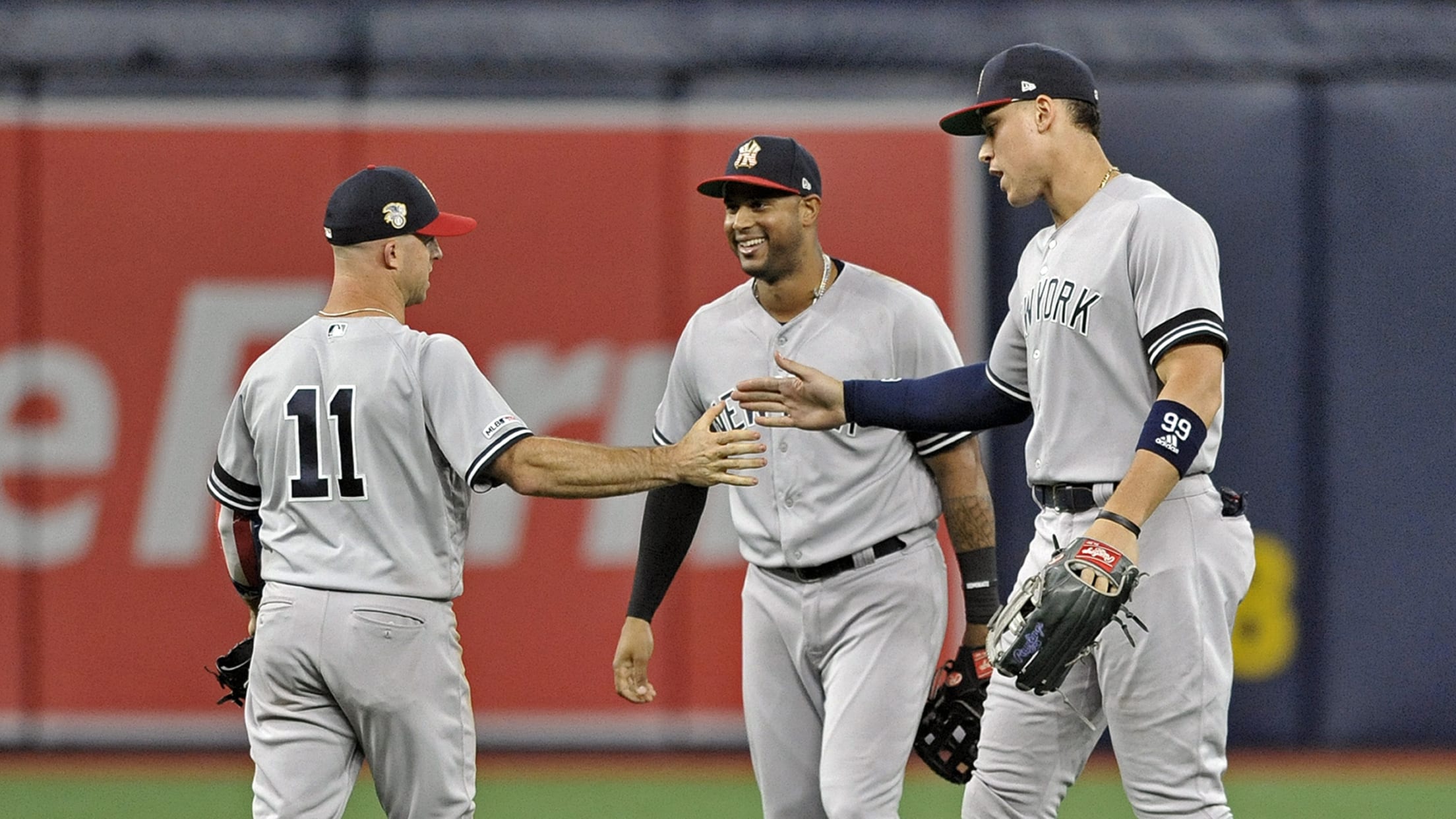 The way things have gone for the Yankees this season, Brian Cashman probably expected CC Sabathia to pull something when he walked out to the mound to visit teammate Aroldis Chapman in the ninth inning of Tuesday night's All-Star Game. "Let's just say," Cashman said on Thursday morning, "that I
Yanks eye starters to help boost October run
Winning despite injuries, AL leaders hunt for rotation reinforcements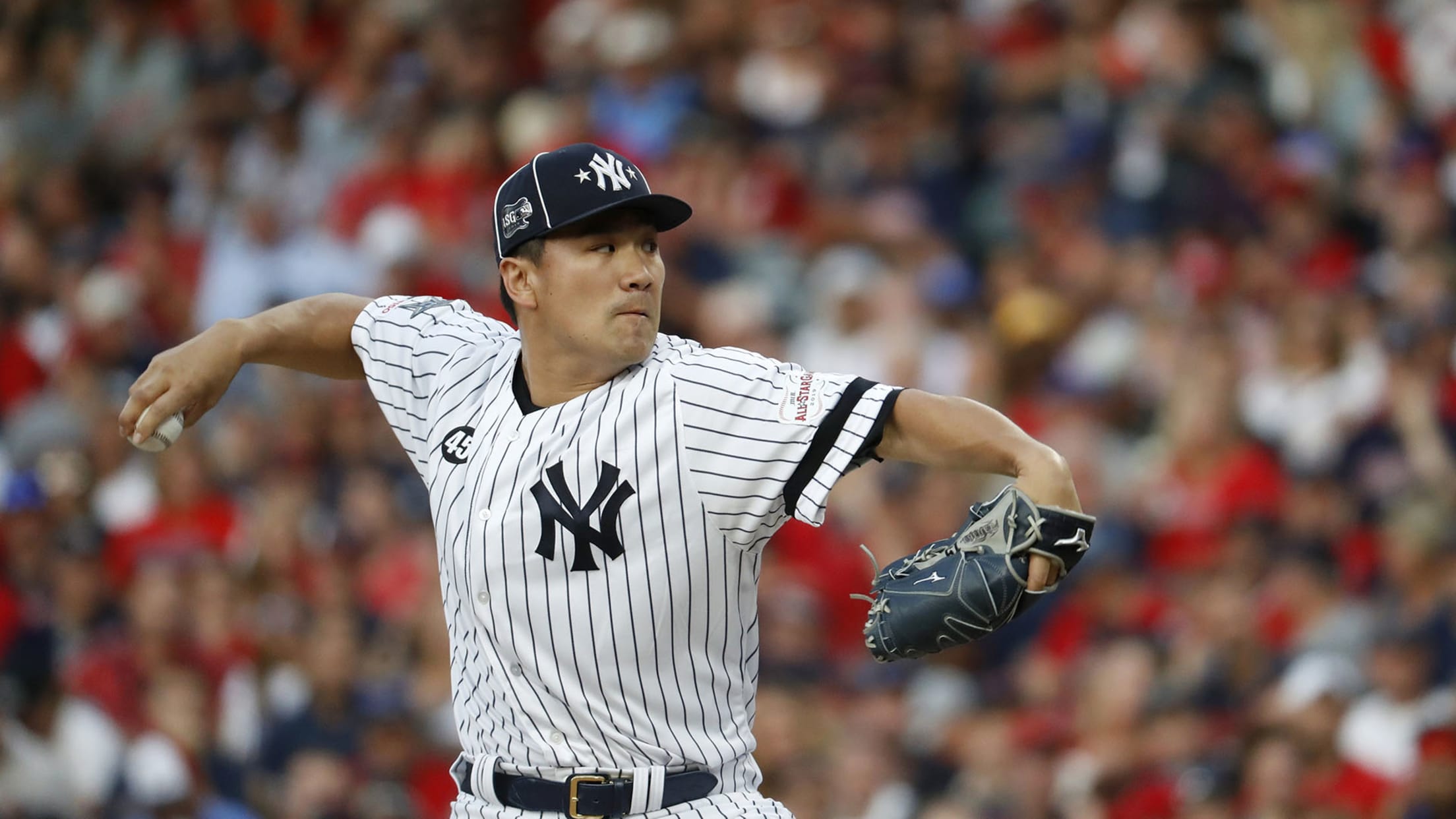 Injuries and their cost easily could have been the story of the Yankees' first half. Instead, the running theme for 2019 has been New York's ability to overcome a multitude of health issues and thrive in the face of adversity. Had someone told Aaron Boone that his club would not