Yankee Stadium Social Gathering Locations
Stella Artois Landing and Michelob ULTRA Clubhouse
Yankee Stadium has added two new social gathering locations on the 200 Main Level for all fans to enjoy during Yankees and NYCFC games.
The Stella Artois Landing, spanning Sections 232A and 232B in left field, and the Michelob ULTRA Clubhouse, spanning Sections 207 and 208 in right field, will be accessible to fans with game day tickets anywhere in the Stadium.
"We are excited to have fans experience these newly constructed areas, which are part of the continuing, large-scale initiative to transform the fan experience at Yankee Stadium that began prior to the 2017 season," said Yankees Senior Vice President of Strategic Ventures Marty Greenspun. "The Stella Artois Landing and Michelob ULTRA Clubhouse were conceptualized and built with input from our guests, who have consistently asked us for more social locations to enjoy. Fans in attendance have clearly gravitated toward these types of settings, and we look forward to providing even more communal gathering spots for our fans to thoroughly engage with the game in a socially-focused style. We also extend our appreciation to Anheuser-Busch InBev, which has been a valued partner of the Yankees organization and a longtime provider of iconic brands for our guests to enjoy."
The creation of the Stella Artois Landing and Michelob ULTRA Clubhouse shines an additional spotlight on the Yankees / Anheuser-Busch InBev partnership, which has been extended through the 2024 season and includes Anheuser-Busch InBev's incentive-based partnership program.
Both the Stella Artois Landing and Michelob ULTRA Clubhouse will be available as pregame party spaces for groups of 20 or more people. For more information or to book a group event, please call (212) YANKEES or e-mail [email protected].
Facts, figures and renderings are approximate and thus subject to change.
Kids Clubhouse
The Kids Clubhouse is outfitted with a variety of interactive and engaging activities for the Yankees' youngest fans. Yankees-inspired climbers, slides and tunnels are among the highlights of the space, which also provides shaded areas from which families can enjoy engaging activities. Shaped like a mini-baseball field with a soft artificial surface, the 2,850-square-foot area is located on the 300 Level in right field and outfitted with Yankees-themed playground equipment, including oversized baseballs, bases and baseball cards. The Kids Clubhouse is accessible to all Yankee Stadium Guests. Children are able to climb, slide, and play hide-and-seek among the colorful fixtures, including a 6-foot-high replica World Series trophy. Parents can join their children on the play area or choose to oversee them from the dugout a few feet away. Television monitors ensure that no one misses a minute of game action, and there is a shaded section of the play area with interactive exhibits. The Clubhouse also includes family restrooms with changing tables and a private space for nursing mothers, including lounge chairs, a television and power outlets for those using electric breast pumps.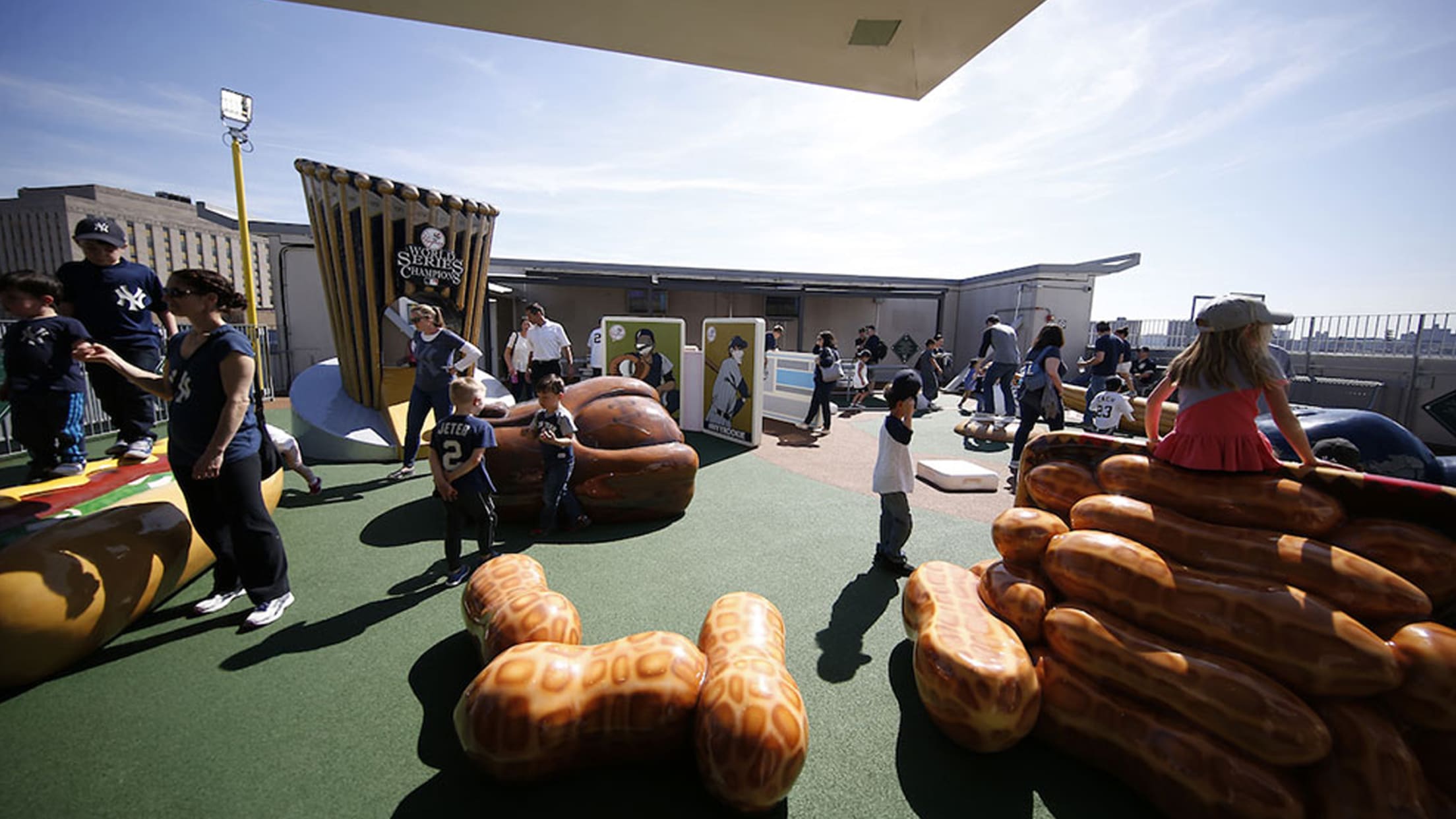 Mastercard Batter's Eye Deck
The Mastercard Batter's Eye Deck is an outdoor gathering space in center field with clear full views of the playing field and the Stadium available to all ticketed Guests and doubling as a pregame party area for groups.
FreshDirect Terrace and Toyota Terrace
The FreshDirect Terrace and Toyota Terrace are two open-air areas designed to encourage socializing among Guests while providing them a view of the game from the outfield, as well as a unique look at the action in their respective bullpens. A full bar features signature cocktails, craft beers and food offerings. Drink-rail locations at the landings will have power/USB outlets. This space is available to all ticketed Guests and can be purchased for pregame group parties.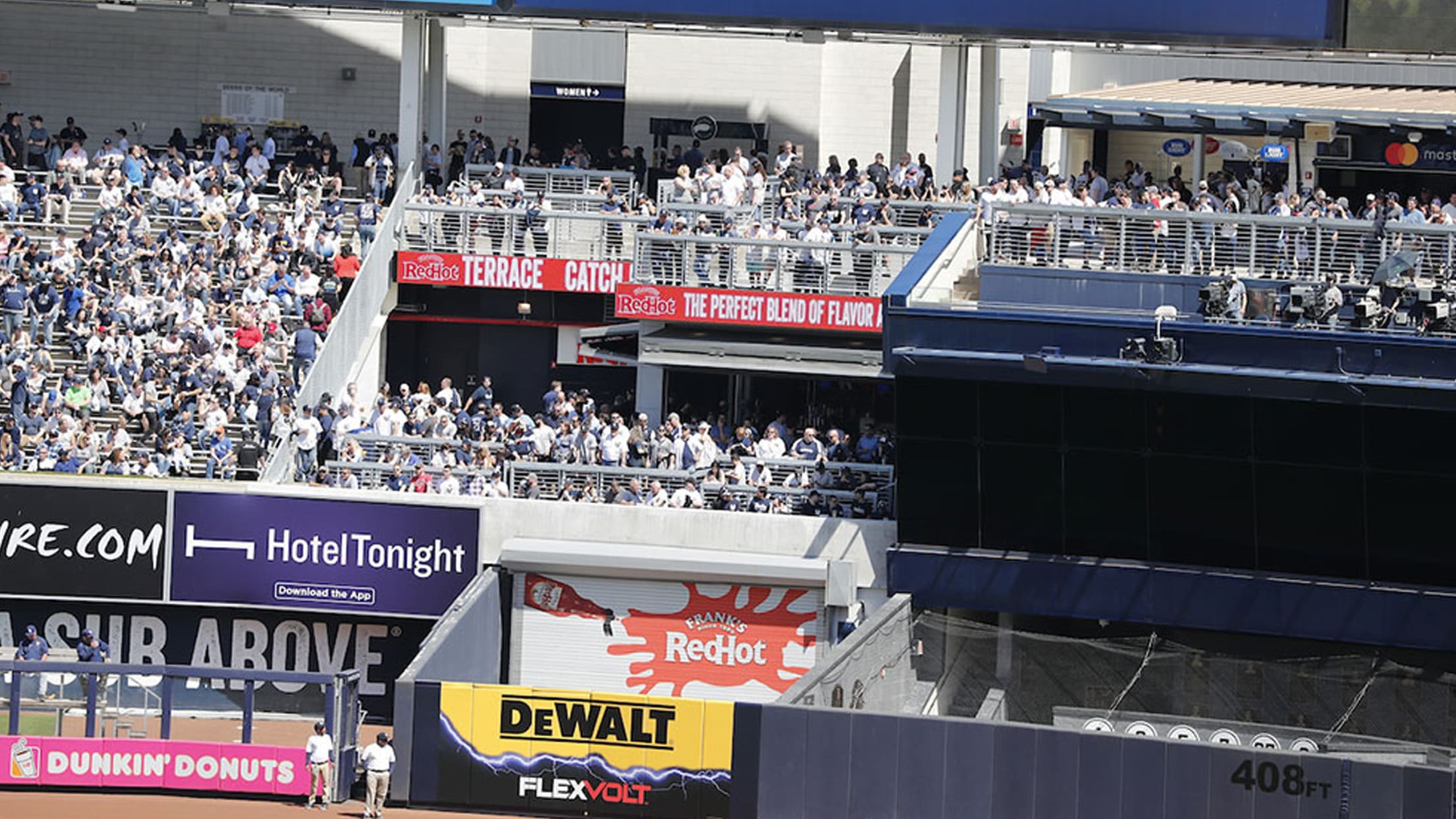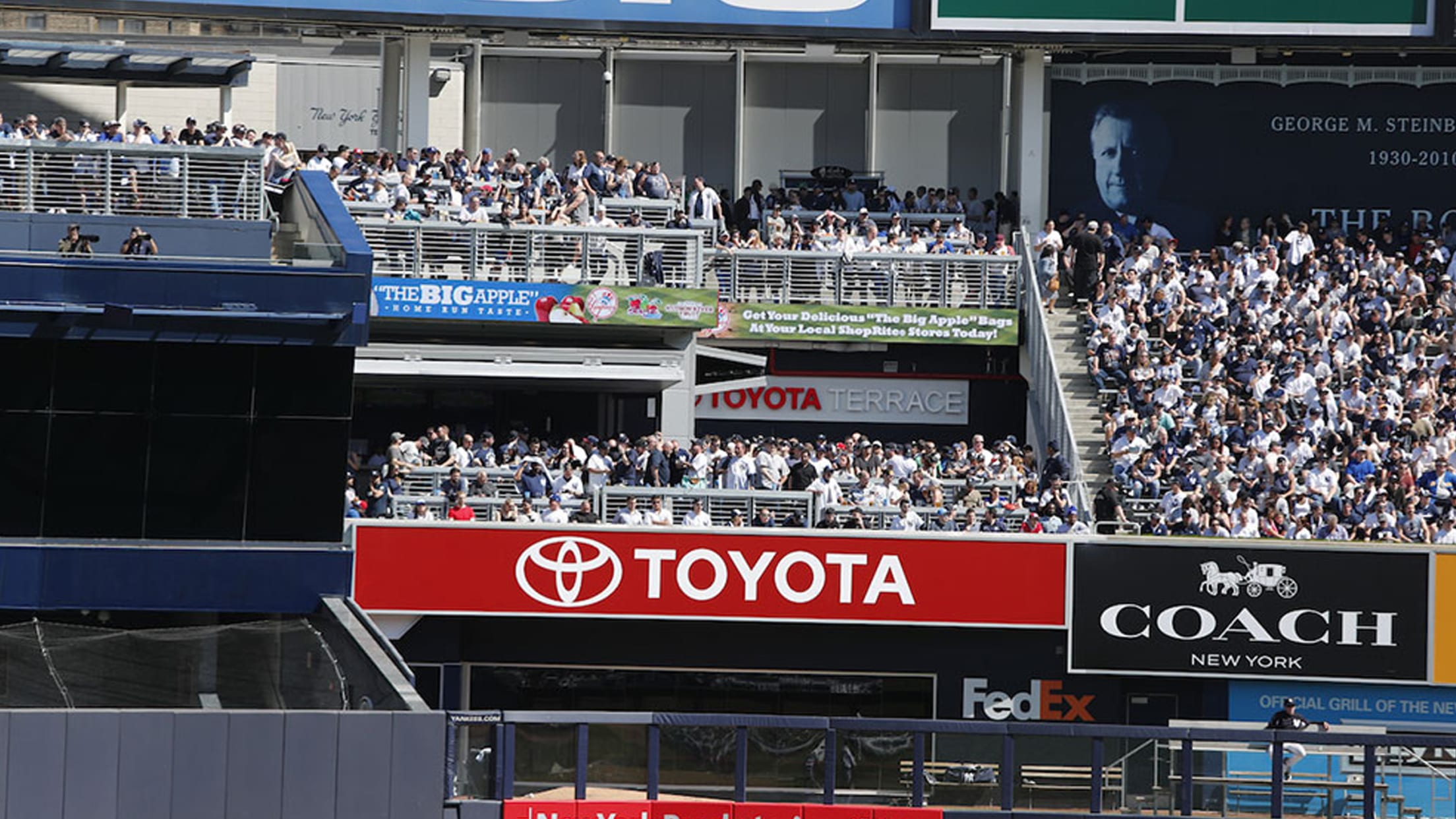 Field Level Sports Lounge
The Field Level Sports Lounge featuring DirecTV service at Section 134 on the Field Level includes a full bar with craft beers and cocktails. Tables, stools and large-screen televisions tuned to the Yankees broadcast and other live sporting events provide a sports-bar atmosphere on the Stadium's main outdoor concourse in left field. Additionally, power/USB outlets are be available for charging phones or tablets. The lounge is available to all ticketed Guests.
Budweiser Party Decks
Located at Sections 311 and 328, the Budweiser Party Decks each feature a shaded standalone bar areas serving beer, cocktails and food. Drink rails and bar-stool seating provide a relaxed and casual setting from which to enjoy sweeping views of the field and game action. Both areas are available to all ticketed Guests.