14 big league stars who dominate their fellow All-Stars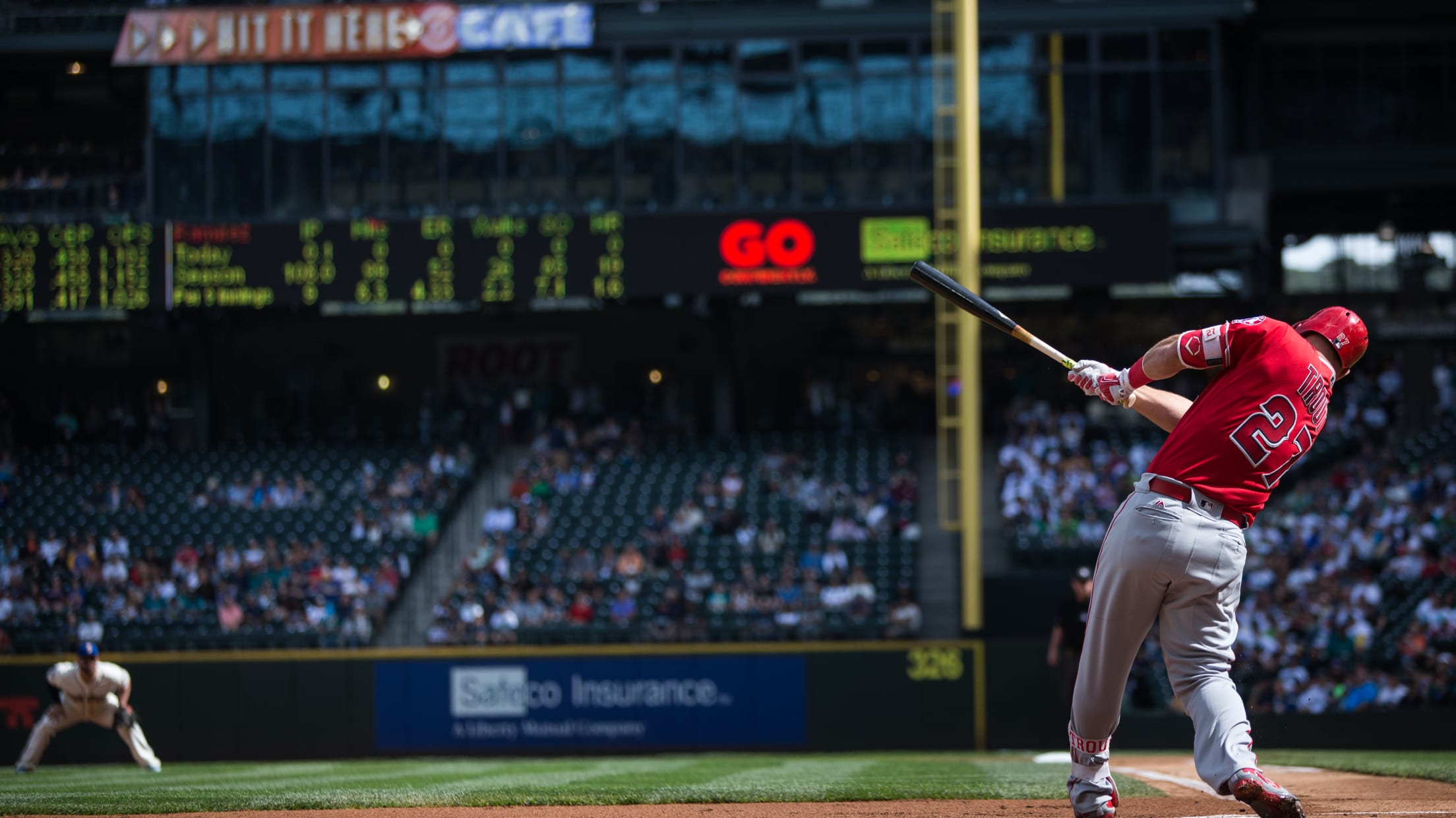 (Lindsey Wasson)
Tony Gwynn could hit everyone. But the best example was when he squared off against the best: He hit .415/.476/.521 against Greg Maddux of all people.
But Gwynn isn't the only one. Every star seems to have a player they clean up against.
Note: Stats include postseason appearances.
Mike Trout vs. Félix Hernández
.370/.418/.728, 7 HR, 8 BB, 27 SO in 91 PA
Trout crushes almost every player. But against the longtime ace of the rival Mariners, Trout has saved his best. In 2014, Trout didn't even let the right-hander record his first out on the season, as he hit an Opening Day two-run shot in the first inning:
James Paxton vs. Mike Trout
.148/.207/.222, 0 HR, 2 BB, 11 SO in 29 PA
Trout may clean up against Hernandez, but he can't even see Paxton's offerings. Paxton even rang up Trout for one of his five career golden sombreros:
Clayton Kershaw vs. Yoenis Céspedes
.056/.056/.056, 0 HR, 0 BB, 6 SO in 18 PA
You don't win three NL Cy Young Awards by letting anyone hit well off you, but Kershaw is especially effective against He of the Neon Sleeve. In fact, one of Cespedes' best at-bats against the lefty was when he barely got a piece of a diving curveball and reached base after Kershaw was unable to make the play.
Max Scherzer vs. Paul Goldschmidt
.056/.105/.056, 0 HR, 1 BB, 10 K in 19 PA
The Heterochromatic Wonder has absolutely decimated America's First Baseman, with Goldschmidt striking out more than any other outcome.
Shin-Soo Choo vs. Max Scherzer
.583/.667/1.125, 3 HR, 6 BB, 4 SO in 30 PA
Choo has dominated Scherzer for years -- going all the back to when Choo was in Cleveland and Scherzer was a Tiger:
Giancarlo Stanton vs. Madison Bumgarner
.526/.571/1.105, 2 HR, 5 RBI, 2 BB, 5 K in 21 PA
One player who's probably not unhappy that Stanton is a Yankee is Bumgarner. Given how the lefty didn't even react to Stanton's blast on this one, I think Bumgarner knows how it's been going, too:
Bryce Harper vs. Julio Teheran
.450/.560/1.125, 8 HR, 19 RBI, 9 BB, 5 K in 50 PA
When Harper hit this grand slam off Teheran last year, it basically made the pitcher stare straight up into the air like Wile E. Coyote when an ACME box is about to fall from the heavens:
Corey Kluber vs. Mike Moustakas
.455/.489/.705, 1 HR, 4 RBI, 3 BB, 9 K in 47 PA
Kluber's slider/curveball/whatever-it-is pitch destroys all batters ... save Moustakas. While Moose seems to have no trouble picking up Kluber's pitches, he also has only hit one home run. Weird.
Corey Kluber vs. Albert Pujols
0-for-16, 0 HR, 0 BB, 3 SO in 16 PA (.000/.000/.000)
Pujols is a lock to be a future Hall of Famer. But if every pitcher was like Kluber, it would be a different story. The Machine could use a trip to the repair shop when Kluber takes the hill.
Charlie Blackmon vs. Robbie Ray
.500/.531/.967, 4 HR, 11 RBI, 2 BB, 3 SO in 32 PA
Blackmon may be the most underrated outfielder in baseball. Ray may be the most underrated starter in the game. So, what happens when the two face off? Nothing that you would expect.
Justin Verlander vs. Dustin Pedroia
.091/.158/.091, 0 HR, 3 BB, 3 SO in 38 PA
Verlander has no problem putting Pedroia away, but he has a strange problem striking him out. At least Pedroia can smile at the absurdity of it, as you can see below:
Bartolo Colon vs. Kyle Seager
.133/.161/.133, 0 HR, 1 BB, 5 SO in 31 PA
Perhaps the oddest part of this: The two first faced each other in 2012 ... when Colon was already 39 years old.
No one beats Bartolo -- even when he sometimes needs a little help from his friends.
Manny Machado vs. Trevor Bauer
.643/.722/1.643, 4 HR, 5 RBI, 4 BB, 2 SO in 18 PA
Bauer uses roughly 18,000 pitches. So far, he's yet to find the one that will get Machado out.
Andrew Benintendi vs. Luis Severino
.455/.500/.909, 2 HR, 2 BB, 4 SO in 24 PA
The tale of these two stars bodes well for the future of the Red Sox - Yankees rivalry. After all, if Benintendi continues to beat Severino -- who has fast become New York's ace -- we should be in for some great drama over the years.