14 outfielders who tried to rob a home run and deeply regretted it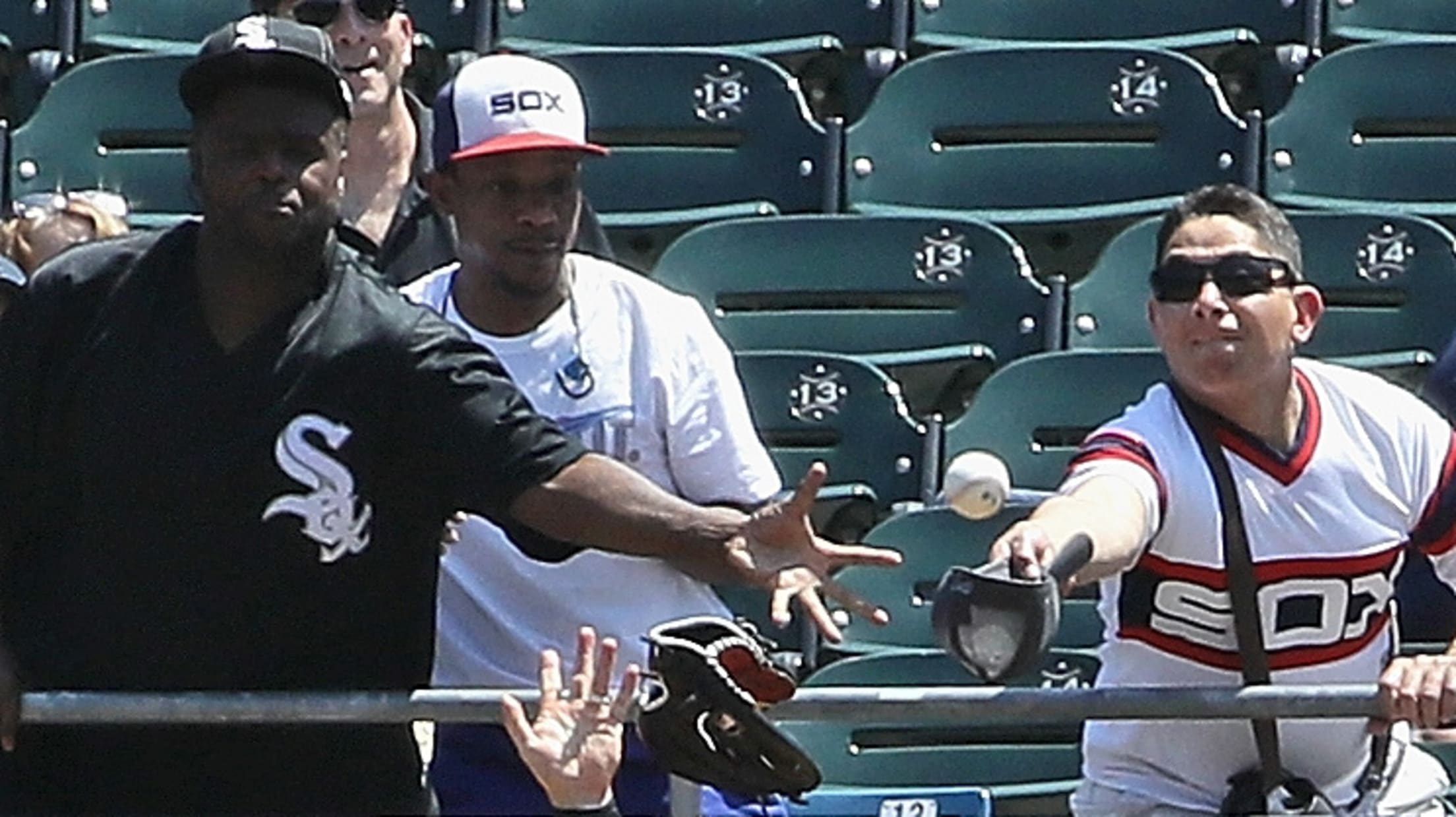 CHICAGO, IL - MAY 24: at Guaranteed Rate Field on May 24, 2018 in Chicago, Illinois. (Photo by Jonathan Daniel/Getty Images) (Jonathan Daniel/Getty Images)
A robbed home run is one of the most exciting plays in baseball. It requires an awesome combination of outfielder positioning, timing and leaping ability, and it comes with "will it or won't it?" excitement in your chest as you watch the ball fly toward the wall.
But, sometimes, the best-laid plans fall apart, and the leaping outfielder actually gifts the opposition a home run. You can't fault them, but you also can't help but giggle. These are the funniest ways outfielders have "assisted" the ball over the wall.
The Head
The gold standard of home run gifts. There will never be a more perfectly hilarious play in baseball history. On May 26, 1993, Cleveland's Carlos Martínez bashed the deep drive that, were it not for Jose Canseco's improperly placed glove and perfectly placed head, would have been a simple flyout. So, when you read Martinez's career total of 25 home runs, just know that 4 percent of those belong to Canseco.
The Lost Glove
It's tough to tell what exactly transpired here when the Orioles' Nick Markakis hit a deep drive to Coors Field's center field, but when the play was all said and done, Michael Tauchman's score was this -- Home Runs: 1, Gloves: 0.
The Alley Oop
Forget what you know about the game of baseball and watch this:
It looks like Mikie Mahtook is doing what he's supposed to, right? Almost as if the Tigers outfielder was on the same team as Cleveland's Jose Ramirez and was expected to help bump the ball over the net like in volleyball.
The Inside the Park
OK, this is an odd one. Royals outfielder Jorge Soler seemed to have a bead on Aaron Hicks' drive. He was even looking at the wall as he prepared to jump, but his brain seemingly froze up. Instead of leaping for the ball or waiting for it to bounce back, he kind of ... ran directly into the fence and fell down, letting Hicks run around the bases.
The above and Beyond
Usually, the ball goes over the fence, and the player stays in the field of play. Cleveland outfielder Brad Komminsk has his own way of doing things. He nearly managed to rob Cal Ripken Jr. of a home run -- that's something worth telling your future grandchildren about -- but instead took part in something even bigger: A once-in-a-lifetime home run robbery that wasn't.
The Non-Home Run Robbery Attempt
If you've ever played a single minute of pickup softball, Little League Baseball or even just a quick game of 500, you know how impossible it is to judge a fly ball. Now, add in the enhanced difficulty of a Major League fly ball -- surely hit harder and faster than anything you've ever witnessed -- and try to judge it.
That means you end up like Marcell Ozuna :
Of course, considering it was Home Run Derby participant Jesús Aguilar that hit this one, you can't fault Ozuna for getting ready to go over the wall.
The Man Who Can't Do Everything
Mike Trout usually can do it all. He hits homers, robs homers and may go down in history as one of the best to ever play the game. But even Trout can't help but give away a home run, too, as Nate McLouth proved in 2013:
The Pitcher Who Rakes (with a little help)
This one from April 30, 2013, is perhaps my favorite. Not only do we have a pitcher in Tim Hudson bashing one to the wall, but we have Bryce Harper giving the Braves hurler the extra lift necessary to get it over the wall. Plus, Harper's astonished reaction when he's back on solid ground and looking for the baseball gives this that little extra touch that is oh so nice.
The Sprawling Fall
Most of these are slight embarrassments -- good efforts turned bad. But for Ryan Raburn, who was chasing down a Miguel Olivo liner on April 26, 2011, he had to deal with the fact that he stumbled into giving up a home run. It was like something out of a "Mr. Bean" episode.
The Home Run Hitter's Gift
Giancarlo Stanton hits a lot of home runs. So, every now and then, he needs to give some back to the other team. Enter: The Brewers' Jonathan Lucroy on July 20, 2013. As a bonus, Stanton's gift dropped directly into a buffet.
The Double-Check
Torii Hunter was very good at the home run robbery. He even pulled it off against Barry Bonds in the 2002 All-Star Game and got to be carried like a heavy sack of laundry for his efforts. But in 2010, against all-time great Brewer Casey McGehee, he was powerless. Just watch as the ball popped out of his glove and slowly rolled over the wall.
The Boop
Playing for the D-backs on June 28, 2010, Mark Reynolds hit a deep drive. The Cardinals' Randy Winn had a bead on the ball, ready to make a highlight-reel grab. "Gee, the family'll love this one," Winn probably thought. Only instead, he booped the ball over the fence.
The Glove Slap, Baby, Glove Slap
Coors Field, with its mile-high altitude, gives a little extra boost to the baseballs. On April 10 earlier this year, the Padres' Cory Spangenberg provided the last few inches necessary to give Carlos González a home run. Unfortunately for Spangenberg, he held it only briefly before his glove slap gifted the ball into the front row.
The Walk-Off
Just a warning: This is a rough one to watch. In the bottom of the 11th inning between Auburn and Florida, Auburn's Steven Williams raced back, ready to make the play on Austin Langworthy's drive. Instead, the game was over. There is no bigger home run assist than this one.
ICYMI. Florida's Austin Langworthy hits it deep to right field, where Auburn's Steven Williams misplays the catch, and the ball goes over the fence.

➡️https://t.co/JUfJ6QUubO pic.twitter.com/EGYKc0vUid

— ESPN Player (@espnplayer) June 12, 2018