Nine workhorse relievers whose names will be etched into your brain in October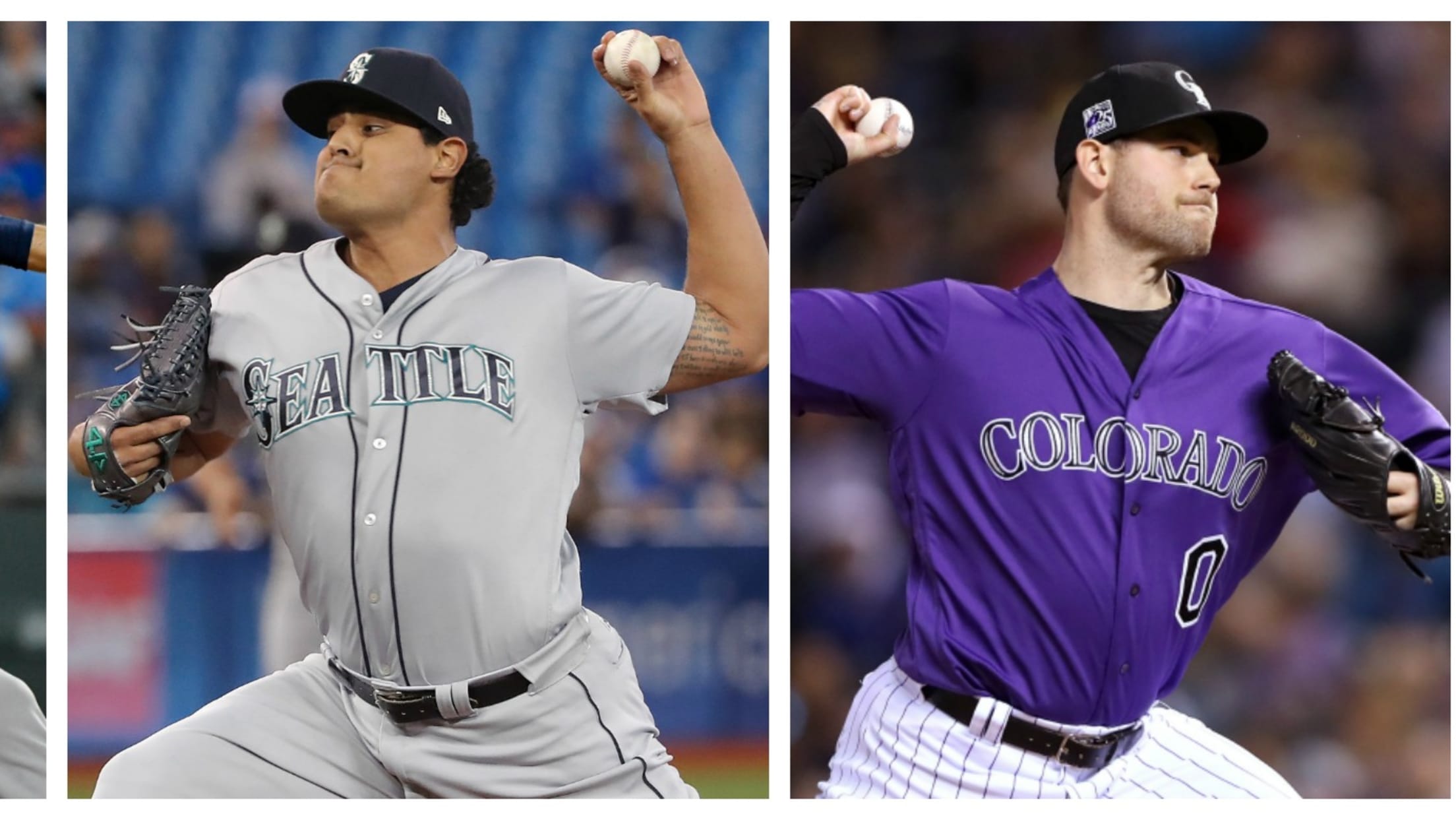 Every October, the postseason starts and, with the biggest games of the year on the line, relievers you may have missed emerge to shock and surprise. Last year saw Chad Green and Brad Peacock break out. The year before, Andrew Miller re-established the fireman role.
So, who are the middle-innings hurlers who will make or break the pennant race this year? Here are nine to know:
James Pazos
Acquired from the Yankees before 2017, Pazos had a solid first season with the Mariners. He's taken it up another notch this year. In 25 innings, Pazos has struck out 25 batters -- a slight downturn from last year -- but has walked only two batters. The mustachioed Pazos has avoided the bugaboo of the dreaded walk by throwing fastballs 90 percent of the time.
Seranthony Domínguez
With a name that sounds like you're addressing royalty, it's only phitting (see what I did there?) that Dominguez has played a crucial role with the resurgent Phillies.
Primarily using an upper-90s fastball and darting 88-mph slider, Dominguez has a minuscule 1.61 ERA and is striking out nearly 10 times more batters than he's walked.
Perhaps even more surprising is that the rookie is doing it while throwing more than an inning in nearly half of his appearances -- a skill that would be useful come October.
Shane Carle
Carle was a waiver-wire pickup by the Pirates on Jan. 4. Two weeks later, the Braves grabbed him for a player to be named later or cash. From that inauspicious start, Carle has become an integral part of the bridge -- along with Dan Winkler -- to Braves closer Arodys Vizcaíno.
Using a starter's arsenal of four pitches, his ERA is just a few ticks over 2.21 - even after a cold stretch.
Collin McHugh
Last year, McHugh made his first ever appearances for the Astros out of the bullpen during the postseason. With the rotation even more stacked after the addition of Gerrit Cole, McHugh is now a full-time reliever.
That's treating him just fine. His fastball is nearly two ticks a mile per hour higher, and he's still throwing plenty of curves and sliders that batters are powerless against. His 1.13 ERA is further proof of that.
Adam Ottavino
His season began more like a fairy tale than a baseball season as it started in an abandoned Manhattan storefront. It was there, hidden from the shoppers strolling by, that Ottavino worked on a new pitch after hitters learned to lay off his crazy, physics-defying slider last season.
He found it in a cutter that bridges the gap between the slider and fastball.
Armed with the new pitch, Ottavino's upped the K's, cut the BBs and has a sub-1.00 ERA -- all while pitching in Coors Field.
Chaz Roe
Of course, if it's slider kings that you want, look no further than Roe. Currently on the rebuilding Rays, the team should expect to be fielding some calls for Roe soon.
In the midst of a career year, Roe's wildly careening train car of a pitch has held batters to just a .197 average with 26 strikeouts in 61 AB.
Joe Kelly
It was never a question of stuff -- Kelly's always had that in abundance -- it was how to make the stuff work. After not quite succeeding in the rotation, he was moved to the bullpen, where his fastball could reach the triple digits and he could forget about his other offerings. While some pitchers found that to be a winning combination, it wasn't for Kelly.
But now, reverting to his starter's arsenal and rediscovering his changeup has made Kelly a vital cog in the Red Sox's bullpen.
Jonathan Holder
It's fitting that his name is Holder given that he's, well, responsible for holds. A solid pitcher in his rookie season last year, Holder was struck with some awful batted ball luck.
This year, that's reversed course. Throwing more changeups and sliders, the Yankees reliever has stopped allowing dingers (or, to be more precise, he's allowed one.) While that seems impossible to keep up in a league where more homers are being hit than ever before, Holder allowed only 10 home runs in career 235 ⅔ Minor League innings.
T.J. McFarland
The one uniting factor between all the other pitchers on this list is their ability to strike batters out. After all, you don't have to worry about lucky hits dropping in and driving in runs if hitters can't even put the ball in play. The D-backs' McFarland is proving that's not always the case.
Primarily used in low-leverage and multi-inning appearances, McFarland has the second-lowest K/9 rate among all relievers with at least 20 innings pitched at just 4.5. That's thanks to one of the highest ground-ball rates in the Majors.