One Christmas wish for all 30 MLB teams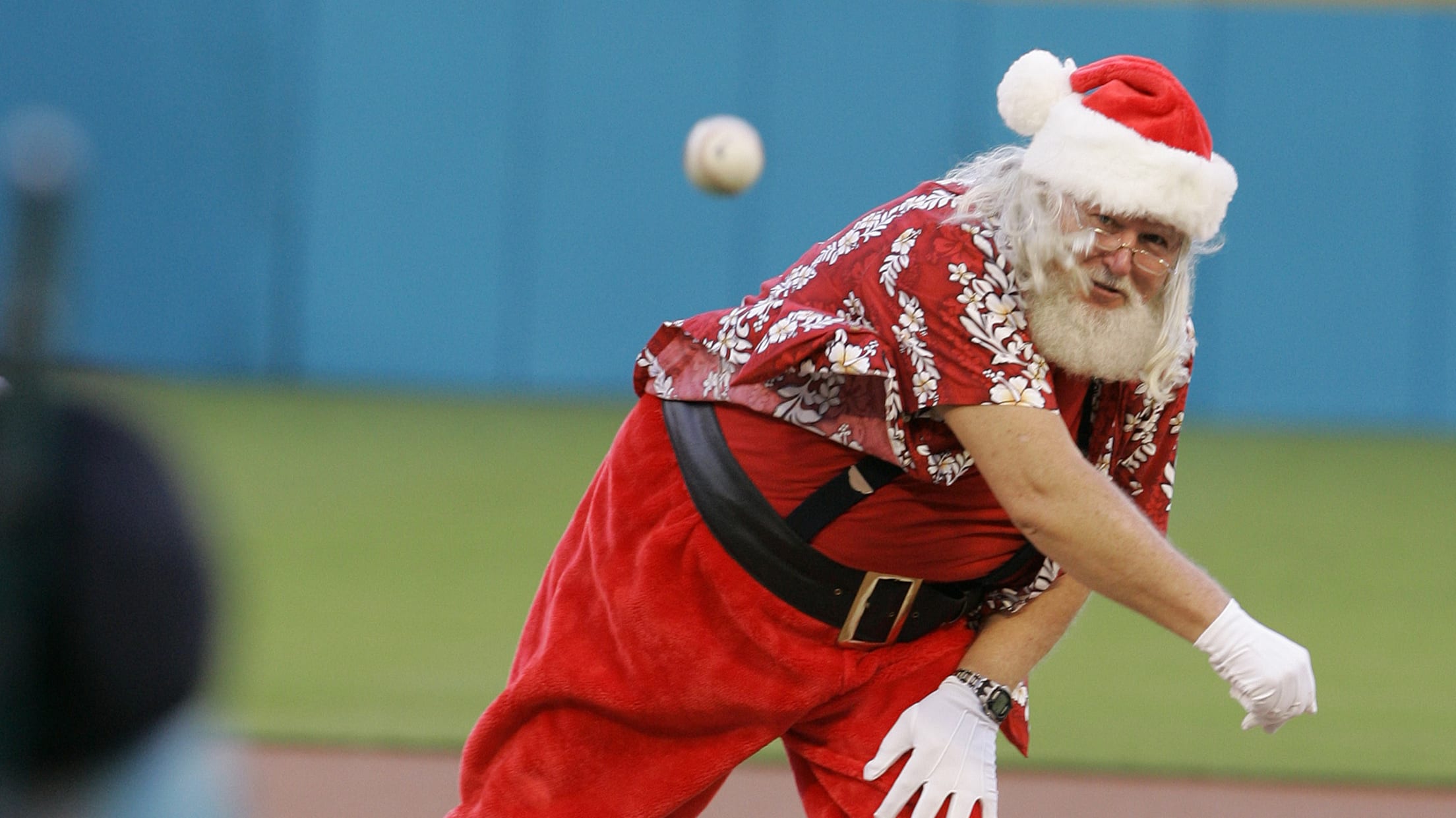 Santa Claus throws out the first pitch before a baseball game between the Florida Marlins and the Philadelphia Phillies Friday, July 18, 2008 at Dolphin Stadium in Miami. The Marlins were celebrating Christmas in July. (AP Photo/Wilfredo Lee) (Wilfredo Lee/AP)
Every year, Santa travels around the world fulfilling the wishes of all the good boys and girls with the gifts he leaves under the Christmas tree. Why should baseball teams be left out?
Since we can't see the actual notes that GMs and team owners sent to Santa, we'll do our best to figure out what the teams want most this year. Because even Santa's powers aren't strong enough to provide everyone with a Manny Machado or Bryce Harper, teams know better than to ask for them at all.
Here's what each of MLB's 30 teams would wish for for this holiday season:
Arizona Diamondbacks: A haul for Zack Greinke
After sending one of the greatest D-backs in team history to the Cardinals in exchange for Luke Weaver, Carson Kelly and Minor Leaguer Andy Young, they'll be hoping to get a mighty haul of prospects and future stars in exchange for Greinke.
Atlanta Braves: The Next Maddux/Smoltz/Glavine
The Braves have a great core of offensive talent in Freddie Freeman, Ozzie Albies and Ronald Acuña Jr.. They even signed Josh Donaldson to a one-year deal that could prove one of the steals of the offseason. If they want to turn into the mid-90s Braves, they need arms to pair with Mike Foltynewicz at the top of the rotation.
Baltimore Orioles: The next face of the franchise
With Adam Jones and Manny Machado both out of Baltimore, there is room for a new Orioles superstar to step forward and take the crown. Maybe top prospect Yusniel Díaz will make his debut this year and usher in the future?
Red Sox: A 19-inning game for Nathan Eovaldi to pitch in
After winning the World Series, what's left? How about an even longer game for Eovaldi to pitch in to truly cement his legacy?
Chicago Cubs: A costume designer
Last year, the Cubs started wearing their uniforms on the plane after games -- surely because they couldn't come up with any more unique traveling themes. Could we suggest Harry Styles' costume designer?
Chicago White Sox: Jason Benetti catchphrases
Hawk Harrelson and his lovable (or hateable, depending) catchphrases signed off for the last time last year. While broadcaster Jason Benetti is already one of the best in the game and White Sox fans are lucky to listen to him, it's time for him to come up with some of his own repeatable bon mots.
Cincinnati Reds: A starting pitcher
The Reds have one of the best infields in baseball with Joey Votto, Scooter Gennett and Eugenio Suárez combining for plenty of homers. Only problem: The rotation is thin. 2019 may be too early for the Reds to compete in the NL Central, but a good starting pitcher would be the first step toward contention.
Cleveland Indians: An outfielder
The front office has made a flurry of offseason moves, with Yan Gomes and Edwin Encarnacion traded away and starters Corey Kluber and Trevor Bauer rumored to be on the block. While they're expected to win the AL Central next year, they'll need another outfielder if they want a World Series title -- especially with Michael Brantley now in Houston.
Colorado Rockies: A Nolan Arenado contract extension
With his potent bat and his superlative glove, Arenado could one day hold the title of the best Rockies player in history. Only catch: He has only one year left on his contract.
Detroit Tigers: A healthy Miguel Cabrera
There's one thing that can put a smile on every Tigers fan's face: Miggy in the lineup. Last year, Cabrera played in only 38 games, but he still hit like the vintage version. Let's all hope for four times that amount in 2019.
Houston Astros: A brand new "Director of Decision Sciences"
If you've been following the Astros' rise to perennial powerhouse closely -- or read Ben Reiter's "Astroball" -- you probably know about Sig Mejdal, the famous data analyst who played a big role behind the scenes. Since he left for the Orioles, they'll need a brand new Decision Science Guy.
Kansas City Royals: For stolen bases to be counted as runs
The Royals may not be good next year, but they'll be fast. They signed Billy Hamilton and Terrance Gore this offseason, making them the fastest baseball team since the days when Rickey Henderson and Vince Coleman ruled the world.
Miami Marlins: A Lewis Brinson breakout
The former No. 14 overall prospect in the game according to MLB Pipeline hit only .199 in 2018. That's ... not good. If Brinson can rebound and fulfill his destiny, he could become a hometown icon. Just check out this video from when he got to meet Juan Pierre:
Los Angeles Angels: A trip to the postseason
The Angels have the greatest active baseball player in Mike Trout, the only two-way star in Shohei Ohtani, a defensive wizard in Andrelton Simmons and a future Hall of Famer in Albert Pujols. What they don't have is a single postseason berth since 2014 (and that was a three-game sweep) despite three seasons with 80-plus wins.
Los Angeles Dodgers: A World Series title
The Angels' brethren to the north want a little bit more: They want a World Series ring. Six straight postseason appearances without a championship spoils you.
Milwaukee Brewers: A nickname
When you think of the best Brewers team in history, you think of Harvey's Wallbangers. And why is that? Because they had a nickname. So, it's time to figure one out for the team with the reigning NL MVP.
Minnesota Twins: Byron Buxton's breakout
The two-time No. 1 prospect in the game has all the tools to be the Central's version of Mike Trout. After missing much of 2018, this might be the last chance he has to prove he can do it at the big league level.
New York Mets: A healthy roster
It's the kind of thing one might say around the Christmas dinner table, but "good health" is what the Mets want most of all. Full seasons from the team's stars would make a big difference after last year, when the team spent the most money on the DL in the Majors.
New York Yankees: A bounce back from Gary Sánchez
Few catchers in the history of the game can match Sanchez's production ... when he's on. Unfortunately, Sanchez hit just .188 in 2018 -- tied for the third-lowest in the Majors among all batters with at least 300 PA -- which negated his impressive power. A return to form could help make the Yankees' record-setting offense even more frightening.
Oakland Athletics: A new stadium
The plans we've already seen look amazing -- and like something an incredibly imaginative child would ask Santa for.
Philadelphia Phillies: Something "stupid"
While they've already added Andrew McCutchen, the Phillies may want to follow managing partner John Middleton's plan to be a "little bit stupid" when it comes to spending money on free agents. Could that mean a Bryce Harper or Manny Machado? Or both?
Pittsburgh Pirates: A Jameson Taillon-approved in-stadium coffee roaster
Taillon is not just the ace of the Pirates' staff -- he's also a bit of a coffee snob. I mean, he's got his very own coffee blog for cripes' sake! What better way to get the entire team buzzing than with some coffee?
St. Louis Cardinals: A Gold Glove for Harrison Bader
Bader was a red blur in the outfield last year, catching nearly everything that came his way. He even led the Majors in Outs Above Average. He may have been a rookie, but he already deserves some hardware (or goldware?) for his efforts.
San Diego Padres: Fernando Tatis Jr.'s debut
Forget sugar plums, Padres fans dream of the No. 2 prospect in the game. He may only be 19, but 2019 could be when he cracks the roster.
San Francisco Giants: Chris Shaw home runs
Last year, Evan Longoria led the Giants with 16 home runs. That's ... not very many. Expected to start in left field, the Giants will hope that Shaw shows off the impressive power he had in the Minors.
Seattle Mariners: A good year for Félix Hernández
Nothing is sadder than watching King Felix struggle. So, with a remade roster, a bounce back by Felix would at least soften the start of a rebuilding era.
Tampa Bay Rays: A brand new innovation
The Rays made big news by using an opener last year. Unfortunately for the Rays, the rest of the league loved the idea and most clubs are at least considering it. That means the Rays have lost a competitive edge on the league. Time to come up with a new one!
Texas Rangers: A new friend for Elvis Andrus
Adrián Beltré's retirement didn't just open up a hole at third base and in the hearts of every baseball fan across the globe: It also meant Andrus would be without his best friend and constant prank partner. How can the Rangers possibly replicate that?
Toronto Blue Jays: Vlad Jr's debut
A .381 average with 20 home runs across four levels last year put Vlad Guerrero Jr. at the top of every fan's wish list.
Washington Nationals: Advancing past the Divisional Round
I wouldn't go so far as to say they're cursed, but the Nationals have reached the postseason four times in their history ... and have never advanced beyond the first round.