The Astros and Mariners turned the clock back to the '70s and the uniforms were outstanding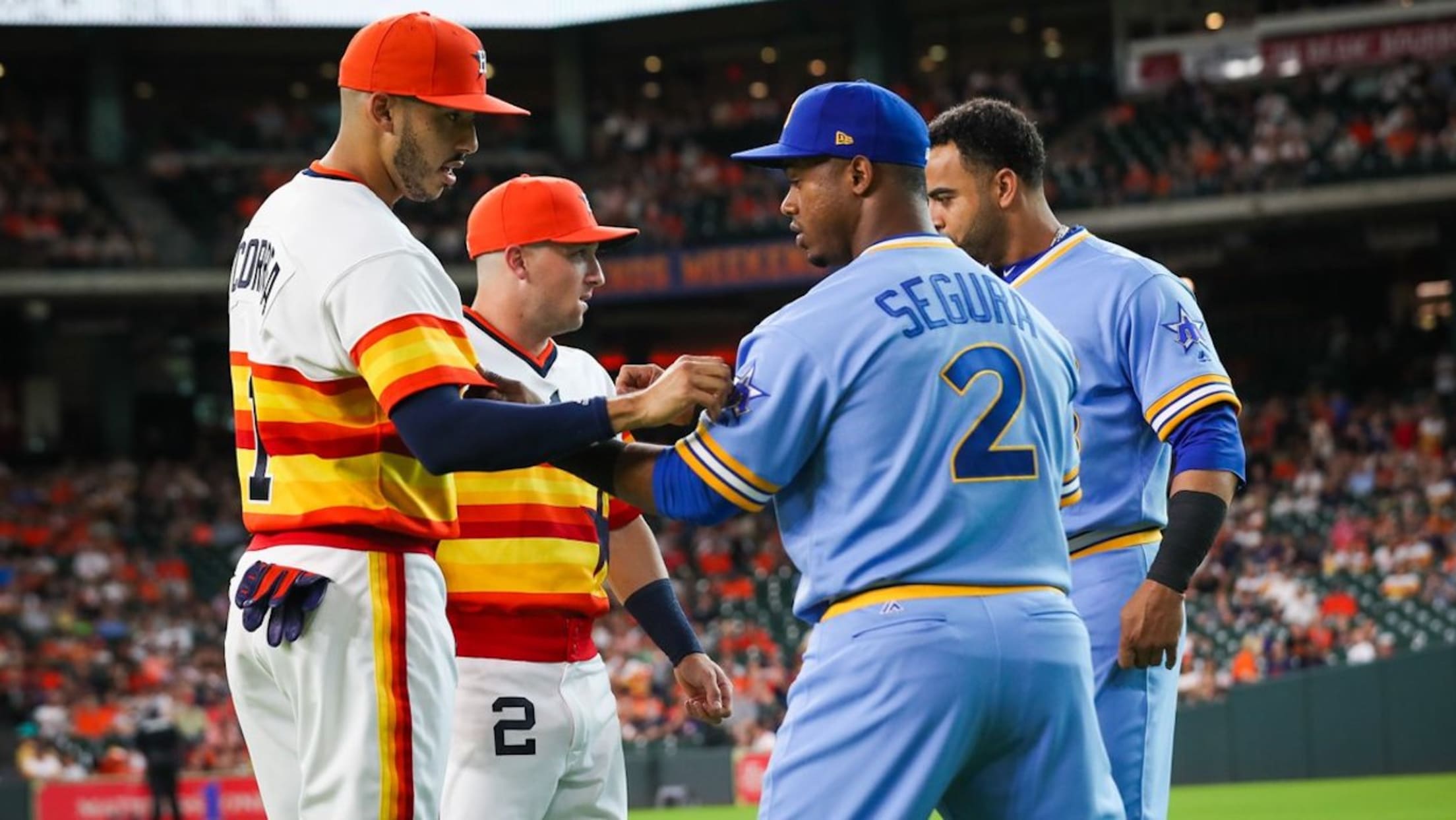 Plenty of Major League teams hold Turn Back the Clock promotions. Not too many teams commit as fully to turning back said clock -- or look as dashing doing it -- as the Astros and Mariners did on Friday night. First, the uniforms: the powder blue 1979 road jerseys for Seattle ...
Two cool cats. pic.twitter.com/RPiQEUl6xd

— Seattle Mariners (@Mariners) August 11, 2018
... and the iconic tequila sunrise look for Houston.
A billion fire emojis. #LegendsWeekend pic.twitter.com/hb0uQrJs8k

— Houston Astros (@astros) August 11, 2018
The Mariners' Twitter account was more than willing to play along:
We're turning it back to 1979 in Houston tonight. This lineup is looking dy-no-mite! See you at the Dome away from home. pic.twitter.com/OSLe915owo

— Seattle Mariners (@Mariners) August 10, 2018
Of course, this was not the most historically accurate time machine: The Mariners and Astros were in different leagues back in 1979, nearly two decades before the advent of Interleague play. Still, Minute Maid Park looked the part:
A ton of fans already in the ballpark here in Houston to get Rainbow Jerseys as it is Turn Back the Clock Night. They are taking it back to 1979. Mariners in the '79 blues. Got the tunes going too. #rubberbandman pic.twitter.com/WmusZQnip1

— Shannon Drayer (@shannondrayer) August 10, 2018
And last but not least, what would an homage to '70s baseball be without a big, burly mustache?
When you grew out your mustache SPECIFICALLY for this game but got the start a day too early. 👨🏻 pic.twitter.com/zCfMG6jaLz

— Seattle Mariners (@Mariners) August 11, 2018
Are you sure we have to go back to the future?