The nine stories that we'll always remember from the year 2018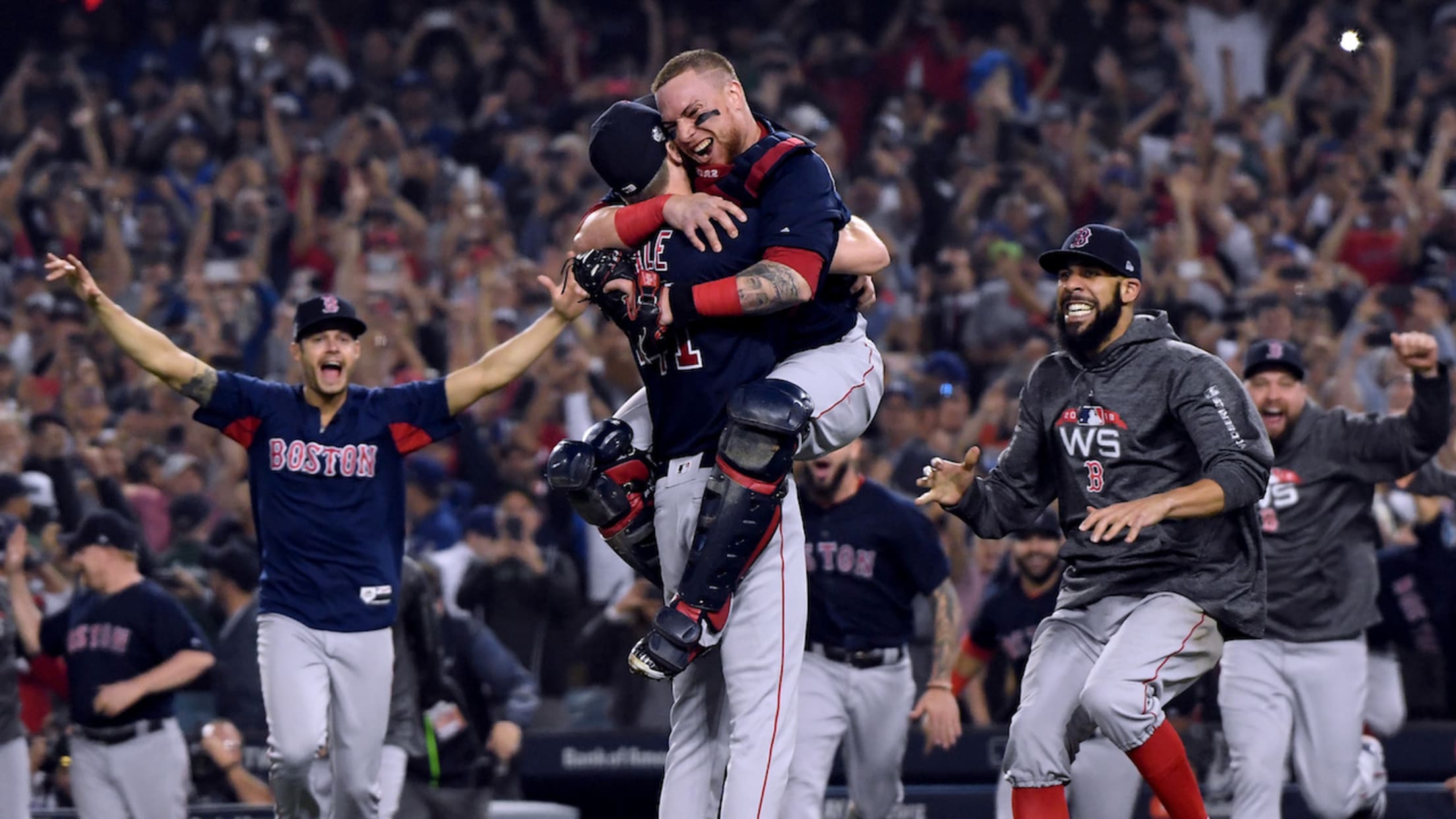 during game five of the 2018 World Series at Dodger Stadium on October 28, 2018 in Los Angeles, California. (Harry How)
It's almost the new year; before you know it, our thoughts will turn to pitchers and catchers and Opening Day and all the magical madness of another Major League season.
We're not done with 2018 just yet, though. It was far too much fun for that, from Keith Hernandez discovering Twitter to a Giancarlo Stanton homer discovering a bachelorette party. So, before we turn the page, let's take a moment to celebrate the things we'll take with us -- the moments and memories that will define the past 12 months, the ones that, a decade from now, will make us sit back and say, "Oh yeah, 2018, the year of ___".
The Shohei Ohtani Experience
We saw the highlights, we saw the numbers, we saw seemingly every MLB team fall over itself to try to sign him -- and even still, it was hard to wrap our heads around. Sure, he can pitch and he can hit, but no one can just stroll into the big leagues and make that work, right? Those guys aren't just once in a generation; they're once in a lifetime.
Then the games began, and we realized: Shohei Ohtani is real, and he's spectacular. He spun six solid innings (and several mind-bending breaking balls) in his first career start:
Then, in his first at-bat in front of his home crowd, he went yard:
Ohtani began his Major League career from seemingly impossible heights ... and never really came back down. He somehow put up a 3.31 ERA in 10 starts and posted a .925 OPS, and while he won't be on the mound in 2019, we're going to enjoy watching him for a long, long time.
The return of the bullpen cart
It started as just a casual joke. "Hey, remember when teams used to drive relievers to the mound in all kinds of weird vehicles? That was wild, right?" Then we began to wonder: "Wait a minute, why did they ever stop doing that?"
Idle chatter soon became a groundswell, until, in early March, the D-backs made an earth-shattering announcement: The bullpen cart was back. On May 5, Astros pitcher Collin McHugh took one small ride to the mound and one giant leap for baseball history:
Bryce Harper takes the Home Run Derby
The 2018 Home Run Derby came to Washington, D.C., presenting Bryce Harper and the Nationals with an enormous opportunity. For years, arguably baseball's biggest star had held off on returning to the Derby, determined to wait until he could do so in his home park. Now, he was playing host to the entire baseball world, and all eyes were on him.
His fans were ready. His dad was on the mound. He'd swallowed several American flags prior to taking the field:
Despite all of that mojo, though, things looked grim: With less than a minute remaining in his final-round matchup with Kyle Schwarber, Harper trailed by a full nine homers. And then it happened:
The Greatest Comeback in Sports History.

Don't @ us. pic.twitter.com/5pbtXoCMSf

— Cut4 (@Cut4) July 17, 2018
Is it possible to get a tattoo of a GIF?
Attack of the teens
In the year 2045, when the Walmart Yodeling Boy has begun his first term as President of the United States and the BBWAA elects a new class into the Baseball Hall of Fame, we'll likely look back at 2018 and smile -- for it was the year that introduced the world to Ronald Acuña Jr. and Juan Soto.
The numbers still defy belief: Soto slashed .292/.406/.517 with 22 homers at 19 years old, while all Acuña did was win NL Rookie of the Year honors. But no stat line can convey just how surreal it was to watch them every day. They couldn't even buy a drink yet, but from day one they paraded around big league diamonds as though they were in their own backyards.
Soto launched the first Major League pitch he saw for an opposite-field dinger:
Juan Soto's first MLB start.

Juan Soto's first MLB hit.

Juan Soto's first MLB HR.

Juan Soto's first MLB RBI ... and second MLB RBI ... and third MLB RBI. pic.twitter.com/WZROZwD89c

— Washington Nationals (@Nationals) May 21, 2018
Acuña, meanwhile, helped lead the Braves back to the postseason, and then -- with his team facing elimination! -- smacked one of the coolest dingers in recent memory:
Adrian Beltre's last ride
For more than two decades, Beltre wasn't just one of the best third basemen to ever play. He was joy incarnate on the field, a man who took routine plays -- the kind that happen in every game, the kind you've seen countless times before -- and transformed them into something totally new. You've seen home runs, but have you ever seen a home run hit from one knee?
Dirk Nowitzki had the one-legged fadeaway jumper; Beltre had the barehanded play -- leaning back, at an angle so impossible it made you wonder how he didn't fall over:
So of course Beltre didn't just retire. He spent 2018 making sure he retired his way -- namely, by palling around with Félix Hernández, getting mad at Elvis Andrus and trolling his own GM.
David Bote's walk-off grand slam
2018 gave us a metric ton of walk-off homers -- 102 of them to be precise, a new Major League record. But in the year of the walk-off dinger, Bote's was the very walk-offiest, the kind of thing that usually happens only in your wildest backyard dreams: Trailing the rival Cardinals by three runs with two outs in the bottom of the ninth on Aug. 12, the Cubs utilityman -- a former 18th round pick who'd nearly washed out of baseball -- strode to the plate and launched the grand slam heard 'round the world:
Of course, what would possibly the defining homer of 2018 be without a righteous bat flip?
Postseason party crashers
The Brewers had made the postseason just twice since 1982. The A's were coming off a 75-win season, good for last in the AL West, and boasted the third-lowest payroll in baseball. But if baseball has taught us anything, it's that every year brings at least a couple cinderella stories -- and sure enough, Milwaukee and Oakland stormed to stunning (and wildly entertaining) postseason berths.
Just how did they do it, you ask? In the most 2018 way imaginable, of course: by clubbing a whole lotta dingers. The A's very quietly had one of the most fearsome offenses in baseball heading into the year -- not to say we called it, but we sort of did -- and that was before Jed Lowrie finally stayed healthy and got the chance to terrorize unsuspecting pitchers for an entire season. A whopping eight different Oakland hitters reached double-digit homers, including four with 20+, led by Khris Davis' 48.
The A's finished with 227 taters in all, third in baseball and one spot ahead of ...
Milwaukee had arguably the most entertaining lineup in baseball, from the ballpark-shaking swoleness of Jesús Aguilar and Eric Thames to the basepath shenanigans of Lorenzo Cain, and Christian Yelich's MVP-clinching second half of the season brought it all together.
World Series Game 3
The Rockies and Cubs used the NL Wild Card Game as an excuse to explore the philosophical question, "Just how completely bonkers can a postseason game get?" There were comebacks. There were catcher's interference calls. There was a period in extra innings during which it seemed like this would never end. There was OFFENSIVE THREAT TONY WOLTERS:
And then Game 3 of the World Series rolled around, and it scoffed and said "watch this." The Dodgers dropped the first two at Fenway Park, and returned home to Dodger Stadium with their backs against the wall. Another loss would essentially guarantee a second straight loss in the Fall Classic -- and leave L.A. with a lot of uncomfortable offseason questions.
The Red Sox scratched across the game-tying run in the top of the eighth to force extras, at which point things just kept going ... and going ... and going. A combination of injuries and substitutions had left Boston without most of its major hitters, but Nathan Eovaldi -- who'd already pitched in Games 1 and 2 -- simply wouldn't let them lose.
Finally, entering his seventh inning of relief, Max Muncy ended the longest game in World Series history.
The Red Sox, just generally
Really, take your pick. Their marquee free-agent signing, J.D. Martinez, flirted with the Triple Crown and posted a 1.031 OPS. And he wasn't even their best player -- that would be Mookie Betts, who won AL MVP honors and then literally soared through the postseason.
Knock your hated rival out of the postseason? Check. Launch a new on-field dance craze? Check. Win over Cardi B? Check. Put together one of the most statistically dominant seasons in baseball history? You bet.
For as much varied and wonderful weirdness that baseball gave us over the last 12 months, this was the Red Sox' year, and we all just lived through it. Until 2019, that is.
Teams in this article:
Players in this article: