Could Mike Trout become the best player of all-time by the end of his new contract?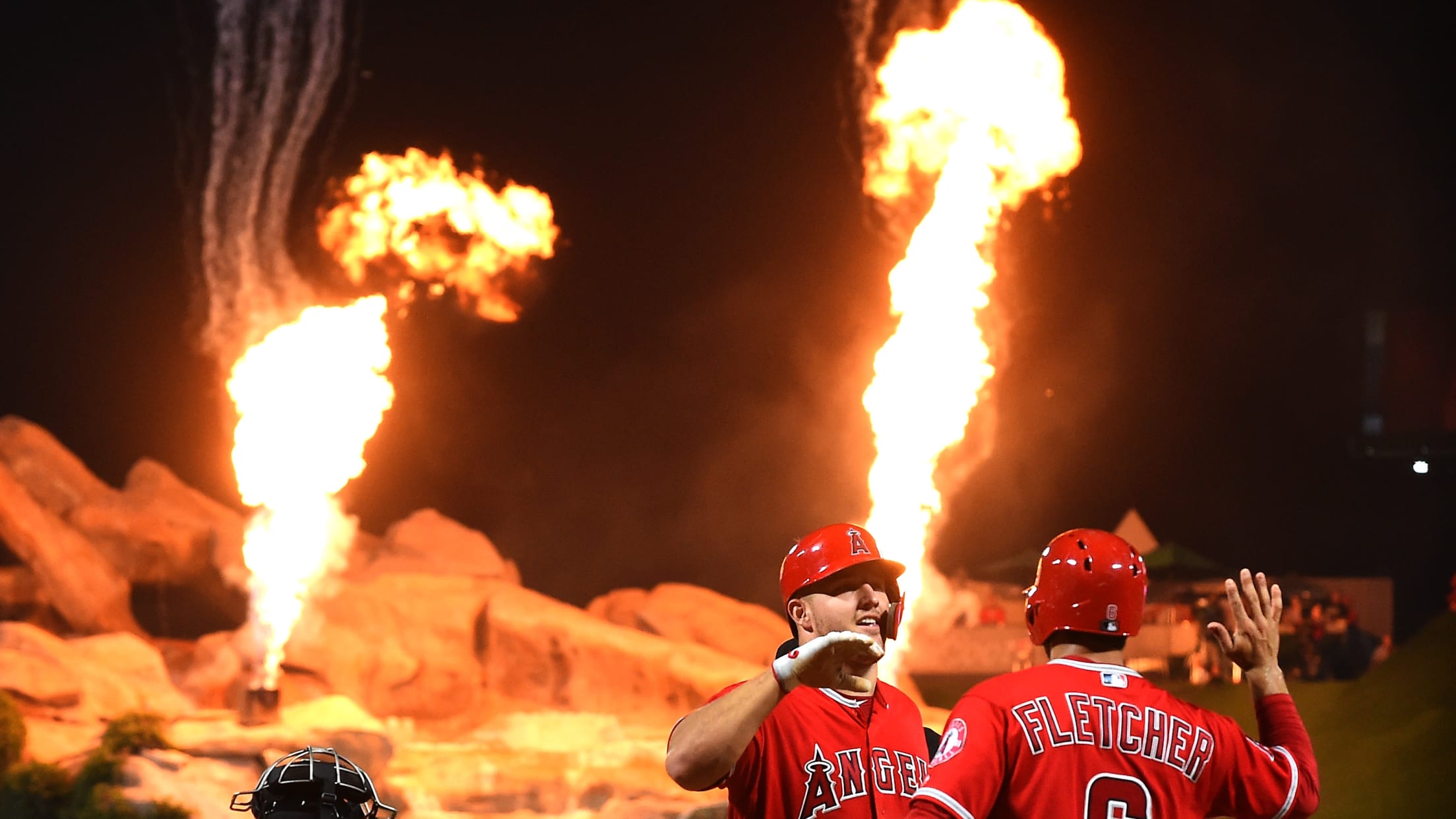 History was made on Tuesday morning, as the largest contract in American sports history was given out when Mike Trout agreed to a 12-year, $400-something million extension with the Angels. It's a dream for Angels fans, as a once-in-a-generation player will be with the team until at least 2030. That may be underselling the center fielder. Baseball has been around for about 150 years and Trout -- only 27 years old -- is already in discussion for one of the best to ever play the game.
He's collected two MVP Awards and, depending on who you ask, deserves three more. Since his first full year in 2012, Trout has averaged 34 homers, 26 steals and 98 walks and has hit .310/.420/.579. No player in the game's history has racked up more WAR through their age-26 season. Basically, any metric you want to use puts Trout at the top of the game.
So, how does Trout become the bona fide, guaranteed, absolute best of all-time? That's going to be tough, no matter how he does. After all, the best player of all-time could be Babe Ruth, Barry Bonds, Willie Mays. Some may even say Ted Williams, Ty Cobb, Hank Aaron ... the list can go on and on. The definition is nebulous, but Trout could put the debate to rest.
How? Let's break down the ways.
Hit more homers
I get it, this will be hard to improve on. Trout hit 39 homers last season and slugged a career-high 41 in 2015. If he continued at this average pace for the next dozen years, he'd have 648 dingers to his name. That would be an amazing total -- putting him in sixth place on the all-time list.
But there's reason to believe that Trout hasn't completely tapped into his power potential. He set a career high in slugging percentage in 2017 and fell just one point shy of that last season. If Trout can hit the weight room as he ages into his late 20s and starts popping out a few more home runs every year -- something plenty of batters in history have done -- he might manage to reach the half-century mark a few times in his career. If he does that and scatters in a few more 40-homer campaigns, we could be talking about a 700-something career total. And once you get there, you can even start dreaming of a new home run king.
Keep stealing bases
One of the points in favor of Willie Mays and Barry Bonds as the GOATs is that they were valuable all over the field, including on the basepaths.
While Trout stole 49 bases in his first big league year, he slowed down and had a couple seasons with steal totals in the teens. That's a fine number for a ballplayer, but it's not the kind you want to see from the best all-around, every-tool-under-the-sun star.
Fortunately, he got back into it the last few years, stealing 30 in 2016 and topping 20 each of the past two years. Eventually, every player's legs go -- that's just a sad fact of life -- but if Trout can average 25-30 for the next few years and somehow top 400 stolen bases in his career, he could join a very short list of players with more than 600 homers and 400 stolen bases. That list: Bonds and that's the end of it.
Win some batting titles
While the batting average wars are over and on-base percentage has emerged as king, there's still something magical about a player that can hit for power, has a patient batting eye (Trout has led the American League in OBP for the last three seasons) and can hit for average.
Because he's so phenomenally gifted, Trout can seemingly will himself into getting better. A career .307 hitter, Trout actually led the AL in strikeouts in 2014. So, through sheer determination or divine inspiration, Trout simply decided to close that hole. The upshot: He made more contact and upped his batting average. If he can drop in a few dozen more hits every year, he could wind up with a couple batting titles and maybe even the Triple Crown.
Stay healthy
This is the hardest one as baseball players have to do a lot of things involving running and jumping and putting themselves in positions to get hurt. Trout has managed to stay pretty healthy so far, though he's gone onto the injured list each of the last two seasons.
If he can age gracefully and stay on the field, then his video game numbers can continue grow ever more absurd. Unfortunately, center fielders take a beating, which players like Ken Griffey Jr. and Mickey Mantle can attest to.
Win a World Series
Yes, Trout can't win a World Series by himself and it's not fair to judge him based on that. But the world's not fair, so what can we do? Unless and until Trout plays deep into October, there will be a segment of fans that will never include him with the all-time greats.
So, while his postseason career has so far equaled one three-game AL Division Series sweep, he's almost single-handedly willed his team into contention every year. With 12 years to go, there's plenty of time for him to help push the team even further.
Become a tall tale
Finally, we'll wrap up with something that doesn't need numbers. Basically, Trout -- whose performance already stretches belief -- needs a few more moments that feel like fiction but contain at least some element of truth. Ruth has his called shot. Mays has The Catch. Aaron has home run No. 755. Because when we talk about the best player to ever walk on the field, it's not about numbers, not really. It's about a feeling, a sense that you've witnessed something special and that can never be replicated.
So far, Trout has his leaping home run robbery, but he'll need more. Fortunately, he's got plenty of time and all the ability in the world.
Teams in this article:
Players in this article:
Topics in this article: