Evan Longoria tells us the real reason why his bats feature Pokemon and dabbing unicorns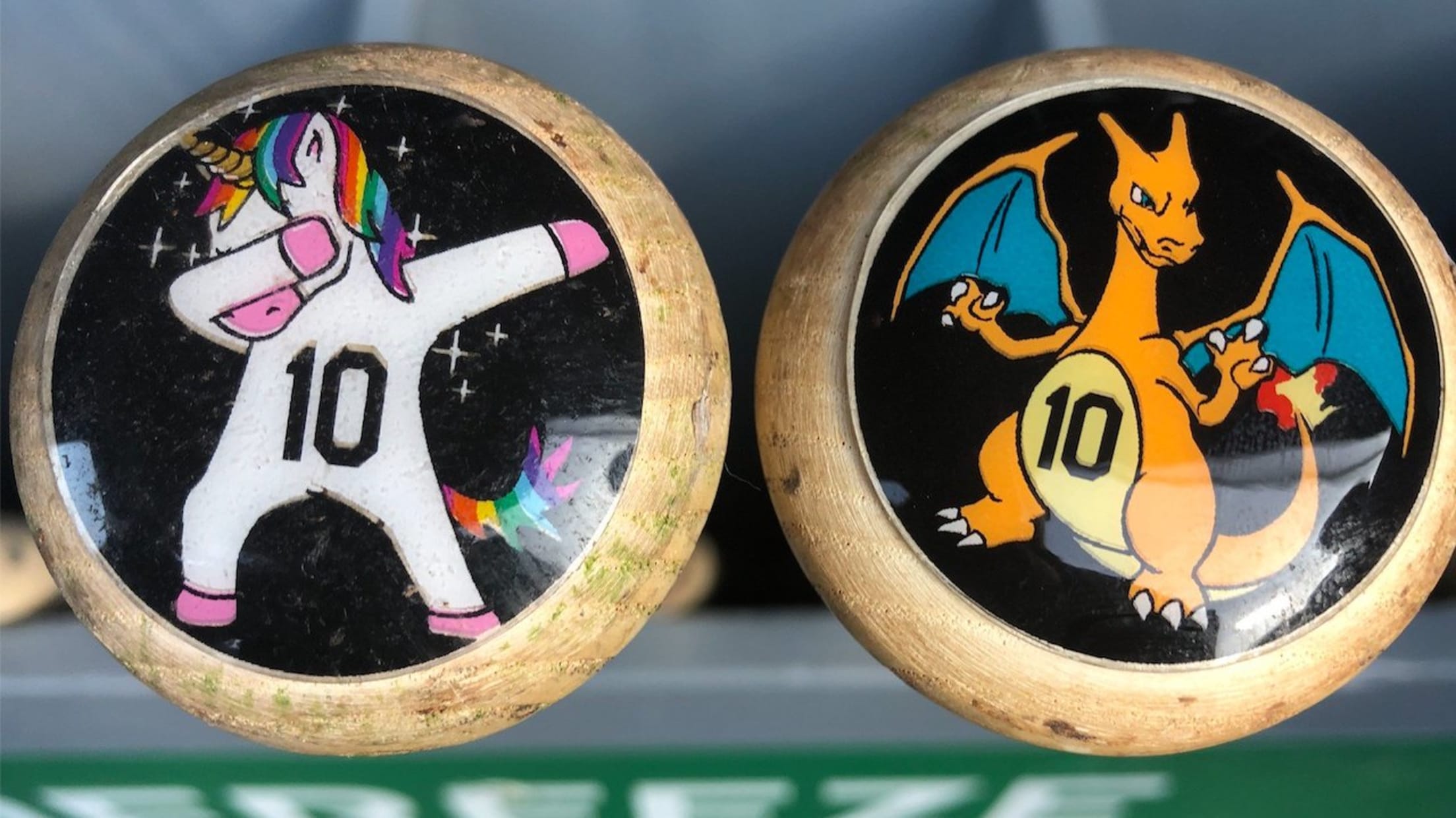 First thing's first: No, Evan Longoria isn't secretly super into unicorns. But his daughter, Elle, can't get enough -- which gave Evan an idea: Why not let her and her brother, Nash, pick out his bat knob decals during the 2019 season?
Longoria had gone with custom knobs before (you may recall that his first team photo with the Giants accidentally showed off his old Rays decal). So he pulled some designs -- unicorns for Elle, Pokémon for Nash -- and let them run wild.
"My kids instantly love them," Longoria said in an interview with Cut4. "They took a whole sheet for themselves and they've been sticking them all over their own things at home."
The results, well, they speak for themselves:
If you ever wondered why Evan Longoria dabs after he hits a homer, that's how he says hello to his two kids. They also design his bat knob decals. pic.twitter.com/CbyHuiOtns

— Andrew Baggarly (@extrabaggs) April 24, 2019
Nash opted for his current favorite, Charizard, correctly identifying that fire type is objectively the coolest type. And as for why the unicorn is dabbing? It's a shoutout to Longoria's new home run celebration, which he developed with Brandon Crawford:
No, he will not be taking dab critiques at this time. "I've seen some bad dabs and I figured I'd be pretty bad at it myself, so I didn't really care," he laughed. "My wife likes it, she thinks it funny."
Jokes aside, the dancing and the decals are more than just ways to keep things light over a long season. To Longoria, they're small but significant connections to a family that can feel all too distant while crisscrossing the country. It's easy to assume that big leaguers' days begin at first pitch and end with the final out. But in reality, they log long hours at the ballpark before you even thought about leaving home to get to the stadium -- lifting weights, watching video, getting swings in, you name it. Which, when you add in 81 road games a year, means a lot of time spent away from home.
"This game is so tough, and my kids are always happy to see me," Longoria said. "They don't care how good I do. I don't get enough of them, so that was kind of my thought -- I thought it would be pretty special to be able to look at the end of my bat and think about my kids."
He's far from the only one. Plenty of players come up with inventive ways to keep their families close -- like Longoria's teammate, Yangervis Solarte, who does some full-on puppet theater:
Delicious! 🤣 It was a lucky piece of gum.

Every time I get a hit I take my batting gloves off to do an alligator sign with my hands for my kids. This time my gum got stuck to my batting gloves...🤷‍♂️ pic.twitter.com/QeyQcWW1gE

— San Francisco Giants (@SFGiants) April 30, 2019
Longoria isn't sure what's next for the knob of his bat, but if you have a Pokémon in mind, he is taking suggestions -- whatever it takes to put a smile on Elle and Nash's faces.
"They do understand that I'm a baseball player, and that's kind of a good start for me," Longoria said. "I don't need them to know the details about how good or bad I'm doing or if they even care about that. They're the happiest people to see me when I get home, so I'd like to keep it that way for as long as I can."
Teams in this article:
Players in this article: