Every team's victory song, ranked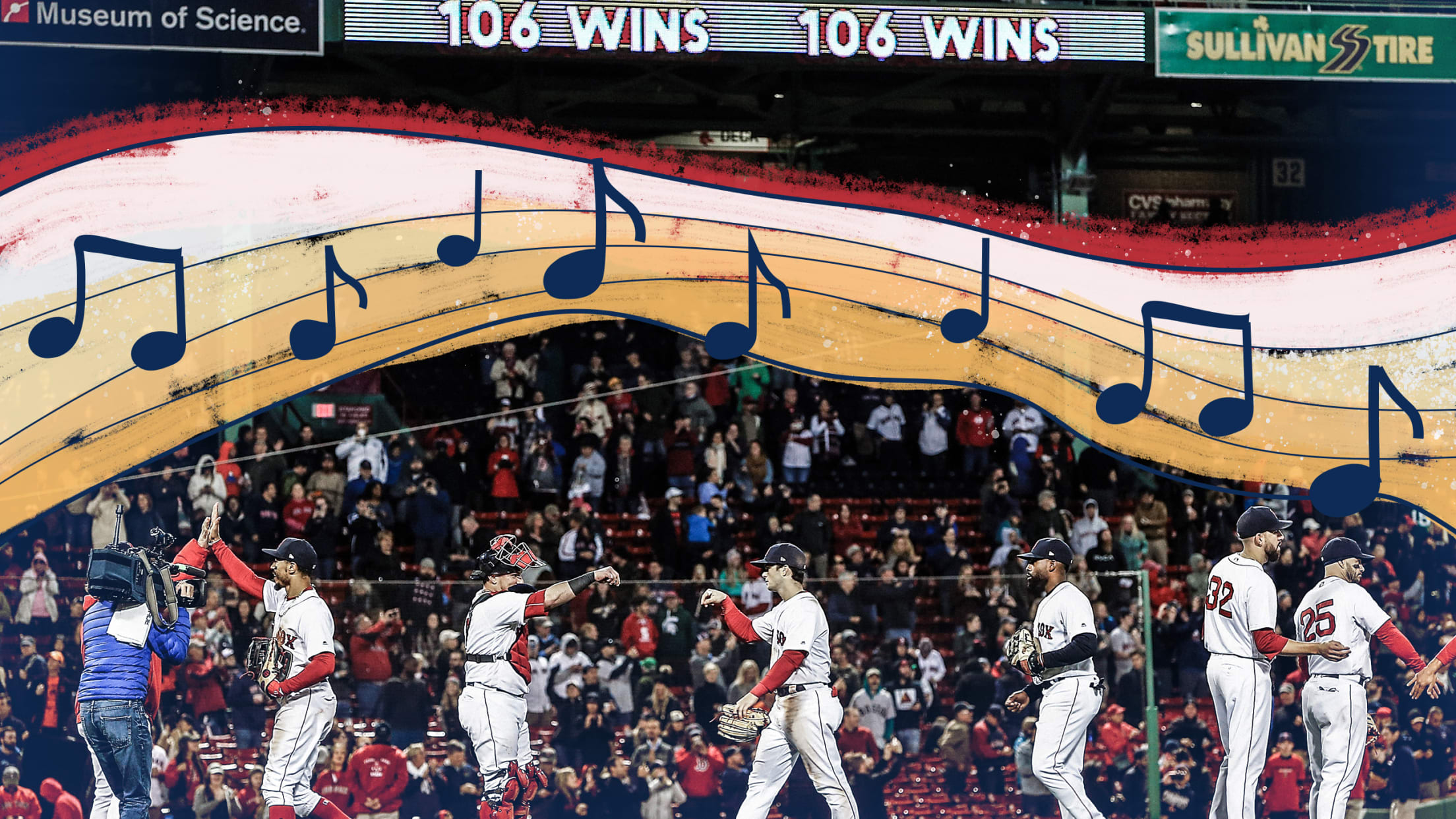 Music is how we express our grandest emotions: Love. Loss. Heartache. But none of those are felt quite as deep as a win. It's why players sob and fans scream and why we go home happier than the day our child was born. (As a childless person, I can say that.)
It's also why most teams play a victory song at the end of the game. It's tradition, like singing Journey (badly) at karaoke night or warbling "Auld Lang Syne" on New Year's Eve.
But which team has the best celebration jam? We'll be judging teams based on the quality of song (my taste, which is impeccable, sorry) with bonus points awarded for local connections and length of time it's been used. One note: We received these reports directly from the teams, so while some fans might disagree, this is the official list.
Here is our ranking:
30 (tie). Cardinals and Nationals: Nothing
Come on, guys. There's gotta be something you want to play. Just, St. Louis, can you promise it won't be this?
28. Rays: Johnny Drama yelling, "Victory!"
Honestly, I wanted to put this below nothing because the sweet sounds of silence would be better than anything that came from "Entourage."
27. Pirates: "Burn the House Down" - AJR
Considering that this is the team of "We Are Family," it wouldn't be the worst thing to go back to Sister Sledge to celebrate victories. Honestly, even a super cheesy rendition of "A Pirate's Life for Me" sung by 30,000 tipsy Pirates fans after a win would sound pretty good.
26. White Sox: "Victorious" - Panic at the Disco, "Celebration Mix" - Kool and the Gang, "WIN Remix" - Jay Rock
The point of a victory song is to make a tradition -- a kind of meme to trigger happy memories. That doesn't happen when you have three songs getting played.
25. Angels: "Paradise City" - Guns and Roses
Guns and Roses is just ... please no.
24. Cubs: "Go Cubs Go" - Steve Goodman
Oh, I can sense your anger. And I get it: I'm not saying it's not a tradition. But you know what else is a tradition? Singing "Happy birthday" to people. That song is terrible. This song is the Happy Birthday of baseball. Do better.
23. Braves: "Kernkraft 400" - Zombie Nation
Jock Jams? Eh.
22. Orioles: "Let's Go" - Trick Daddy
This song is a pastiche of old trends.Was this song written or did the mid-aughts come to life?
21. Blue Jays: "Win" - Jay Rock
Look, this isn't a bad song. It's actually pretty catchy, and those horns will burrow their way into your head. But songs that are literally about winning are the least interesting choices.
20. Athletics: "Celebration" - Kool and the Gang
See above. The only difference is that the A's have used this since 1981, so it gets a little extra juice for becoming a tradition.
19. Padres: "San Diego" - Blink-182
I mean, can you even think of another song about San Diego? Unfortunately, the city doesn't have a whole lot to choose from, so had to go with this lesser, late-period Blink jam.
18. Rangers: "I Like Texas" - Pat Green
I mean, he likes Texas. He doesn't love it.
17. Mets: "New York Groove" - Ace Frehley
The song starts promising, with some sweet vamping and shouting of "New York Groove!" Hey, that's fun for after a New York game. But then ... it doesn't really go anywhere.
16. Marlins: "My House" - Flo Rida
How is this not a Pitbull song? He is Mr. 305.
15. D-backs: "D-backs Swing" - Roger Clyne and the Peacemakers
It's very cool that rock musician Roger Clyne, who has a cult following in the Southwest, has a big enough love of the team that he approached the club to ask them if he could record a song. That's awesome. But there is a cheesiness to most songs about baseball teams that keeps them from becoming something greater ("Centerfield" anyone?) However, give it enough time, and this one will become a legend.
14. Astros: "My Texas" - Josh Abbot Band (ft. Pat Green)
What's fun about this one is that it features Pat Green, who sings "I Like Texas." For AL West rivals, they really aren't so different after all, are they?
13. Brewers: "You Make My Dreams" - Hall and Oates
I'm not going to lie: This song is great, and it's a lot of fun to listen to after victories.
12. Royals: "Kansas City" - The Beatles
The Beatles actually have a long history with Kansas City baseball thanks to the A's and owner Charlie Finley, so there's that.
11. Rockies: "Rocky Mountain Way" - Joe Walsh
The riff rips. There's no denying that. But, Walsh also namechecks Casey at the Bat in the song which, given that Casey struck out to let all of Mudville down, makes for a rather weird celebration song.
10. Yankees: "New York, New York" - Frank Sinatra
A classic Frank Sinatra jam about how New York helps him get over the "little town blues." It's the kind of thing only Yankees fans could love, and every other fan base would find obnoxious, making it a top tier choice.
9. Phillies: "High Hopes" - Frank Sinatra by way of Harry Kalas
Another Sinatra jam, but this one is made all the better because it's sung by the legendary Phillies broadcaster. This is basically the dream that every karaoke performer has: A rendition of a famous song that is so beloved that people want to hear you sing it, rather than an actual professional.
8. Giants: "(I Left my Heart) in San Francisco" - Tony Bennett
OK, here's why this one is great: It's slow. It's sad. There is nothing about this that should make it a song that you shout with your friends at the end of a big win. That's precisely why it works.
7. Red Sox: "Dirty Water" - The Standells
For a song that has become the uniting banner for Boston fans around the world, it's surprising to learn that the band had never even been to Boston when they recorded the song. Still, this is about as classic a song as there is.
6. Mariners: "Fire" - Jimi Hendrix
Since 2009, the Mariners fire up Hendrix -- who was born in Seattle -- and let everyone rip during the face-melting solo and stomp their feet during the riffs.
5. Reds: "Unstoppable" - Foxy Shazam
It's hard for a relatively new song to make the upper echelons of the list, but the Reds managed to do it with this modern glammy song by Cincinnati band Foxy Shazam.
4. Dodgers: "I Love L.A." - Randy Newman
If you want to know what it feels like to live in Los Angeles and attend a Dodgers game -- where the weather is always perfect, but almost too perfect, then just listen to Newman's song.
3. Tigers: "Go Get 'Em Tigers" - Artie Fields
This song is just pure joy. From the opening spoken word growl, to the peppy horns that wouldn't sound out of place in a "Schoolhouse Rock" video, it's all perfect.
2. Twins: "Let's Go Crazy" - Prince
I mean, Prince is from Minnesota. How else could the Twins choose any other artist? This song is also pretty much a party distilled into music form.
1. Indians: "Cleveland Rocks" - Presidents of the United States of America
This song is so good you might actually be convinced that Cleveland does, in fact, rock.