Get to know Dodgers catcher Russell Nathan Coltrane Jeanson Martin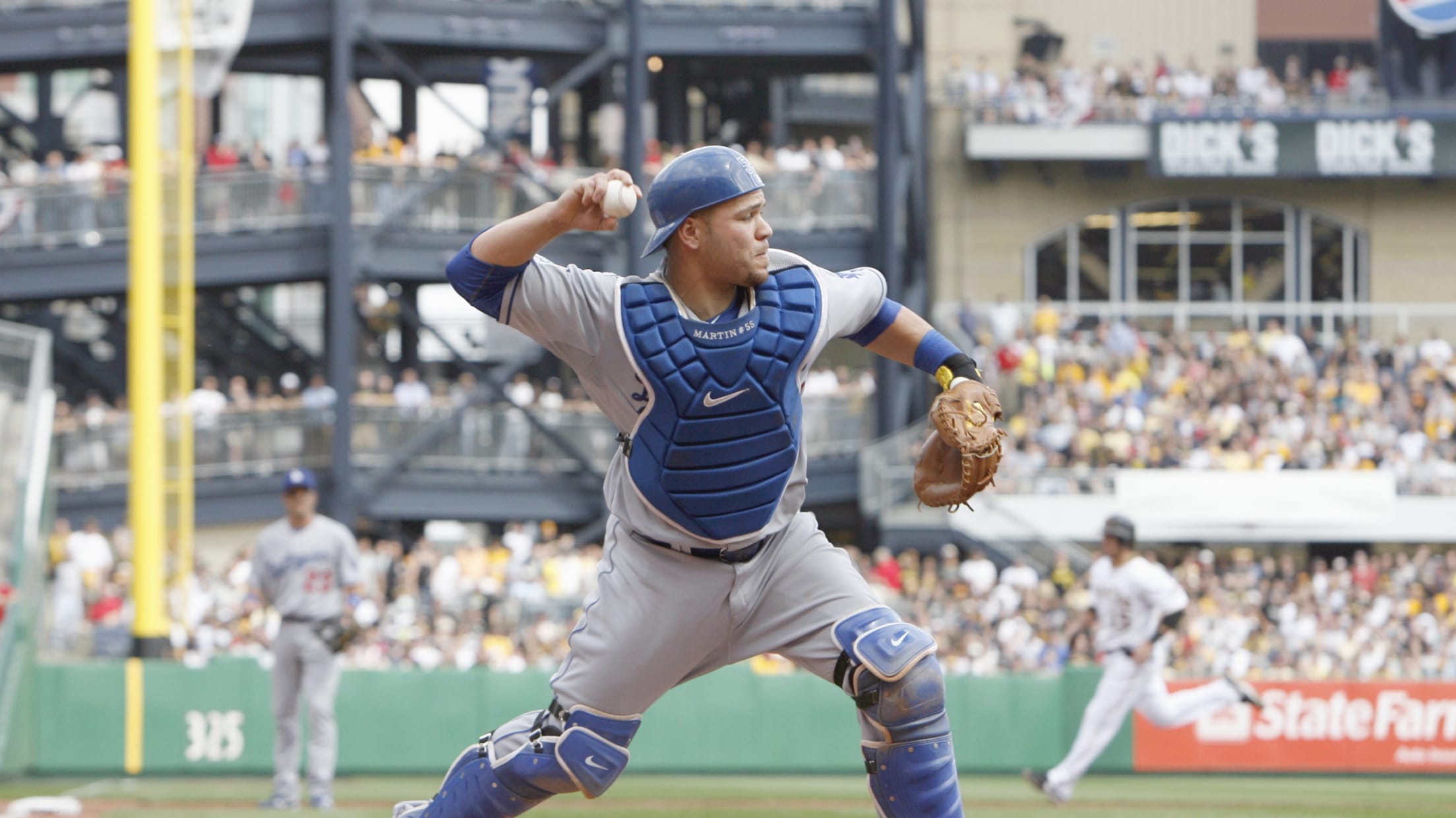 On Friday afternoon, the Dodgers traded for Russell Martin to bring him back to the team with which he began his Major League career in 2006. He was an instrumental part of the teams that made it to the NLCS in back-to-back years in 2008 and 2009, making two All-Star teams in his five years in L.A.
After stops in New York, Pittsburgh and Toronto, Martin is now returning to where it all began. Now that he's back in Los Angeles, here's a quick refresher on the returning catcher:
He's named after John Coltrane and his dad plays sax
Martin's full name is Russell Nathan Coltrane Jeanson-Martin Jr. in honor of his father (Russell), grandfather (Nathan) and jazz saxophonist John Coltrane. Why Coltrane? Well, Martin's dad plays sax and even serenaded a stadium full of Blue Jays fans with his rendition of "O Canada."
He's one of only 11 Canadians to play in the Majors in 2018
Martin was born in Toronto and spent much of his childhood living in Montreal before going to Chipola College in Florida. In 2018, he was one of three Canadians on the Blue Jays roster along with John Axford and Dalton Pompey.
He went to elementary school in Paris
After Martin's parents divorced when he was 2 years old, his mom moved to Paris while his dad remained in Canada. As a result, Martin spent every other year living with his mom and going to school in Paris until seventh grade. As a result, Martin is fluent in French:
He played shortstop and managed a game for the Blue Jays in 2018
Martin has almost exclusively been a catcher throughout his 13-year MLB career because he's pretty darn good at catching. But that's not the only position he can play: He's filled in at second and third base occasionally, and on May 26, 2018, Martin got his first career start at shortstop -- and made a nice little backhand play.
But, the real fun came on the final day of the 2018 regular season, when Martin took a break from playing the field and managed the Blue Jays instead:
The last time he played for the Dodgers feels like forever ago
Aug. 3, 2010 doesn't sound like a date from a distant time, but when you look at the Dodgers lineup from that day -- the last time Martin played for them -- it feels like a trip down memory lane:
If Russ Martin does indeed go back to the Dodgers, he'd play a game for them for the first time since Aug. 3, 2010, vs. SD.

Just check out these names ... pic.twitter.com/oqttz83x73

— Andrew Simon (@AndrewSimonMLB) January 11, 2019
At least Martin isn't the only member of that lineup still playing.
Teams in this article:
Players in this article: