Six hidden ballpark spots you should check out on your next road trip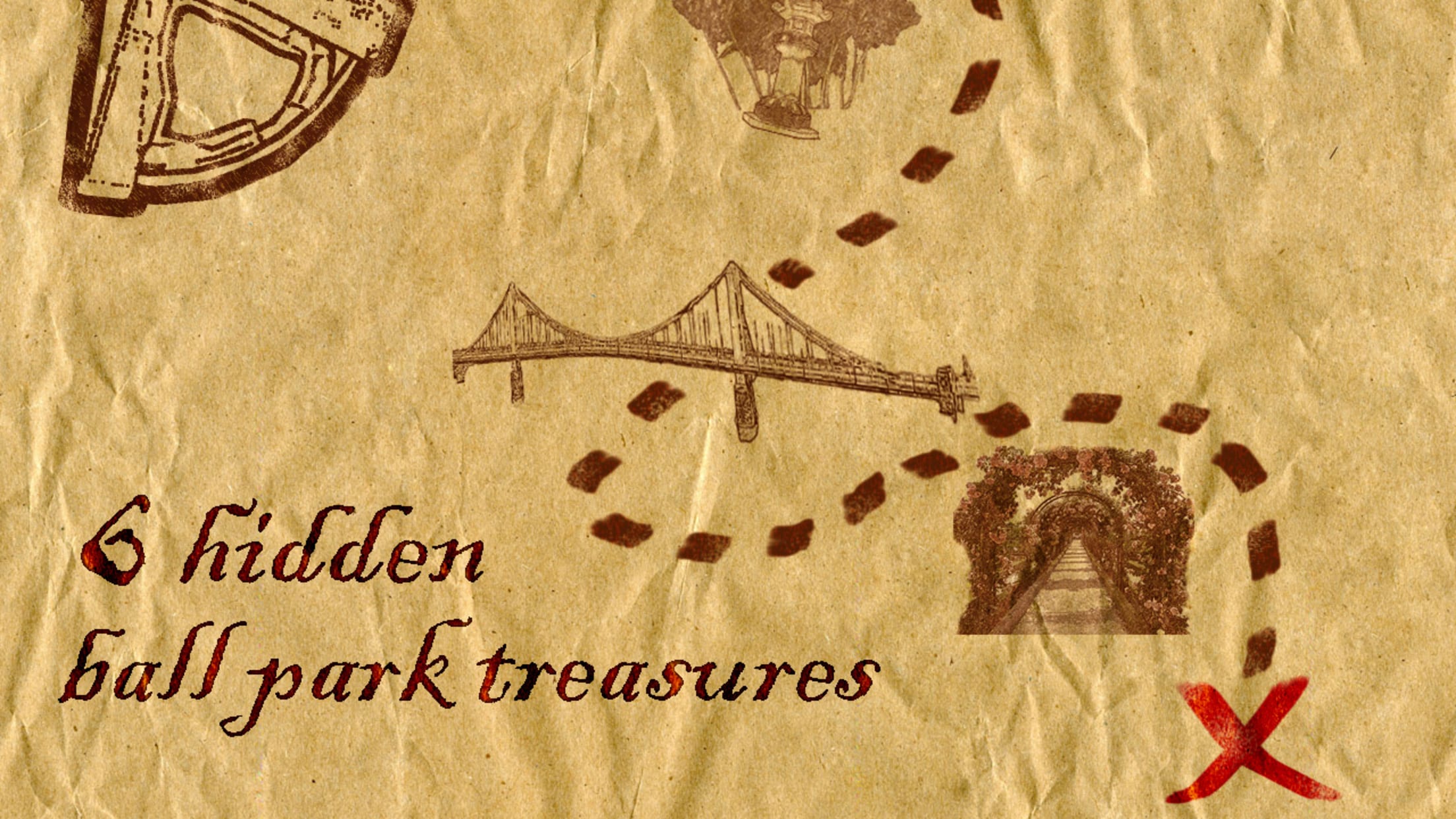 (Petr Kratochvil)
Like cathedrals, ballparks are massive buildings of brick and steel that become something greater as thousands arrive to worship at the altar of baseball all summer long.
But the two share another similarity: Just like the ancient houses of worship in Europe, many ballparks and their surrounding areas hold secret chambers and paths that only a select few know of. Today, we're going to show you six spots you should check out on your next trip to the yard.
Hank Aaron State Trail - Milwaukee
Aaron blasted 398 of his 755 home runs while the Braves called Milwaukee home. And now, you can walk his trail to the park. Beginning at the Milwaukee Art Museums, the 12-mile path consists of "dedicated trails and marked streets" that can take you from the art museum to the ballpark to the Lakeshore State Park and beyond. There are even special signs on the way to point out important historical and natural information.
The view the Hank Aaron Trail has of @Brewers Miller Park on game days/nights. #MKE #brewers #allofthelights pic.twitter.com/7NJV6kjM1M

— Madeline Templin (@madelineleigh15) July 9, 2016
If the views aren't enough of a bonus, think of the walk as a good way to burn off the hot dogs that you'll surely consume once you arrive inside the stadium.
Exposition Park - Pittsburgh
Before the jewel of PNC Park or even the imposing figure that was Forbes Field, the Pirates played their games at Exposition Park. In fact, there were actually three Exposition Parks because it changed sites over the years, but the third one is the most important.
Why? Well, for one, it was the site of the very first World Series. And for another, Honus Wagner, arguably the greatest shortstop of all-time, played there.
Exposition Park, Pittsburgh, 1905 - Home to Pirates (1891-1909), site of 1st World Series (1903 against Boston (AL))https://t.co/vCymSMjJ85 pic.twitter.com/AeJdZ0U38l

— Old-Time Baseball Photos (@OTBaseballPhoto) September 21, 2016
For years, the exact site was a mystery. But in 1995, Society of American Baseball Researchers (led by Dan Bonk and Len Martin) found the exact location of home plate in what is now a parking lot two blocks away from PNC Park. At first, the spot was marked with a painted marker, but now has an actual plate:
Cool find on my way back to my car from a customer meeting today. Been through this parking lot 100s of times and never saw it pic.twitter.com/EfLTY0IYIn

— Adam Menzies (@adamdmenzies) November 29, 2016
Rose Garden - Cincinnati
Outside Great American Ball Park, and behind the south end of the Reds Hall of Fame museum, is an exquisite rose garden. But this isn't just a lovely public garden.
No, this garden is in honor of Pete Rose -- hence the roses. Amid the sea of red blooms (because, duh), one white rose marks the exact spot where Charlie Hustle record-breaking 4,192nd hit landed on Sept. 8, 1985.
Japanese Garden - Los Angeles
Parking in Los Angeles is a nightmare. Perhaps the Dodgers were aware of that when they installed a small Japanese garden in the back of the stadium parking lot. Though many know that the "76" gas station sign is a remnant of when you could fill up in the Stadium parking lot, this one is a little harder to find.
As part of the Dodgers' long history with Japanese baseball, when the stadium opened in 1962, the team invited Japanese sportswriter Sotaro Suzuki to the dedication ceremonies. Suzuki then commissioned a 10-foot tall stone lantern that became the centerpiece of a Japanese garden on the hill behind Parking Lot 6 behind the right-field pavilion.
Once a blooming garden cared for by the team's groundskeepers, with Walter O'Malley even bringing plants from the Dodgers' Spring home in Vero Beach, its heyday is now long gone. The garden is fenced off, but the lantern remains.
Gotham Club - San Francisco
This one may be a little tougher to get to: Better be a season ticket holder with a membership ... or have played for the Giants. Located inside the out-of-town scoreboard at AT&T Park, this baseball-crazed country club provides a comfortable space to watch the game, drink cocktails, have a meal and yes, even bowl. Basically, it's a ballpark speakeasy.
You never know who you might find behind the bar in the Gotham Club...#ForeverGiant | #SFGiants pic.twitter.com/jv99N3dY8l

— SFGiants (@SFGiants) May 27, 2017
There are even baseball-shaped ice cubes;
What a cool experience watching the Giants game from the Gotham Club @ATTParkSF #baseballicecube #votepeavy pic.twitter.com/plaah55Rhg

— Special K Petsitting (@Special_K_Pets) September 17, 2016
Watch the organist - Minnesota
Ballpark organists are part of the very fabric of baseball, but they usually operate out of the shadows -- the only evidence that they're there is the punny songs blaring out of the speakers. Not so at Target Field. Head up to the Two Gingers pub behind home plate, and you'll be able to quaff a few drinks while watching organist Sue Nelson play some tunes.
@organistalert @Twins organist Sue Nelson. Pleasure to meet you! pic.twitter.com/PZNzsRG8Hx

— No Sleep Till Elmont (@mfishbein44) May 6, 2017
Have another secret spot that you think others should know about? Tweet it to us @Cut4.