The best Ichiro stories that players and managers shared after he retired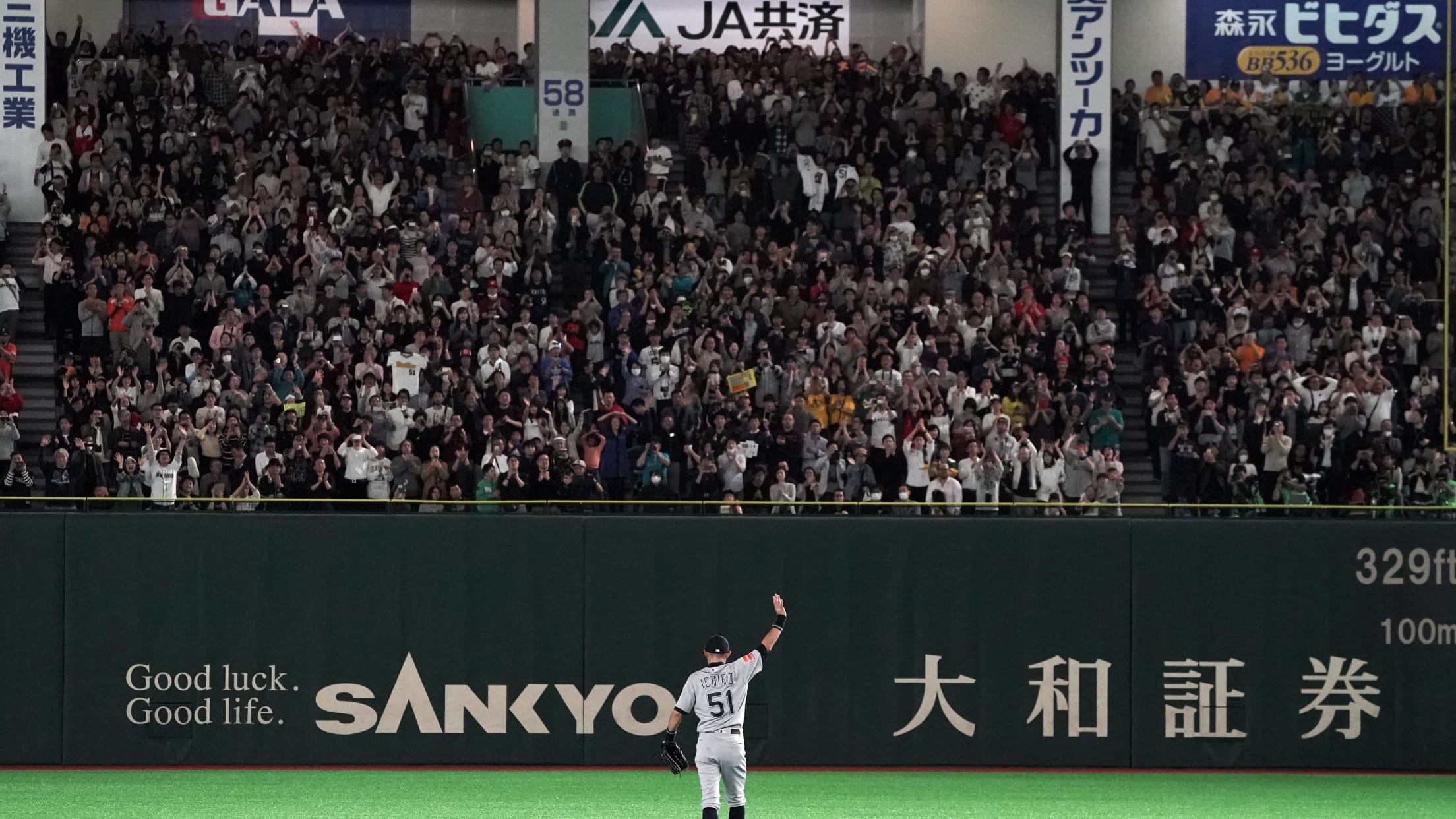 There will never be another Ichiro. He was a baseball player and a rock star and an international celebrity, and honestly, would you be surprised if he turned out to also be a James Bondian superspy? Ichiro did everything his own way. His pre-swing mechanics of lunges, twists and squats as deep as humanly possible were all his own. His swing, his style, his offseason workout routines were wholly unique.
It shouldn't be surprising that this extended to his entire life. After Ichiro retired yesterday, pulled from the outfield to a rousing ovation and plenty of tears in the ninth inning of the Mariners' 5-4 extra-innings win over the Athletics, plenty of players and managers needed to say goodbye. And, again, this being Ichiro, that meant sharing amazing stories of a baseball icon.
Ichiro may have missed out on a final infield single on Thursday by a mere step, but when Lou Merloni was manning the infield, that wasn't the case: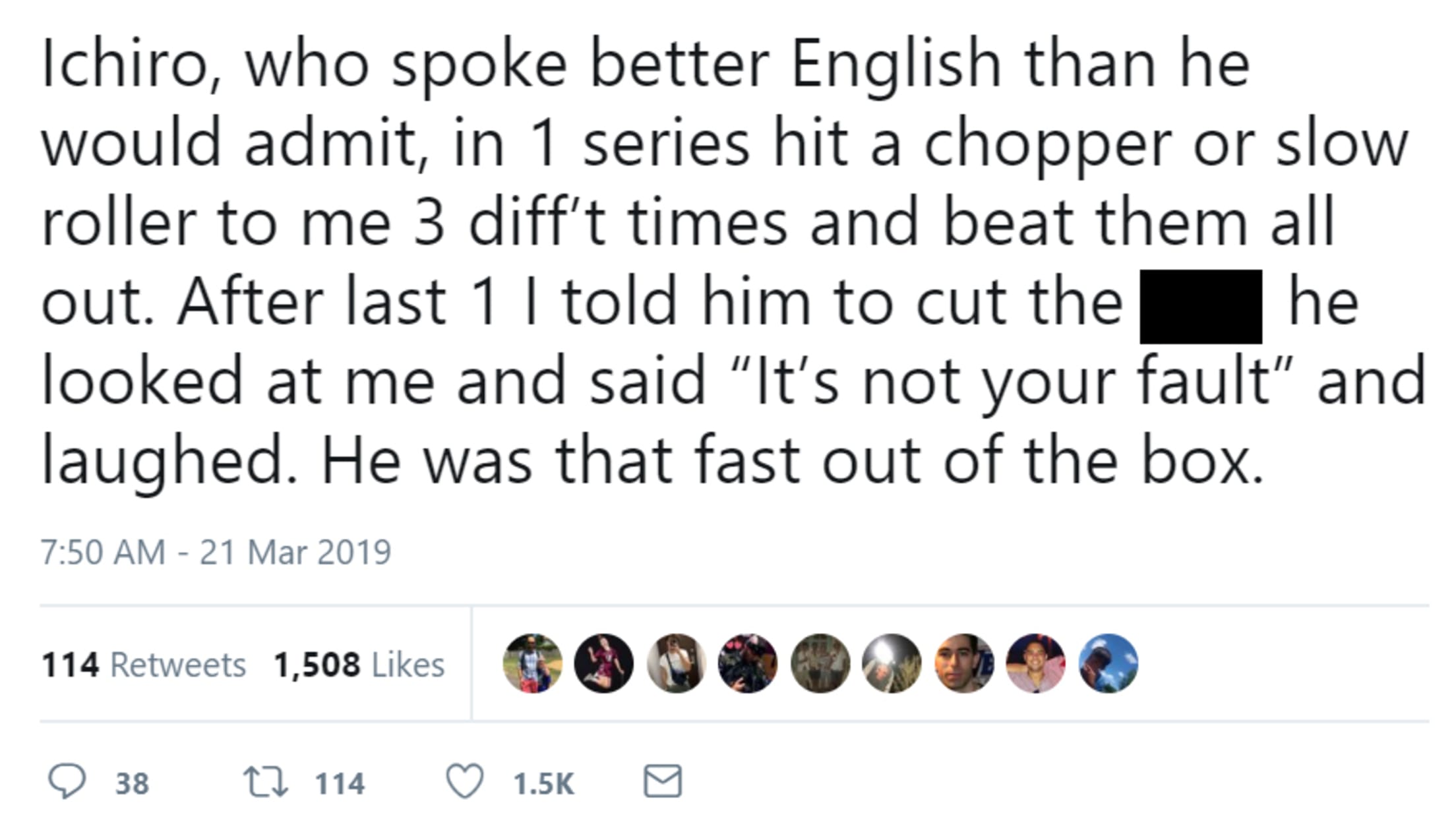 Ken Griffey Jr., who was known to tickle Ichiro before every game when they were teammates, shared an amazing tale of his devotion to fitness:
Ichiro plans to workout on 1st day of retirement

Is Griffey surprised?

"No, doesn't surprise me. I told you I went to dinner at his house. He ate, went & worked out, came back & had dessert. Just left me in the kitchen for like 35 minutes. Just looked at him like he was crazy."

— Lydia Cruz (@TheLydiaCruz) March 21, 2019
Ichiro was famous for needling opponents and friends. Derek Sanderson Jeter was no different:
Ichiro thought it was absolutely hilarious to call Jeter "Sanderson". He'd chuckle in his locker for a good 2 min every time. What a beauty he is. Oh and a lot of hits too

— Phil Hughes (@PJHughes45) March 21, 2019
Dan Straily remembered the oddly precise time that Ichiro invited him to a sushi dinner while the two were teammates on the Marlins:
"He told me to be there by 7:19," Straily said. "I was like, 'That's weird, so precise.' He had looked up that it took exactly 11 minutes to get from the hotel to the restaurant, and we had a 7:30 reservation."
The Cubs' Joe Maddon nearly got a home run in exchange for a bottle of wine:
Cubs manager Joe Maddon shared this Ichiro story today from the 2009 All-Star Game... pic.twitter.com/WJd5luLBIn

— Jordan Bastian (@MLBastian) March 21, 2019
Dave Roberts -- like Lou Piniella before -- didn't think Ichiro was going to be able to hack it in the big leagues.
Dave Roberts on when he first saw Ichiro play: "My first impression was he's going to be overmatched in the major-league game with velocity. He had a terrible spring. It was like swinging a wet newspaper...I think he threw out 2 or 3 hits opening day and went off from there."

— Jorge Castillo (@jorgecastillo) March 21, 2019
Ichiro proved that wrong. More than 3,000 times he proved that wrong.
Teams in this article:
Players in this article:
Topics in this article: