Justin Verlander is the Thanos of baseball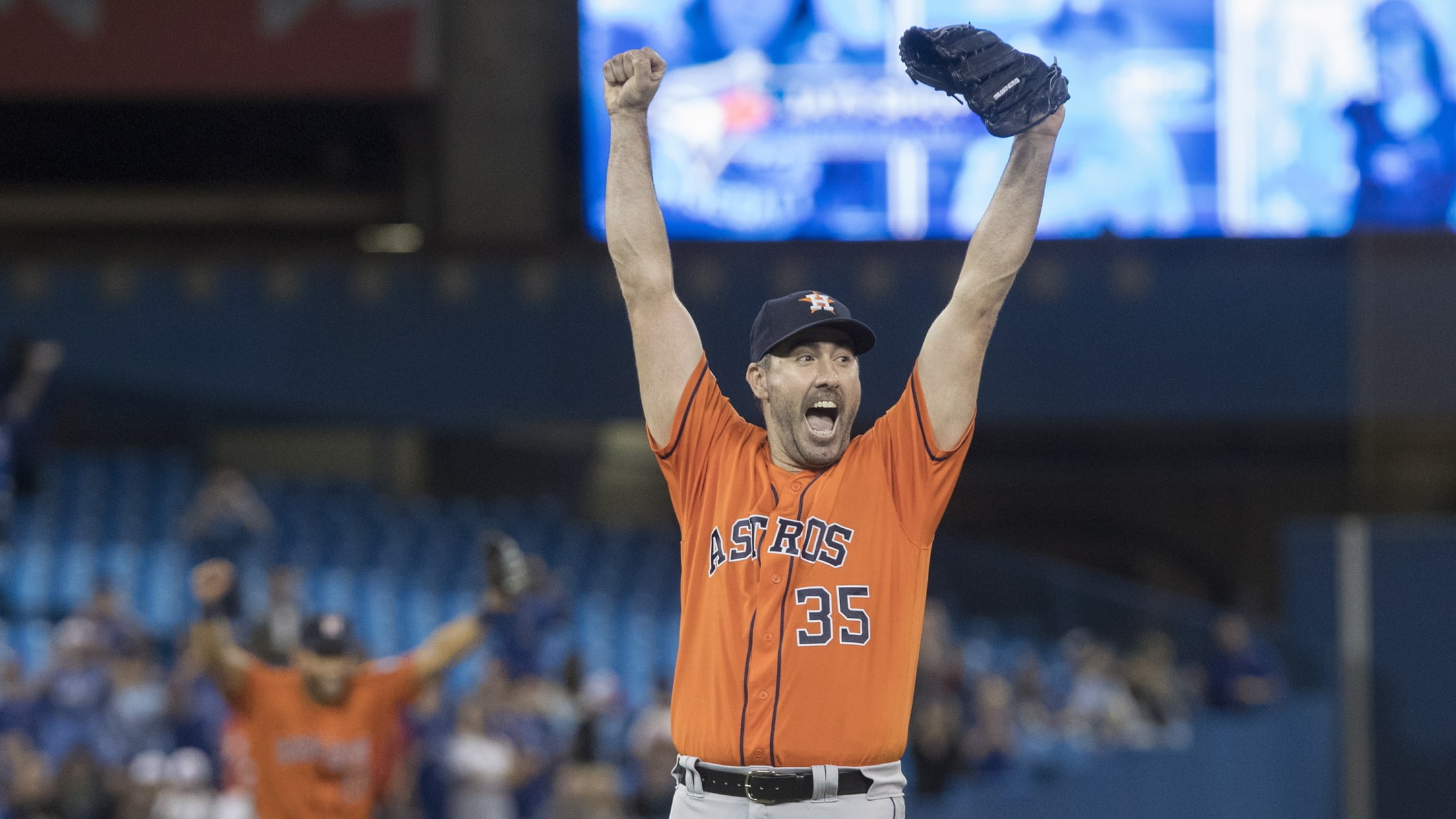 Justin Verlander threw a dominant no-hitter on Sunday against the Blue Jays, and I couldn't help but think, "Yep, that sounds right." It was inevitable, really.
With apologies and due respect to all other pitchers, Justin Verlander is the Thanos of baseball, intent on ruling the baseball galaxy for ages -- and there doesn't seem to be anybody out there who can stop him.
Don't get me wrong: There are plenty of amazing talents out there on the mound these days, some of them destined for Hall of Fame residency after their careers are done.
But there's only one Justin Verlander, and what he does on the mound seems ... well, here's a look at Verlander whenever it's his day to pitch:
On Sunday, Verlander joined a very rare group by throwing his third career no-hitter, this one against the Blue Jays and their powerful young core of sluggers. He's done this three times now, holding teams hitless and in complete awe of his arm as he throws literally unhittable fastballs, sliders and curves up there at the plate.
This is giving us all the feels. pic.twitter.com/LESww7qDcf

— Subscribe to Cut4 on YouTube!!!! (@Cut4) September 1, 2019
JJ Watt's right, you know.
JV the Legend!!! 🔥🔥🔥@JustinVerlander https://t.co/e3oDwg522N

— JJ Watt (@JJWatt) September 1, 2019
Verlander is truly generational talent out there on the mound.
But, while throwing one no-hitter is amazing, let alone three, I couldn't help but see Sunday's events in Toronto and think ... how unsurprising it was, really. Even the context of becoming just the sixth pitcher to ever throw three no-hitters, it just felt ... expected, almost. Or, again, inevitable.
Verlander is the pitching equivalent of Thanos, who had aims of ruling the galaxy forever when he acquired the Infinity Stones. The difference is nobody seems capable of stopping Verlander.
JV's basically possessed the baseball Infinity Stones for most of his career, which is now in its 15th season. His first no-hitter came in 2007, as a 24-year-old in his third season in the Majors. Now, he's "old" at 36 and just dominating on a regular basis, still.
As far as at least a couple of teams are concerned, too, Verlander is an absolute villain. The first is the Blue Jays, who have watched Verlander no-hit them at their own ballpark TWICE now (the first came in 2011 while he was with the Tigers).
The other is the A's. In 2012, they battled back to force a winner-takes-all Game 5 of the Division Series against Verlander's Tigers, and ran into a wall. Or, in keeping with the Thanos theme, Verlander basically snapped his fingers and the A's just disappeared:
The following season, the A's and Tigers met again in the Division Series, and ... sigh ... it happened again. Mr. Inevitable showed up in Game 5 once more:
Back in '12 and '13, this really bummed me out.
Growing up in the Bay Area, I took to the A's and their scrappy teams of the early 2000s, so it was exciting to see them back in the postseason.
But then HE showed up. The baseball villain, hell-bent on ruining my team's miracle season. The first time, I had hope that maybe the A's would vanquish the beast, but they couldn't. Then, when the rematch came around, I was all but resigned to see him lead the Tigers in jumping around on the Coliseum infield a second time.
Which he did, because that's what he does. He's a dream-crusher, the type all teams wish they had and only a handful are lucky enough to have. My team didn't, and I was reunited with October baseball sadness and a gloomy winter as a result.
When Verlander does this -- throwing no-hitters or ending teams' seasons in the postseason in their own stadiums, which for him is a "when" and not an "if" -- it's incredibly impressive, sure, but it just feels so ordinary.
Think about that: He's so good, his good is ordinary.
We literally love @JustinVerlander 🧡 pic.twitter.com/9Vt6Kqudi8

— Houston Astros (@astros) September 1, 2019
Baseball is a game in which pitching can be a volatile business. One season, a guy might be the talk of the league, and then a year or two later, he might be gone, a melancholy answer to a trivia question from the future.
But not Verlander. He's proven himself to be an inevitable force in the game, and seems poised to do it for years to come -- much as Thanos sought to rule the galaxy and beyond, forever.
Of course, Thanos' reign saw an end come in the form of the Avengers teaming up to take him down once and for all.
We're still looking for baseball teams who can put a stop to Verlander's reign, because there sure don't seem to be many out there right now.
Teams in this article:
Players in this article:
Topics in this article: