Pitching with a broken face is nothing for Max Scherzer, baseball's top intimidator
It's approaching the end of June. There are still months of baseball left. It's not pennant-race time, nor are we in the midst of October postseason drama.
You wouldn't know it by looking at Max Scherzer, though. One day after having his nose broken while laying down a bunt in batting practice, he's back at the ballpark for his scheduled start.
Here he is during warmups before Wednesday night's Phillies-Nats game at Nationals Park:
LETS GO!!!!! pic.twitter.com/PZEfDffNDz

— F.P. Santangelo (@FightinHydrant) June 19, 2019
Game-ready.
Somehow, Max Scherzer is even more intimidating now. pic.twitter.com/Y5C6S1LI3h

— Cut4 (@Cut4) June 19, 2019
This is not a look I could have. I'd be home, under the covers, definitely not back at work like it's just another day at the office.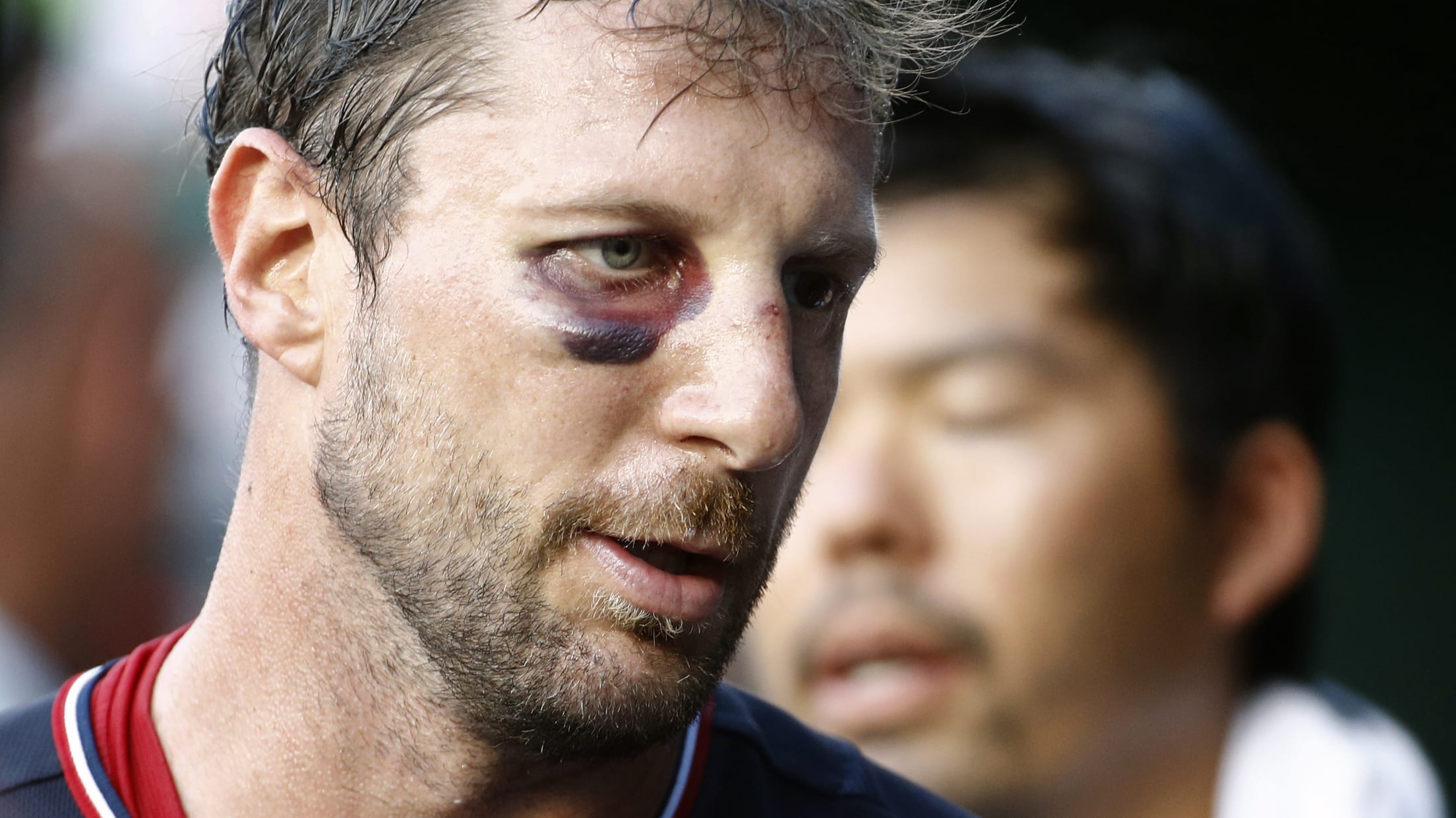 This is the stuff of legend. This is the sort of story you'll want to tell your kids when they ask, "Who's the most intense baseball player you ever saw?"
I mean, we already knew Scherzer was tough. For years, he's exhibited a take-no-prisoners approach on the mound, leaving everything -- and I mean everything -- out there on the hill as he mows down hitter after hitter.
He lets out guttural howls after striking guys out!
Max effort. 🔊 pic.twitter.com/LMA9zRTaPG

— MLB (@MLB) August 13, 2018
He makes it clear he's not leaving the mound until he wants to!
But this? Pitching with a broken face against Bryce Harper and the Phillies? This is next-level stuff, which when carried over to Scherzer standards means it's just a Wednesday. It's as if he's saying, "Why do I need a regular nose to pitch? That's not important. None of this matters. GIVE ME THE BALL."
No mere broken nose or blood vessel can keep him from dialing it up to the high 90s with his fastball or firing off sliders that fall off the table. He is not human.
By the way, Scherzer went out on Wednesday night and threw seven shutout innings, notching ten strikeouts with his broken face ... because of course he did.
He is Max Scherzer, baseball's top intimidator, and he's a wonder to behold.
Teams in this article:
Players in this article:
Topics in this article: