An excited Mike Trout took in the Eagles' season opener and met up with Carson Wentz and Zach Ertz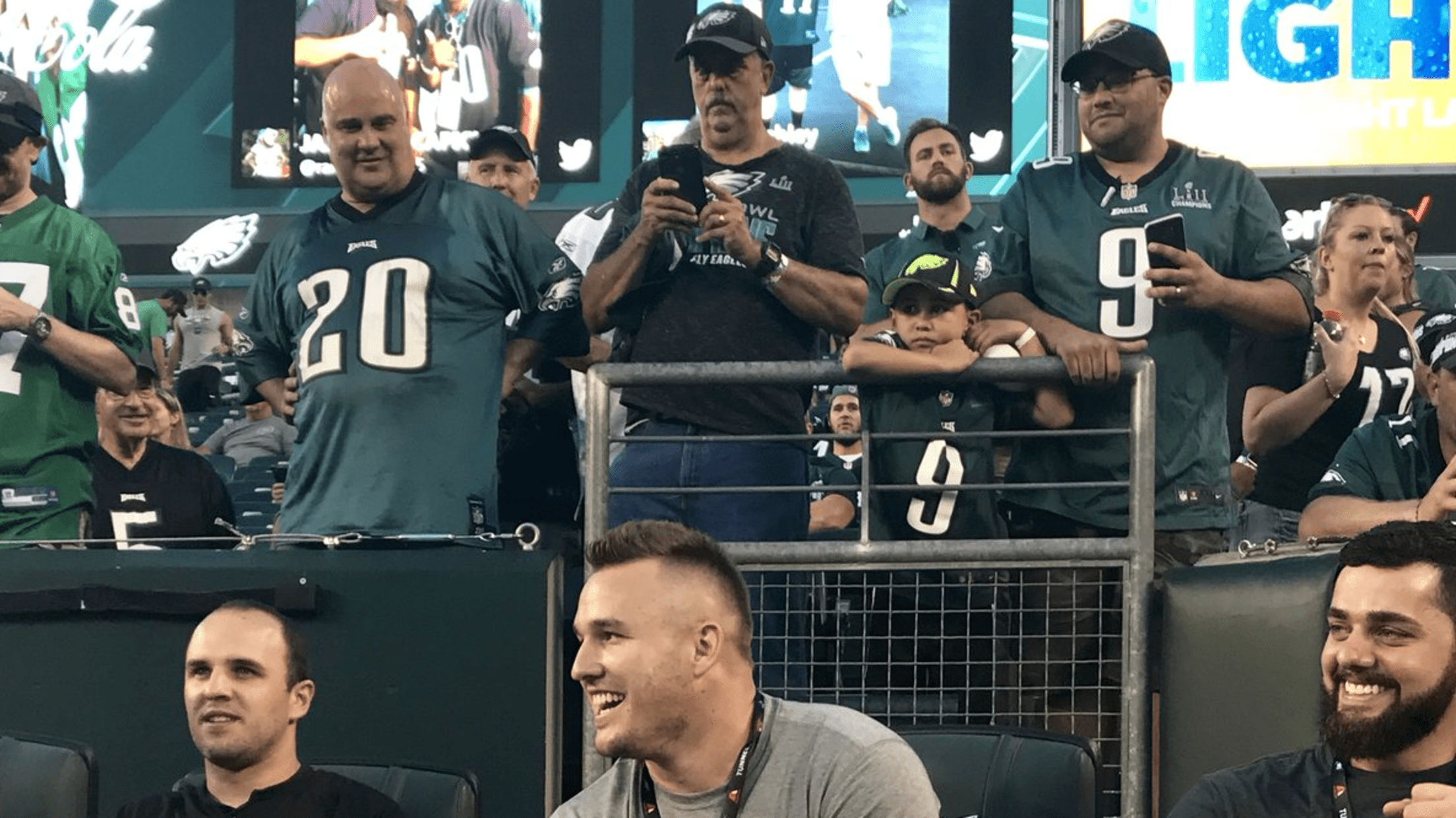 In addition to being one of the greatest baseball players around (and maybe of all-time, depending on whom you ask), Mike Trout is a gigantic Eagles fan.
On Thursday, the Eagles began their Super Bowl title defense with a season opener against the Falcons in Philly, and wouldn't you know it? Trout was there. He and his entourage (which included teammate Cam Bedrosian, a Falcons fan) sauntered to take their (very nice) seats before the rain began falling:
Mike Trout luckily had one off day in between playing in Texas last night and playing in Chicago tomorrow with @angels

He is here! He wouldn't miss this!#FlyEaglesFly pic.twitter.com/nfX0jRDzWG

— John Clark (@JClarkNBCS) September 6, 2018
While the team was doing warmups on the field, quarterback Carson Wentz came over and the pair exchanged pleasantries:
.@cj_wentz + @MikeTrout. #FlyEaglesFly pic.twitter.com/bXKvBBvMJx

— NFL (@NFL) September 6, 2018
As did tight end Zach Ertz:
Mike Trout gets personal hello from Zach Ertz @6abc #Eagles pic.twitter.com/AqQXc6aImf

— Jeff Skversky 6abc (@JeffSkversky) September 6, 2018
Trout also had another meet-and-greet, and this one was no doubt a thrill for the outfielder:
Sup, @MikeTrout.#FlyEaglesFly pic.twitter.com/41n6DT7tHF

— Philadelphia Eagles (@Eagles) September 7, 2018
This is just the latest instance of the Millville, N.J., product demonstrating his strong allegiance to Philadelphia's football team, whether from showing up at games to sending out tweet after tweet rooting on his guys.
September 6, 2018
As the Eagles advanced through the playoffs last season, Trout was so amped up he wore a rubber dog mask, which was all the rage in Philly at the time -- so you know he's a truly committed fan.
It's probably safe to expect more of this from Mike if his Eagles fly high once again this season ...
Teams in this article:
Players in this article: