What position could Mike Trout play to help the Eagles win the Super Bowl?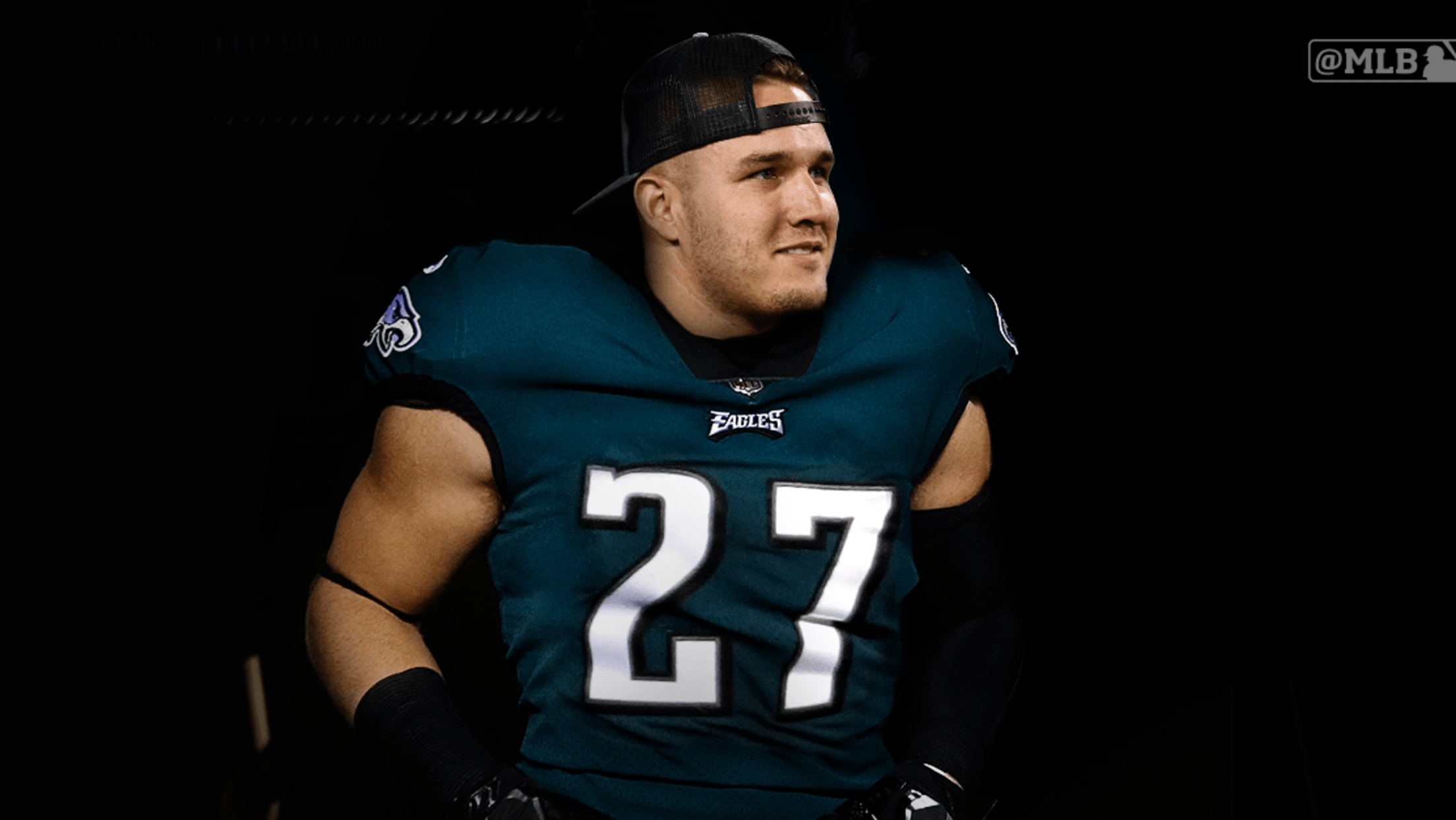 The notion of the two-sport star is endlessly fascinating, but exceedingly difficult to pull off. Only a handful of players have successfully put together careers in both MLB and the NFL, with Bo Jackson, Deion Sanders and Brian Jordan among the most notable.
On Sunday, the Philadelphia Eagles will battle the New England Patriots in Super Bowl LII, an intriguing matchup of the reigning Super Bowl champions and a team that hasn't won a Super Bowl. Few folks will be rooting for the Eagles as hard as Angels star Mike Trout, whose fandom is of the lifelong and die-hard variety.
Super Bowl !!! Lets gooooooo!!!!!#FlyEaglesFly

— Mike Trout (@MikeTrout) January 22, 2018
On the diamond, Trout's skill set is practically unrivaled. He can run, he can hit, he can field, he can cover a lot of ground in the outfield ... you get the point. He's good. You don't pick up two AL MVP Awards and five consecutive All-Star selections before your age-27 season without being a special talent.
It's fun, then, to imagine just where Trout might fit in on the Eagles' active roster. Using data from his early scouting reports and evidence of his Major League skill level (not to mention a bit of actual football experience when he was younger), let's take a look at what Trout could hypothetically provide for his Eagles, were he to suit up for the Super Bowl on Sunday.
Speed
Obviously, fleet-footedness on the football field goes a long way.
Trout's blazing speed was evident as soon as the Angels made him an everyday player in 2012. Starting the season at 20 years old, Trout promptly led the AL with 49 stolen bases.
Looking back to the scouting report on Trout ahead of the 2009 Draft (in which the Angels would select him with the 25th overall pick), this shouldn't have surprised anybody. Two years later, as he flew through the Angels' Minor League system, folks took note of his "plus-plus" speed ... a skill that would come in handy on the gridiron.
Trout can be a bit of a blur as he charges around the bases. Here's a triple from August of this past season in which he hit a speed of approximately 19.98 mph from home to first:
And back in 2015, he hit a maximum speed of 21.3 mph on a three-bagger against the Rangers' Shawn Tolleson:
For comparison's sake, a run of 21.3 mph would qualify within the top 10 individual runs in the NFL this past regular season in terms of the maximum speed on a single play, lining Trout up alongside the Chiefs' Tyreek Hill and the Rams' Todd Gurley. It is worth noting, however, that Trout's stolen base totals have decreased since his initial few seasons (he's reached 30 only once since 2013).
Range
Trout's 2009 scouting report cited his "quick first step" as an asset -- and it's that asset that helps him do things like reel in hard-hit line drives to the warning track with a Statcast-estimated 96.6 percent route efficiency:
On the offensive side of the game, football players need quickness, agility and the ability to dodge defenders flying in from all directions -- and a "quick first step" would be valuable all over the football field.
In terms of defensive efficiency, getting a good jump on fly balls is key -- especially in center field, where Trout roams. On this play in Oakland, his first step was a lightning-quick 0.40 seconds, and he easily hit 19.8 mph in his successful pursuit of a Yonder Alonso drive toward the gap:
On the offensive side of things, Trout's very selective at the plate. How selective? Well, out of roughly 150 players who saw at least 1,000 pitches outside the strike zone in 2017, he posted the fourth-lowest swing rate.
That kind of quick decision making and mental fortitude would definitely pay off in the game of football.
Dating back a bit into Trout's childhood, he always displayed a penchant for the game. His father, Jeff, was a coach for Millville High School, and young Mike came to practices and befriended the players. And, as SI's Tim Rohan recounted in a recent piece on Trout's football fandom, Trout took it upon himself as an eight or nine-year-old to help the team's struggling offense:
"He pulled out a notebook, drew up some plays and asked his father to pass them along to the head coach, Dave Heck. 'It was a bunch of papers and there were lines going everywhere,' Heck recalls, laughing."
He's a natural!
Arm
This is where Trout's potential role on a football team comes into focus a bit more. He recorded five outfield assists in 2017 and has 26 in total since coming up in 2011. When he lines it all up correctly, it's a thing of beauty that sometimes can hit nearly 95 mph.
His throws are capable of coaxing baserunners (like Clayton Kershaw) into awkward slides:
Physicality
The most dominant players in football tend to be built -- and so is Trout. Listed at 6-foot-2, 235 pounds, he's no slouch. He has the intense, awe-inspiring workout regimen to prove it:
His build is also consistent with that of several big-name NFL quarterbacks. The Packers' Aaron Rodgers, for example, is listed at 6-foot-2, 225 pounds. Drew Brees of the Saints stands at 6-foot, 209. Marcus Mariota of the Titans is listed at 6-foot-4, 222. Super Bowl LII starters Tom Brady (Patriots; 6-foot-4, 225) and Nick Foles (Eagles; 6-foot-6, 243) both stand taller than Trout, but you get the idea. Trout's physical stature is not too far off from the "typical" NFL quarterback.
The Verdict
The Eagles are pretty much running on all cylinders on defense, and on offense they rely on a more than competent core. Wide receivers Alshon Jeffery and Nelson Agholor have that on lockdown, while running back LeGarrette Blount and tight end Zach Ertz (at 6-foot-5, 250 is a slightly larger/bulkier build than Trout) probably don't warrant replacement either.
But, thanks to Trout's athletic ability, his quickness (necessary to avoid defenders), reaction time and that throwing arm the Angels superstar could, in a parallel sports universe, handle the rigors of quarterback and do a solid job of his own battling Brady and the Patriots for football supremacy. With all due respect to Foles, who has done a great job leading the Eagles to the Super Bowl after Carson Wentz went down with an injury, he should let Trout take over.
Teams in this article:
Players in this article: