In honor of Will Ferrell, here's the 2018 All Out-of-Position Team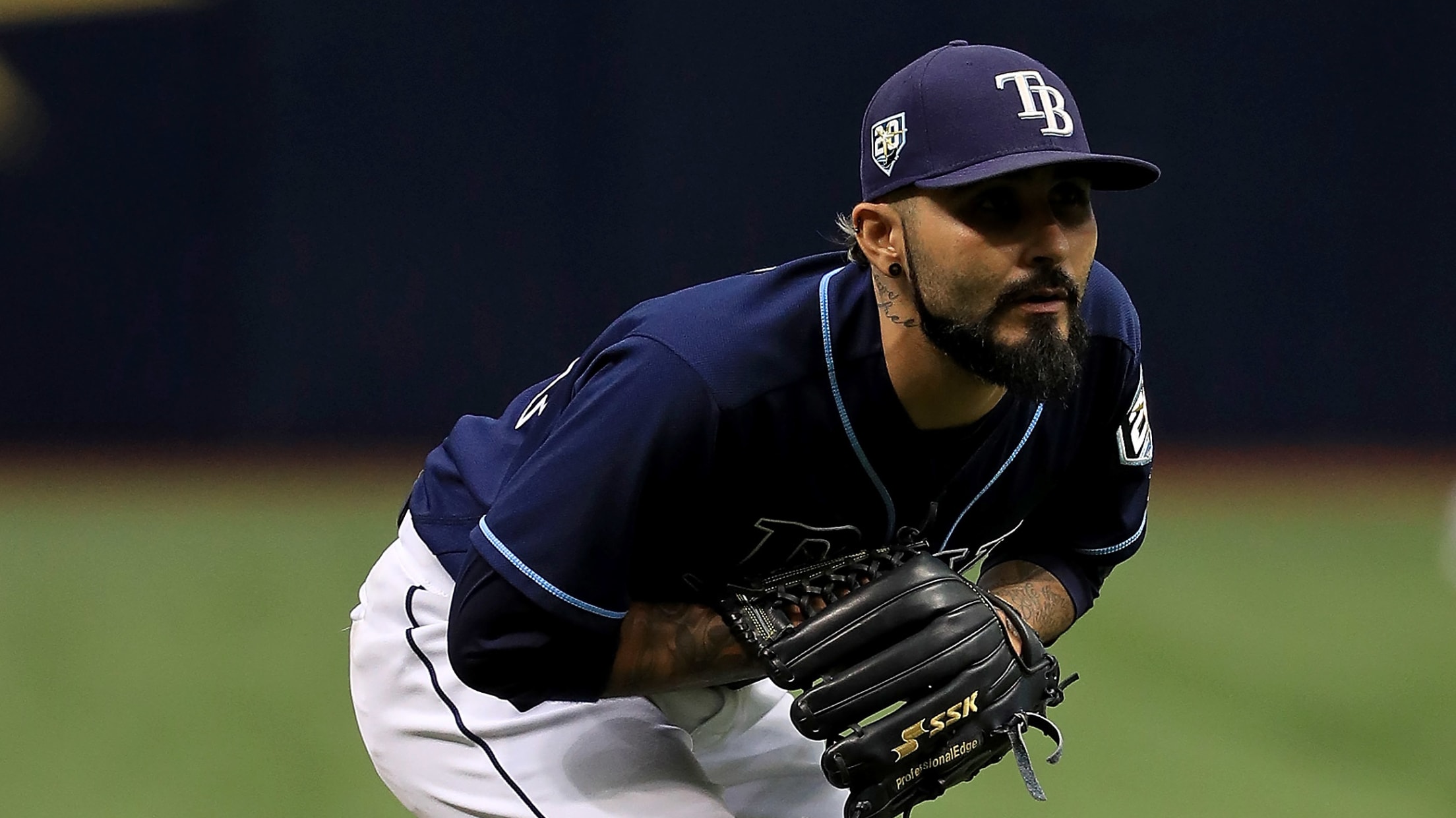 On this day in 2015, comedian Will Ferrell paid tribute to his childhood hero, former A's utility man Bert Campaneris, by playing all nine positions while suiting up for 10 different teams in Spring Training.
Give Ferrell some credit -- it's not as easy playing all these positions as it seems. Just ask the members of the 2018 All Out-of-Position Team: They all found themselves out of their customary spots last season due to unusual circumstances and had to make do. Some excelled! Others ... well, you'll see.
Pitcher: Pablo Sandoval
There were several superb Cy Dunn candidates for this slot in 2018. It's hard to beat Anthony Rizzo taking the mound, but we have to give it up for the Kung Fu Panda.
Consider the circumstances:
Sandoval had never pitched.
The Giants had not used a position player on the mound since 1991.
It happened in a premier matchup against the longtime-rival Dodgers.
Sandoval threw a perfect inning despite facing three legitimate threats in Max Muncy, Yasmani Grandal and Chris Taylor, who combined for 76 dingers in 2018.
To top it all off? It could have been even better -- the switch-hitter said he can also pitch left-handed.
Pablo Sandoval, who threw a perfect, 11-pitch inning,
explains how he was born a lefty and learned to throw right-handed: pic.twitter.com/iIRxujVO2J

— John Shea (@JohnSheaHey) April 29, 2018
Catcher: Joe Mauer
There were no total anomalies among 2018 backstops. So instead, we'll salute Mauer, one of the greatest catchers in baseball history, who moved back behind the plate for the first time in over five years in honor of his final game with the Twins. Injuries necessitated Mauer's move to first base, but for one pitch, it was like he'd never left.
The humble Mauer had to be convinced by his family to catch one more time, and he asked Yoan Moncada to simply take the first pitch, which would be outside the strike zone. MLB.com's Jarrid Denney recounted the story of Mauer using the same catcher's gear that he had always held on to:
When Mauer was forced to give up his catching duties in 2013, he had stashed away his catcher's gear and planned to put it on display at home. But that never happened, and the bag remained unopened for over five years -- until Saturday night.
"I knew exactly where it was and just never opened it. So, I picked it up last night for the first time and put it on over my clothes, and I started getting emotional. ... I was able to put on the gear at my locker, and that's kind of when it all came out."
Mauer wasn't alone -- there weren't many dry eyes in the house at Target Field that day.
First base: Jose Alvarado
"The Opener" wasn't the only fascinating strategy that Kevin Cash and the Rays deployed in 2018. He wasn't afraid to use his players in unconventional positions -- up to and including pitchers taking the infield.
Back on June 26, the Rays were locked in a tight 1-0 game with the Nationals. It was the ninth inning, and Cash wanted the lefty reliever Alvarado to face fellow southpaws Bryce Harper, Juan Soto and Daniel Murphy. The only problem was that righty Anthony Rendon was between them in the lineup.
Cash's solution? Have Alvarado face Harper, move to first base for a batter in favor of the righty Chaz Roe, and then return to the mound for Soto. It was a bold move, and one that Alvarado did not expect at all:
"[He was] pretty shocked," Cash told MLB.com's Bill Chastain after the game. "Obviously there's a language barrier. The best was Wilson Ramos looking at me like I had two heads. I said, 'Just shut up and explain it to him.' He can make fun of me later on."
In the short-term, the maneuver didn't really work. Alvarado walked Harper, and while Roe got Rendon to whiff, Alvarado then surrendered hits to Soto and Murphy. Fortunately, Sergio Romo came in to get out of the jam and preserve the win. (This wouldn't be the last time that Romo was involved in some out-of-the-box thinking in 2018.)
At least Alvarado earned a "Gold Glove" for his defense at first base.
A security guard gave Jose Alvarado a 'gold glove' after he played first base on Tuesday 😂

(via @TBTimes_Rays) pic.twitter.com/tGFcQaaeoX

— Cut4 (@Cut4) June 28, 2018
Second base: Jeff Mathis
Mathis was a busy man in 2018. The 14-year veteran was asked to pitch in relief for just the second time in his career during the D-backs' 16-inning marathon against the Padres on July 8. A mere three days later, he found himself at another strange position: second base.
Other than those two brief outings on the mound, Mathis had never played a position other than catcher in 835 MLB games. But by the bottom of the sixth inning on July 11 against the Rockies, it didn't really matter who was playing the field for the D-backs. They were losing, 19-2 -- so why not try Mathis out at second?
Mathis caught a pop fly from Pat Valaika shortly after his entrance, and didn't see another chance. He's likely to never play second again, but now he can at least add it to his resume should his new team, the Rangers, ever want to get weird.
Third base: Sergio Romo
It hadn't even been a full month since Alvarado's appearance at first base when Cash decided to get weird again. The Rays again held a slim lead, this time over the Yankees. Romo entered the game with runners on the corners and one out in the eighth, and he retired Giancarlo Stanton and Gleyber Torres to escape the frame after allowing just one run.
In the ninth, lefty Greg Bird was due to lead off for the Yankees, so once again, Cash did the pitcher switcheroo -- this time with a different position in mind. Romo went over to the hot corner and left-hander Jonny Venters came to the mound. Like Alvarado, Romo was stunned:
"The manager walks up to you and goes, 'Hey, you're going to third base.' Just kind of looked at him, and said, 'What?' He said, 'Just go to third base, we'll let you know after that.' … I was thinking, 'Who's batting? Bird's up. So chest out, just knock it down, you've got a shot.'"
Romo said he last played third in junior college almost 20 years ago. Thankfully for him, he wasn't tested. Venters induced a grounder from Bird for out No. 1, and Romo promptly returned to the mound to close out an eventful 3-2 win.
Shortstop: Russell Martin
Being a Major League shortstop was Martin's goal for a long time -- he spent time there in high school and college until the Dodgers moved him behind the plate, and he even volunteered to play short for Team Canada in the World Baseball Classic.
But he had never appeared there in a Major League game ... until May 15, when Blue Jays manager John Gibbons made Martin's dream a reality for an inning during a 12-2 loss to the Mets. A week and half later, it got even better: Gibbons tapped Martin to start at short. Martin was thrilled.
"As a kid growing up, my dream was to always play shortstop at the Major League level. I got away from it when I got converted to being a catcher after my first season in pro ball. But I've always felt like I've had the ability to play there. Getting that opportunity was awesome.
"If they want me to play shortstop every day, I'll play shortstop every day. But I don't think that's going to happen."
Martin didn't become an everyday shortstop, but he did make a play in the field! For a bonus utility point, Gibbons used Martin in left field two days later, though an even more unusual circumstance took that spot on this team.
Left field: Steve Cishek/Brian Duensing
The nod here has to go to Cubs relievers Cishek and Duensing, who worked in tandem on June 30 for one of manager Joe Maddon's patented Waxahachie Swaps.
Cishek entered the game against the Brewers in the bottom of the eighth and allowed a leadoff hit to Orlando Arcia. In came Duensing to face the lefty Eric Thames -- but rather than leaving the game, Cishek simply replaced Kyle Schwarber in left field. Thames struck out, and with Lorenzo Cain coming up, Duensing swapped places with Cishek ... and sent a little prayer to the heavens:
"It was a little terrifying, to be honest," said Duensing. "A lot of praying going on out there that Cain hit it to right field and not left. It was fun. It's something I've never done before. Not that it was ever in a box, but I guess I can check it off."
Cain bailed Duensing out by grounding out. That allowed Maddon to bring Duensing back to face Christian Yelich and put an actual position player, Willson Contreras, out in left field. Yelich flew out, completing one of the busiest scoreless innings you'll ever see in a scorebook.
Center field: Willians Astudillo
Annual All Out-of-Position Team favorite Mark Reynolds technically played center field on July 24, but that was a byproduct of an emergency five-man infield. So instead, we turn to Astudillo, a popular rookie who played all around the diamond for the Twins -- but found himself in an even stranger place than usual during his MLB debut.
In nine seasons of Minor League ball, the squat Astudillo mostly alternated between catching and the infield. He only saw center field action in five of his 638 games, and none at all since the 2014-15 Venezuelan Winter League. Nonetheless, after being called upon to play left field in the middle of the Twins' June 30 game against the Cubs, manager Paul Molitor shifted him over to center for the eighth inning -- making him the first player listed at 5-foot-9 or shorter and more than 215 pounds to ever play the position.
The outing was short-lived. Astudillo never had a ball hit to him, and he never appeared in center field again during his other 28 games for the Twins.
Right field: Matt Adams
Adams had never played right field at any level of baseball before the Nationals called on him for the last four innings of their game against the Mets on July 31.
Fortunately for Adams, the score was already a ridiculous 19-0 when Dave Martinez put him in the game in the top of the sixth. He made the most of the low-pressure situation, catching a fly ball from Phillip Evans to end the inning for his first (and only) putout, then being rewarded for his diligence with a two-run blast in the eighth off another player out of position: Jose Reyes.
Good things come to those who innovate.