Here's how MLB celebrated all things red, white and blue on the Fourth of July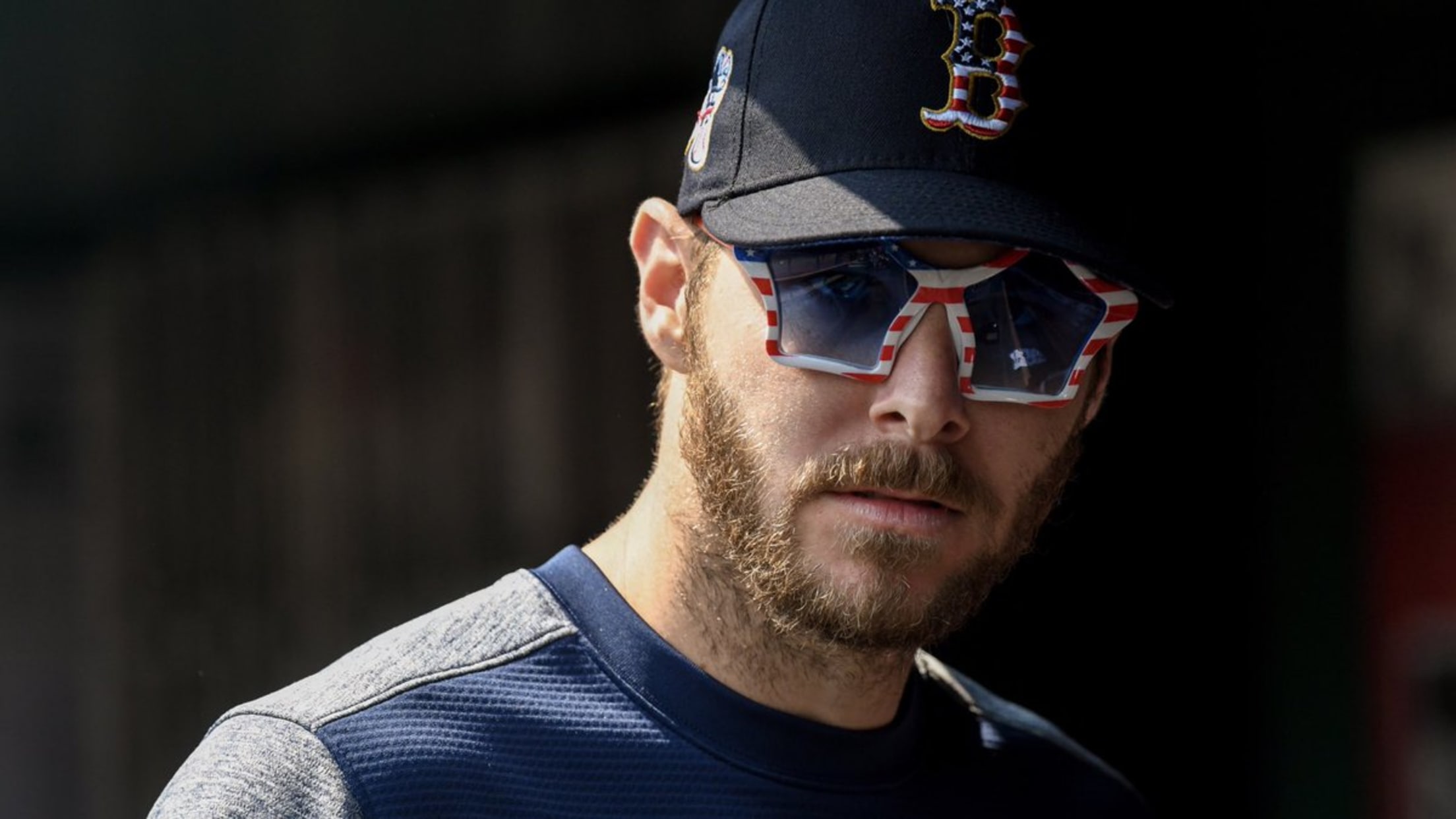 It's that time again -- the United States is another year older (242!) and we all celebrate another Fourth of July.
That, of course, means baseball is ready to celebrate the red, white and blue with everything from special themed jerseys and caps tofireworks displays.
In Los Angeles, Chris Taylor got the party started early on Tuesday night with a display of his own, falling just a single shy of the cycle while wearing glorious USA-themed socks. Here's his fourth-inning solo homer:
Players and teams got into the spirit of the day on social media on Wednesday in a variety of ways.
America's pastime on the #FourthofJuly. 😍 pic.twitter.com/PZemk6KhKo

— MLB (@MLB) July 4, 2018
Longtime Cubs organist Gary Pressy commemorated the day with this great musical introduction:
Happy 4th of July! -GP pic.twitter.com/Gm5xamMyAB

— Gary Pressy (@GaryPressy) July 4, 2018
The Red Sox and Nationals got underway in D.C. as the day's first game, and Chris Sale was ready:
You're welcome. 🤩 pic.twitter.com/2l2Jpx6tpZ

— Red Sox (@RedSox) July 4, 2018
Members of the D.C. cast of "Hamilton" led Nationals Park in a rendition of The Star-Spangled Banner:
Happy birthday, America!

Here's video of the DC cast of @HamiltonMusical singing The Star-Spangled Banner.#HamilTour // #OnePursuit pic.twitter.com/tv1i5lf77k

— Washington Nationals (@Nationals) July 4, 2018
D.C. United star Wayne Rooney also took in the first game of the day, wishing fans a festive Fourth as well:
Happy 4th of July to all @dcunited fans and everybody celebrating! Enjoying a day at the baseball, come on @Nationals! ⚾️🇺🇸 pic.twitter.com/h3JJcWf06k

— Wayne Rooney (@WayneRooney) July 4, 2018
After the Red Sox beat the Nats, 3-0, they board the plane dressed to the nines in their red, white and blue best:
Red White & Blue Sox 🇺🇸🇺🇸🇺🇸 pic.twitter.com/hCett8Liyt

— Red Sox (@RedSox) July 4, 2018
Kevin Kiermaier can't go out on the lake, as the Rays have a game in Miami, but he did offer this up to those who can:
To all my fellow patriotic americans out there...if you're celebrating this great country out on a boat on the lake or any body of water...im living vicariously through you today. Its tough to be more american than that on this great day

— Kevin Kiermaier (@KKiermaier39) July 4, 2018
Twins catcher Mitch Garver looked ready for the day:
Happy #IndependenceDay, #MNTwins fans! pic.twitter.com/OqIBCEgjbF

— Minnesota Twins (@Twins) July 4, 2018
Nelson Cruz's gloves were sparkling:
Dallas Keuchel showed off the Astros' themed cap:
Today, we celebrate this great country. Wishing everyone a safe and relaxing 4th! pic.twitter.com/t1El8LUHCx

— Dallas Keuchel (@kidkeuchy) July 4, 2018
His rotation mate Justin Verlander proudly displayed his gear as well:
Proud to wear the #StarsandStripes jersey today! Happy #IndependanceDay everyone! 🇺🇸🇺🇸🇺🇸 pic.twitter.com/BibrjoEkmZ

— Justin Verlander (@JustinVerlander) July 4, 2018
Hunter Pence was pumped-up:
I'm proud to wear red, white, and blue 🇺🇸 #Happy4th pic.twitter.com/nX0xVDVSAS

— Hunter Pence (@hunterpence) July 4, 2018
As was Mike Trout:
Proud to be an American on this #IndependenceDay!!! Happy 4th of July 🇺🇸🇺🇸🇺🇸

— Mike Trout (@MikeTrout) July 4, 2018
Jedd Gyorko's daughter had fun:
Happy 4th everyone!!! 🇺🇸🇺🇸🇺🇸 pic.twitter.com/E6JJcEhOKp

— Jedd Gyorko (@JGyorko05) July 4, 2018
Over in Chicago, Kyle Schwarber dressed up for the occasion in very impressive detail:
Kyle Schwarber, more patriotic than you. pic.twitter.com/p5y4UOJrhh

— Cut4 (@Cut4) July 4, 2018
Lou Seal shared a photo from the crisp waters near the Bay Bridge:
#FourthofJuly2018 #HappyBirthdayAmerica #SFGiants pic.twitter.com/xX51UAiXI8

— Lou Seal (@LouSeal01) July 4, 2018
Up at Safeco Field, Félix Hernández turned up in a hat that would go well alongside Schwarber's beard:
A patriotic 👑 for the King. 🇺🇸 #TrueToTheRedWhiteAndBlue pic.twitter.com/9X1urZlKdM

— T-Mobile Park (@TMobilePark) July 4, 2018
The Red Sox were ready to leave Washington, D.C., in style, fresh off their sweep of the Nationals:
Here's hoping you have a fun, festive and safe holiday!