The Mets and Braves celebrated July 4 by playing one of the craziest games in MLB history
Baseball and the Fourth of July are made for each other: What better way to celebrate America's birthday than with America's pastime?
In 1985, though, the Mets and Braves might have taken that notion a little too far. The two teams got together for a July 4 night game at Fulton County Stadium, and by the time the dust settled, the calendar had flipped to July 5. In between was one of the wildest, wackiest, most inexplicable baseball games in the history of the sport -- so much so that we had to put together this handy timeline of shenanigans. Sit back, fire up the grill and enjoy.
Prior to first pitch
Not a particularly auspicious start: First pitch is delayed by 90 minutes due to rain. The forecast going forward doesn't look great, but this is the Fourth of July, and the show must go on. "In those days, if the team had spent money on fireworks, you were playing, come hell or high water," Ron Darling later recalled.
Bottom of the third inning
Sure enough, high water comes not long after, as play is suspended for 41 minutes during the bottom of the third. Delay No. 2 also brings some controversy: After removing starter Doc Gooden because of the long wait, Mets manager Davey Johnson wants to make changes to his lineup -- only for the umpiring crew to inform him that he can't in the middle of an inning. New York plays the remainder of the game under protest.
Top of the fourth inning
Some actual baseball! The Mets rally for four runs to take a 5-3 lead, thanks in part to a Wally Backman RBI single that rolls into center field and just ... stops:
Top of the sixth
Keith Hernandez triples during that fourth-inning rally, leaving him just a single and homer shy of the cycle. It looks as though he's checked the former box in his next at-bat, only for umpires to rule that Dale Murphy had made a clean catch on his line drive to center. Narrator voice: Murphy did not in fact make a clean catch: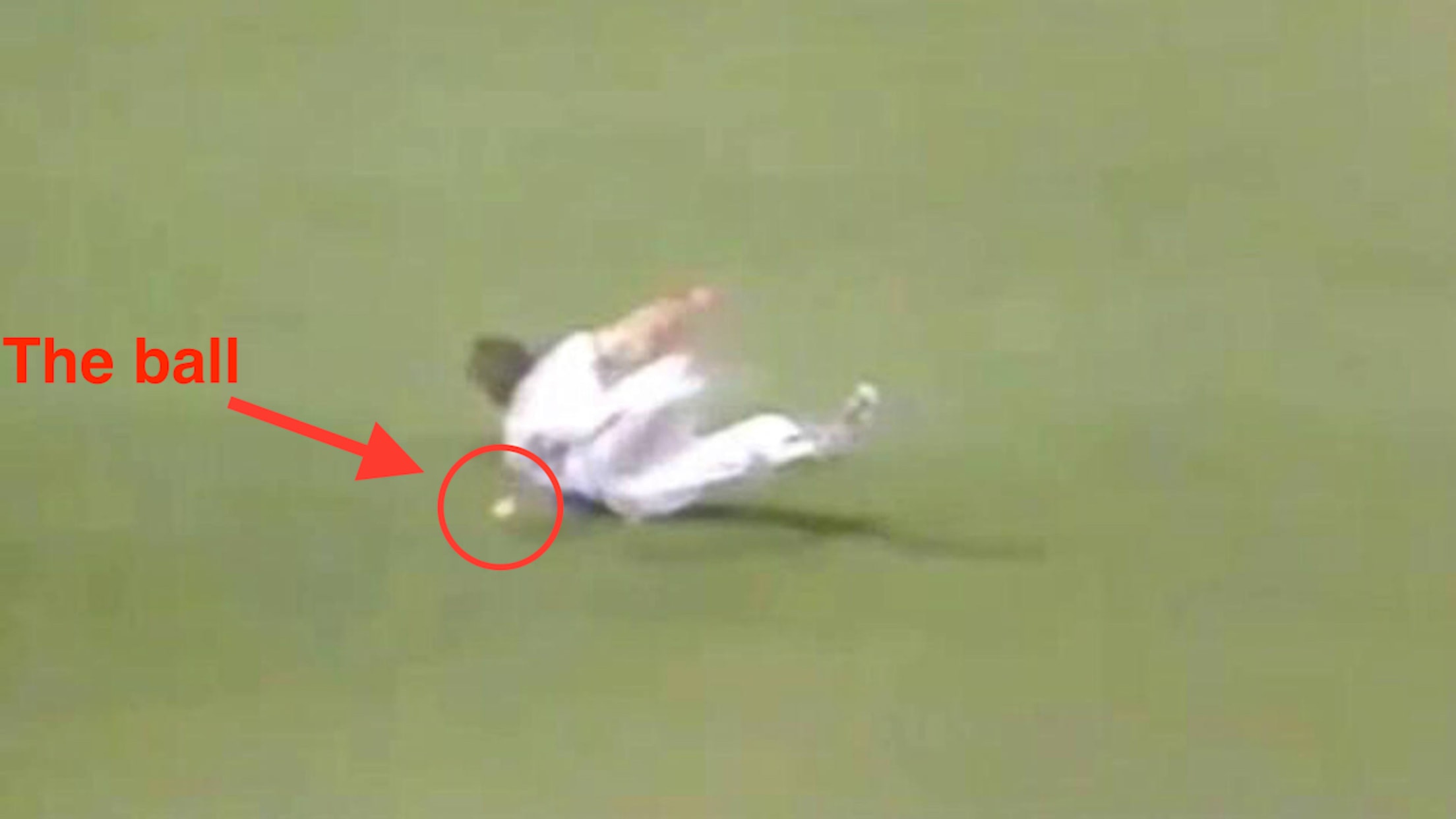 Top of the eighth
Hernandez homers, bringing him just a single away from the cycle. The Mets take a 7-4 lead, until ...
Bottom of the eighth
... the Braves mount a go-ahead rally, capped off by a bases-clearing double from Murphy. Atlanta takes an improbable 8-7 lead into the ninth for future Hall of Fame closer Bruce Sutter ...
Top of the ninth
... only to watch as Sutter blows the save on consecutive singles from Howard Johnson, Danny Heep and Lenny Dykstra:
On to extra innings we go.
Top of the 12th
Things are uneventful until the 12th, when Hernandez finally gets that elusive cycle:
(He's erased on a double play, but still.)
Top of the 13th
Finally! Johnson hits a two-run homer to give New York the lead! The Mets are going to win this most improbable marathon of a-- oh who are we kidding, we're nowhere near done yet.
Bottom of the 13th
Take it away, Terry Harper:
Top of the 17th
Harper's two-run homer ties the game at 10, and so things remain as Tom Gorman and Gene Garber swap zeros. At this point, July 4 has become July 5, and everybody's getting a bit tired -- everybody including home plate umpire Terry Tata, who's been crouching behind home plate for about 150 at-bats at this point and has no time for Johnson and Darryl Strawberry arguing balls and strikes.
After all, as Tata told Johnson at the time, "At three o'clock in the morning, anything's a strike."
Strawberry heads back to the dugout -- probably to go snack on some popcorn, which Atlanta's visiting clubhouse manager kept plying the Mets with all night -- while Johnson takes to the recliner in the manager's office to watch the rest of the game. Don't worry, though: His role in this story isn't over yet.
Top of the 18th
A Lenny Dykstra sac fly gives the Mets an 11-10 lead! This must be it!
Bottom of the 18th
Finally, mercifully, it appears as though the game is coming to an end. Gorman has retired the first two Braves with ease, and with no more bench options remaining, Atlanta's last hope is pitcher Rick Camp -- who came into the night a career .060 hitter with 83 strikeouts in 167 at-bats.
As you might imagine, the Mets exhaled. Gary Carter was so confident that he started waving his outfielders in:
But John Sterling -- then a broadcaster for Turner Sports and still a few years away from becoming the voice of the Yankees -- wasn't so sure. He didn't quite call it, but he did put the thought out into the universe.
"Ernie," Sterling said to his partner, Ernie Johnson, "if [Camp] hits a home run to tie this game, this game will be certified as absolutely the nuttiest in the history of baseball."
A couple pitches later, wouldn't you know:
Typically, Major Leaguers strive for stoicism -- they're professionals with a job to do, and even when things go south they need to keep up appearances. When a pitcher hits a game-tying homer with two outs in the bottom of the 18th at three in the morning, though, that stoicism flies out the window. Nearly as soon as the ball left the bat, Johnson and third baseman Ray Knight crumpled in disbelief:
Left fielder Heep, meanwhile, could only put his hands on his head:
Top of the 19th
And yet, somehow, some way, New York responded: They exacted revenge on Camp with five runs in the 19th to give themselves a commanding 16-11 lead, highlighted by a three-run single from Heep. Surely this had to do it, right?
Bottom 19
Before they could close out the game, though, one more decision had to be made: The Mets were now officially out of relievers, and they had to decide whether to use a position player or go with the next day's starter. And who better to answer that question than the manager, ejected or not?
One member of the team went into the clubhouse to find Johnson and ask him whether Heep should start warming up, and he was happy to answer: "Hell, no," Johnson said. "If we're going to be here this long, we're going to win it. Get Ronnie Darling up."
Darling got up, came in the game and did the job:
Time of day: 3:55 a.m. Time of game: six hours and 10 minutes. But even though most of them were home and asleep by now, Braves fans had still been promised fireworks -- and the team was determined to give them some:
In all, the teams managed 25 runs, 46 hits and 37 men left on base.
But the most remarkable total might have been put up by Mets pitcher Roger McDowell -- who, after pitching two-thirds of an inning in relief of Gooden, threw back seven cheeseburgers over the remainder of the night. Happy Fourth, everybody.