Baseball was drastically different in 2005, the last year Tiger Woods won the Masters before Sunday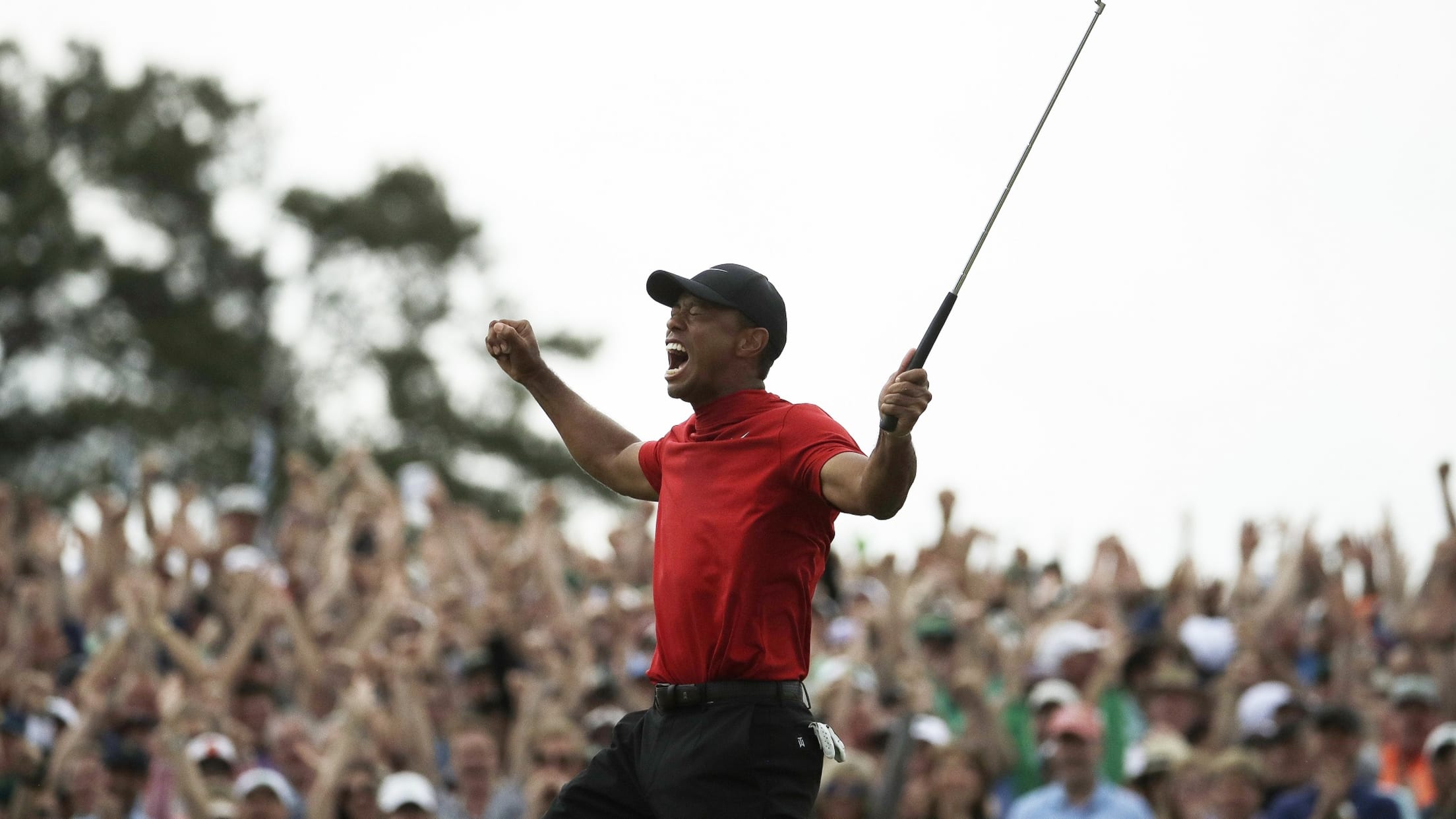 On Sunday afternoon, Tiger Woods added to his historic golf resume with his fifth victory at The Masters, holding off Dustin Johnson, Xander Schauffele and Brooks Koepka for a thrilling win -- Woods' fifth Masters win, and his first since 2005. It was also his first major title win since 2008.
Roaring back.#themasters pic.twitter.com/nlTwxWJW8X

— Masters Tournament (@TheMasters) April 14, 2019
This was a momentous achievement for Woods, who, at 43, wasn't necessarily expected to have a great chance of winning ... but he did. To fully appreciate just how long it's been since Woods donned the Augusta National green jacket after a triumph such as this, here's a look at how different the game of baseball was in 2005. Hope you're ready ...
The Red Sox had just won their first World Series title since 1918
The 2004 Red Sox ended "The Curse," sweeping the Cardinals in four games and wiping away nearly a century of infamy as one of the longest-suffering teams to go without winning a Fall Classic. Keith Foulke and Jason Varitek became icons in Boston sports for this series-ending scene:
The Angels adjusted their name
One of owner Arte Moreno's most noteworthy decisions made at the beginning of his time running the Angels was a name change, which the franchise made in time for the 2005 season. Going from "Anaheim Angels" to "The Los Angeles Angels of Anaheim" changed the team's acronym from ANA to LAA, something that probably feels like it "just happened," at least to me, but in reality it was 14 years ago.
Goodbye Expos, hello Nationals
Another tidbit from the 2005 campaign that might make your eyes bug out of your head in shock is this one. The Montreal Expos completed their final season as an MLB team in '04, before rebranding and relocating to Washington, D.C., where they became the Nationals and played at RFK Stadium (as Nationals Park wouldn't open until '08).
Their first win as the Nations came at RFK Stadium, with Tony Clark of the D-backs (now executive director of the MLBPA) flying out to seal the deal.
Andruw Jones led the league in homers with 51
The list of home run leaders in 2005 was pretty great, especially through the lens of '19. The Braves' Andruw Jones led the charge with 51, his single-season high.
The top 10 dinger-mashers that season were Jones, Alex Rodriguez of the Yankees (48), David Ortiz of the Red Sox (47), Derrek Lee of the Cubs (46), Manny Ramirez of the Red Sox (45), Mark Teixeira of the Rangers (43), the Cardinals' Albert Pujols (41), Paul Konerko of the White Sox and Adam Dunn of the Reds (40 each) and the Mariners' Richie Sexson (39).
Instant replay review was a thing of the future
Now, we take replay reviews as a given when watching a game, but in 2005 they were still the focus of ongoing discussions and planning, and wouldn't be officially unveiled and utilized throughout the league in their earliest form until the '08 season.
Mike Trout was a freshman in high school, and also a pitcher?
The Angels wouldn't select Trout in the Draft until 2009 when he was a fresh-faced kid out of Millville Senior High School in Millville, N.J. But four years earlier, he was roughly 13 years old and was mashing the ball for the Thunderbolts as a first-year player on the squad in the '05-'06 school year. A year later, as a sophomore, he'd dazzle on the mound, as a pitcher. Yes, really:
May 21: Millville loses to traditional power Toms River South 4-2 in a South Jersey Group IV first-round game. But Trout begins to garner statewide attention after he pitches six innings and allows just three runs.
The premier young stars of today's game were children
This one's self-explanatory, but in the year 2005, Bryce Harper turned 13, Juan Soto turned 7, Ronald Acuna Jr. turned 8, and ... wait for it ... Elvis Luciano, MLB's first 21st-century player, celebrated his fifth birthday. I hope he remembers it vividly.
As you've seen, baseball was in a very different place the last time Tiger took home a Masters championship. But shout-out to Mr. Woods for proving that age is merely a consideration -- it isn't a rule.
Congratulations, Tiger.
Players in this article:
Topics in this article: