If there were a sequel to the movie 'Moneyball,' who would play the 2018 Athletics?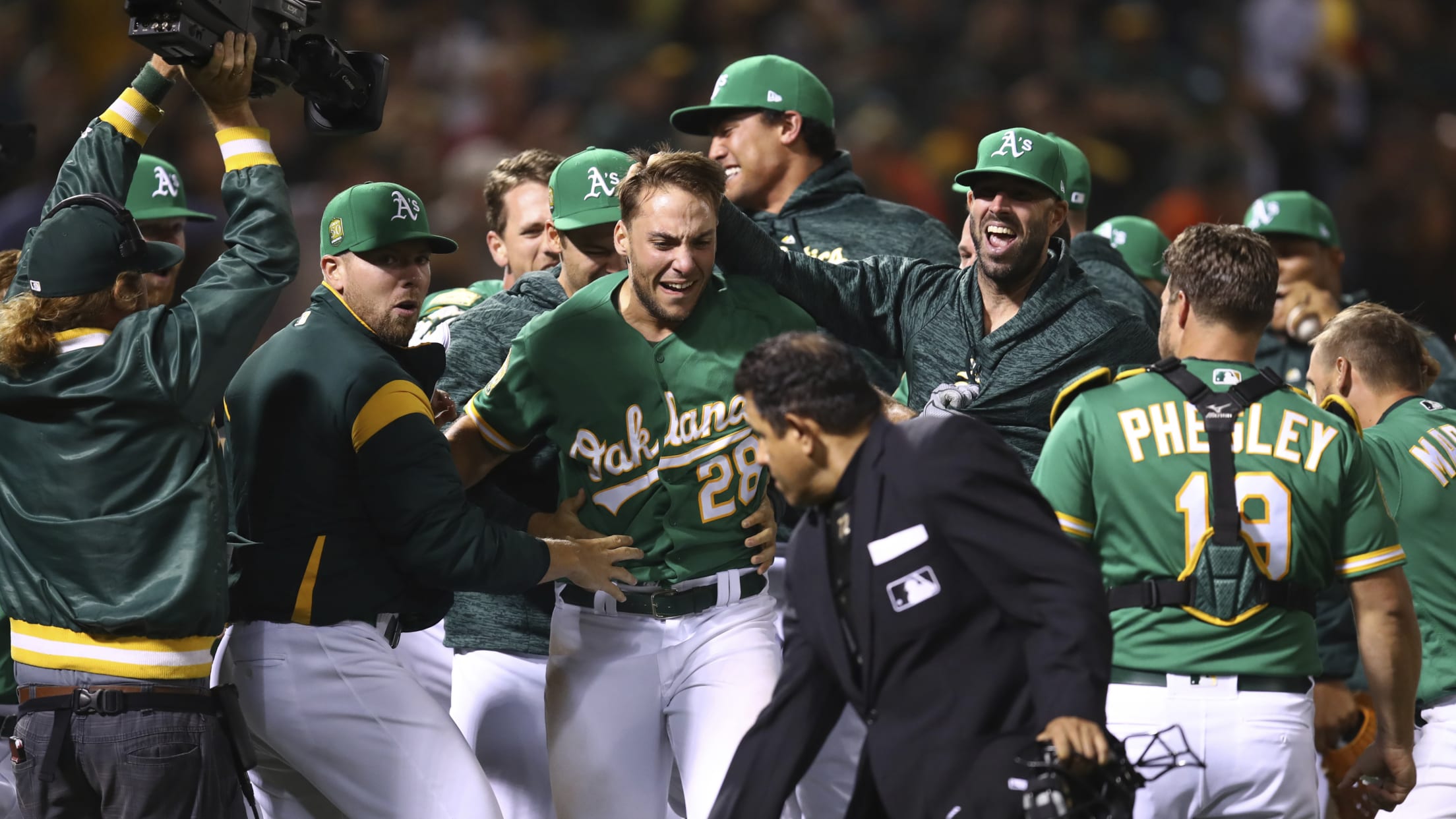 After starting the year off slowly, the Athletics have morphed into an unstoppable juggernaut. The green and gold have improbably surged up the standings and now find themselves very much in the postseason hunt.
With a roster that few expected to contend for the AL West, the A's have been quite the Hollywood story this season. How convenient, then, that the A's franchise has already starred in a blockbuster movie. But what if there was a sequel made about this year's team?
While we know that Brad Pitt would reprise his role as team executive vice president of baseball operations Billy Beane, the rest of the cast of "Moneyball 2" would be completely different from the original considering the A's roster is completely different.
Here are our suggestions for which actors should play this year's Athletics:
DH Khris Davis: Donald Glover
Davis has been one of the most underrated sluggers in baseball over the last few seasons and is currently on pace to hit 40 dingers for the third straight season. Who better to play Davis than perhaps the most dynamic talent in all of show business.
Closer Blake Treinen: Ryan Gosling
We might need some movie magic to close down the height difference between the 6'5" Treinen and the 6'0" Gosling, but the facial hair is pretty similar so that's a good place to start.
RHP Fernando Rodney: Idris Elba
Though Elba would definitely have to grow his beard out a bit if he really wanted to nail this role, the idea of someone being able to play James Bond and Fernando Rodney is too good to pass up
1B Matt Olson: Sam Fuld
There's always one big role in a baseball movie played by an actual baseball player, and even though Fuld is way shorter than Olson and played outfield, the likeness is uncanny.
Manager Bob Melvin: JK Simmons
The late Philip Seymour Hoffman played former A's manager Art Howe in the first Moneyball movie, so it's only fair that the manager role gets another A-List actor in the sequel. If playing the skipper doesn't work out for Simmons, maybe he could also play one of the players considering he's absolutely jacked.
LHP Sean Manaea: Joe Naufahu
Naufahu appeared in season six of "Game of Thrones," which has practically the same intensity as the 2018 Oakland A's postseason chase.
C Jonathan Lucroy: Michael Fassbender
Hopefully Fassbender will be comfortable shaving his head in order to portray Lucroy.
3B Matt Chapman: Josh Hutcherson
I mean, are you telling me that Josh Hutcherson hasn't been playing third base for the A's all season, because holy moly these two look a lot alike.
Teams in this article:
Players in this article: