Who will designate Nelson Cruz to hit for their team?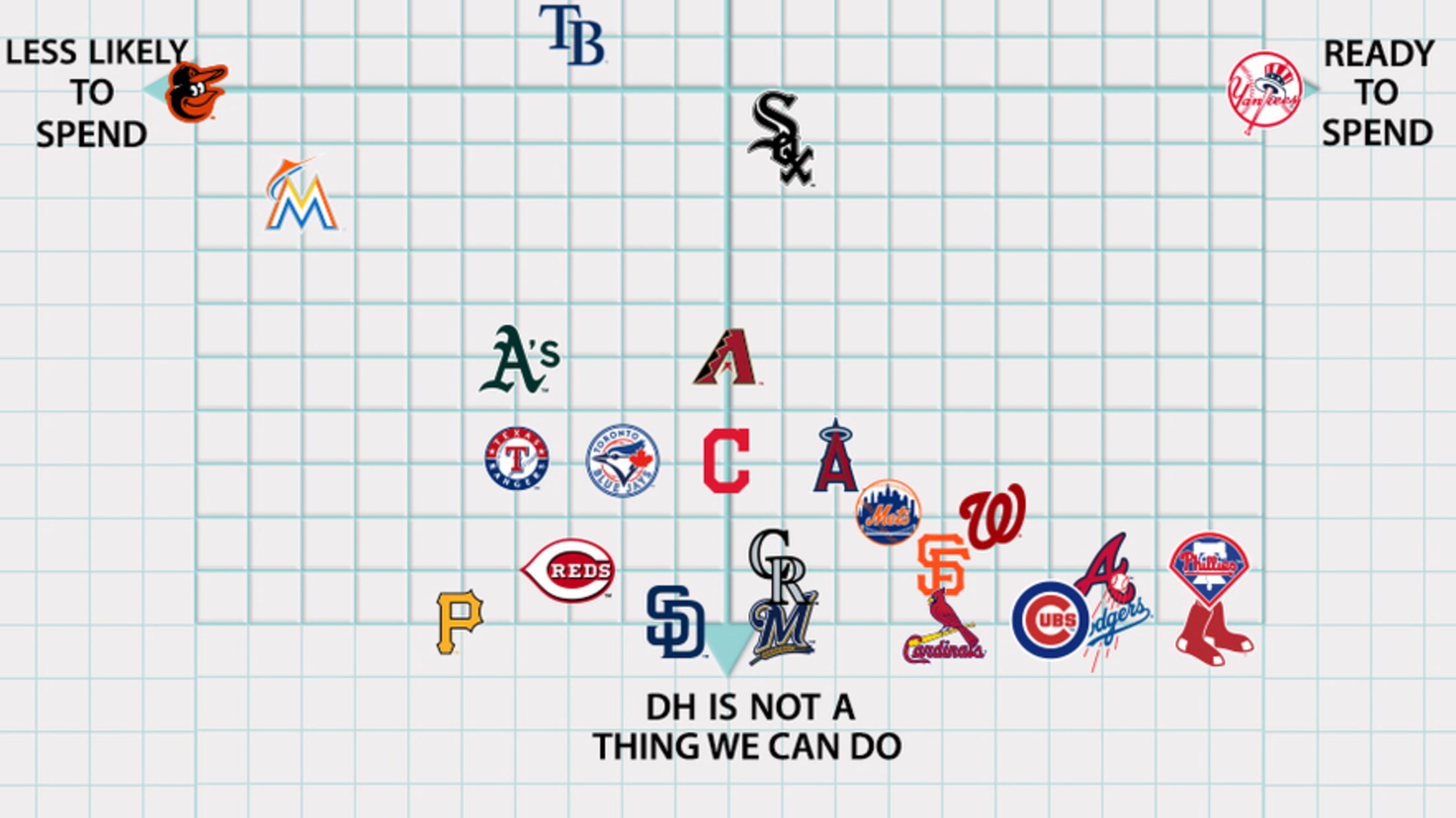 With so many impact players available, this year's free-agent season has the potential to be the most hectic we've ever seen. To keep everything organized, we're bringing back the Free Agent Matrix to parse out where this year's top talents might end up signing.
There are few issues baseball fans love debating more than whether the DH should be universal or abolished entirely. For now, the DH is clearly here to stay, allowing American League teams to bolster their offense with the bat of a player who may not be good enough on defense to make the lineup otherwise. No designated hitter has lived up to the job title more over the last several years than Nelson Cruz, who now enters free agency at age-38.
This is Cruz's third time on the free-agent market, after handsomely rewarding his previous two teams, the Orioles and Mariners, with significant offensive production over the length of his first two free-agent contracts.
No player in baseball has hit more home runs over the last five seasons than Cruz's 203 long balls, which is 15 whole dingers ahead of second-place Giancarlo Stanton. Over the same span, Cruz has also played in the ninth-most games with 765 -- averaging roughly 153 games a year. For a player approaching 40, Cruz's consistency and durability are unmatched in today's game.
Which teams could use Cruz the most? Let's take a look at the market for the Boomstick:


The Dark Horses
D-backs
A National League team may not seem like a natural fit, but consider this: The D-backs allowed J.D. Martinez to play 60 whole games in the outfield after acquiring him at the 2017 Deadline, so we know they have no qualms putting a traditional DH in the outfield if it means they can also mash in the middle of the lineup. Cruz has only played nine total games in the outfield over the last two seasons, but if Arizona wants him to play some defense in exchange for some dingers into the Chase Field pool, surely he would oblige.
Twins
If the Twins are serious about contending in the AL Central sooner rather than later, adding Cruz would signify that they won't strictly be relying on the magic of Willians Astudillo to carry them back to the postseason. Cruz is also no stranger to launching titanic home runs at Target Field, so if he can bear the frigid Aprils in Minneapolis, this could be a nice fit.
The Favorites
Mariners
The Boomstick's home for the last four seasons, Cruz has done everything and more to live up to the $64 million contract he signed before the 2015 season. He has been the heart of the Mariners offense alongside his good friend Robinson Canó, and his presence would be sorely missed if he chooses not to return. However, with GM Jerry Dipoto already looking to "re-imagine" the roster this winter, a reunion may not be in the cards. But don't rule anything out -- perhaps Trader Jerry would just trade for Cruz within hours of him signing with a different team.
Rays
If the Rays do want to continue their recent trend of acquiring as many Mariners players as possible, Cruz is an obvious candidate to head to Tampa Bay and help an exciting young team compete in the AL East. C.J. Cron had a strong first season with the Rays after coming over from Anaheim last offseason, but Cruz could kick this offense into a whole new gear if they are really looking to push the Red Sox and Yankees in 2019.
Astros
It almost makes too much sense for a Houston team that failed to defend their 2017 World Series title due in some part to its offense going quiet. Cruz can hit the ball out of any ballpark, but the Crawford Boxes would be an especially enticing home run target, let alone the iconic train tracks above. Joining the Astros may also be Cruz's best option if his top priority is getting back to October and winning his first World Series ring ... even if it would break the hearts of Mariners fans.
Predictions
Jake: Mariners
Jordan: Rays
Jordan Shusterman is one half of Cespedes Family BBQ. He enjoys overpaying for Mike Trout in fantasy baseball leagues and convincing the masses that Mike Zunino is good.
Jake Mintz is the louder half of the Cespedes Family BBQ. Despite a torn UCL in his right elbow, he still finds a way to tweet excessively during baseball games.