Where will Manny Machado sign this offseason?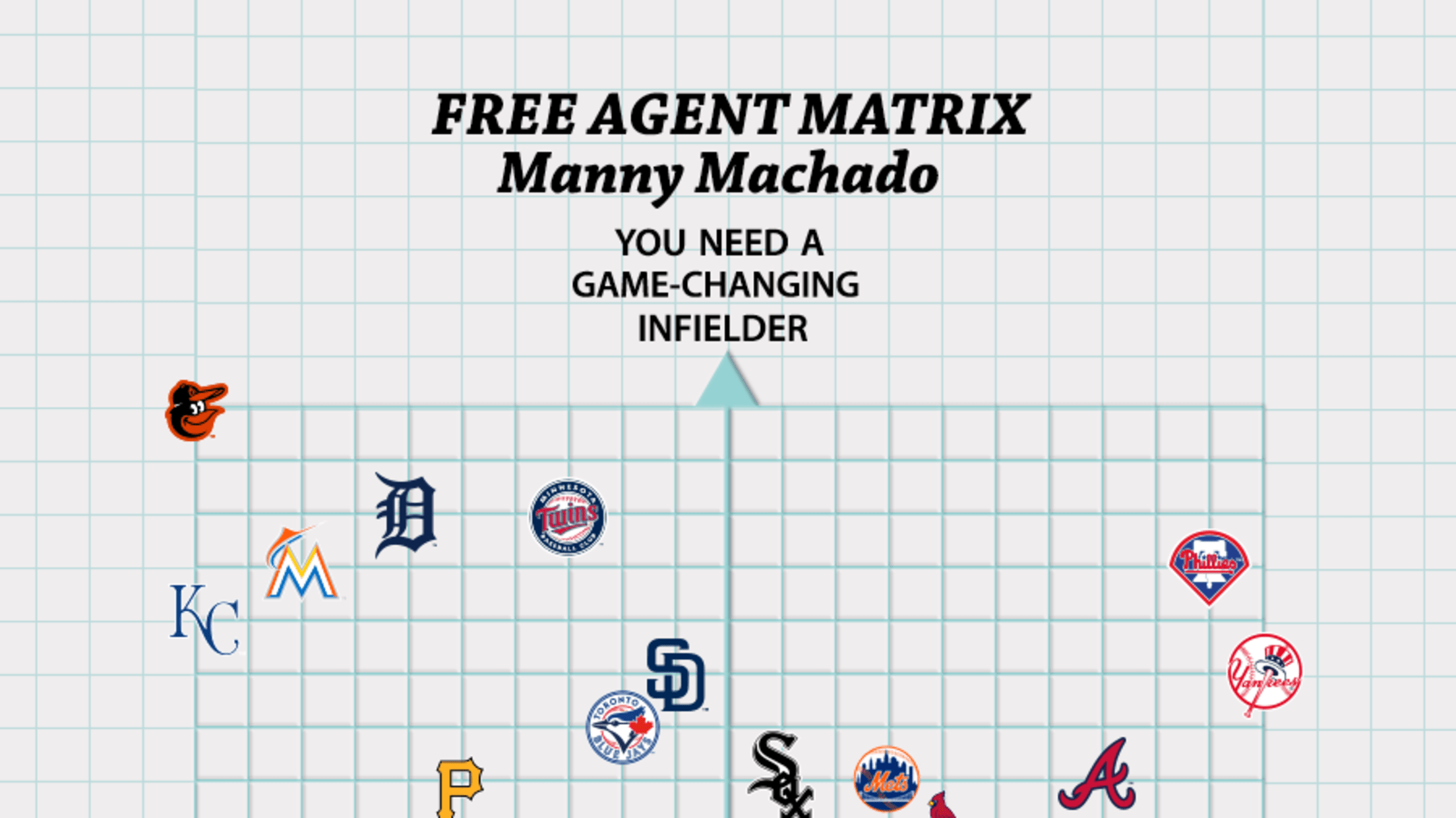 With so many impact players available, this year's free agent season has the potential to be the most hectic we've ever seen. To keep everything organized, we're bringing back Free Agent Matrix to parse out where this year's top talents might end up signing.
Ever since he debuted with the Orioles back in 2012, people have described Manny Machado's baseball ability as "effortless." That description became even more fitting this season, for both the right and wrong reasons, after a midseason trade thrust him into the postseason limelight with the Dodgers. But one thing about Machado remains undeniable: he's insanely good at playing baseball.
Whether at shortstop or third base, he's a player that can teleport a team to the next level when he's locked in.
Not every team will want to spend to get him, and not every team has an open spot on the left side of the infield for him, so let's boot up the Free Agent Matrix to see which teams could actually sign Machado.


The Darkest Horse
Marlins: Machado isn't just from Miami, his Players Weekend uniform nickname was literally Mr. Miami. Sure, the Marlins look a few years away from seriously contending, but if the new ownership group wants to make a big splash right now, while also keeping the future in mind, this is the way to do it.
The Dark Horses
White Sox: It's been a bit surprising that the White Sox, a team that still looks a year or two away from contending, have been all over the Machado rumors so far. It's even more odd when you consider that Tim Anderson is 25 years old, under contract until 2024 and just became the first shortstop in franchise history to hit 20 home runs and steal 20 bases. But having too many good players never hurt anyone, and Manny would certainly give the Sox a dependable force in the middle of a young lineup.
Weird way to break the story, but ok pic.twitter.com/t3qXEZciFb

— Cespedes Family BBQ (@CespedesBBQ) November 4, 2018
Brewers: Things didn't go so well between Machado and the city of Milwaukee during the NLCS, especially after NL MVP favorite and Wisconsin hero Christian Yelichreferred to him as "a dirty player." But if Manny and the Crew can bury the hatchet, they could reunite Machado up the middle with his BFF from Baltimore,Jonathan Schoop, move Travis Shaw back to third and have Machado play the hot corner sometimes to get Orlando Arcia some action at short.
Mets: Remember last season when A-Rod implied he regrets not signing with the Mets back in 2001? Maybe Machado learned from the mistakes of the man he's constantly been compared to and gets the Brodie Van Wagenen era in Queens going with a bang.
Braves: He hasn't quite reached his full potential, but Dansby Swanson feels like a decent bet to be the starting shortstop in Atlanta for the next 50 years or so. If Machado is willing to slide back to the hot corner to join a young, exciting team with money to spend and a future as bright as any team in baseball, this landing spot is definitely in play.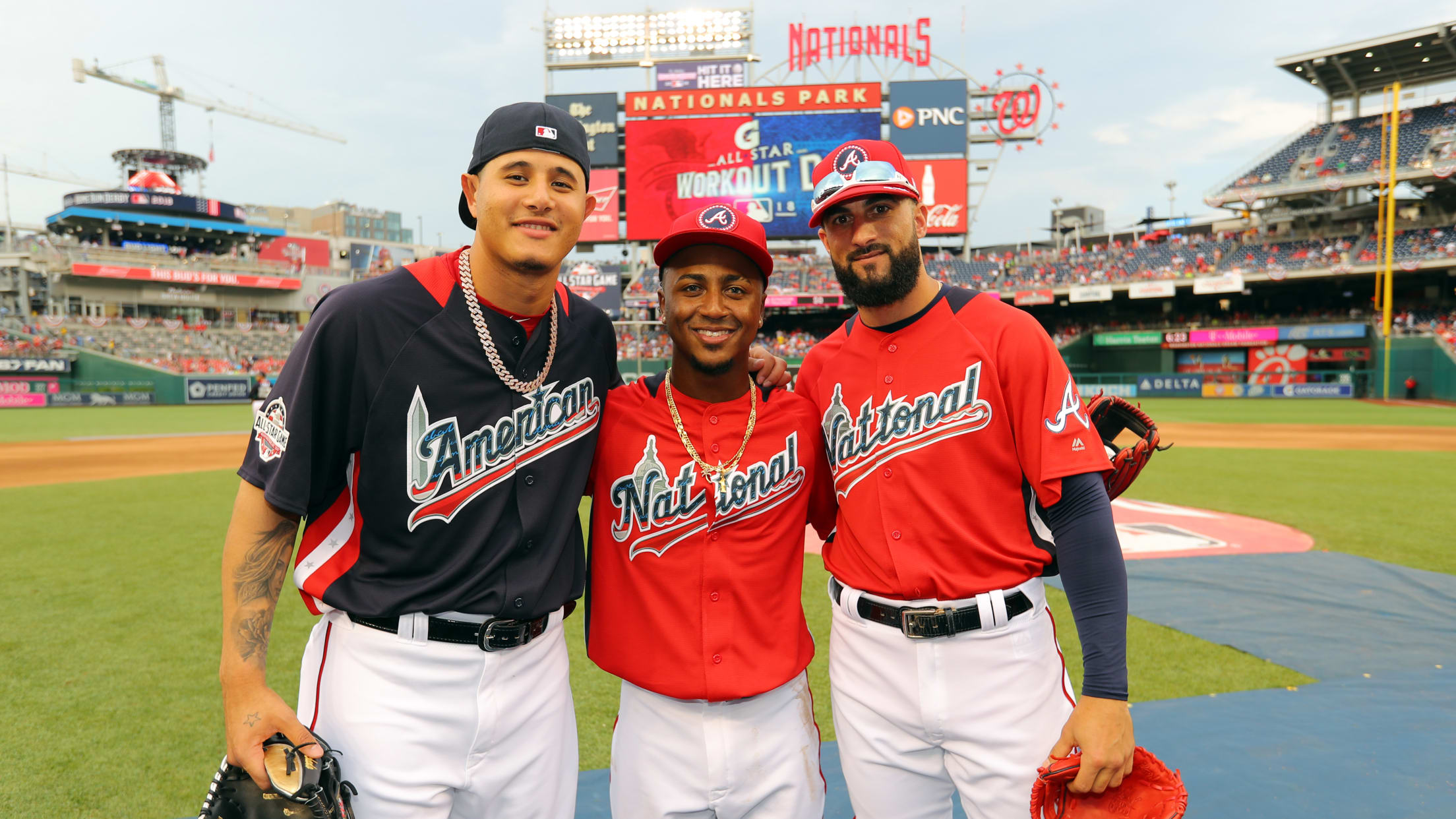 The Favorite
Yankees: Like kids who always want the cool toy they can't have, it feels like Yankees fans have been longingly eying Machado from across the AL East ever since he started crushing dingers for the Orioles. We've already heard Machado's young nephew talk about how he thinks Manny should go to the Bronx, and it wouldn't shock anyone if he followed A-Rod's footsteps and spent the next decade in pinstripes.
Phillies: One could picture Machado at the 2021 World Series parade chanting the "No one likes us, we're from Philly" song like Jason Kelce did when the Eagles won the Super Bowl. From a baseball perspective, this move makes a bunch of sense too. The Phillies currently have a glut of promising, but unproven young infielders who could benefit from having someone else shoulder the offensive load. This team was a pleasant surprise for most of last season before plummeting in September, and Machado might be just the piece that thrusts Philly back into the postseason.
Predictions
Jake: White Sox
Jordan: Yankees