Please let Pete Alonso, one-man quote machine, narrate my entire life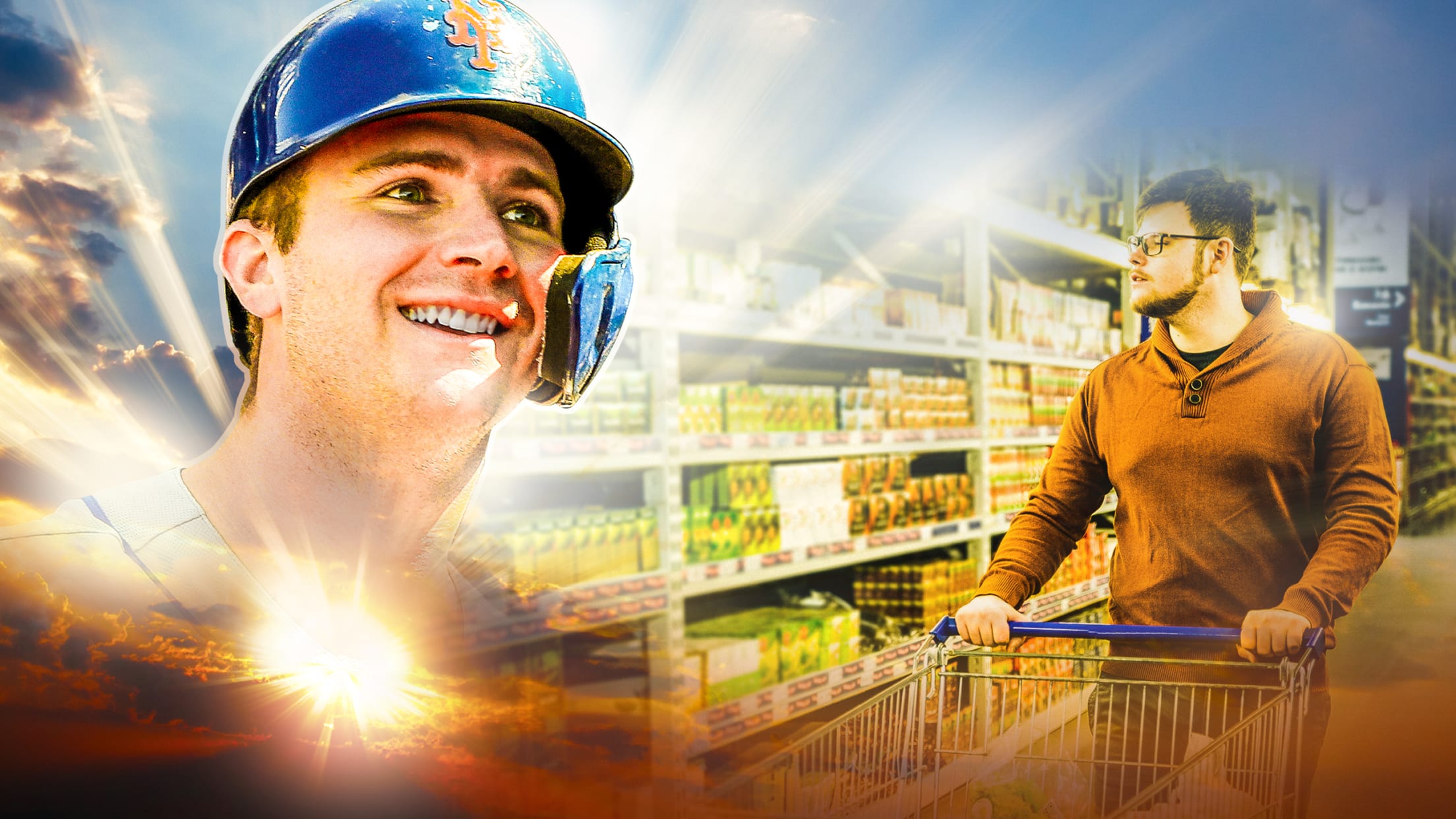 (Tom Forget)
On Monday, Mets first baseman Pete Alonso took home the National League Rookie of the Year Award after earning 29 out of 30 first place votes. Afterwards, he was effusive in his praise of his fellow finalists. That's entirely normal: At this point, you expect an athlete to be gracious in victory, offering something like, "They're fantastic players, too. It's a real honor to even be considered along with them."
Of course, Alonso isn't just any other athlete. And when he gives a quote, he gives a damn quote.
Pete Alonso on Mike Soroka: "He just has a sinker from hell. He's got a really awesome pitch repertoire."

Alonso on Fernando Tatis Jr.: "He's pretty much like a Coke bottle when you shake him up and let it go and put Mentos in it. He's just really exciting and explosive."

— Anthony DiComo (@AnthonyDiComo) November 12, 2019
These may seem unusually fun and even downright poetic coming from a routine interview with a professional athlete, but they're nothing new for the man they call Polar Bear. Alonso comes off as a laid-back, incredibly eccentric guy, and that's clearest in the subtle majesty of every interview he gives in any context.
And they're not all about baseball, either. Sure, some of them really only apply to events on the diamond, like when he observed that "the bases haven't moved since the Civil War." He's also offered his own Yogi Berra-esque folksy truisms such as, "you can't hit while playing the outfield."
But the beauty of an Alonso quote is that it can often be applied as a mantra for all sorts of life events and tasks. We can't all strive "to be remembered as the goofy kid who diesels baseball" -- Alonso's stated personal ambition -- but fortunately, there's enough in the slugger's oeuvre to help us through our less glamorous lives.
In other words, let Pete Alonso serve as the narrator of your life. You'll find navigating the world a lot easier if you do.
When there's a social gathering you don't really feel like going to:
"A baby bird's gotta leave the nest sometimes."
When you want to leave said gathering, but are obligated to stay:
"I stay for this big ass chandelier."
After a hard stretch at work:
"This past month has been rough, but ever since mercury came out of retrograde, I think I'm OK."
When you're getting dressed to go outside in sub-freezing temperatures:
"Gloves are our shields, used for defense."
When your favorite player asks for a trade:
"My main focus was to rip the name off the jersey."
When your child is throwing a tantrum:
"I've never seen anyone throw a Lego house before."
When you're out of food, but still need to eat breakfast:
"It doesn't matter how much jelly's in the jar, it matters how you spread it on your English muffin."
At the grocery store, when an annoying brand rep is trying to get you to take a sample:
"No, I don't give a s--- about your hand soap."
After going to the bathroom:
"Hold it down for Flushing."
Really any time you are walking down the street:
"You see weird stuff all the time."
Now that you're equipped with an entire catalog of quotes from the NL Rookie of the Year, things are certainly looking up. It's all sunshine and roses from here on out.
Which brings us to one final quote from the Polar Bear, a man who is known for his unbridled joy. With Alonso narrating your life, you'll likely be celebrating nearly as much as he does. And when you do so, you've gotta do it like the man himself: "When you hit a walkoff," Alonso says, "your shirt is coming off."
Like all his quotes, it's as applicable off the baseball field as it is on it.
Teams in this article:
Players in this article:
Topics in this article: