Shane Victorino and the best Hawaiian-born players in Major League history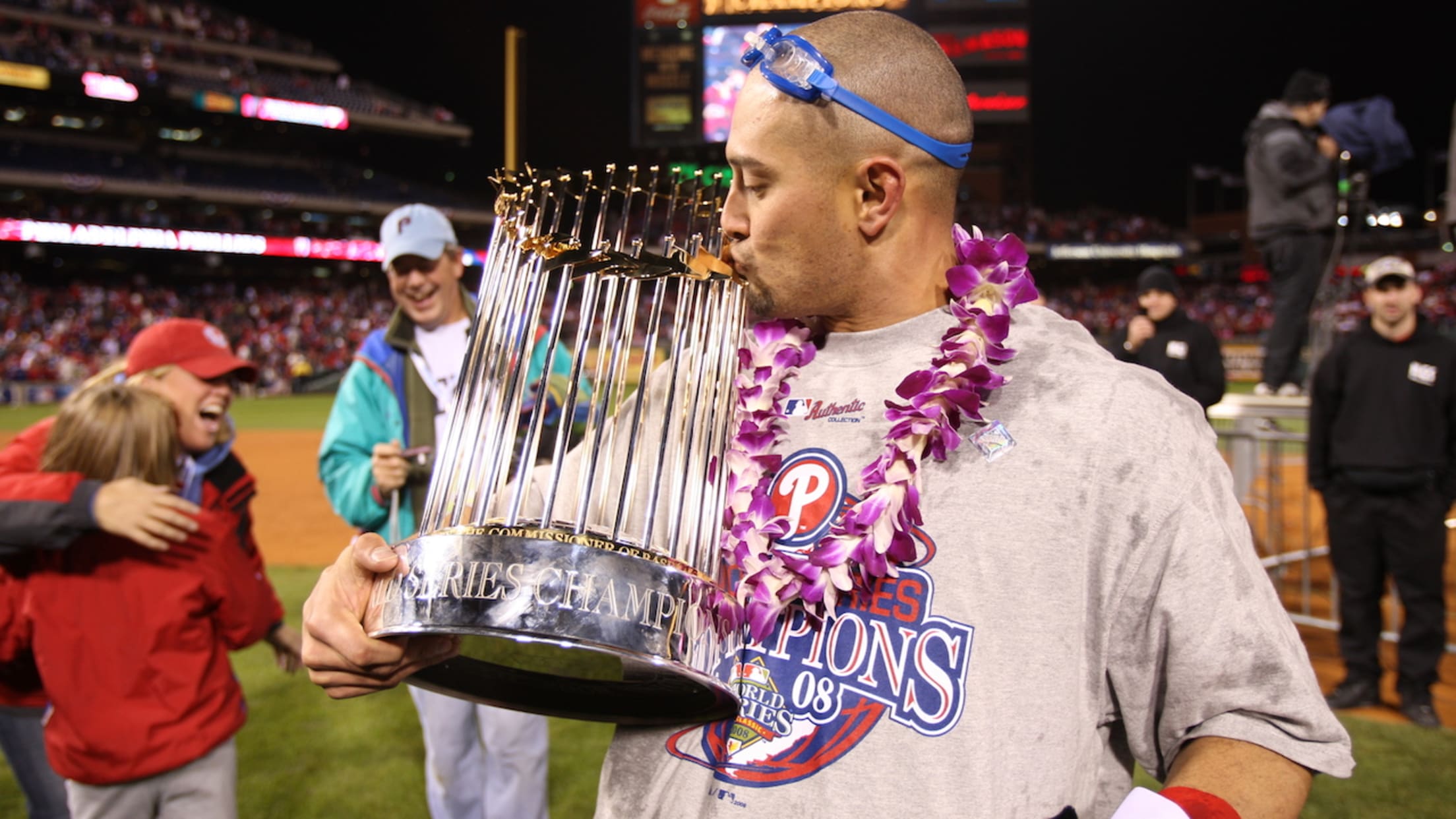 PHILADELPHIA - OCTOBER 29: Shane Victorino #8 of the Philadelphia Phillies kisses the World Series trophy after defeating the Tampa Bay Rays during the continuation of game five of the 2008 MLB World Series on October 29, 2008 at Citizens Bank Park in Philadelphia, Pennsylvania. The Phillies defeated the Rays 4-3 to win the World Series. (Photo by Brad Mangin/MLB via Getty Images) (Brad Mangin/Getty Images)
Early Tuesday morning (or Monday afternoon in his native Hawaii), former Phillies and Red Sox outfielder Shane Victorino officially announced his retirement from baseball:
Mahalo BASEBALL ⚾️⚾️⚾️
I hope I made you all PROUD🤙🏽
Preciate ya @RobDeMelloKHON pic.twitter.com/cB5SVWQ9wR

— Shane Victorino (@ShaneVictorino) July 3, 2018
Victorino last appeared in the Majors for the Angels in 2015, and his final pro stint came with the Triple-A Iowa Cubs the next year. But he became a star in Philly, where his speed, flair and penchant for dramatic dingers earned him one of the coolest nicknames in baseball: the Flyin' Hawaiian.
Victorino will sign a one-day contract with the Phillies in a ceremony on Aug. 3, as part of a celebration of the 10th anniversary of the 2008 team that he helped lead to a World Series title. Until that day comes, though, what better way to honor his memorable MLB career than by looking back at some more great Hawaiians from baseball history?
Benny Agbayani
New York has had plenty of sports heroes, from Ruth to Reed to Messier. For a brief moment in time, though, none of them were bigger than a former 30th-round pick from Honolulu.
From 1999-2000, Agbayani put up an .878 OPS, and seemingly every one of those hits came in a huge spot. From his go-ahead double in Game 4 of the 1999 NLDS ...
Or his extra-innings grand slam to open the 2000 season:
A few months later, he ripped a walk-off homer in Game 3 of the 2000 NLDS that nearly sent Shea Stadium into outer space, and his transition from "Guy Who Forgot Who Many Outs There Were" to "Mets Legend" was complete.
Kurt Suzuki
For most of his career, Suzuki was a solid if unspectacular catcher, providing the A's, Nationals and Twins with solid defense and decent-enough pop. Since arriving in Atlanta last year, though, the Wailuku native has found a whole other gear: He set a career high with 19 dingers in 2017, and has followed it up this season with a .290/.353/.487 line that has him closing in on his second career All-Star appearance.
You can listen to Suzuki talk about growing up in Hawaii and his experience as a Japanese American in MLB here:
Ron Darling
Darling grew up in Massachusetts, but he was born in Honolulu, the son of a Hawaiian-Chinese mother and a French-Canadian father. After starring at Yale, the righty was taken ninth overall in the 1981 Draft by the Rangers, who traded him to the Mets after just a few mediocre starts in Double-A.
That turned out to be a mistake. Darling broke into New York's rotation as a 22-year-old in 1983, and in '85 and '86 he was one of the best pitchers in baseball -- posting a 2.86 ERA and helping the Mets capture a World Series title. Of course, none of that can save him from being roasted by Keith Hernandez's telestrator:
Charlie Hough
An eighth-round pick by the Dodgers in the 1966 Draft, Hough struggled in the low Minors and was on his way out of baseball ... until, in Spring Training 1970, he learned how to throw a knuckleball. He made the ball dance in ways that nobody quite knew what to do with -- and that includes his own catcher. Hough, who was born in Honolulu, holds the Major League record for passed balls in an inning with four, and it's not hard to see why:
Of course, that knuckler also gave him remarkable endurance: Hough logged an incredible 3,801 1/3 innings over his 25 Major League seasons, and he led the league in complete games in 1984. He stuck around so long that, despite being drafted nearly three decades prior, he was responsible for the first pitch in Florida Marlins history:
Lenn Sakata
A few reasons to know and love Lenn Sakata: 1) He was the first Japanese-American to play in and win a World Series, helping the Orioles capture the 1983 Fall Classic; 2) he managed to rock a pair of regular old glasses while playing professional baseball; 3) he was the shortstop that Cal Ripken Jr. replaced at the start of his games played streak; 4) he had a hand in quite possibly the weirdest ending to a game of all-time.
In the top of the 10th of a game against the Blue Jays on Aug. 24, 1983, a series of substitutions left Baltimore without an available catcher. So manager Joe Altobelli called on Sakata, known for his infield defense but with exactly zero experience behind the plate, to step in. Three consecutive Jays runners were so eager to run on Sakata that all three got picked off first base:
But Sakata wasn't done: In the bottom half, he hit a three-run homer to give Baltimore a 7-4 win.
Mike Lum
Born in Honolulu to a Japanese mother and American father (and later adopted by Chinese parents), Lum had a career that could fill a book. In 1967, he became the first American of Japanese ancestry to make it to the big leagues, pinch-hitting and scoring a run in a win over the Mets. That would be something of a theme: Between Hank Aaron's Braves and the Big Red Machine, Lum found regular playing time hard to come by -- but he adapted by turning himself into one of the best pinch-hitters in the game. (He's one of just three players to pinch-hit for Aaron himself; he came through with a bases-loaded double.)
After his playing days were over, Lum became a hitting instructor, bouncing from Japan to the Braves to the Giants to the Royals before being hired as White Sox Minor League hitting coordinator in 1990 -- where he would eventually work with a prospect named Michael Jordan.