Steven Souza Jr. followed up his hilarious dive with a home run
Everyone who has fooled around in the backyard with a glove and a ball knows the secret rule of the dive: It doesn't matter if you catch the ball, it just matters how cool the dive looks.
The only difference between that and what Steven Souza Jr. did in the seventh inning of the Rays' 5-2 win against the Twins on Friday is that there weren't thousands of people watching us as we came up about 15 feet short.
When Kennys Vargas hit a ball to the right-center gap, Souza had a breakdown in the mental geometry: Rather than landing with the ball, or, well, really, anywhere near the ball, Souza went down roughly 12 parsecs away.
Perhaps there was a wrinkle in time or a glitch in the Matrix. Or maybe there's a Bermuda Triangle-esque zone of confusion in the Minnesota outfield: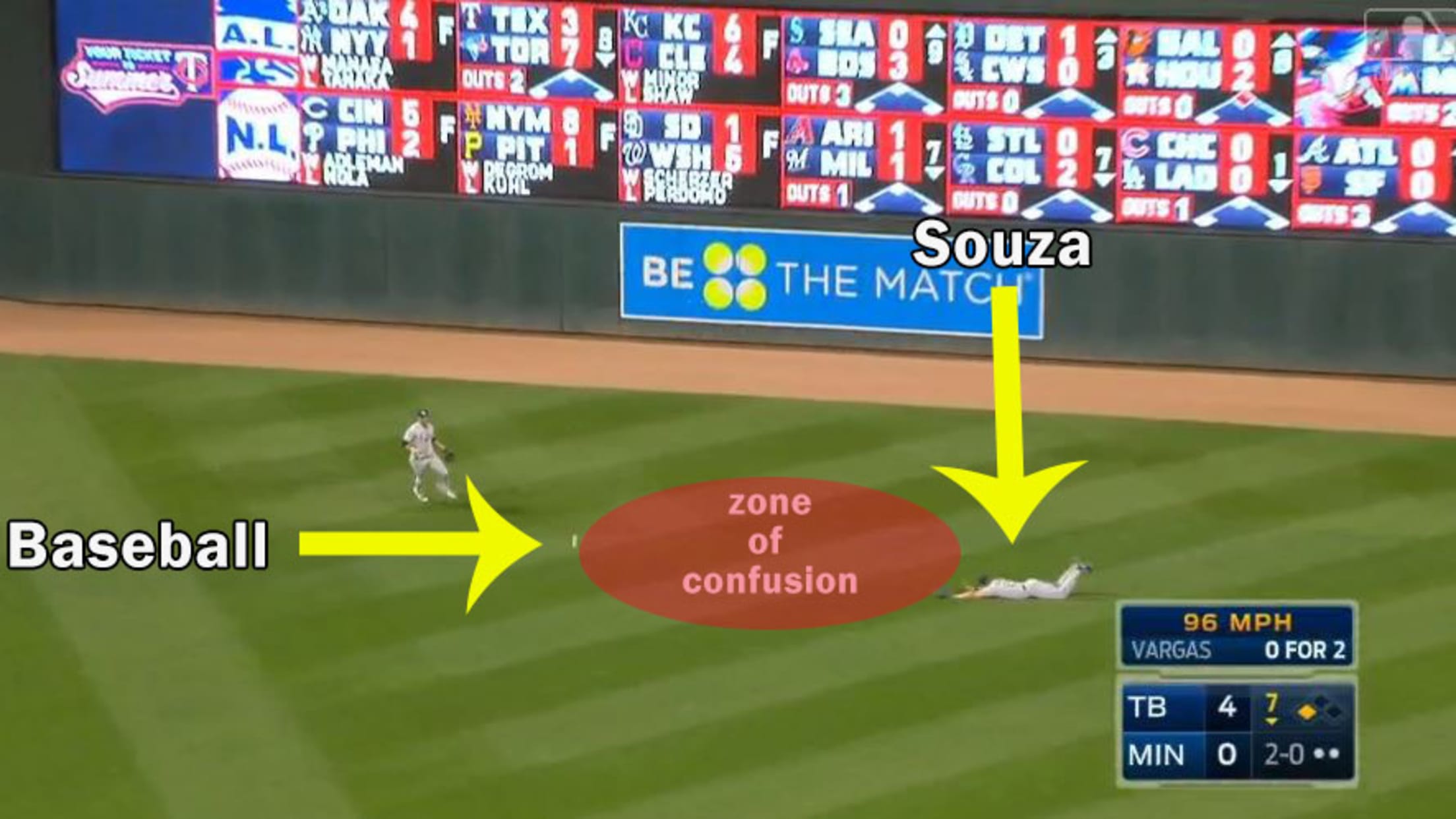 Kevin Kiermaier, who is able to catch almost anything, couldn't help but laugh:
All manager Kevin Cash could offer after the game was a deadpanned, "Good effort," before adding "You're never surprised with anything he does. That's Sooz."
Souza told MLB.com's Patrick Donnelly the truth behind the catch. "What really happened was the ball went in the lights immediately and I couldn't find it. I just saw it in the gap, in that general direction, and I just hit the deck hoping it wasn't going to hit me in the face," the right fielder said. "I had no idea where it was, and when I looked up it was about 40 feet away from me."
He didn't even mind that he ended up on the scoreboard. "It's all in good fun," Souza said. "If you play this game, you're going to make a fool of yourself eventually. I don't think anyone's ever gotten a standing ovation for making a bad play, so that was pretty funny."
Coming up in the top half of the next inning, and with everyone still laughing at the right fielder's fielding foible -- including Souza himself -- he made up for it in the best way possible: With a massive home run.
Yeah, when you crush the ball to the second deck, well, no one is going to catch that ball -- no matter how well they dive.
Of course, Souza has only one final question:
@statcast can you we get a breakdown on my play tonight?

— Steven Souza Jr. (@SouzaJr) May 27, 2017
Well, the numbers are in and ...
We checked: You needed to cover 73 feet and came up … 23 short.

0% catch probability, but a five-star effort!

— #Statcast (@statcast) May 27, 2017
The Rays outfielder knows just the way to close that gap, though:
✊🏼✊🏼✊🏼 If this were Space Jam I'd stretch out my arm and cover it https://t.co/jWO0yv6qWu

— Steven Souza Jr. (@SouzaJr) May 27, 2017
Teams in this article:
Players in this article: