Here are the 12 best Players' Weekend nicknames of 2019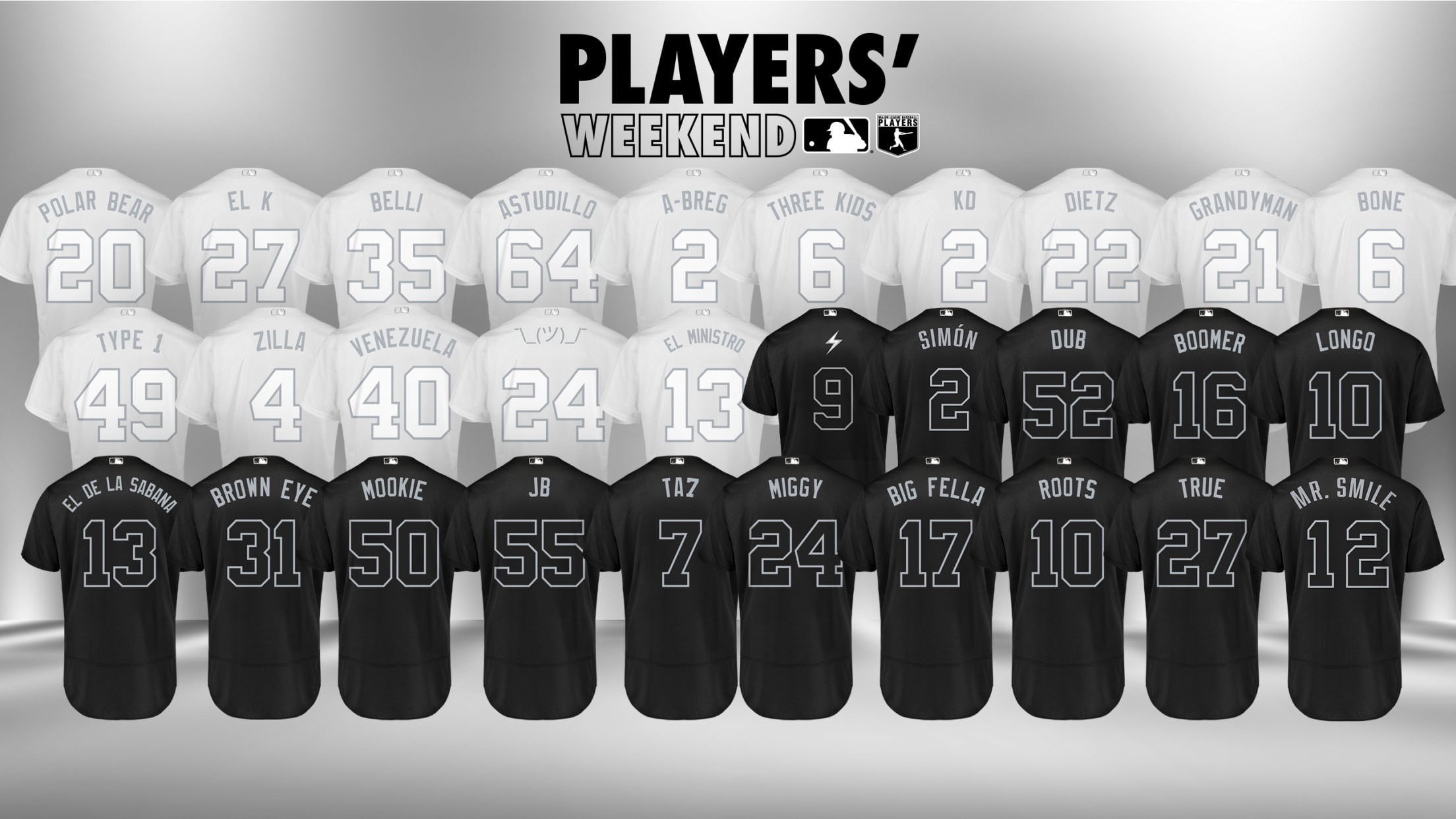 On Aug. 23-25, Players' Weekend returns, giving MLB players another chance to show off their personalities with wild accessories like cleats, batting gloves and catching gear. This year, the jerseys have also received a remake, moving from the colorful look of the past to a sleek black or white to allow players' custom accessories to pop.
That's all well and good. But everyone knows what this event is really about: As usual, jerseys will feature nicknames chosen by the players themselves, giving us a rare glimpse into their personalities and senses of humor.
While every player should be applauded for their efforts, these are the 12 who truly shined, ordered from pretty good to the best.
Mike Foltynewicz, Atlanta Braves -- High Foltage
There's beauty in the simplicity of this nickname. After going by "Folty" each of the last two Players' Weekends, Foltynewicz added a new twist. While returning to the same source material -- i.e., his last name -- he added a new layer in referencing his high-90s fastball velocity.
Jon Duplantier, Arizona Diamondbacks -- Dup There It Is
It's far from the only music-inspired nickname you'll see on Players' Weekend, but it's possibly the best. Just try to say it without breaking into the classic jock jam. That's right, you can't.
Eric Sogard, Tampa Bay Rays -- Nerd P🤓wer
After Brad Boxberger took the world by storm last season with his excellent [box emoji][hamburger emoji] Players' Weekend jersey, a bunch of players are hopping on the emoji game this time around, to varying degrees of success.
Sogard was one of the best attempts. Everyone's favorite bespectacled player is leaning into his look and letting his jersey showcase his nerd pride.
Time to #RaysUp with some #NerdPower ⚾️ Let's get itttttt!! Thanks for the warm welcome Tampa! ☀️🤓☀️ pic.twitter.com/LC3oauM8Ha

— Eric Sogard (@EricSogard) July 29, 2019
Adam Ottavino, New York Yankees -- Brooklyn
When Ottavino signed with the Yankees over the offseason, it marked something of a return home for the native of the Park Slope neighborhood of Brooklyn. Although he now pitches in the Bronx, he's using this opportunity to show that, while he's all in on New York City, Brooklyn remains the borough of his heart.
Francisco Lindor, Cleveland Indians -- 😃 Mr. Smile 😃
Lindor has gone by Mr. Smile the last two Players' Weekends, but this year, he's getting in on the emoji craze and tripling the amount of smile on his uniform in the process. For the player with the most electric smile in the game, that makes a whole lot of sense.
Francisco Lindor ... SO HOT RIGHT NOW!

Mr. Smile blasts his 11th homer on the season; his 3rd in the last 2 games.

We lead 9-7!#RallyTogether pic.twitter.com/VM7yjMigys

— Cleveland Indians (@Indians) June 6, 2019
Chad Bettis, Colorado Rockies -- [Lettuce emoji]
Last year, Bettis simply rhymed his last name and had "Lettuce" on the back of his jersey. This year, he's taking the bit one step further by replacing the word with the emoji.
Sean Doolittle, Washington Nationals -- Obi-Sean
Doolittle makes no secret of the fact that he's a huge Star Wars fan. In fact, earlier this season, the Nationals made a bobblehead for him where he was dressed as a Jedi ... and Doolittle helped design it!
Honestly, it's surprising it took him this long to adopt the nickname.
when you have the high ground pic.twitter.com/tccnCfdWJ4

— Obi-Sean Kenobi Doolittle (@whatwouldDOOdo) April 29, 2019
Eric Thames, Milwaukee Brewers -- Phone Home
One of the more common Players' Weekend nickname formats is for players to just put their initials on their jerseys. That's perfectly fine, albeit often a tad boring.
In selecting, "Phone Home" for his nickname, though, Thames pays homage to the standard format while taking it a delightful step further.
Jeff McNeil, New York Mets -- Flying Squirrel
McNeil earned the nickname due to the combination of his appearance -- with his goatee -- and his penchant for diving and sliding all around the field on defense. As you can see, it's perfect:
Flying Squirrel! pic.twitter.com/1iDxVj7ZDz

— MLB (@MLB) August 1, 2019
Ty Buttrey, Los Angeles Angels -- 🍑🌳
As we mentioned, plenty of players have followed Boxberger's lead and gone with nicknames that either feature or are entirely emojis. We've already seen some good ones on this very list.
However, only one player truly outdid Boxberger, that's Buttrey ... or should we say 🍑🌳. (Hint: The peach doesn't always represent a stonefruit.)
Max Muncy, Los Angeles Dodgers -- Funky Muncy
Sing along, everyone: Max Muncy, that's Funky Muncy.
Joey Votto, Cincinnati Reds -- Who
I'm not sure it's possible for a first baseman to have picked a better nickname. The clear next step is to get the entire Reds roster to transform into an Abbott and Costello sketch for Players' Weekend 2020.
Players in this article:
Topics in this article: