Who is the best active player in the Majors with each uniform number?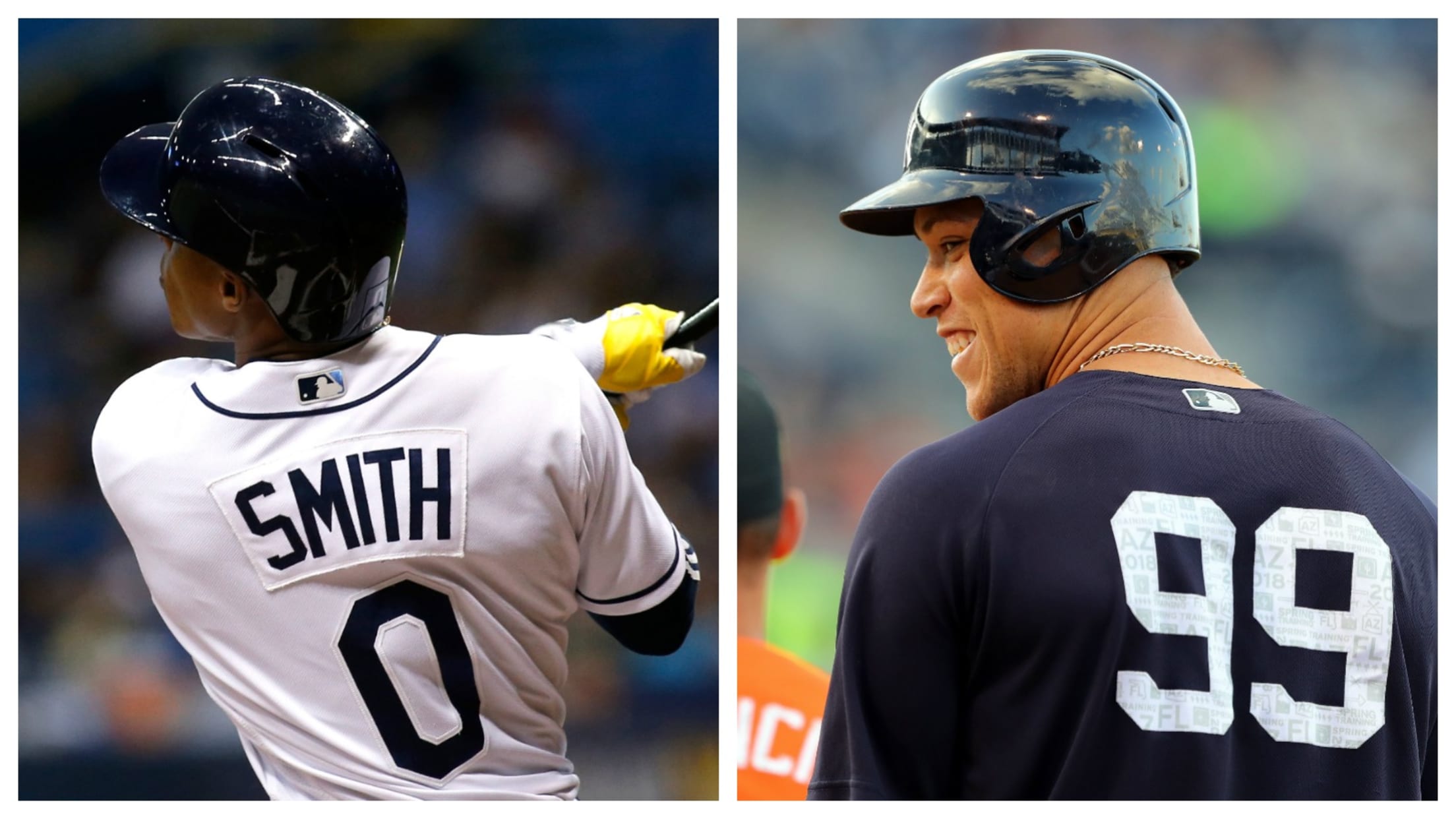 Every Little Leaguer, Major Leaguer and mathematician understands this one simple fact: There are magic powers hidden in the numbers. How else can you explain the allure of the uniform number?
Fans can recite them: Mantle, 7. Williams, 9. Clemente, 21. The number every player chooses isn't just an identifier in a scorecard and program, but also a representation of the player himself. It's like astrology, but worn on your back.
Today, we're going to investigate who is the best active player at each number. We'll be using our gut and intuition as a guide, with an edge given toward those with historic greatness over players who might have eye-popping 2017 or 2018 stats. Those players will get their chance in the future.
Now, it's up to the stars to decide:
0 - Mallex Smith
Originally, Smith hoped for No. 13: "I couldn't have 13, that's one of my favorite numbers," he said, referring to the number Brad Miller possesses. "That has a story behind it -- I feel like (the movie) Friday the 13th and Jason, he's always somebody's worst nightmare."
Honorable Mention: Adam Ottavino
1 - Carlos Correa
Last year, Correa posted a .941 OPS in 481 plate appearances. The last shortstop to post such a high OPS with at least 400 PAs: Troy Tulowitzki in 2010.
Honorable Mentions: Tim Beckham, Elvis Andrus
2 - Brian Dozier
While home runs have been on the rise, Dozier laps other second basemen in the power department. His 76 homers in 2016-17 are 13 ahead of Rougned Odor.
Honorable Mentions: Adam Eaton, Xander Bogaerts, Alex Bregman
3 - Ian Kinsler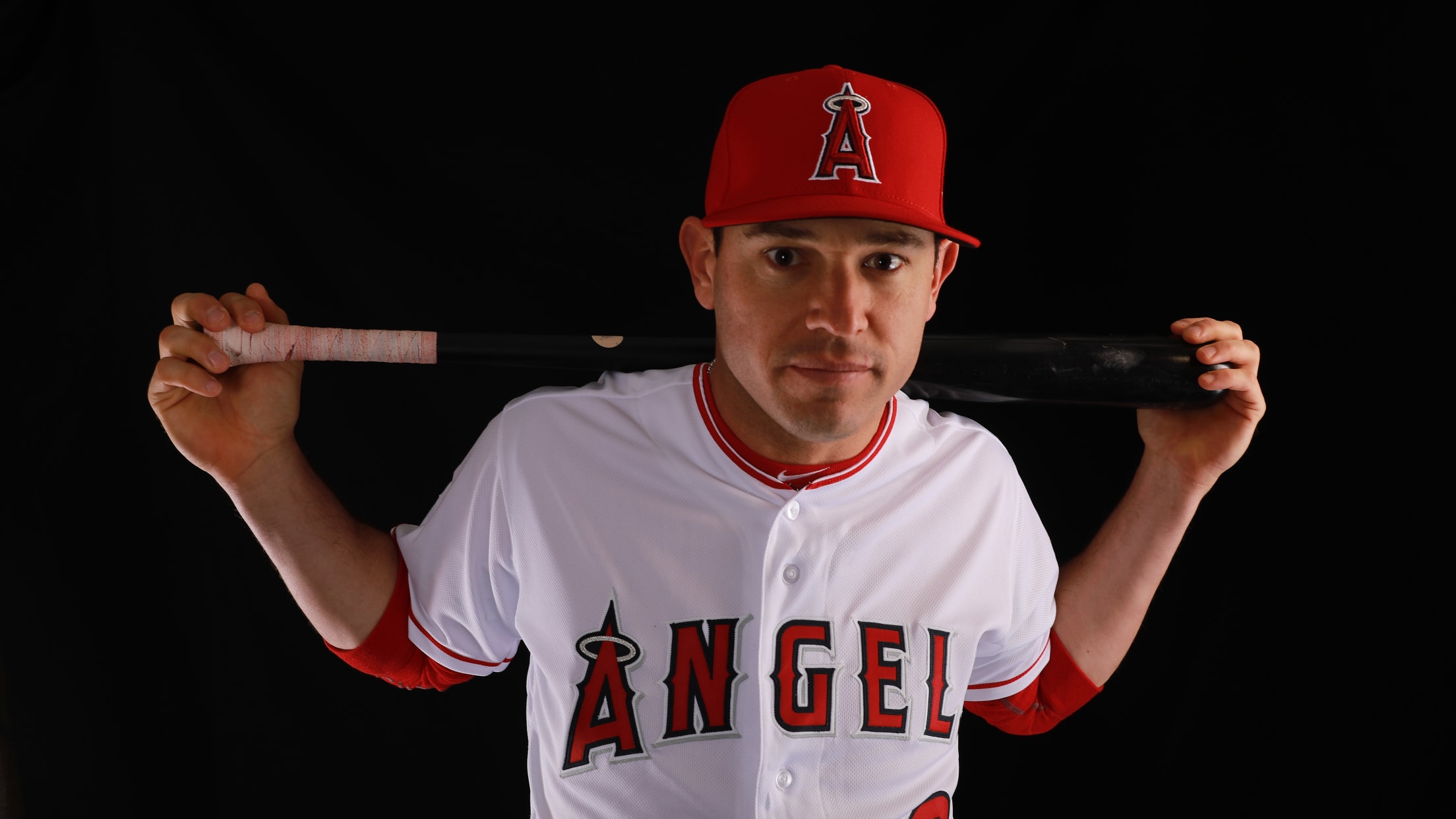 You could argue that Kinsler is putting together a Hall of Fame-worthy career with over 200 homers, 200 steals and approaching 2,000 hits. According to Jay Jaffe's JAWS system, Kinsler is the 18th-best second baseman of all-time.
Honorable Mentions: Scooter Gennett, Chris Taylor
4 - Yadier Molina
Eight Gold Gloves and a reputation as one of the greatest catchers of this generation earns Molina the nod. Perhaps shockingly, the 18 homers he hit in 2017 were his second-highest single-season total, behind the 22 he hit in 2012.
Honorable Mentions: Alex Gordon, George Springer
5 - Albert Pujols
600 homers, three MVP Awards, one Rookie of the Year Award and two World Series. That equals No. 5.
Honorable Mentions: Corey Seager, Freddie Freeman
6 - Anthony Rendon
Rendon made the case that he deserves to be mentioned among the best hot corner men in baseball in 2017. He hit 25 homers, drew more walks than strikeouts and had that golden ratio of a batting line with a .300 batting average, .400 on-base percentage and .500 slugging percentage.
Oh yeah, and the hair:
Honorable Mentions: Lorenzo Cain, Billy Hamilton, Marcus Stroman
7 - Joe Mauer
Mauer has worn No. 7 his entire big league career. But, when he had a rehab assignment with the Cedar Rapids Kernels in 2014, he donned No. 16 rather than make Tanner Vavra give No. 7 up.
Honorable Mentions: Zack Cozart, Eric Thames, Trea Turner
8 - Mike Moustakas
When you break the Royals' single-season home run record that had been held by Steve Balboni for a full generation, you get credit for being the best No. 8 in baseball.
Honorable Mentions: Hunter Pence, Ian Happ, Ryan Braun
9 - Marwin Gonzalez
The greatest utility player in baseball. Gonazlez posted a .907 OPS last season while playing every position except catcher and center field.
Honorable Mentions: Yasmani Grandal, Brandon Belt, Nicholas Castellanos
10 - Adam Jones
Seven-straight seasons with 20-plus home runs is quantifiable. What is not is that Jones is one of the most exciting and fun players to watch.
Honorable Mentions: Evan Longoria
11 - Yu Darvish
Darvish is the kind of pitcher that you know has a chance to throw a no-hitter every time he takes the hill. His 11 career K/9 is the highest among starters all-time.
Honorable Mentions: Jose Ramirez, Ender Inciarte, Evan Gattis, Ryan Zimmerman
12 - Francisco Lindor
Arguably the greatest defensive shortstop in the Majors this side of Andrelton Simmons, Mr. Smile smashed 33 home runs last season.
As for why he wears No. 12, that's easy:
"My pops wore number 21 because of [Roberto] Clemente," Lindor said. "My brother and me wore 12, both because of my pops and for [Roberto] Alomar."
Honorable Mentions: Rougned Odor, Kyle Schwarber
13 - Manny Machado
A great glove, a big bat and endless excitement. There's a reason why teams are lining up to sign Machado if he becomes a free agent at the end of the year.
Honorable Mentions: Hanley Ramirez, Matt Carpenter
14 - Justin Smoak
Almost 10 years after he was hyped as one of the top prospects in baseball, Smoak put it all together in 2017. He smashed 38 homers after hitting 39 combined over the previous three seasons.
Honorable Mentions: Neil Walker
15 - Kyle Seager
Perhaps doomed to be remembered as "Corey's Brother," the Mariners' Seager, remember, has topped 20 home runs for six straight years.
Also, we can hope he wears No. 15 for the same reason Gerald Laird did: "One man, five tools."
Honorable Mentions: Brandon Morrow, Whit Merrifield
16 - Domingo Santana
30 HRs, 15 steals and one heck of a beard.
Honorable Mentions: Tucker Barnhart, Trey Mancini, Andrew Benintendi
17 - Kris Bryant
We are in the golden age of third basemen and Bryant may be the best. A Rookie of the Year Award, MVP, World Series title and -- given that he set a career high in OPS last year -- he might just be getting better.
Honorable Mentions: Rhys Hoskins, Yonder Alonso, José Berríos, Shohei Ohtani
18 - Didi Gregorius
He was supposed to be an amazing defender, but it turns out his bat is powerful, too. Gregorius smashed 45 homers from 2016-17.
Honorable Mentions: Carlos Martínez, Ben Zobrist, Kenta Maeda
19 - Joey Votto
The best pure hitter this side of Ted Williams. He almost never expands the strike zone (fifth-lowest percentage of swings outside the zone in 2017), chokes up on his bat and still can bash dingers with the best of them.
Honorable Mentions: Charlie Blackmon, Chris Davis, Masahiro Tanaka
20 - Josh Donaldson
Considering that Donaldson didn't become an everyday player until he was 27, it's shocking how dominant he's become. Since 2013, Donaldson has averaged 33 home runs a year with a .901 OPS.
21 - Zack Greinke
A Cy Young Award, two ERA titles and the best postgame quotes in the game.
Honorable Mentions: Todd Frazier, Jonathan Lucroy
22 - Clayton Kershaw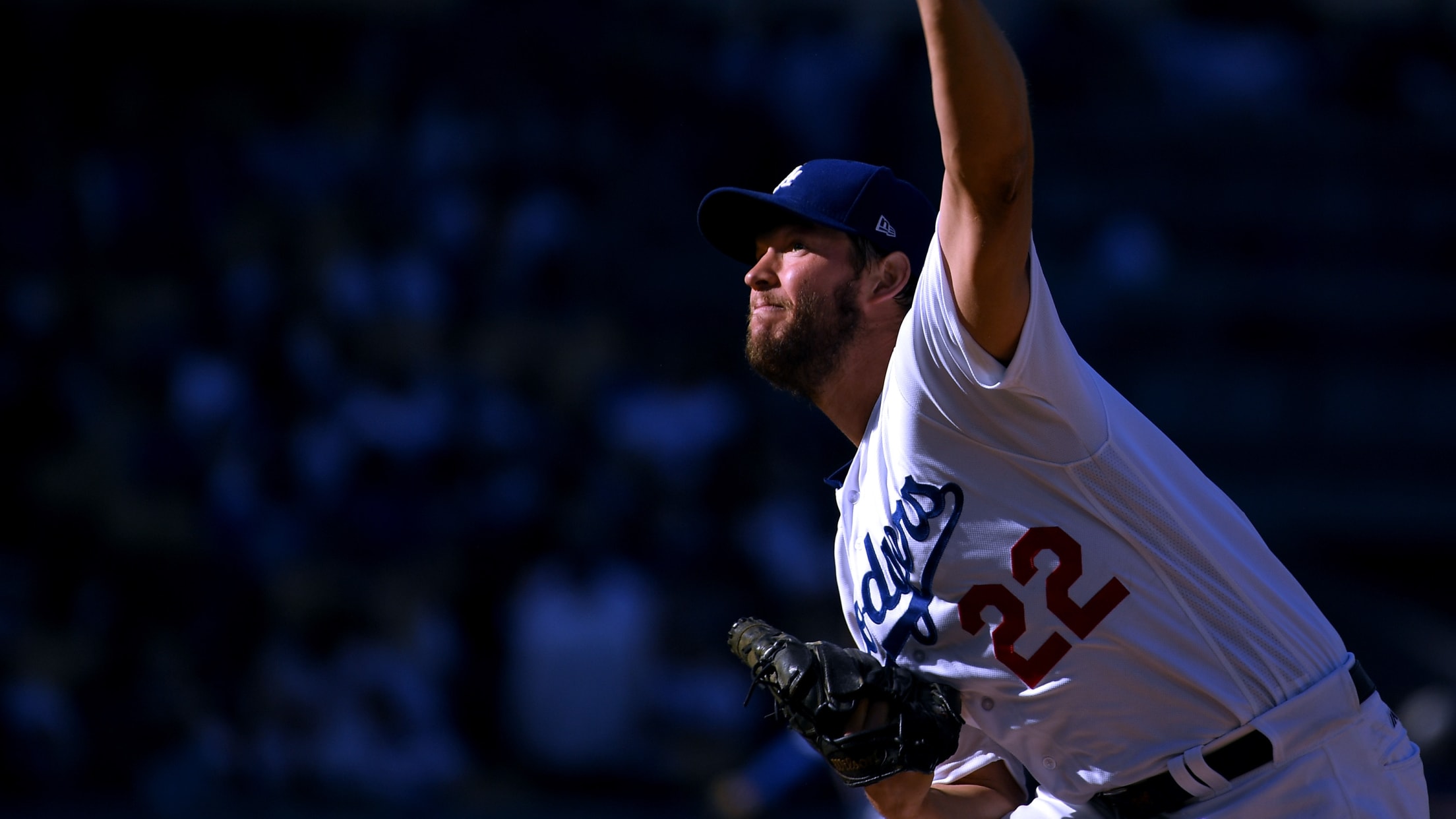 When the question about Kershaw is whether he'll be considered the best pitcher of all-time, or just a Hall of Famer, well, then this one is easy.
Honorable Mentions: Chris Archer, Robinson Canó, Andrew McCutchen
23 - Nelson Cruz
The Boomstick has become an even better power hitter in his late 30s with seasonal home run totals of 40, 44, 43 and 39 over the past four seasons. And who can forget his All-Star photo op?
Honorable Mentions: Adam Duvall, Marcell Ozuna
24 - Miguel Cabrera
As Cabrera closes in on 3,000 hits and 500 home runs, hopefully there aren't any Tigers prospects looking to wear the number, because this one should be retired with haste.
Honorable Mentions: David Price, Andrew Miller
25 - Byron Buxton
His defense and speed are otherworldly, allowing Buxton to run down balls no other human can grab. But his bat came to life in 2017, with 11 HRs and an .884 OPS after Aug. 1.
Honorable Mentions: Archie Bradley, Marco Estrada, Dexter Fowler
26 - Chase Utley
The Silver Fox may be a bench bat now, but Utley is one of the greatest second basemen of all-time (ranked 10th by JAWS), with a pop culture legacy most ballplayers could only dream of. Despite lacking amazing foot speed, Utley has the best stolen base percentage among players with at least 100 steals.
Honorable Mention: Matt Chapman
27 - Mike Trout
As if there was any other option.
Honorable Mentions: Matt Kemp, José Altuve, Giancarlo Stanton
28 - Corey Kluber
Two Cy Young Awards and the best curveball/slider (it defies easy categorization) in the American League.
Honorable Mentions: Nolan Arenado, Kyle Hendricks, Buster Posey
29 - Adrián Beltré
Thanks to his endlessly watchable on-and off-the-field antics, it's easy to forget that he's a Hall of Fame third baseman who seems to only get better with age. He's topped 3,000 hits, has won five Gold Gloves and is only 38 homers away from 500.
30 - Eric Hosmer
Though he just switched from No. 35 because Randy Jones' number is retired, Hosmer is already the face of the Padres thanks to a contract that will keep him in San Diego until 2025.
31 - Max Scherzer
Three Cy Young Awards, back-to-back strikeout titles and 30-odd feet of powerful grunts make Scherzer the obvious answer.
Honorable Mentions: Joc Pederson, Collin McHugh
32 - Michael Fulmer
The Tigers' ace posted a 3.45 ERA between 2016-17 -- good for the 17th-best mark in baseball.
Honorable Mentions: Steven Matz, Brandon McCarthy
33 - James Shields
From 2007 to 2015, Shields averaged 221 innings every season. Chris Sale led the Majors with 214 1/3 IP last season.
Honorable Mention: J.A. Happ
34 - Félix Hernández
Hernandez was the pitcher for a decade. Long before other teams created cheering sections, the King's Court ruled over all.
Honorable Mentions: Bryce Harper, Noah Syndergaard
35 - Justin Verlander
Look at Verlander's statline, and it's covered in more bolded black ink than a squid's senior thesis.
Honorable Mentions: Cody Bellinger, Cole Hamels, Brandon Crawford
36 - Yusmeiro Petit
The best swingman in baseball, Petit posted a 2.76 ERA while leading all relievers with 91 1/3 IP last season.
Honorable Mentions: Mike Minor, Tyler Clippard
37 - Stephen Strasburg
Not only is Strasburg the best No. 37 in the Majors, but no one at San Diego State will ever get to wear his number again. It was retired by the school in 2012.
Honorable Mentions: Cody Allen, Odúbel Herrera
38 - Robbie Ray
Ray struck out 218 batters in both 2016 and '17. That total of 436 was good for the sixth-highest total in the Majors.
39 - Kevin Kiermaier
He doesn't just have ice blue eyes: He also has some of the prettiest center field defense you'll ever see on this planet.
40 - Madison Bumgarner
He had one of the greatest postseasons of all-time when he allowed just one earned run in 21 innings in the 2014 World Series.
Honorable Mention: Luis Severino, Willson Contreras
41 - Chris Sale
With his Stretch Armstrong frame, blazing fastball and killer slider, it's only a matter of time before Sale finally wins a Cy Young Award. He's finished in the top 5 for five consecutive years.
Honorable Mentions: Justin Bour, Aaron Sanchez, Carlos Santana
43 - Lance McCullers Jr.
His curveball is unhittable. Just ask the Yankees.
44 - Paul Goldschmidt
America's First Baseman is one of the most well-rounded players in the game. His average line since 2013: .304/.410/.543 with 30 HR and 19 SB.
Honorable Mentions: Rich Hill, Anthony Rizzo
45 - Gerrit Cole
In his first start with the Astros, Cole struck out 11 batters and held the Rangers to a solitary run.
46 - Craig Kimbrel
In more than half of his big league seasons, Kimbrel's ERA has started with a 1.
Honorable Mentions: Ivan Nova, Corey Knebel, Kyle Barraclough
47 - Johnny Cueto
The shimmy -- and his Instagram -- are iconic.
Honorable Mention: Gio Gonzalez
48 - Jacob deGrom
The hair may be gone, but the stuff isn't: The deGrominable Throwman struck out seven batters and gave up one run in his first start of 2017.
49 - Kendall Graveman
He is perhaps the very definition of big league average, with ERA+'s of 97, 99 and 102 the last three years. Here's the thing: Average is still incredibly valuable.
50 - Mookie Betts
The best bowler in the Majors also is pretty good at baseball. He's posted back-to-back 20-HR, 20-SB seasons.
51 - Ichiro Suzuki
The greatest hitter alive. No one in recent memory has combined Ichiro's bat-to-ball skills with his speed and ability to change the game.
52 - Yoenis Céspedes
La Potencia is non-stop excitement, whether he's flipping bats after dingers or showing off one of the greatest outfield arms in baseball history.
Honorable Mentions: CC Sabathia
53 - Ken Giles
If you like 98-mph fastballs, Giles is your guy.
54 - Aroldis Chapman
Of course, if you like 100-mph fastballs, Chapman is for you.
55 - Sonny Gray
It may not be the best curveball in baseball, but it's probably the most fun to watch:
Honorable Mentions: Jon Gray, Josh Bell
56 - Fernando Rodney
Considering that Rodney's uniform style -- complete with tilted brim -- is iconic, of course he gets to rep No. 56, too.
57 - Alex Wood
Wood won 16 games last year, but wins are passe. He also has the 20th-best ERA in baseball since 2014. That's less passe.
Honorable Mention: Chad Green
58 - Luis Castillo
The bright spot in the Reds' rotation last year, Castillo mixes an upper-90s fastball with a dominant change.
59 - Carlos Carrasco
Carrasco was an integral member of the 2017 Indians' rotation, which ranks among the best ever.
60 - Dallas Keuchel
Not only is his beard the best-groomed, but Keuchel is also the greatest groundballing-ace in baseball.
61 - Luis Perdomo
He's a groundball-machine and a Statcast meme thanks to hitting four triples in 2017.
62 - José Quintana
Quintana has the 13th-best FIP among active starters.
Honorable Mention: Sean Doolittle
64 - Sam Tuivailala
Showcasing the best control of his big league career, Tuivailala posted a 2.55 ERA in 42 1/3 innings last season.
65 - James Paxton
The Big Maple is fast becoming the Mariners' ace hurler. Paxton had a sub-3.00 ERA with over a strikeout per inning in 2017.
Honorable Mention: Robert Gsellman
66 - Yasiel Puig
Your average Puig game likely features a home run, a laser beam of a throw from the outfield, a mistake on the basepaths and something eminently GIF-able from the dugout.
67 - Matt Bowman
Bowman's become a solid option in the Cardinals' bullpen, with a 3.70 ERA over his first two big league years.
68 - Dellin Betances
Betances has pitched 306 2/3 innings since 2014. He struck out 492 batters in that time. He's also very tall.
Honorable Mention: Ross Stripling
70 - Tyler Lyons
Lyons was a strikeout machine last year, K-ing 68 batters in 54 innings.
71 - Wade Davis
Although it was several years ago, Davis' 2014-15 was unreal: He allowed 15 earned runs in 139 1/3 innings those years. He was even better in the postseason, surrendering just one run in 25 innings those seasons.
Honorable Mention: Josh Hader
72 - Enny Romero
Romero posted a 3.56 ERA in the Nationals' bullpen last year, while striking out over 10 batters per nine innings.
73 - Felipe Rivero
Rivero lived up to his nickname of "The Nightmare" last year as he posted a 1.67 ERA before taking over as the Pirates' closer. Lefties almost shouldn't bother walking to the plate: They hit just .082 against him.
74 - Kenley Jansen
It's hard to believe Jansen was originally a Minor League catcher. Armed with a 94-mph cutter, he has a 1.58 ERA over the previous two seasons.
75 - Scott Alexander
One word: Mustache.
76 - Hector Velázquez
Velazquez posted a 2.92 ERA in his Major League debut last year.
77 - John Axford
Baseball's biggest movie buff, Axford is arguably one of the greatest Canadian pitchers of all-time. He entered the season with a career 10.2 K/9.
79 - José Abreu
Since making his debut in 2014, Abreu has topped 25 homers, 100 RBI and an .820 OPS every season.
90 - Adam Cimber
Not only a side-armer, Cimber starts his motion with his front foot facing second base.
93 - Pat Neshek
A noted autograph hound, Neshek will likely be signing his own name more often after a 1.59 ERA in 2017.
99 - Aaron Judge
He's very big. And very strong.