The quintessential guide to Bryce Harper's ever-changing style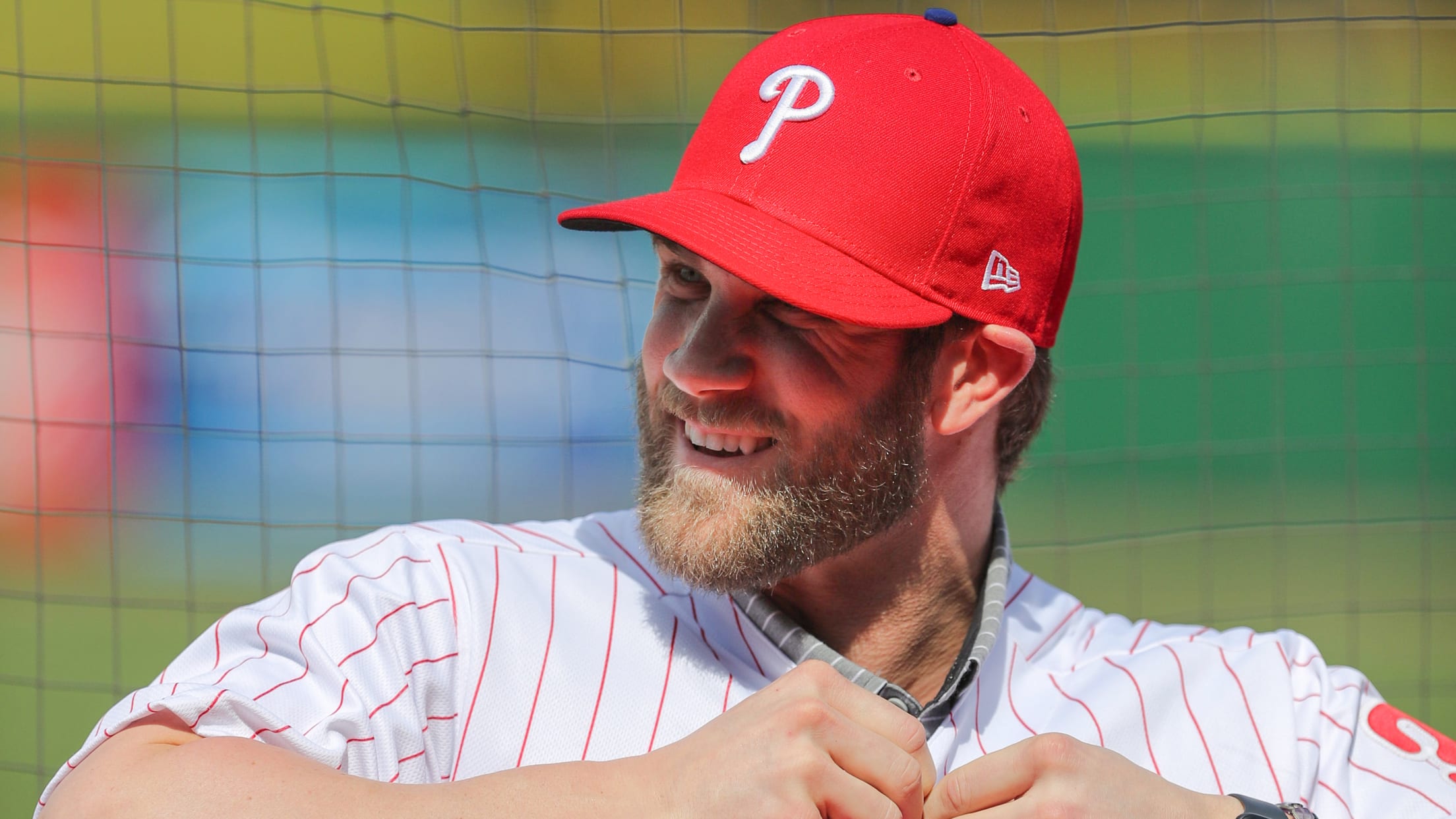 There is more to being a superstar than smashing baseballs. There is more to being a phenom than diving catches. You have to have 'it,' that indescribable thing directors talk about when discussing actors.
Bryce Harper has it. We swoon to his home run swings, cheer at his diving catches and follow his Instagram for what comes next. Harper knows it and rewards our attention by forever altering his style. Whether it's on the field or off, he's forever expanding and changing, chopping and swapping what he thinks works and what doesn't.
So, while we prepare for next season and practice saying: "Bryce Harper: Phillies outfielder," here are the different looks you should prepare for.
Hair
Befitting a man with a stake in a line of men's grooming products, naturally Harper's hair is going to be continually changing. Here are the main styles to be on the lookout for:
The pompadour
Forget Elvis. 100 years from now, it will be Harper's anti-gravitational hair that we'll all remember.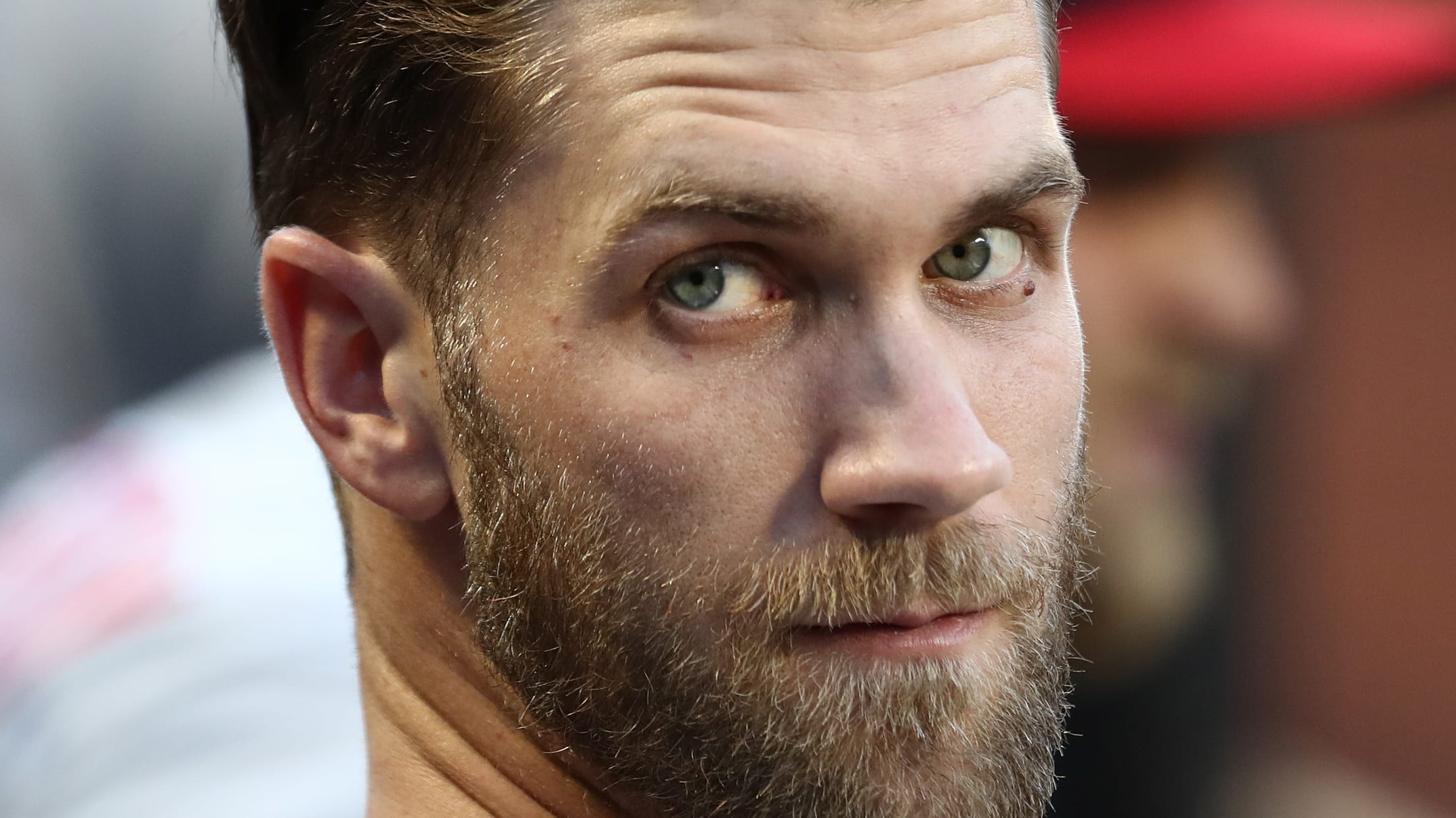 The 12-year-old
Why is it called this? Because it's the haircut that every middle school boy has. So, it makes sense that Harper has moved away from it as he's grown into his superstardom.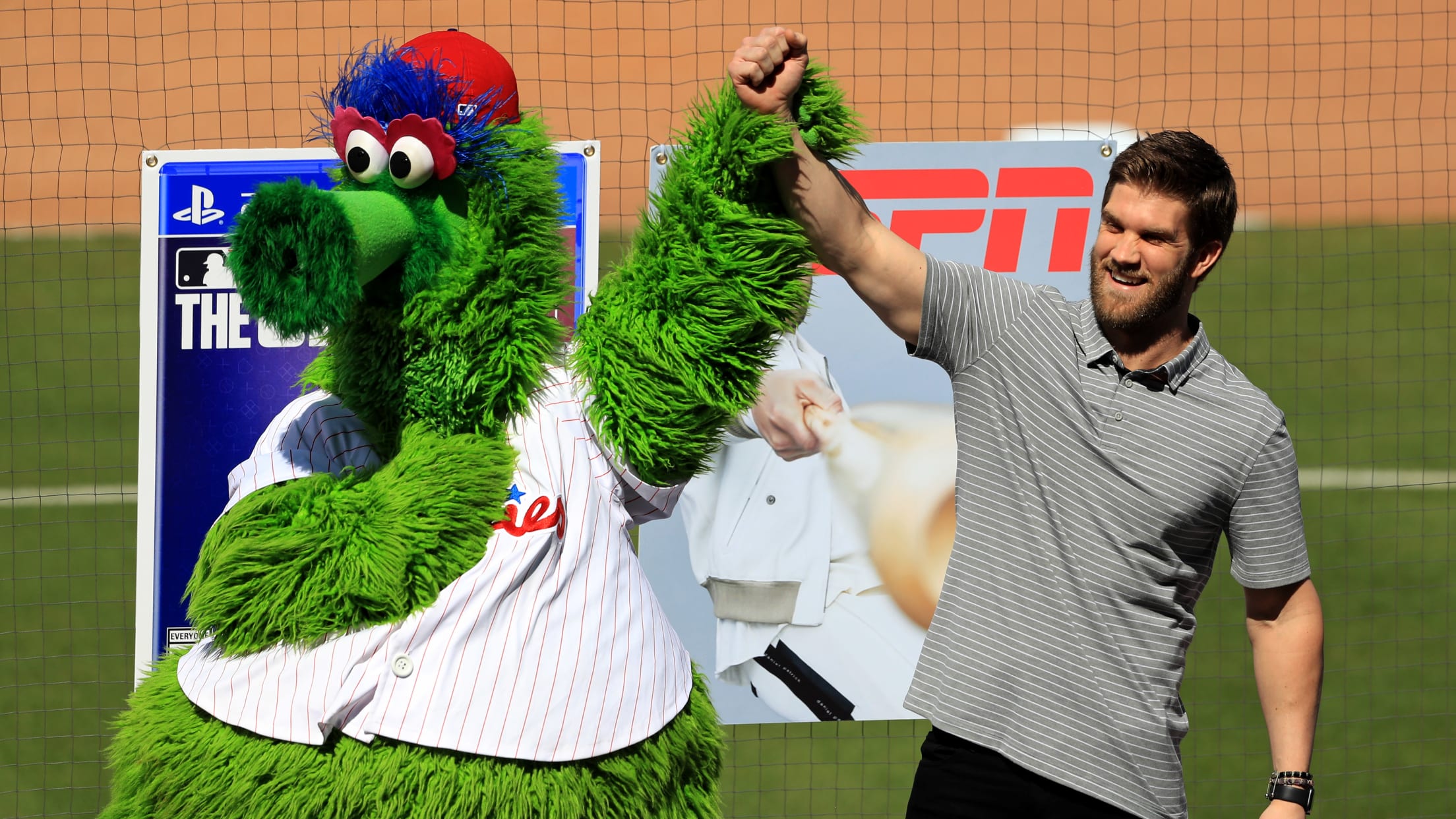 The fade
This is the hair that is every guy on Tinder's favorite cut.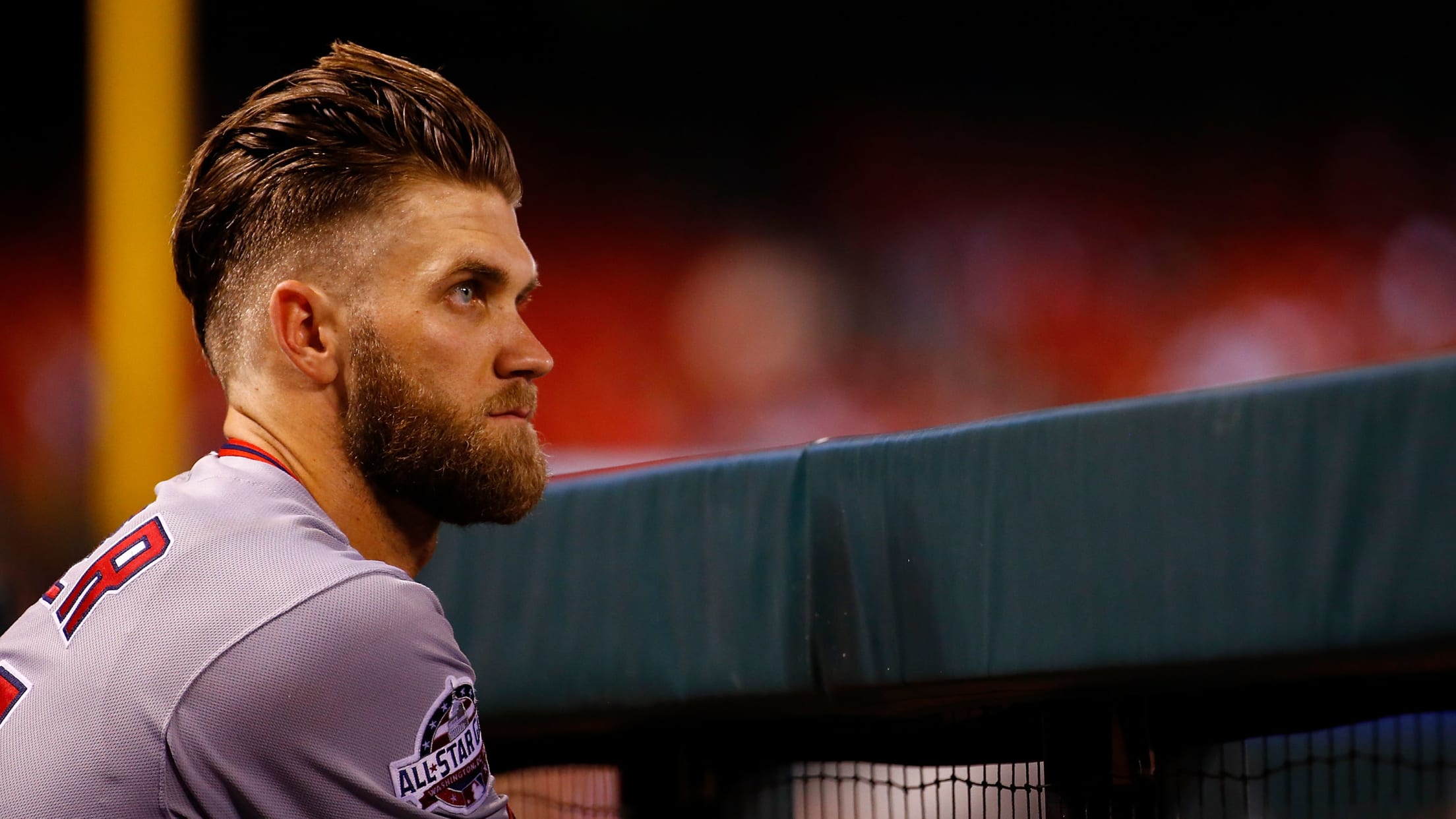 Long and flippable
Bryce Harper's hair flips are the envy of every balding Major Leaguer. It's why it's been copied so many times.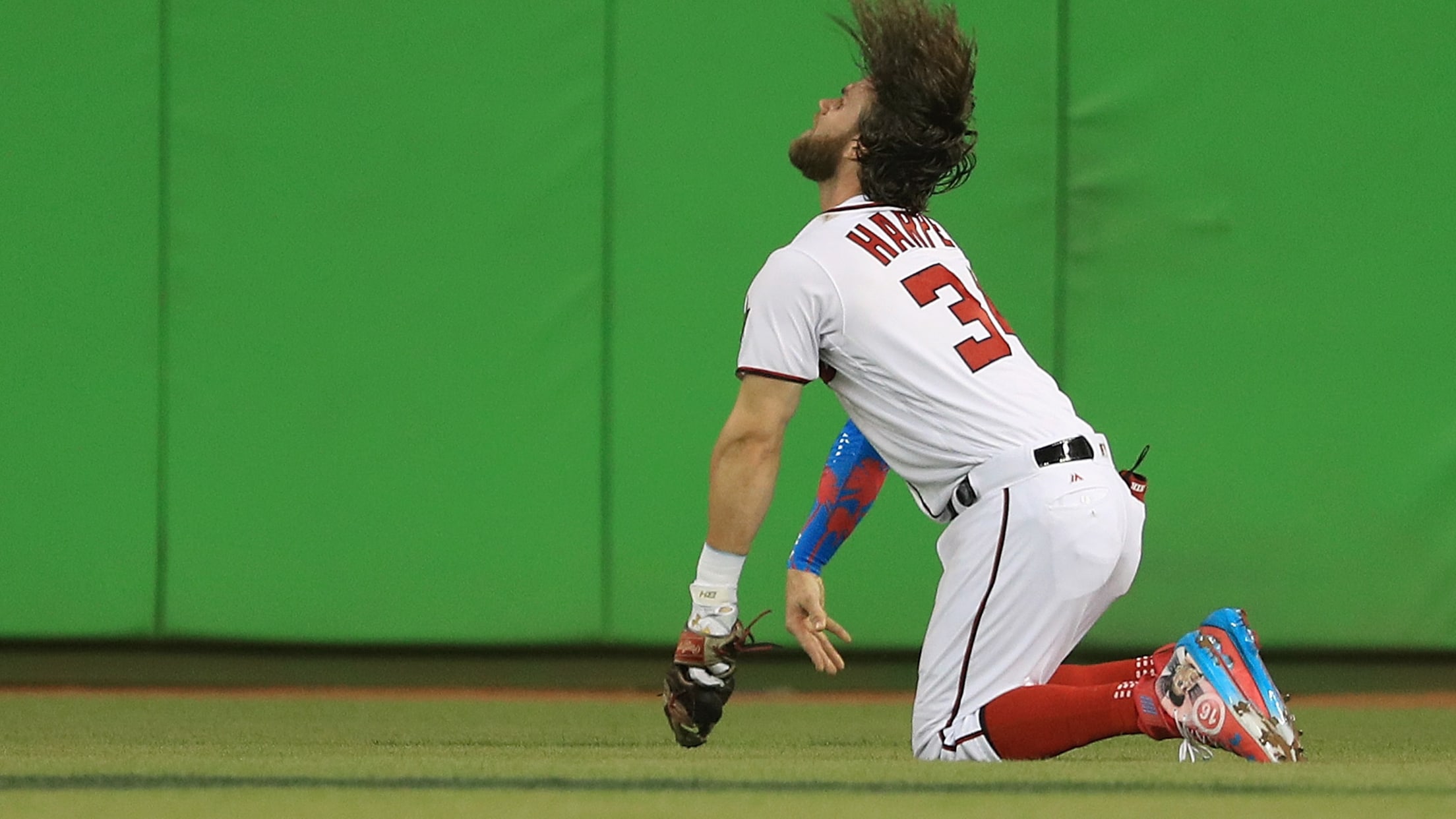 The Lyle Lovett
The perm may have been done to promote a charity event, but we're kind of digging it.
Facial hair
Of course, Harper doesn't stop his experimentation at the top of his head. Though he hasn't gone too wild -- there's no mutton chops or hilarious mustaches to be seen (yet) -- we do have a wide range of beard options. Just think of this as the styling options your video game character gets at the start.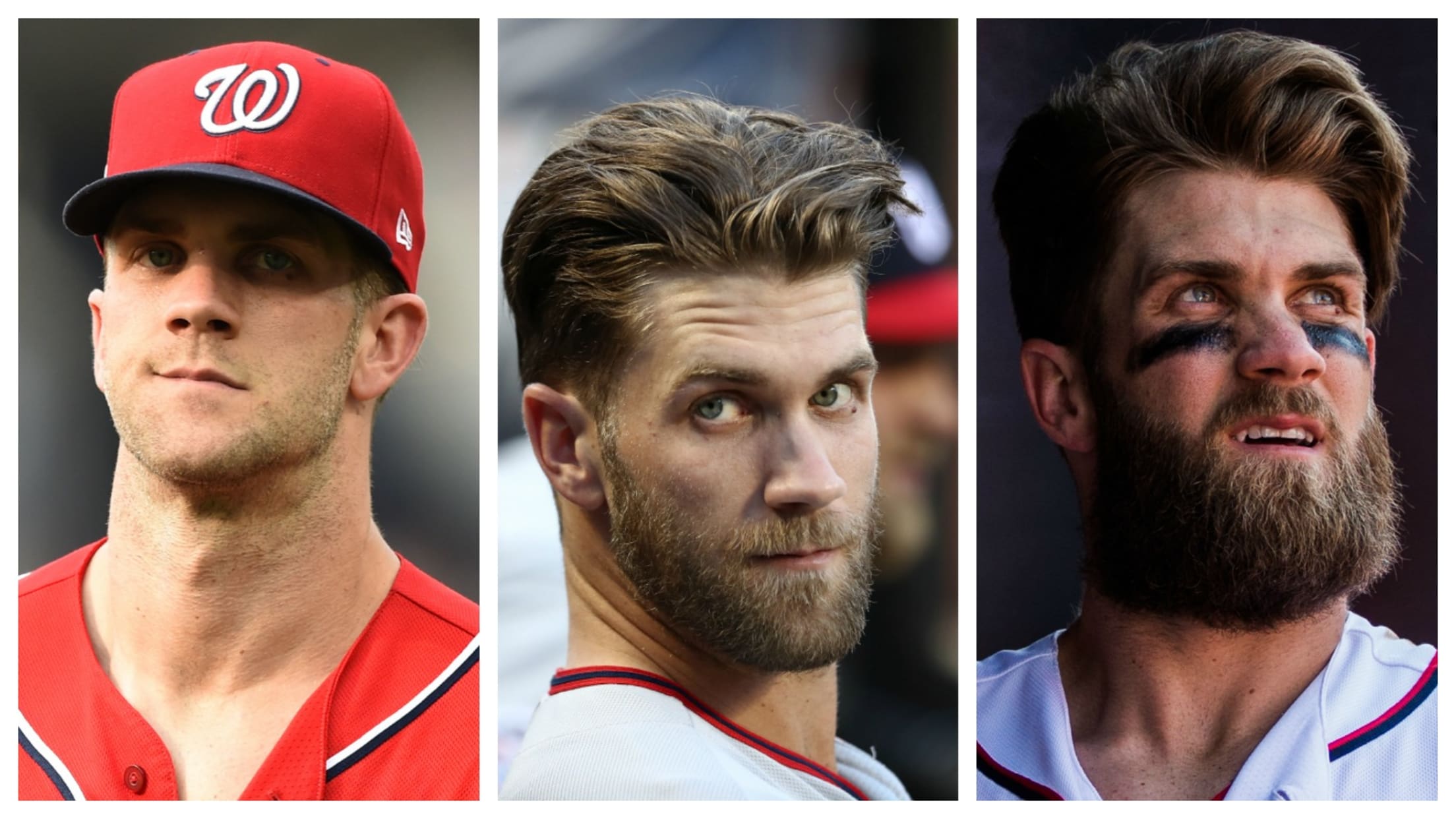 Uniform
Some players are awfully particular about their uniform style. When was the last time you saw CC Sabathia in anything other than baggy pants? But Harper is happy to play with the form -- whether because it's a Sunday day game when he likes to bring up the socks, or simply because he's ready for a change. Here is his pant fit style guide -- whether Harper's letting the pants hang low or he's hitching 'em up to show off some stirrups: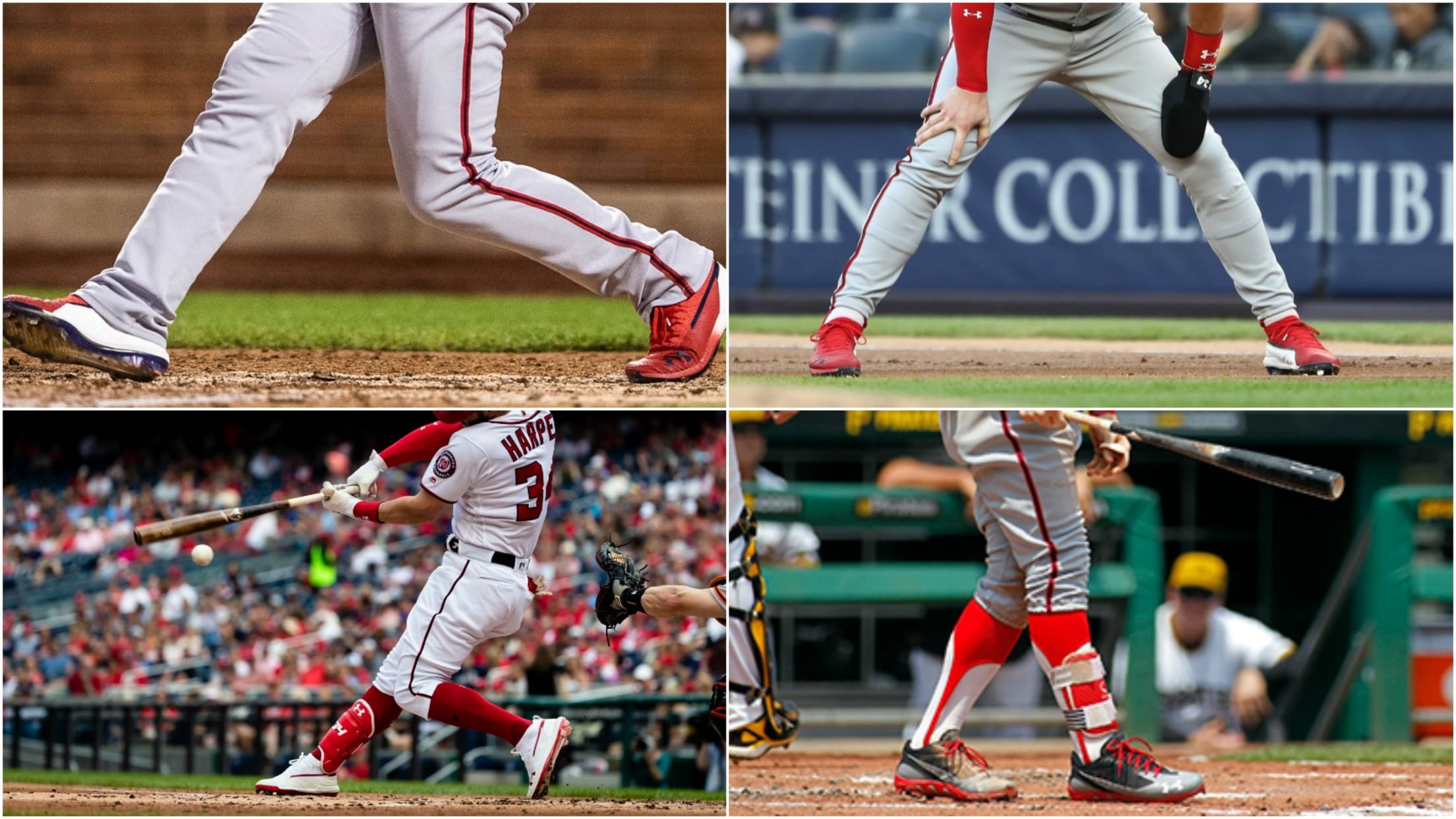 Accessories
Harper isn't one to restrict himself to the team-mandated gear, either, and over the years he's shown off a variety of accessories that you'll need if you want to properly outfit your Bryce Harper Malibu Dream House.
Eye black
Like every teenager experimenting with makeup, Harper went a little overboard with the eye black as an amateur. He scaled it back a little, but was still layering it on in the Arizona Fall League. Now, Harper tends to go without it, but if he does use it, he slathers on a responsible amount: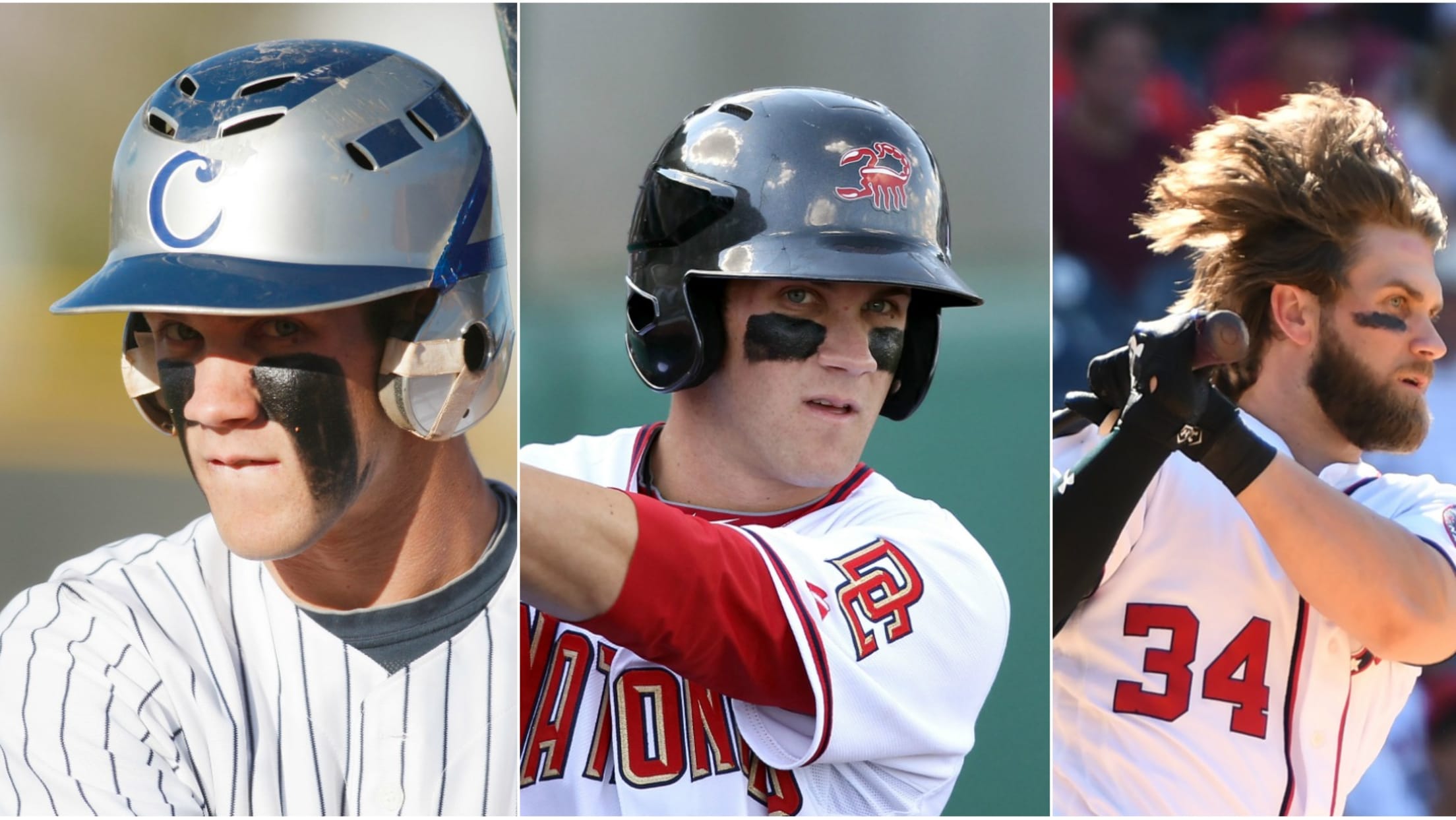 The Americana
Harper's Home Run Derby comeback victory was one of the most exciting moments in the 2018 baseball season. But his on-field look was one to remember, too, as he went full Americana with a D.C. flag headband, American flag armband and star-spangled bat: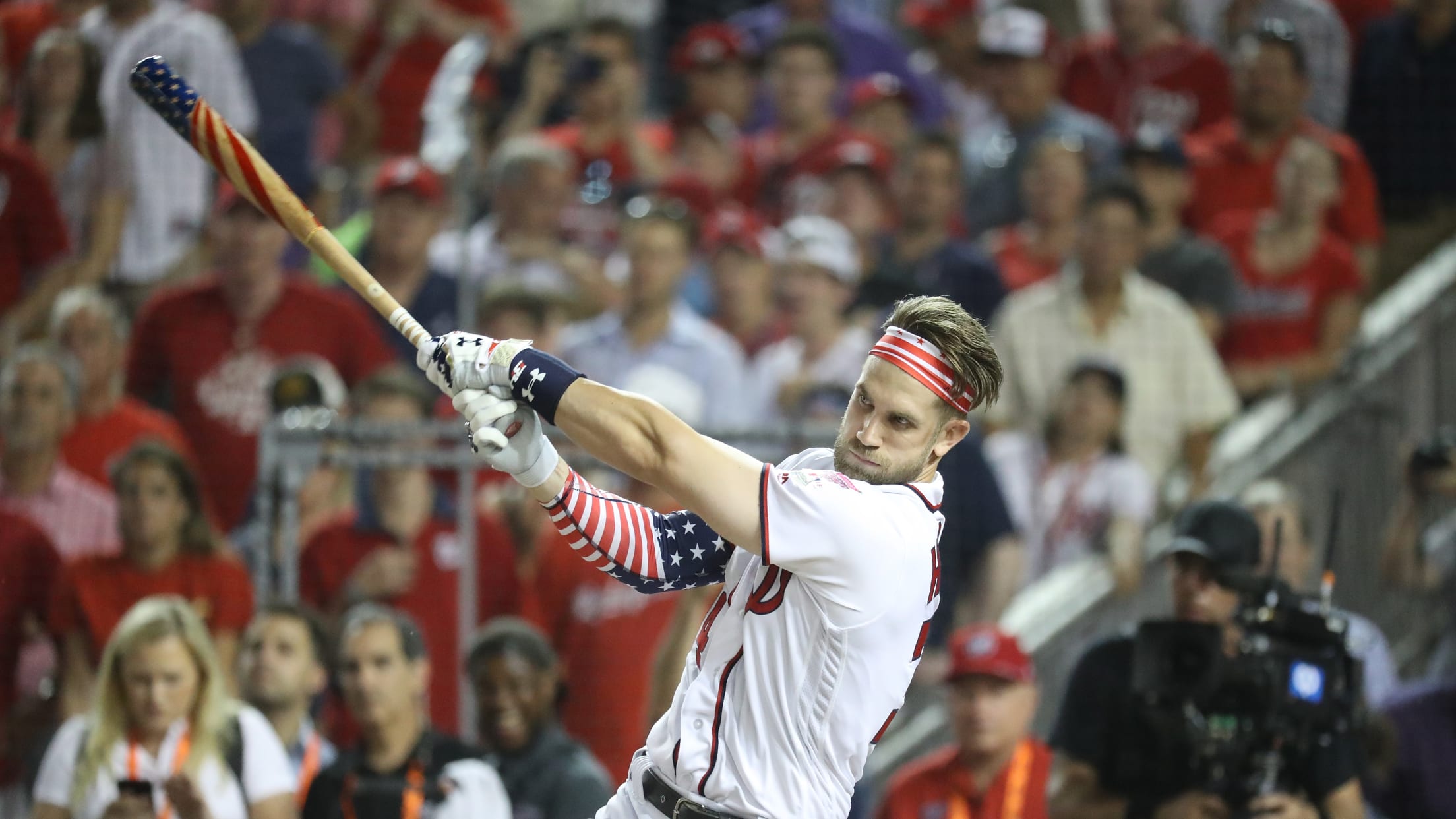 Cleats
Anyone who's anyone knows that your look starts at the feet. Harper has paid homage to both Roberto Clemente and Jose Fernandez with his footwear:
Bryce Harper with the 🔥 for #ClementeDay pic.twitter.com/IFG7EZVfxo

— Cut4 (@Cut4) September 5, 2018
For you Nino!💯 #JDF pic.twitter.com/jBWxNERwjs

— Bryce Harper (@Bharper3407) July 11, 2017
Proudly hailing from Las Vegas, Harper wore a fancy pair of Vegas-themed kicks for the 2017 NLDS.
Glasses
It's not often, but Harper even managed to look like he was fronting a garage rock revival band when he donned these sweet specs when he couldn't get his contacts in:
Off the Field
Naturally, Harper makes sure he looks fresh when he's away from the field as well. He's shown a willingness to go bold and daring, too. These are some of his most notable looks:
The All-Star Suit
The All-Star red carpet features some sartorial splendor and fashion faux pas. Harper pulled off the former, showing off a stunning navy-and-red windowpane suit lined with images of D.C. iconography: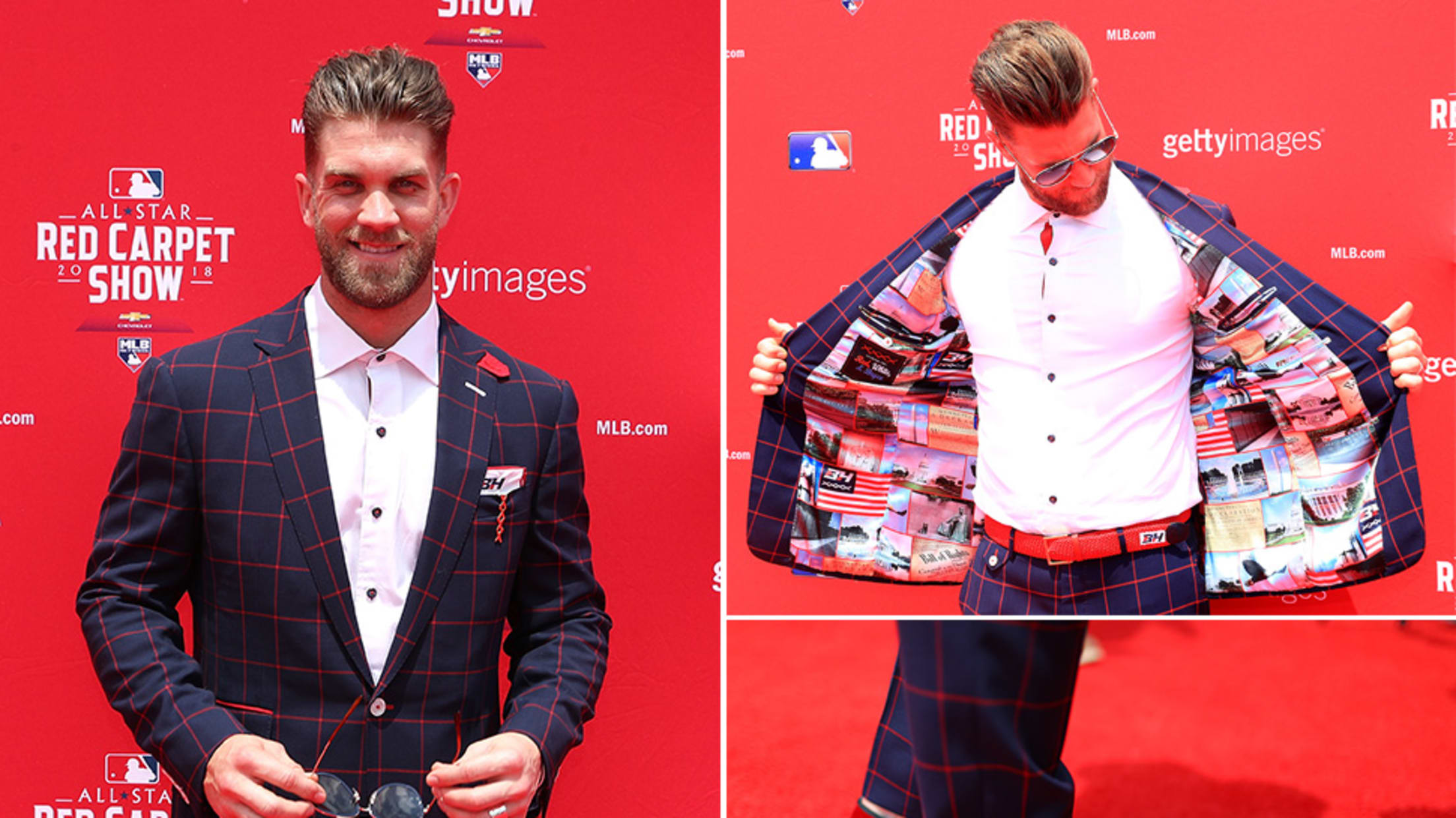 The White Suit
Major Leaguers are turning their walk into the clubhouse into the NBA-like runway. And we are here for it:
The casual collection
Of course, Harper has to hop out of suits occasionally. And when he does, he tends to follow the modern dude's look of jeans, hoodies and jackets. It's a solid go-to:
The Hockey Jersey
Of course, Harper is also a huge Golden Knights fan. So, when he heads to the arena, naturally he'll don an over-sized hockey sweater:
Follow this guide and you could soon be a Bryce Harper impersonator on Hollywood Boulevard. Doesn't that sound like fun?
Teams in this article:
Players in this article:
Topics in this article: