The Hall of Fame Case: Tim Wakefield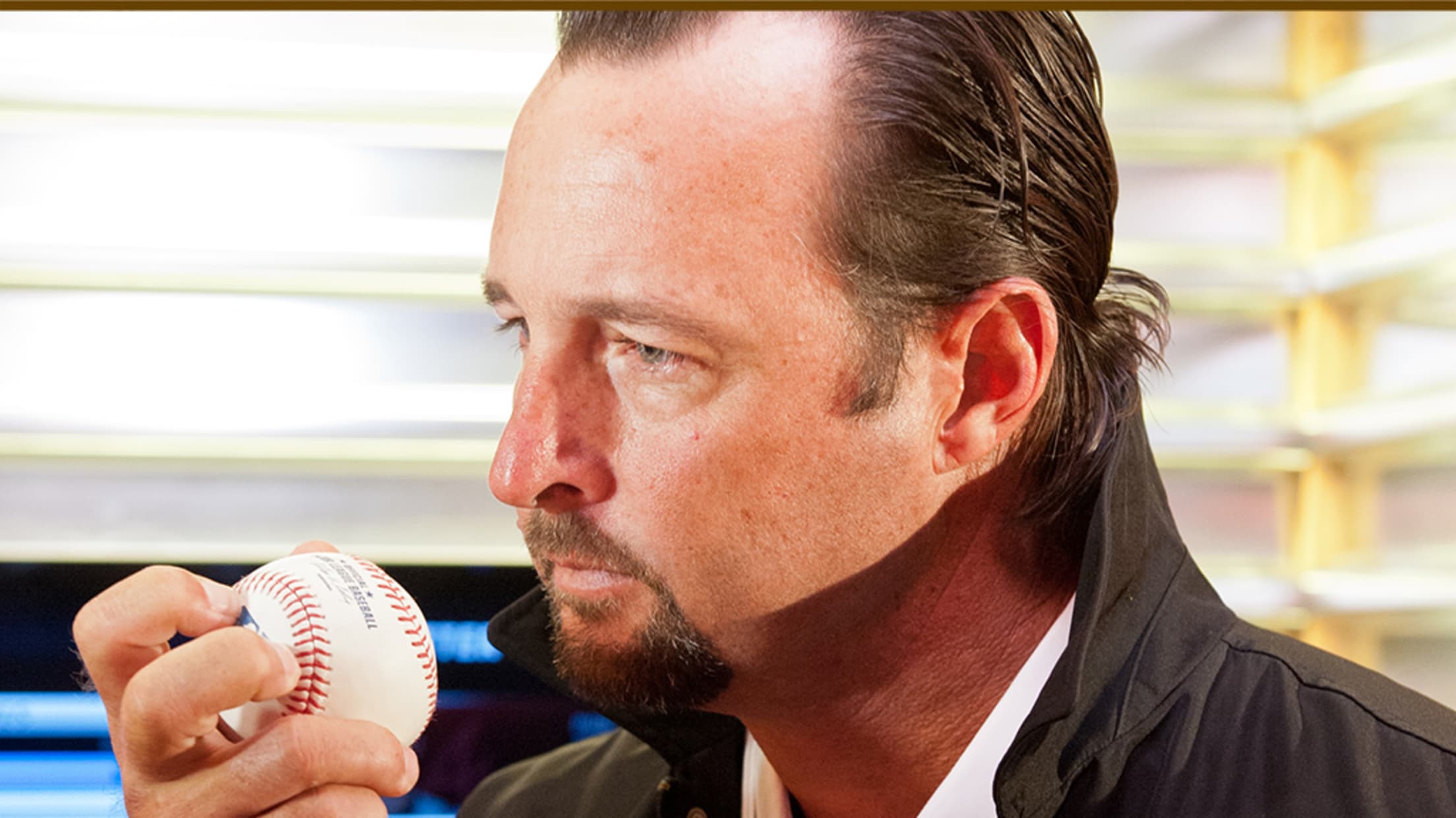 NEW YORK, NY - SEPTEMBER 20: Retired Pitcher Tim Wakefield of the Boston Red Sox acts in a skit at the MLB Fan Cave located on Broadway and 4th Street on September 20, 2012 in New York City. (Photo by Josh Haunschild/MLB Photos via Getty Images) (Josh Haunschild/Getty Images)

The likes of Jeff Bagwell and Tim Raines -- and even first-timers like Vladimir Guerrero or Pudge Rodriguez -- shouldn't have too much trouble racking up National Baseball Hall of Fame votes. But there are plenty of other players on the 2017 ballot who require a little more voter-cajoling. Players that may not have the on-field resume, but deserve an impassioned Hall of Fame case nonetheless. Players like ...
Timothy Stephen Wakefield. Born on Aug. 2, 1966, Wakefield's career is a real-life Horatio Alger novel. Originally a position player, Wakefield only took to the mound when his other baseballing options had disappeared into the ether. Whereas other players might have given up, Wakefield pulled himself up by his knuckleball to play in 19 Major League seasons.
Today, let's make a case for his Hall of Fame inclusion.
The Knuckleball
How many knuckleballers are in the Hall of Fame? Answer: Not enough. (Actually, there are four.)
Every dipsy-doodler tosser should be in the Hall. After all, these are players who, when they realized they weren't good enough hitters or that they lacked the requisite fastball, still found a way to make it to the big leagues. It's how Wakefield came to be. Drafted as a first baseman, Wakefield struggled to crack the Mendoza line in the Minors, and he soon turned to the knuckleball his father taught him.
Quickly successful with a low-effort, high-60s knuckler, Wakefield's first start was a complete-game, 10-strikeout, five-walk affair. You know, pretty much peak knuckleballer.

From then on, Wakefield would join the Skull and Bones-like knuckleballer's cabal, eventually pitching 19 seasons in pretty much every role that was ever asked of him. Plenty of batters who have made their careers upon feasting on pitches over the plate have struggled against him. Two notable examples: Adrián Beltré and Edgar Martinez who combined for one lone single in 38 career plate appearances against Wakefield.
The Knuckling Closer
For one magical season, Wakefield wasn't used as a starter or a swingman reliever, but as the Red Sox's closer. While every team now requires triple-digit heat to pitch in the ninth, the Red Sox utilized the antithesis of that in 1999.
While it makes sense that a pitch whose success depends upon wind currents and the vagaries of luck wasn't a long-term solution, Wakefield still racked up an impressive 15 saves that year.
Like when Wakefield worked two innings and got Mark McLemore to pop out to end the game:


Or when Wakefield ended another two-inning save by striking out likely future Hall of Famer (he should be on the ballot for the first time in 2018) Chipper Jones with two men on:

The Doug Mirabelli Incident
Plenty of knuckleballers have seen their place of employment change not because of any problem they've experienced on the mound, but because a new star catcher is acquired who is unable to handle the stresses of catching the pitch is acquired.
Wakefield experienced that in 2006 when the Red Sox traded Doug Mirabelli to the Padres and brought in Josh Bard to caddy for him. That didn't work out. Bard allowed three passed balls in Wakefield's first start and had 10 after just five games.
So on May 1 -- just one month into the experiment -- Bard was traded to the Padres to bring back Mirabelli. With Wakefield set to take the mound that night, Mirabelli was rushed to the stadium with a police escort, even changing into his uniform and catcher's gear in the back of the police car.
How's that for a knuckleballer's importance?

The forever renewing contract
Fans love players that stay with a team. And while Wakefield could have asked for more money, and plenty of other teams would have been happy to utilize his ability to pitch almost every day (and twice on Sundays), he remained amazingly loyal to the Red Sox. In 2006, Wakefield signed a contract that pretty much granted the Red Sox a forever-renewing team option for just $4 million.
It was a deal that the Red Sox used through 2009, before Wakefield took pay cuts in his final two seasons to remain in Boston.
In the end, the team paid it back. While Wakefield struggled to reach 200 victories -- something that only 93 pitchers since 1901 have ever done -- they stuck with him.

The tears
After giving up Aaron Boone's series-winning home run in the 2003 ALCS, Wakefield was afraid that Red Sox Nation would think of him as another Bill Buckner. Fortunately, the tables would turn -- he was an important part of the historic 2004 World Series-winning team. He even gave up his own start to save the bullpen in Game 3, while the Red Sox were being blown out.
Boston made the World Series next in 2007. After battling a shoulder injury in the summer of that year, Wakefield removed himself from the postseason roster. After Jon Lester won Game 4, helping the Sox sweep Rockies, reliever Mike Timlin made sure that the veteran pitcher knew he was a beloved and valued member of the team.