The life, death and rebirth of the bullpen cart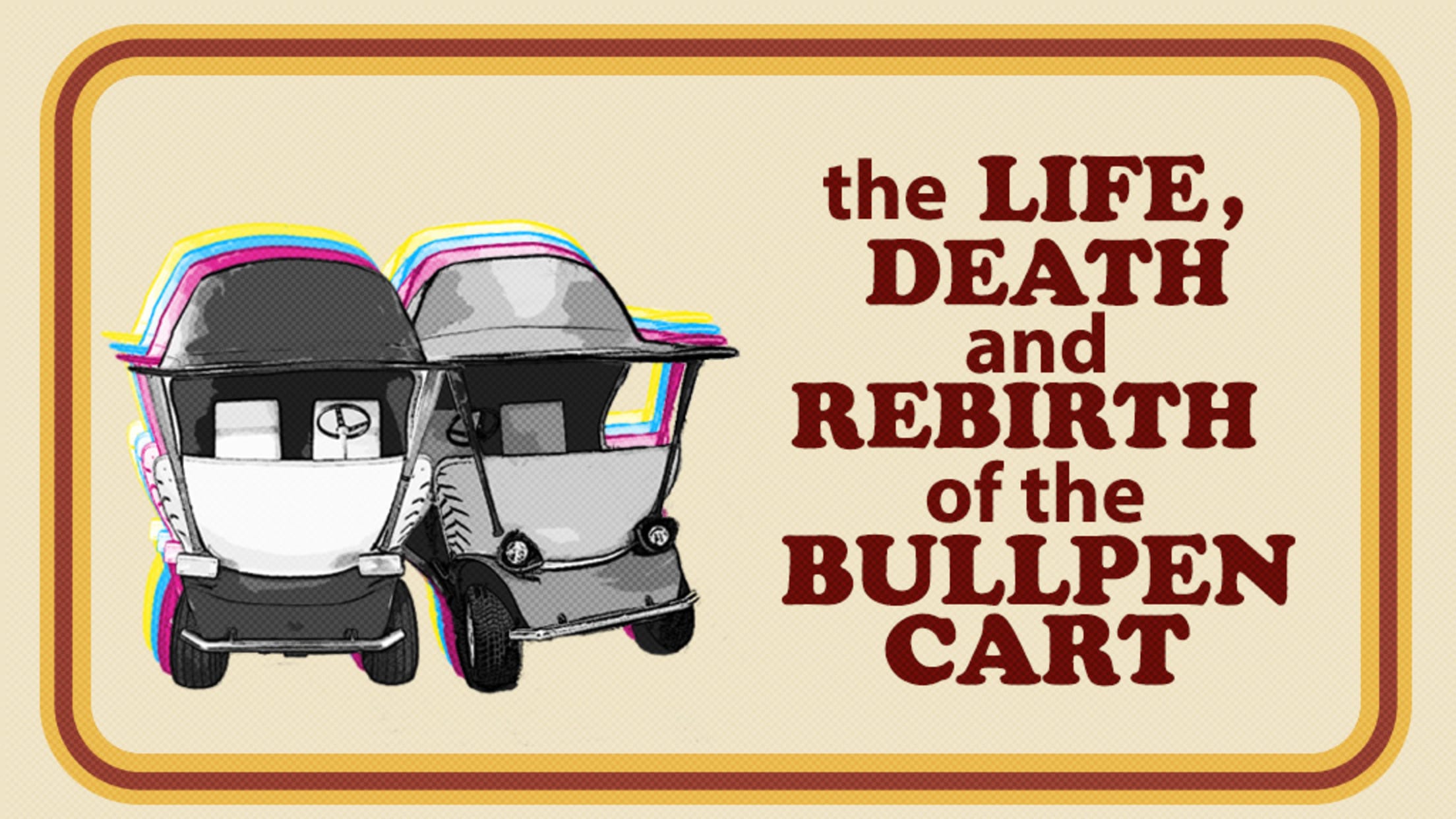 UPDATE 3/6/18: It looks like the bullpen cart is coming back! If you want to learn a bit about the back story of this remarkable piece of baseball ephemera, read our history of the bullpen cart below:
---
There is a piece of beloved baseball lore that's been hiding in plain sight for 40 years: The bullpen cart. Those goofy, baseball-shaped carts that dominated baseball in the 1970s arrived with little fanfare and departed with even less. Somehow, despite peaking in significance during the rise of color television, there are large gaps in the history of the humorous buggies. And today, there exists a small band of believers who are doing their best to bring them back, no matter the odds.
Thanks to ESPN's Paul Lukas, we know a little of their Roswell-like arrival to MLB. The Indians used a "little red wagon" as a kind of proto-cart to escort players to the mound in 1950, but the first official entrance-by-bullpen-cart was made by Marv Rotblatt in 1951 when his White Sox took on the Yankees. The move was lampooned by the New York media, with one report noting "Chicago is going bush. Just like Cleveland." But clearly, the trend was already heating up. Despite the negative press attention, another car arrived later in that same series, but this time, it was for the Yankees. The car was a little different, too: It was a black hearse from a nearby funeral home.
Either the White Sox provided it for the opposition as a kind of prank or, as White Sox team historian Jeff Szynal recalled, Casey Stengel "commissioned a sharp black Cadillac from a South Side funeral home for his pitchers. He did not want to be shown up by the White Sox."
The bullpen transport didn't become an immediate craze, though. The A's added one in 1955, but that same year, the White Sox ditched theirs because "customers were firing all sorts of debris" at the car. But despite the minor setback, the momentum was undeniable. Even the Pacific Coast League had at least one buggy by 1957:


The National League added its first bullpen transport when the Milwaukee Braves introduced their Harley-Davidson Topper scooter on June 23, 1959. General manager John McHale chose the scooter because its light weight meant it could ride directly over grass to the mound. On its debut, a chauffeur (with uniform and cap) escorted the Cardinals' Hal Jeffcoat. As The Milwaukee Journal Sentinel's Bob Wolf wrote at the time:
"All Jeffcoat got for his trouble was the distinction of being the first to ride in the Braves' new bullpen perambulator. He was bashed for 11 hits and six runs, and left under heavy fire in the sixth (inning)."
(Photo via Milwaukee Journal Sentinel)
But while there were cars and motorcycles and even hearses, the familiar cart had not yet debuted. According to Jonathan Fraser Light in "The Cultural Encyclopedia of Baseball," the Angels were the first to use a golf cart in 1963. Following in their footsteps, teams like the Braves also used the low-powered vehicle to escort pitchers in. Here's Warren Spahn entering the game in one ... as a Giant: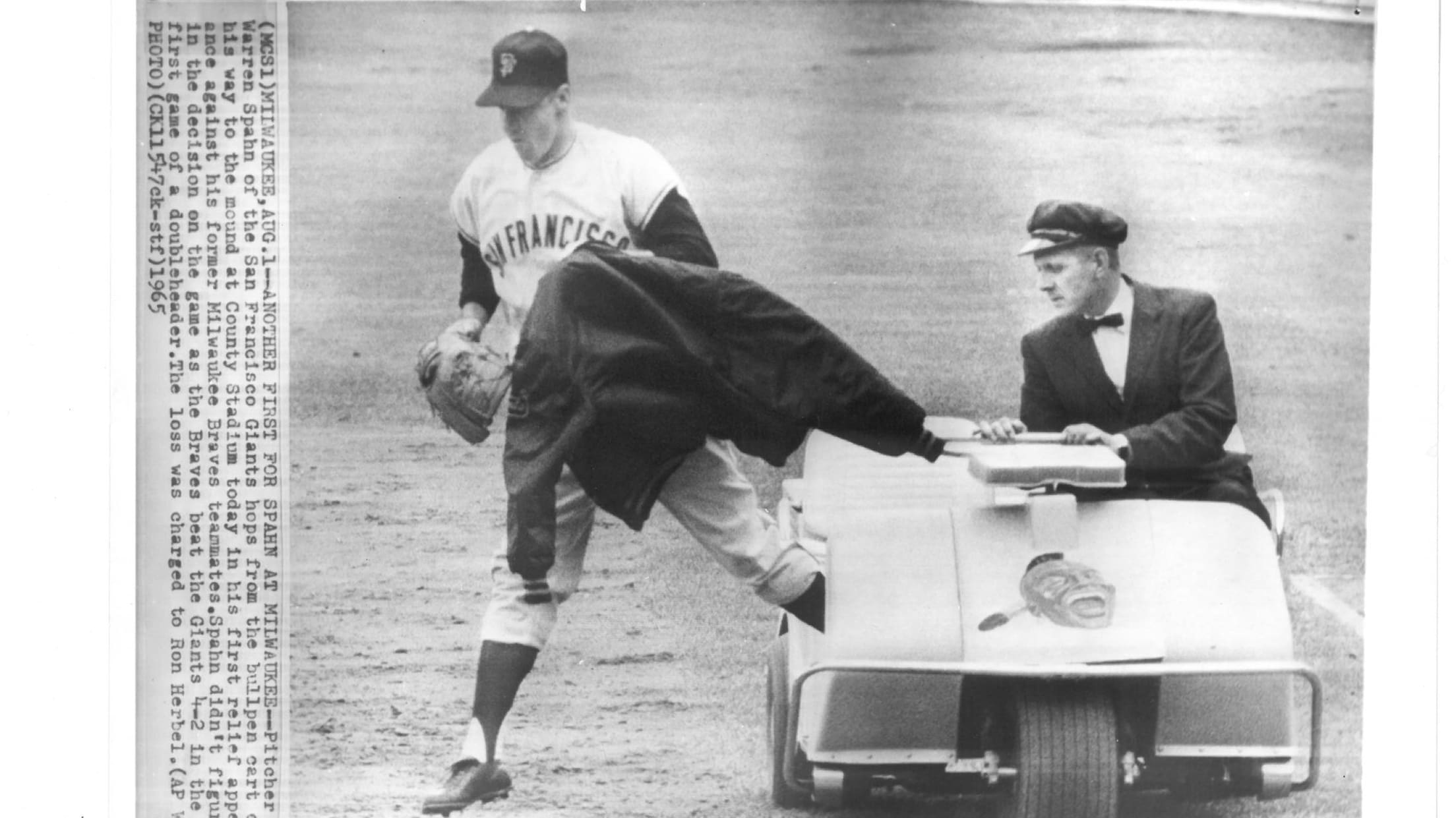 Still, there's a gap between an ordinary golf cart and an oversized baseball, complete with bat-shaped supports. When did teams make that leap? This is where the mystery really takes shape.
Just four years after the Angels debuted their cart -- at one point donning a cap atop the roof, but with no baseball shape -- the baseball design appeared with the Mets.
Were the Mets the first? Did the rest of the league immediately fall into line with these giant baseball carts once they saw it in action? It seems unthinkable in today's era for there to be a missing link, and yet, here we are:
Nobody knows.
Team historians are stumped, fans don't know, even the Hall of Fame lacks documentation -- a tiny moment in baseball history that has totally been lost to time. Somehow it happened, though. With a grand leap in design evolution, the giant carts took a spot among the bushy mustaches and colorful uniforms as the defining features of '70s baseball.
We don't even know how many teams actually had them -- though most clubs with domes or Astroturf reportedly did.
This Astros bullpen car is basically the greatest thing in the history of ever. I'm going to need a moment. pic.twitter.com/PlcOikCyJ8

— Super 70s Sports (@Super70sSports) October 16, 2016
But despite our lack of knowledge of their birth, they live on in the public consciousness. The Red Sox's cart resides on their concourse ... when it's not making other appearances.
The Fenway Park @RedSox bullpen cart from 60s/70s at Classic Car Show on Boston Common pic.twitter.com/4COx3c4gsL

— Downtown Boston BID (@DTownBostonBID) September 25, 2016
The Dodgers' cart has a home near the Dodger Stadium suites.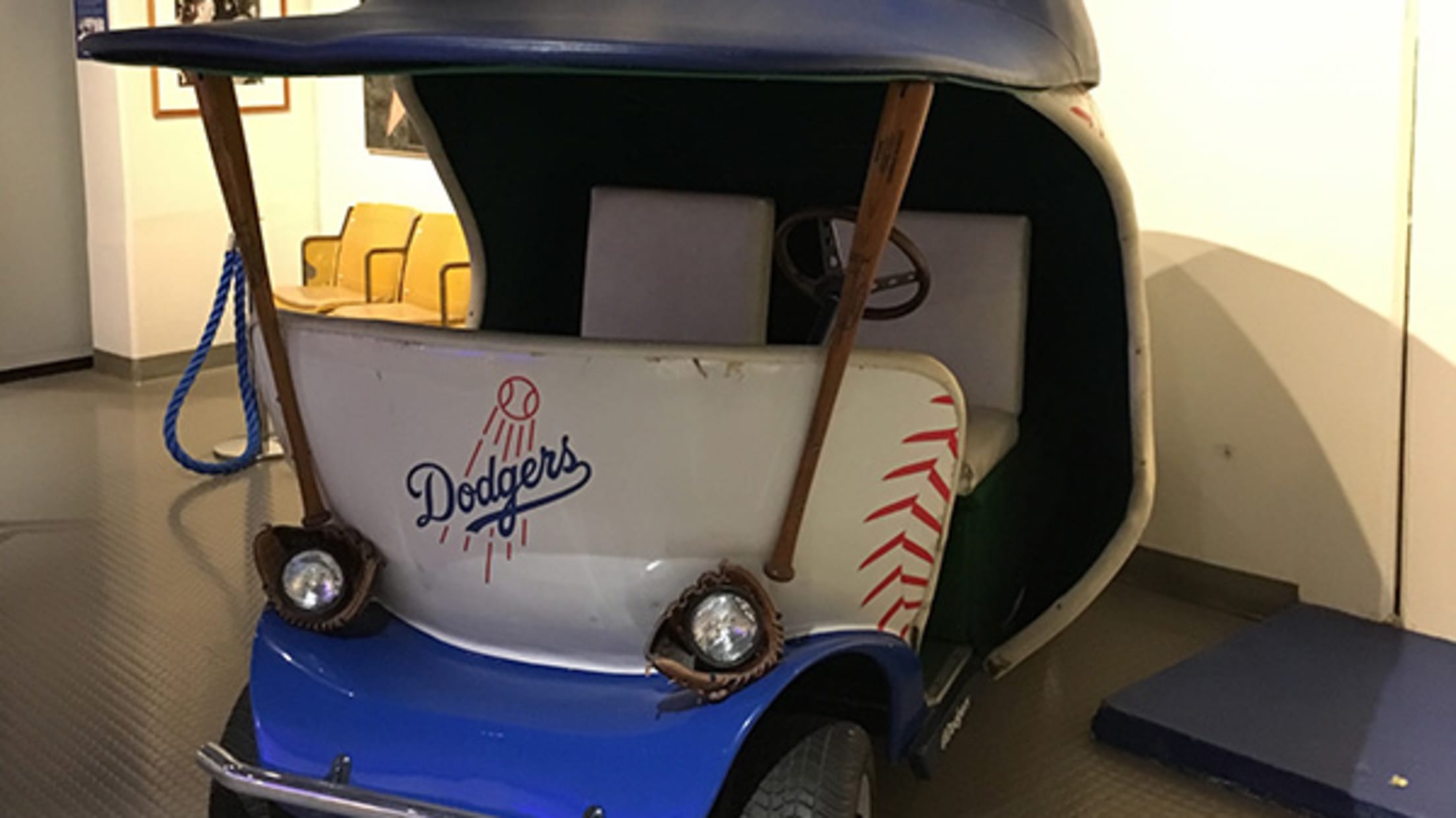 (Photo by Adrian Garro/MLB.com)
They became so ubiquitous that game stories would mention relievers being brought in by cart, much the way we now say a closer entered to his music without a second thought. There was even a bullpen cart used in this amazing Miller Lite softball ad featuring Rodney Dangerfield and Bob Uecker:
Just as bell bottoms and disco soon fell out of favor, the cart's time as an ingrained part of the sport was short-lived. The demise started as teams began to experiment too wildly with design. The Yankees opted for a Datsun and Toyota Celica -- hardly the kind of thing that excites fans.
The White Sox added a Chrysler LeBaron in 1981, but it was gone in just five short years. The Mariners had the most famous and memorable design choice of all when they introduced a miniature tugboat:
1982: The Mariners introduce a nautically themed bullpen conveyance called the Tugboat. #mlb #Mariners pic.twitter.com/FmQG6FDbdK

— Baseball (@baseballminutia) August 14, 2016
That was a breaking point, and some players decided not to use them. It wasn't the first time -- Dodgers pitcher Mike Marshall ran alongside the car rather than climb in, for example. And, at the 1971 World Series -- with the Pirates transporting their own cart to Baltimore -- the Orioles pitchers chose to use their legs rather than ride in their custom vehicles.


Though the Orioles were more than happy to take the ride during home games:
Pitcher distaste for the cars wasn't the only reason these funky symbols of '70s baseball were on the way out by the next decade, though. In fact, there are plenty of explanations.
Dan Epstein, author of "Big Hair and Plastic Grass," theorized that rising fuel and repair costs deserve some blame. "I can't imagine that the Yankees spent that much on gasoline for a bullpen car, but I seem to recall that it was one of the reasons for phasing it out. Just one more thing to think about, maintenance wise that didn't perhaps need it." To Epstein's point, the Yankees Datsun died when rats chewed through the cables.
In 1979 you could buy the #Yankees pinstriped bullpen car out of their catalog, only $8,349.75! @RealMichaelKay pic.twitter.com/8k2Ozg2If4

— Baseball by BSmile (@BSmile) June 5, 2015
Fraser Light thinks it was free agency that pushed owners to put player desires above spectacle. "It was too goofy. You needed the entrepreneurs like a Charlie Finley, a Bill Veeck. They were into it. They weren't afraid to be showboats. They weren't afraid to be wacky. And the other teams would follow suit because those guys were doing it, and they were at the cutting edge of entrepreneurship," he said. "As they die out in the '70s and '80s … the ballplayers -- and you can trace it to 1977, free agency -- weren't beholden to the owners like they used to be."
Lukas believes it may all be more simple than that. "I think there's something about like, 'Really? This professional athlete can't be expected to walk or jog for a couple dozen yards?'"
Whatever the cause -- eventually, they faded away. Even as bobbleheads and throwback uniforms came back in vogue, the bullpen cart never did.
The Red Sox bullpen cart during the 1975 World Series: pic.twitter.com/ZDmuSrQH

— SI Vault (@si_vault) May 10, 2012
There are still a select few fighting to see them return. The independent Sugar Land Skeeters commissioned one in 2012. They turned to Alex Restrepo of Houston's House of Sound to handle the work, but it wasn't a simple job of cutting and pasting onto a golf cart.
"To take that project on was a major, major development," Restrepo told MLB.com. "Not a lot of people wanted to take it on. We're kind of risk takers."
Unable to find plans for the outdated equipment, Restrepo largely went off photos. Making some modifications, including putting in a rearview camera and LED lights, the Skeeters' model came out looking a little different:
Retro bullpen cart spotted at Sugar Land Skeeters minor league ballgame. pic.twitter.com/wOIqiMKY

— (((Jay Goldberg))) (@BerginoBaseball) June 6, 2012
While Restrepo received interest from other teams after completing the cart for the Skeeters, it wasn't financially feasible to continue building them. "What we had priced it at and what we finished at were two different numbers," Restrepo said.
House of Sound may have left the bullpen cart game for now, but fortunately there's Mark Sofia. As the founder of SportsKartz.com, Sofia is singularly devoted to what he called the "Cadillac of memorabilia."
Sofia, a former police officer, began his quest while working security at a Rochester Red Wings (Triple-A affiliate of the Twins) game. Discussing possible throwback ideas with team GM Dan Mason, the bullpen cart came up.
Sofia remembers the conversation. "So Danny stops, gives me this serious death stare. And he says, 'I would take one of those. You find me one of those, I would love one of those.'"
After scouring eBay and discovering that no one was making or selling them at a reasonable price (the Mets' original cart sold for a whopping $112,500), Sofia plunged into this new business as a retirement gig. He eventually found the original patent for the carts from the now-defunct Baker Industries. With help from a fiberglass fabricator in Tampa, he was set to reproduce this piece of baseball lore.
Trying to remain as true to the original vision of the carts as possible, Sofia added a few tweaks to the design for modern sensibilities. He realized that with pitchers preferring to run in -- and with groundskeepers not willing to risk tearing up the grass -- the new carts needed to be designed to have an open back so they could be used in more varied ways.
"It's another marketing tool for you," Sofia says. "And if you package it properly, they're inexpensively priced. It's something cool and fun for you to have in your ballpark -- and your community, if you want to use it outside of the ballpark, as well."
The cart costs $10,000, and so far, only two teams have taken Sofia up on the offer: The Red Wings and Vancouver Canadians .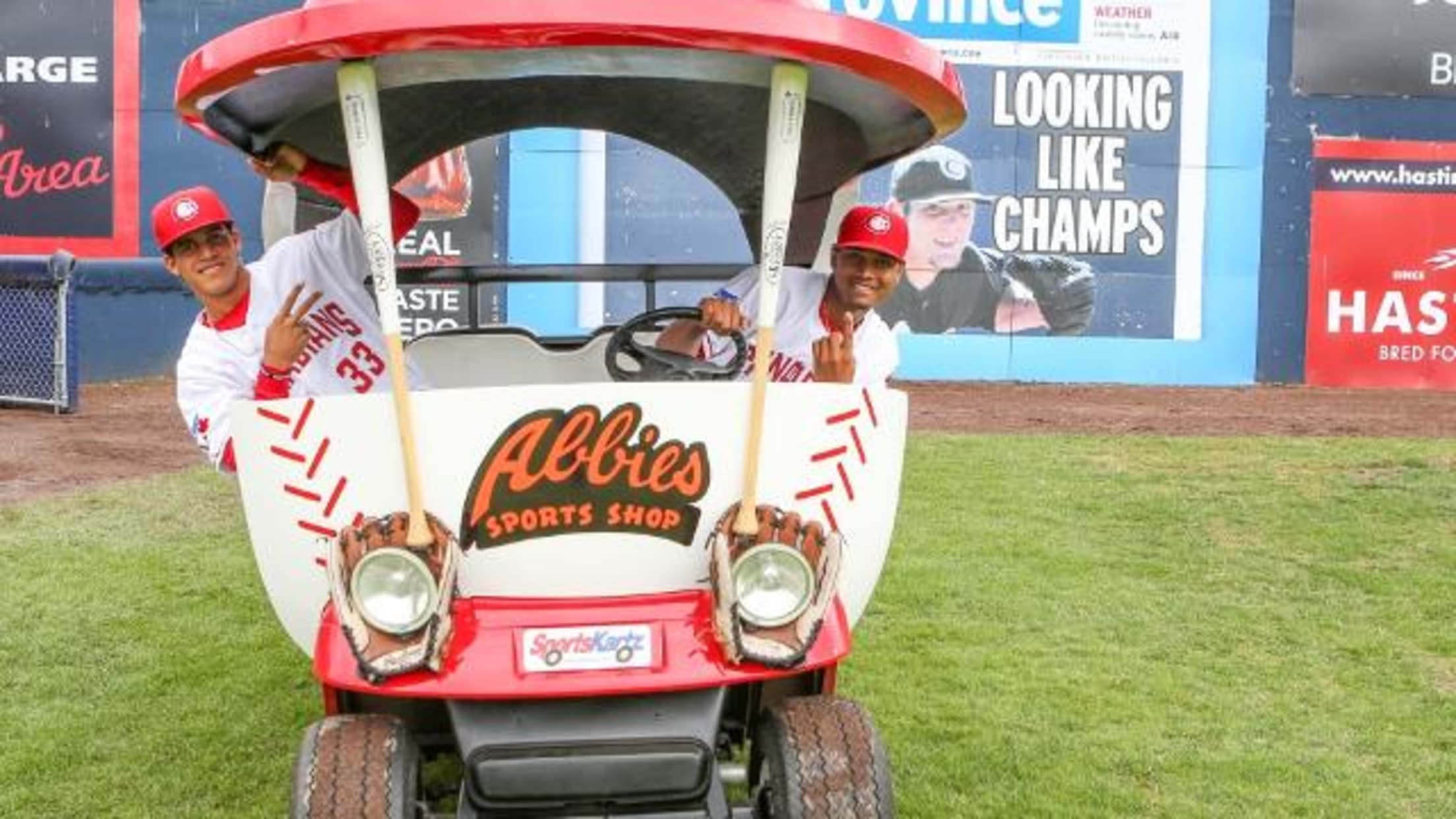 Will we ever see a cart again in the Major Leagues? It may seem unlikely, but Sofia is a believer. "The fans love it. They invoke smiles anywhere they go. I think the timing is right, especially in the last three years as teams are beckoning back to that history and that era of baseball."
If a Major League club was interested, Sofia says he'd do whatever it takes.
"If a team said, 'Yeah, we'll take it and we'll help you market it, but we want one because we love it as much as you love it,' and it would went to a good home, yeah, I'd give it to them for free."
Do you want to see bullpen carts return and take their places among mascot races and throwback nights? Or is this a piece of baseball history that should stay all the way back in the super weird '70s? Do you know anything about their rise and halcyon days that we're missing? Could you help fill in the gaps in bullpen cart history? Let us know in the comments or, even better, email us. Let's end one baseball mystery once and for all.